Whole30 Mashed Potatoes
These Whole30 Mashed Potatoes are a "buttery", velvety, and tasty dairy-free mashed potatoes recipe made with coconut cream and almond milk. They are the best Paleo mashed potatoes and are naturally Paleo, Gluten-free, Grain-free, and Dairy-free.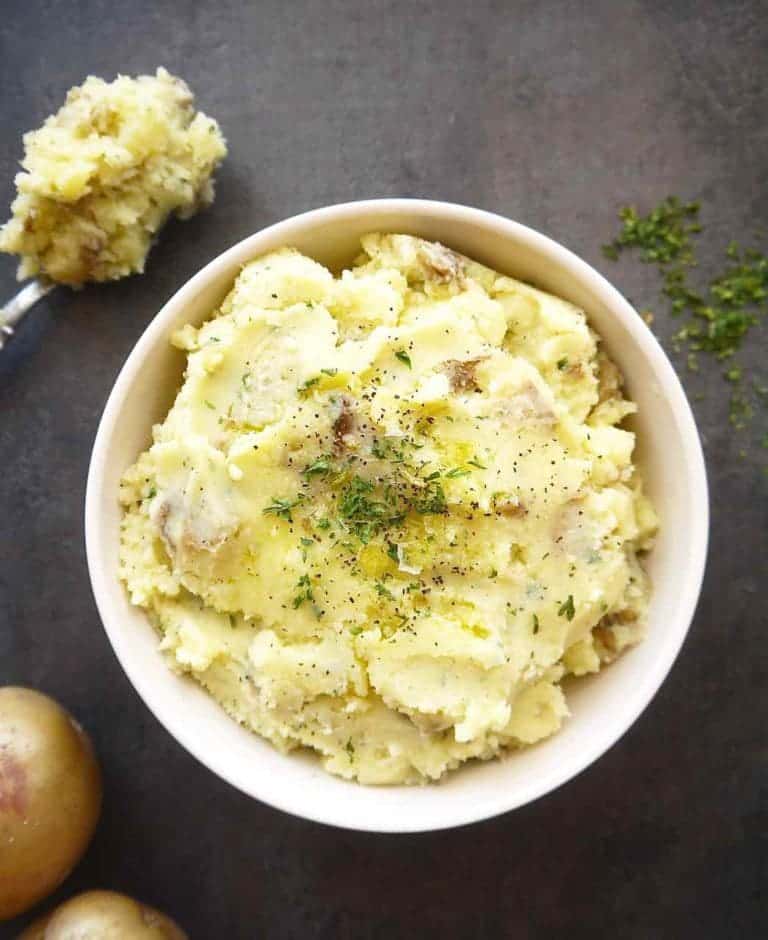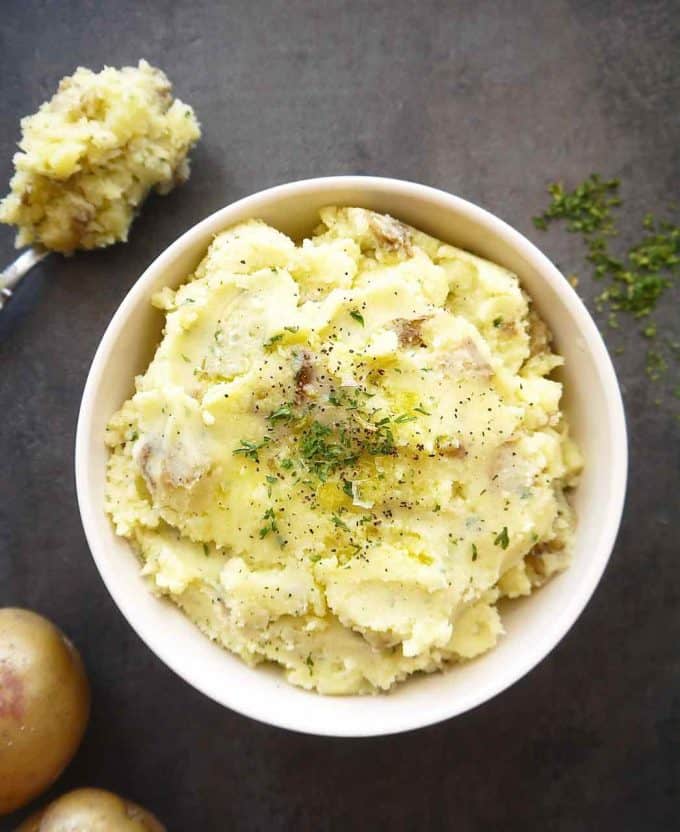 I'm just going to come out and say that my mashed potato game has been on point lately.
I figured out my favorite potato, add-ins, and seasonings to make the best and easiest Paleo, and Whole30 complaint mashed potatoes.
They are creamy and dreamy and my go-to way of making dairy-free mashed potatoes.
Check out the video below the recipe to see how to make them!
Doing my first Whole30 inspired me to come up with this recipe
During those 30 days, I tried out different types of potatoes and different proportions of ingredients to make many a different mashed potato recipe and finally came up with this recipe.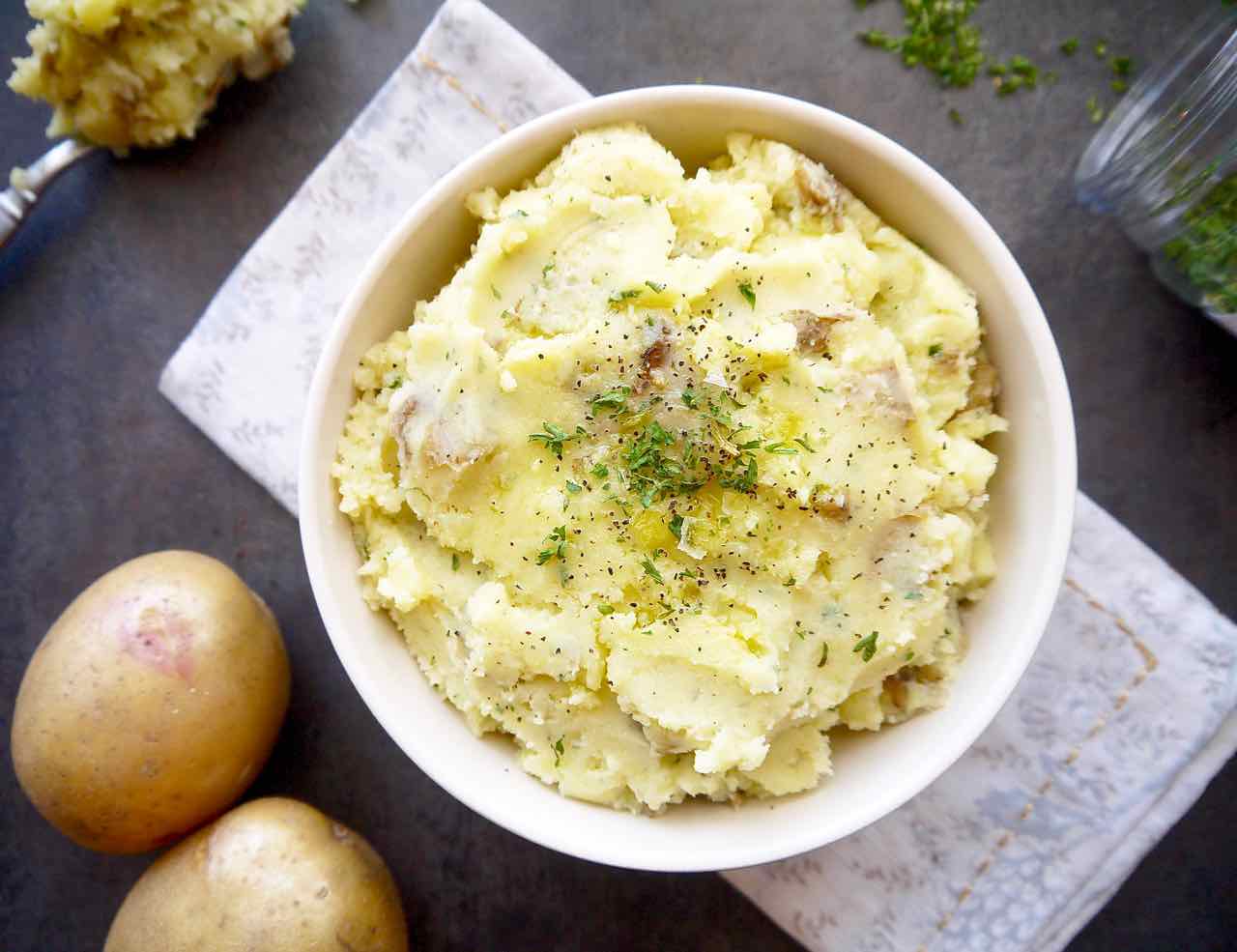 Ingredients needed to make these Whole30 Mashed Potatoes:
butter potatoes ( or gold potatoes)
almond milk
coconut cream
olive oil
garlic powder
dried parsley
salt
pepper
About the potatoes:
In the past, I would buy whatever potato was in front of me at the store.
BUT during the course of my Whole30, I took the time to notice that not all potatoes taste the same. That some potatoes… like Butter potatoes, have a much better consistency for mashing… AND a naturally "buttery", velvety taste.
If you can't find butter potatoes, gold potatoes work great as well.
About the liquid mix-ins:
Coconut cream and almond milk are great milk substitutes for mashed potatoes.
Make sure to use a coconut cream without any preservatives in it to keep the taste pure- it makes a difference!
These Whole30 mashed potatoes are made without ghee to keep them dairy-free. I honestly love using olive oil to replace any butter here.
I like to use an extra light olive oil to keep the flavor light.
How to make these dairy-free mashed potatoes:
To start, cut up your potatoes into 1/2 inch slices and boil them in water for 15-20 minutes. Until they are fork tender.
Then, add the potatoes to a large bowl and top with the almond milk, coconut cream, olive oil, garlic powder, dried parsley, salt, and pepper.
Then MASH everything together.
Sometimes I like adding the "Everything but the Bagel" seasoning from Trader Joes on top too.
What to serve these Paleo mashed potatoes with:
What's great about this mashed potatoes recipe is that it's simple and really adaptable.
These mashed potatoes make a great side for pretty much any protein. Whether it's roasted chicken, tuna, burgers, pork roast, steak…. etc. It tastes great with them all.
I made a roasted chicken the other day and then I poured some of the natural chicken juices into these mashed potatoes. DIVINE.
You can make all sorts of meals using these Whole30 Mashed Potatoes!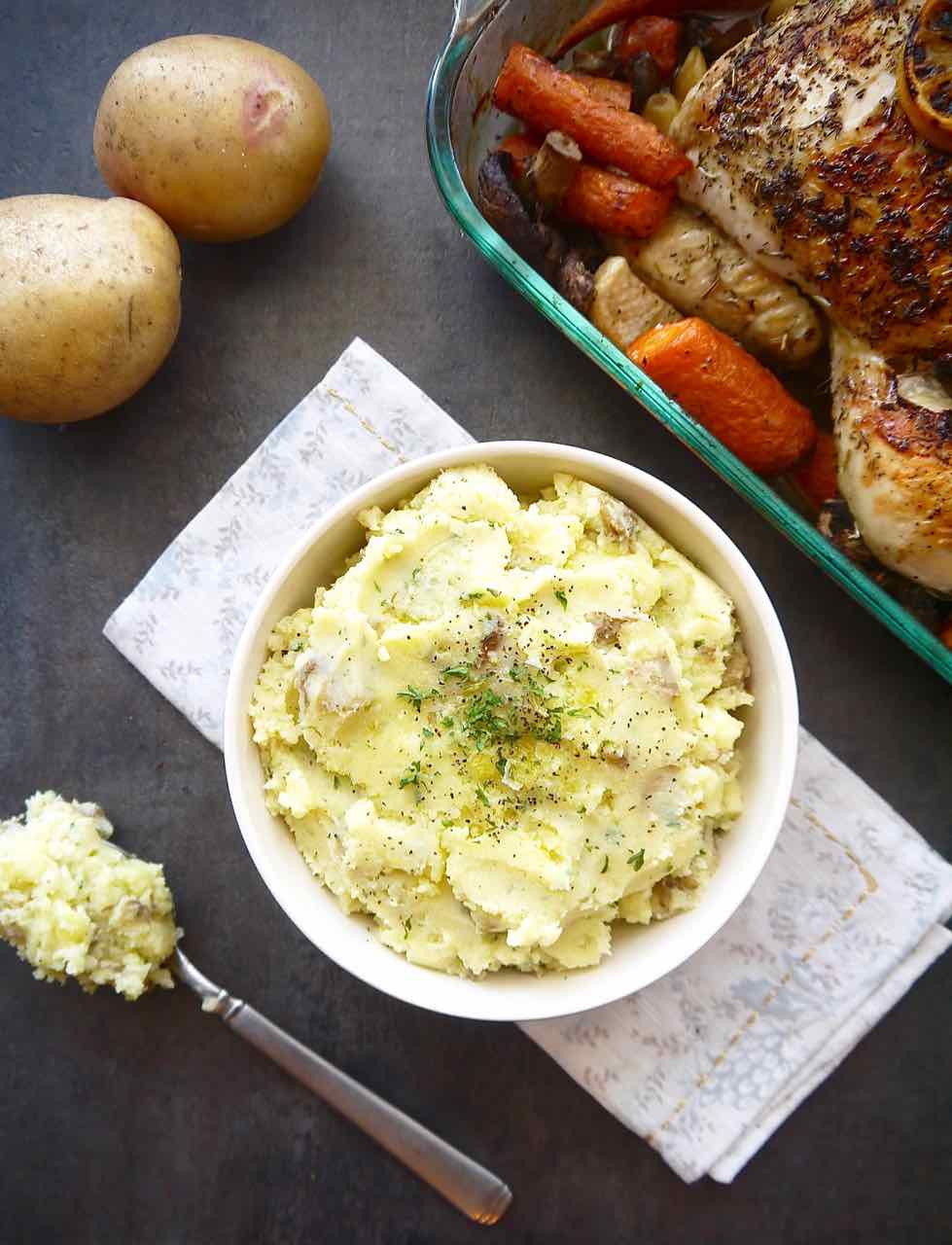 Honestly, I would eat these Paleo mashed potatoes whether I was doing a Whole30 or not.
They are smooth and creamy and so delicious!
They also are a great option for anyone that needs to follow a dairy-free diet. Or even for anyone looking to clean up their diet.
It's good to know that you can use almond milk and coconut cream to make mashed potatoes and that it tastes great!
I have had to be dairy-free for months at a time because my daughters had dairy-intolerances. These potatoes were a favorite for them.
I hope you enjoy these as much as me! Check out the video below the recipe to see how to make them!
Other Whole30 potato recipes you may enjoy:
This Dill Ranch Potato Salad with Avocado and Eggs (Paleo, Whole30) is a great source of fat and protein and is mixed with the most yummy homemade ranch dressing.
Paleo Whole30 Potato Pancakes (GF). These potato pancakes are AMAZING. They are made with a mixture of shredded potatoes and mashed potatoes.
This Paleo Whole30 Potato Soup is the best dairy-free potato soup that I have had. It cooks in bacon grease so the flavor is extra rich.
Whole30 Mashed Potatoes
A "buttery", velvety, and tasty mashed potatoes recipe that is Paleo, GF, Grain-free, Dairy-free, and clean.
Ingredients
about 3.75 pounds of Butter potatoes
1/4 cup almond milk
1/4 cup canned coconut cream, Savoy is my favorite because it has no preservatives and tastes great
3 Tbs olive oil
1 tsp garlic powder
2 tsp dried parsley
1 tsp salt
1/2 tsp ground black pepper
Instructions
Boil water, with a sprinkle of salt, in a large pot.

Cut the Butter potatoes into 1/2 inch sized slices, and then put them into the boiling water.

Cook the Butter potatoes for about 15-20 minutes, until fork tender.

Strain the potatoes and put them into a large bowl. Add 1/4 cup of almond milk, 1/4 cup of coconut cream, 3 Tbs olive oil, 1 tsp garlic powder, 2 tsp parsley, 1 tsp salt, and 1/2 tsp of ground black pepper to the potatoes and then mash.

Mash until you have the desired consistency.
Calories: 266kcal, Protein: 35.2g, Sugar: 19.5g
Disclosure: This post contains Amazon affiliate links. This means that if you click on a link and make a purchase, I will receive a small commission at no cost to you.