Easy Whole30 Mashed Potatoes
These Easy Whole30 Mashed Potatoes are creamy and delicious dairy-free mashed potatoes made with coconut cream and almond milk. They are naturally Paleo, Gluten-free, Grain-free, Dairy-free, Vegan and Whole30 compliant.
I'm just going to come out and say that my mashed potato game has been on point lately.
I figured out my favorite type of potato, add-ins, and seasonings to make the best and easiest Whole30 mashed potatoes.
They are creamy and dreamy and my go-to way of making dairy-free mashed potatoes.
Check out the video below the recipe to see how to make them!
Why this recipe works
It's made with less than 10 ingredients.
It is easy to make.
It is easy to customize.
It is a great recipe for those with dairy intolerances or allergies.
It's a great recipe for those following a Paleo, Whole30, Dairy-free or Vegan diet.
These paleo mashed potatoes are delicious!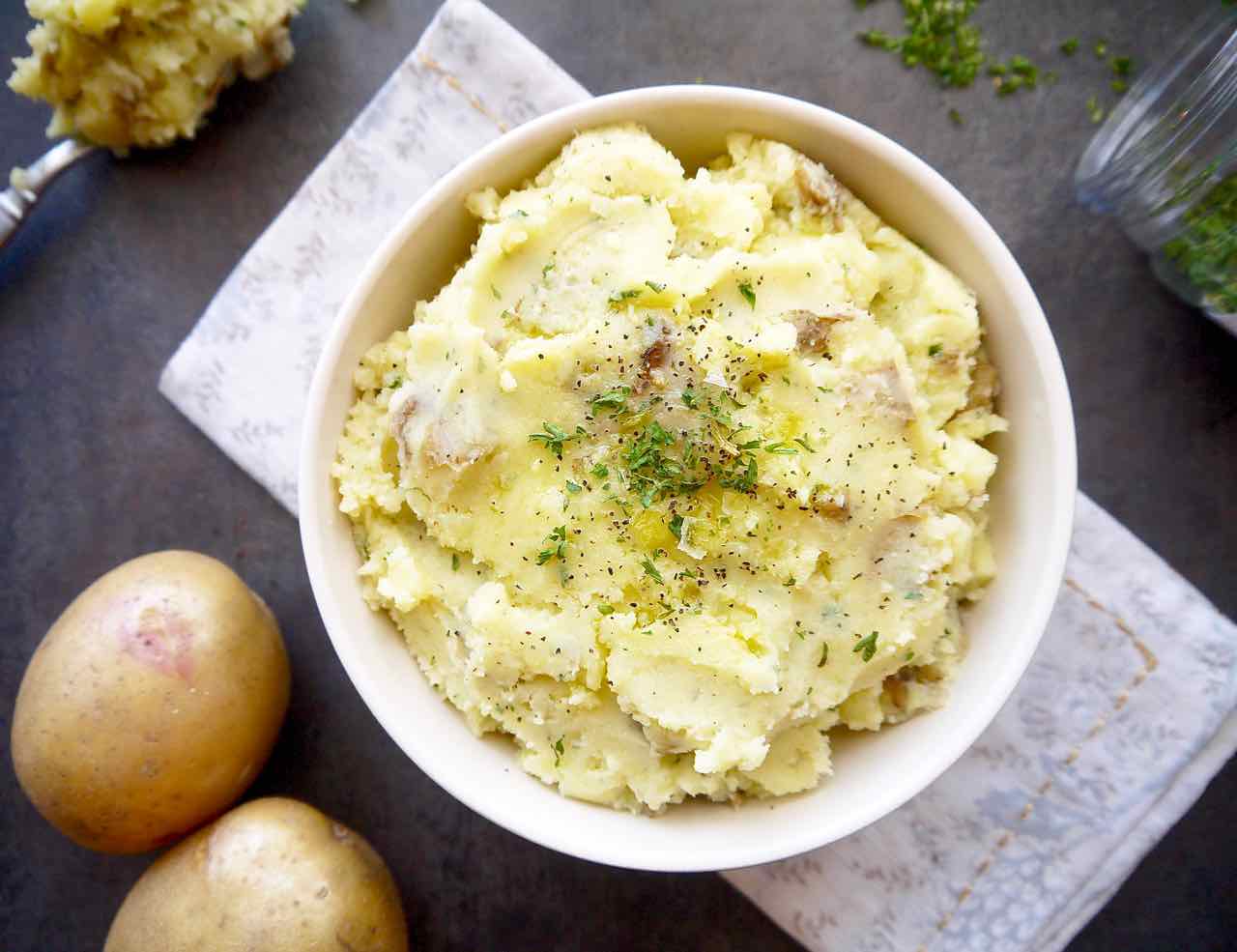 Ingredients needed to make Whole30 Mashed Potatoes:
butter potatoes ( or Yukon gold potatoes)- They make for the best mashed potatoes because they are soft and velvety after they are boiled.
almond milk– this is a great non-dairy milk alternative.
coconut cream– make sure the coconut cream doesn't have any preservatives or additives inside. Also make sure you enjoy the taste of your coconut cream. I love Savoy coconut cream because it is creamy and doesn't taste like coconut.
olive oil– extra light olive oil keeps the flavor light.
garlic powder– this adds flavor without having to cook the garlic first
dried parsley– this also adds flavor. Feel free to use fresh parsley if you want.
salt– use the salt of your choice.
pepper– fresh ground pepper is best here.
How to make this recipe
Cut the potatoes.

cut the potatoes into 1/2 inch slices.

Boil the potatoes.
Add all of the ingredients to a bowl.

this includes the almond milk, coconut cream, olive oil, garlic powder, dried parsley, salt and pepper.

Mash.

Mash until you get your desired consistency.
Variations and Modifications
Using different kinds of potatoes

you could try Russet potatoes, red potatoes, or a mixture of different kinds.
adding sweet potatoes could be yummy as well.

Using cauliflower

you could add some cauliflower to the boiling water and mix it into the potatoes

Adding fresh garlic

cooking garlic in olive oil and then adding it to the mashed potatoes would be yummy.

Adding onion powder

this would add a different flavor

Adding different spices ( like thyme, rosemary, sage)
Tips and Tricks
Make sure to cut the potatoes so they have an even consistency while boiling.
You don't have to peel your potatoes! It adds a rustic vibe to keep the skin.
But you can peel them if you want to.
Use a potato masher or a large fork to mash them.
Use a good quality coconut cream.
How to serve:
As a side dish with protein like roasted chicken or steak.
As a side dish for Thanksgiving, Friendsgiving, or a holiday meal.
In a bowl by itself… because let's get real… mashed potatoes taste great by themselves.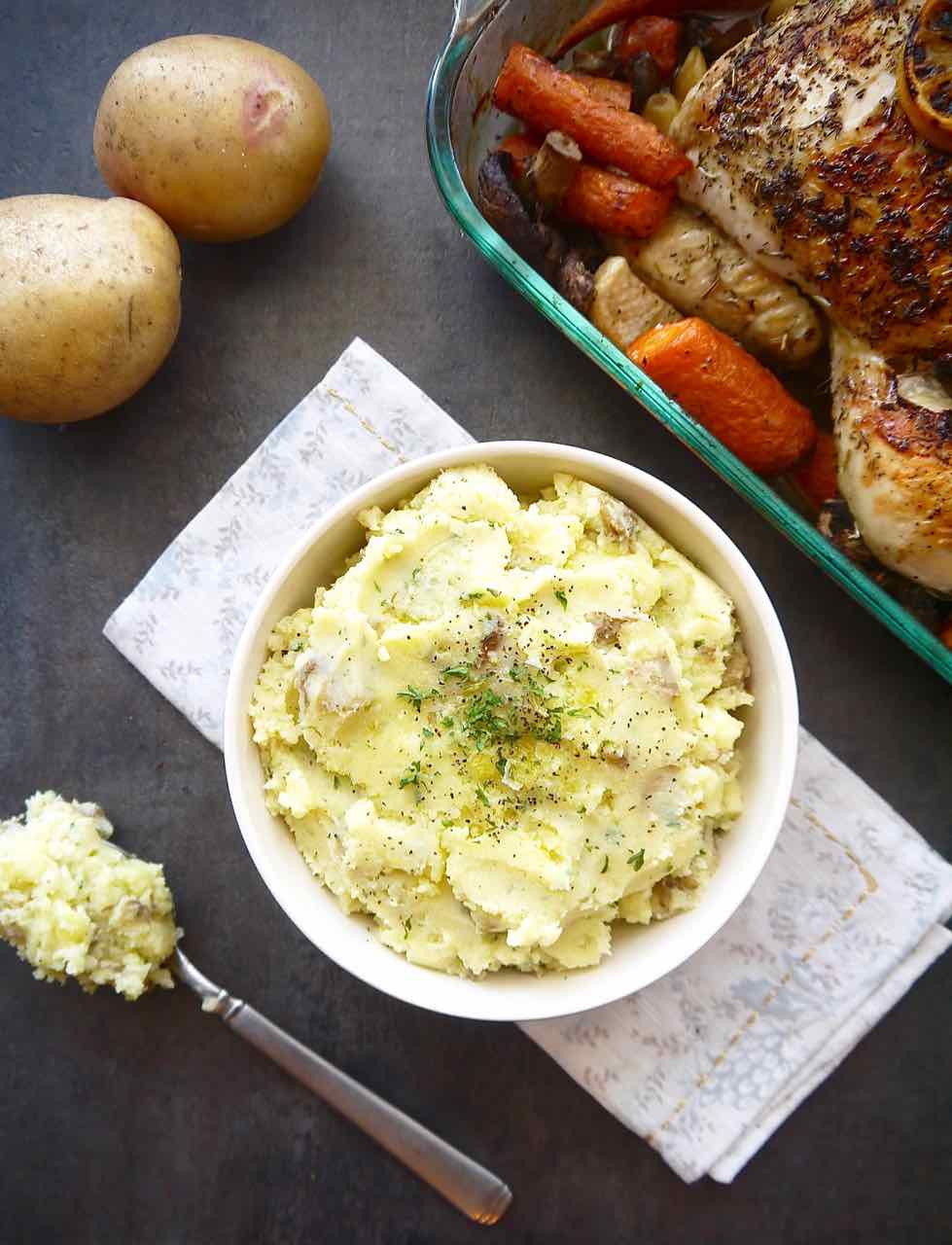 FAQs
Can I eat potatoes on a Whole30?
Yes! The guidelines changed to include potatoes and this change has made me very happy.
What is a good substitute for butter in mashed potatoes?
Olive oil! I love using olive oil instead of butter. I also love using coconut cream instead of butter as well.
What is the best nondairy substitute for mashed potatoes?
Coconut cream and almond milk are my favorite combination nondairy options to use in mashed potatoes.
Other delicious and healthy Whole30 potato recipes:
This Dill Ranch Potato Salad with Avocado and Eggs (Paleo, Whole30) is a great source of fat and protein and is mixed with the most yummy homemade ranch dressing.
Paleo Whole30 Potato Pancakes (GF). These potato pancakes are AMAZING. They are made with a mixture of shredded potatoes and mashed potatoes.
This Paleo Whole30 Potato Soup is the best dairy-free potato soup that I have had. It cooks in bacon grease so the flavor is extra rich.
Whole30 Mashed Potatoes
A "buttery", velvety, and tasty mashed potatoes recipe that is Paleo, GF, Grain-free, Dairy-free, and clean.
Ingredients
about 3.75 pounds of Butter potatoes
1/4 cup almond milk
1/4 cup canned coconut cream Savoy is my favorite because it has no preservatives and tastes great
3 Tbs olive oil
1 tsp garlic powder
2 tsp dried parsley
1 tsp salt
1/2 tsp ground black pepper
Instructions
Boil water, with a sprinkle of salt, in a large pot.

Cut the Butter potatoes into 1/2 inch sized slices, and then put them into the boiling water.

Cook the Butter potatoes for about 15-20 minutes, until fork tender.

Strain the potatoes and put them into a large bowl. Add 1/4 cup of almond milk, 1/4 cup of coconut cream, 3 Tbs olive oil, 1 tsp garlic powder, 2 tsp parsley, 1 tsp salt, and 1/2 tsp of ground black pepper to the potatoes and then mash.

Mash until you have the desired consistency.
Nutrition
Calories: 266kcalProtein: 35.2gSugar: 19.5g
Disclosure: This post contains Amazon affiliate links. This means that if you click on a link and make a purchase, I will receive a small commission at no cost to you.