Roasted Garlic Mashed Cauliflower and Potatoes (Paleo, Whole30)
Roasted Garlic Mashed Cauliflower and Potatoes recipe. A delicious and creamy mashed cauliflower and potatoes recipe that is flavored with fresh roasted garlic. Dairy-free, Paleo, Whole30 and Gluten-free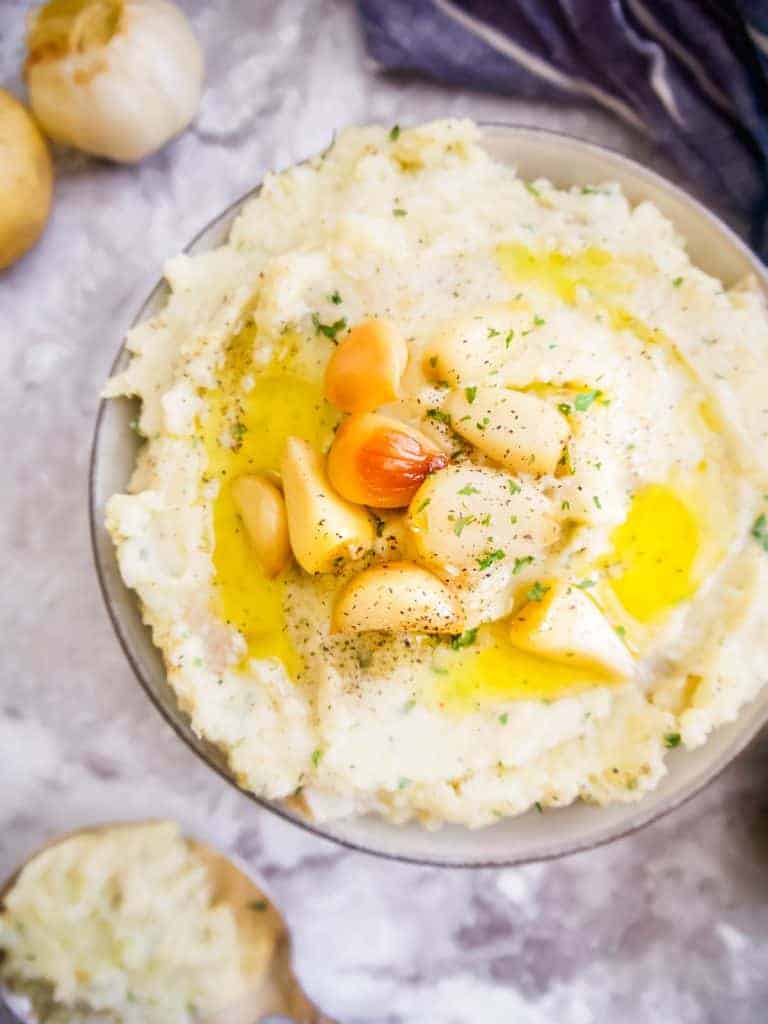 I LOVE roasted garlic. I love it slathered on bread, I love it in scrambled eggs, I love it with steak, and I especially love it with mashed potatoes. Roasted garlic + potatoes makes for the most delicious side dish.
Which is why I came up with this dairy-free, Paleo, Whole30 Roasted Garlic Mashed Cauliflower and Potatoes recipe.
Seriously though, I could eat these Roasted Garlic Mashed Cauliflower and Potatoes weekly. I love how creamy the combination of cauliflower and potatoes tastes together. Cauliflower adds an element of sweet creaminess to dishes that is just delicious.
I also love the combination of coconut cream, almond milk and olive oil when making mashed potatoes. This combo has been my go-to since I came up with my Whole30 Mashed Potatoes recipe. So good!
But the star of the show here is the roasted garlic… the flavor gets me every time.
Roasting garlic softens the harshness of garlic, yet preserves the delicious flavor that garlic has to offer. It softens the cloves of garlic until each clove can be spread like butter. Soooo good.
I mean, if you've spread roasted garlic onto a piece of bread… you know what I'm talking about.
I'm a huge garlic lover, as you can tell… and I love garlic cooked in butter… I especially LOVE the sauce that escargot is cooked in… which is butter, garlic, salt and parsley. ( I don't eat the escargot though… the texture is funky…I just love dunking bread in the sauce that it is made in).
But as good as garlic cooked in butter is, I have to say that I prefer roasted garlic. Roasted garlic cooked in olive oil has that extra oomph of flavor and tastes SO good.
Plus it is dairy-free which is a plus for me since I can't have dairy at the moment.
It's so easy to make too! All you have to do is cut the tops off of a head of garlic, sprinkle olive oil on top, wrap it in aluminum foil and then bake it at 400 degrees for about 35 minutes.
Not too shabby. Not shabby at all.
Then to make these Roasted Garlic Mashed Cauliflower and Potatoes, you add the roasted garlic to some cooked potatoes and cauliflower ( along with some spices…), almond milk, coconut cream, and olive oil and mash everything together until a creamy dreamy mashed cauliflower and potato dish emerges.
If you love garlic, then this is the dish for you.
I know that garlic can be a "love it or hate it" type of food. I have a friend that absolutely hates garlic. She won't even order certain dishes at a restaurant if garlic is in it!
But, I can't get enough garlic. And if you are like me, you need to make these Roasted Garlic Mashed Cauliflower and Potatoes!
You also need to check out this Roasted Garlic Cauliflower recipe by Wholesome Yum. It's got all that great garlic flavor in Keto and Paleo form.
Roasted Garlic Mashed Cauliflower and Potatoes (Paleo, Whole30)
A delicious and creamy mashed cauliflower and potatoes recipe that is flavored with fresh roasted garlic.
Ingredients
2 small / medium heads of garlic
2 tsp olive oil , to sprinkle on the heads of garlic
1 head of cauliflower
1.5 pounds gold potatoes ( this was 6 medium potatoes for me)
3 Tbs olive oil , for the mashed cauliflower and potatoes
3 Tbs almond milk
3 Tbs coconut cream ( without preservatives, Savoy is my favorite)
½ tsp onion powder
½ tsp garlic powder
½ tsp ground black pepper
½ tsp salt
2 tsp dried parsley
½ tsp ground nutmeg
salt and pepper to taste (I added an extra ¼ tsp salt to mine)
Instructions
Step 1: Roast the heads of garlic
Preheat oven to 400 degrees F.

Slice off the very top of each head of garlic to expose some of the cloves inside ( they don't all need to be exposed). Place each head of garlic on a piece of aluminum foil. Drizzle each head of garlic with 1 tsp of olive oil and wrap it in the foil. Place the foil wrapped heads of garlic on a cookie sheet and place into the oven. Cook until the garlic cloves are lightly browned and tender, about 35 minutes.

Remove the garlic from the oven and let cool. Peel the outside off of heads of garlic, then gently squeeze each clove out. ( I also used a fork to stab the roasted garlic and pull them out of their shell)
Step 2: Cook the cauliflower and potatoes
Fill a large pot with water and boil the water. Slice the potatoes into ½ inch slices. Cut the cauliflower into smaller cauliflower florets. Put the potatoes and cauliflower into the boiling water and cook for 20-25 minutes, until you can easily stab them with a knife.

Put the roasted garlic cloves from 1 ½ heads of roasted garlic into a small bowl and gently mash with the back side of a fork ( you don't have to mash them too much because you will mash them more later ). ( Also if you are unsure how garlicy you want your dish, use the cloves from 1 head of garlic only and then proceed with the recipe). Set aside the remaining roasted garlic cloves to be used as garnish later.

Drain the potatoes and cauliflower and then put them into a large bowl.

Put the mashed roasted garlic, 3 Tbs olive oil, 3 Tbs almond milk, 3 Tbs coconut cream, ½ tsp onion powder, ½ tsp garlic powder, ½ tsp ground black pepper, ½ tsp salt, 2 tsp dried parsley, and ½ tsp ground nutmeg into the bowl with the potatoes and cauliflower. Mash everything together with a potato masher.

Optional- Add more salt and pepper to taste ( I added ¼ tsp more of salt). (Also add more roasted garlic if you didn't add as much prior and you feel like your dish needs more)

Top the mashed potatoes with a sprinkle of olive oil and the remaining roasted garlic cloves as garnish.

Should yield approximately 8-10 servings.
Notes
Note: if you are unsure how much garlic flavor you want in the mashed cauliflower and potatoes, start by only adding the cloves from one head of garlic, and continuing with the recipe and then taste it. If you want to add more, then add more after that.
Disclosure: This post contains Amazon affiliate links. This means that if you click on a link and make a purchase, I will receive a small commission at no cost to you.