Paleo Chicken Burgers (GF)
Sorry I haven't been great at posting recently. I'm moving and it's been a bit crazy. Well, it's actually been very crazy. I've had to sell furniture on craigslist, pack my life into my car, drive 18 hours to my parents' house, put things into their storage, and figure out what I actually will be bringing with me on my move. Why so complicated? Well, I'm moving to Northern Ireland! Ah!
Because of this big move, my kitchen has been a hot mess, and thus quick easy meals have been a must. But, as per usual, I haven't wanted to sacrifice flavor or variety. Which is why these Paleo Chicken Burgers have been a wonderful lifesaver.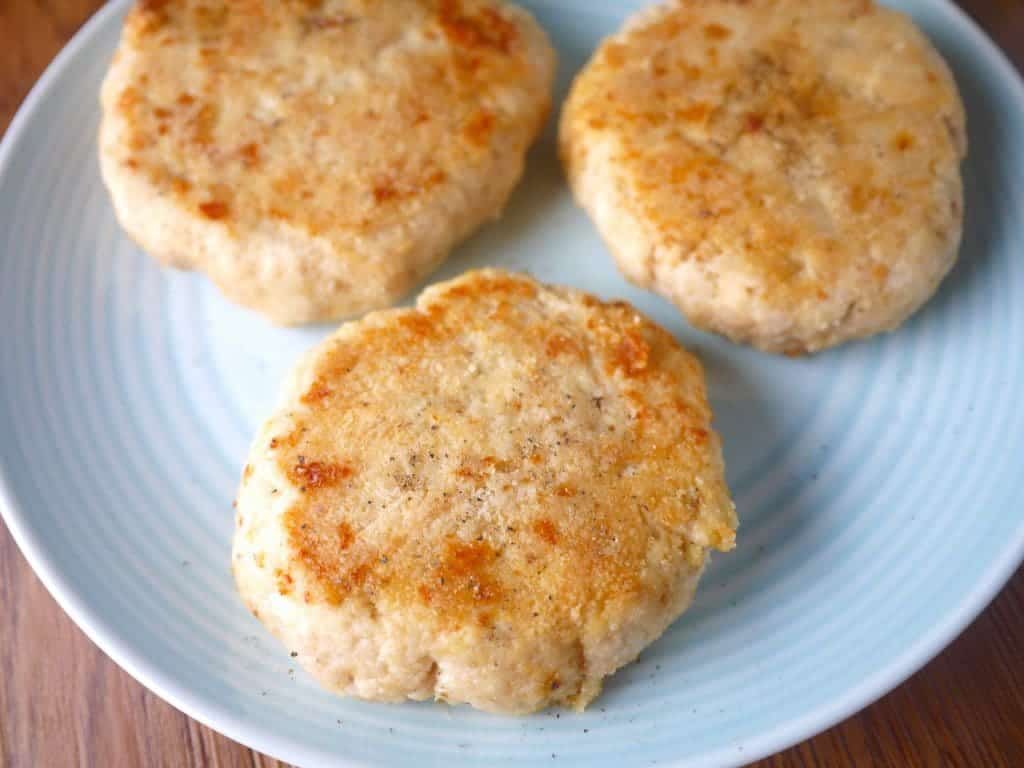 I looked up chicken burger recipes one night because I didn't want to make turkey burgers… AGAIN. I've been making turkey burgers embarrassingly often and was kind of sick of them.
I really didn't know what I wanted to eat… maybe chicken? But not my usual way of eating chicken. Hmmmm. I scanned the internet for chicken burgers and found this Chicken Burgers Recipe. It had such great reviews that I decided to paleoize it. 🙂
The result was these Paleo Chicken Burgers, which are really juicy and flavorful on the inside, and crispy on the outside. Such a great, delicious burger alternative!
I've made them several times since trying this recipe out. They taste great with veggies and a wide variety of sides.
All you have to do is mix ground chicken, almond flour, coconut milk, and the seasonings of your choice together. I used garlic powder, onion powder, black pepper, salt, and chili powder. Then, form the mixture into patties, dunk them into some almond flour and cook them until each side is crispy. Easy enough!
I used coconut milk from can here, a very thick, almost cream-like coconut milk. I don't think watery coconut milk would work well.
Let me know how you like these Paleo Chicken Burgers! They will be added to my burger rotation for sure.
I leave in less than a week for my move to Northern Ireland. I'm excited to be incorporate my life there and my travels into these posts. I can't wait!
Enjoy!
Paleo Chicken Burgers (GF)
Ingredients
1 pound of ground chicken
1 cup almond flour, , divided (use 1/2 cup in the burgers, and 1/2 cup (or more) to coat them. Keep some extra handy)
1/4 cup canned coconut milk, (I like Golden Star, it tastes great and has no preservatives)
2-3 tsp of garlic powder, ( I used 3 )
2 tsp onion powder
1/4 tsp cayenne powder
1/4 tsp ground black pepper
1 tsp of salt
1/4 tsp chili powder
Instructions
In a large bowl, put 1 pound of ground chicken, 1/2 cup of almond flour, 1/4 cup coconut milk, 2-3 tsp of garlic powder, 2 tsp onion powder, 1/4 tsp cayenne powder, 1/4 tsp ground black pepper, 1 tsp of salt, and 1/4 tsp chili powder in. Mix everything together with a fork or hands. I used my hands to mix everything together, it seemed faster.

Divide the mixture into 4 chicken patties and put onto a plate.

Put 1/2 cup of almond flour onto a plate. Put each pattie onto the almond flour plate and flip the pattie, coating it with the almond flour. Note: you may need more than 1/2 cup of almond flour here.

Heat 2 tsp of olive oil in a large frying pan over medium heat.

Put the chicken burgers into the pan and cook for 5 minutes on each side, until golden.
Disclosure: This post contains Amazon affiliate links. This means that if you click on a link and make a purchase, I will receive a small commission at no cost to you.