Easy Broiled Lemon Asparagus
This is the best oven broiled lemon asparagus recipe! The asparagus are covered in olive oil and lemon juice and then are broiled until crispy perfection. They make the perfect side dish for lunch or dinner!
Broiling asparagus is my all-time favorite technique for cooking asparagus. Add some lemon juice and extra virgin olive oil and I am in roasted asparagus heaven.
This simple and quick broiled asparagus recipe makes for the perfect match for many a dish. Bonus points that it only takes 10 minutes to make!
My favorite lemon asparagus recipe
I love this easy broiled lemon asparagus recipe because the asparagus is perfectly cooked. It's crispy on the outside, especially the tips of the asparagus and then soft and juicy on the inside.
The lemon juice gives the asparagus a wonderful citrus taste, that I've found makes even non asparagus lovers, like it.
This recipe is part of my regular meal rotation. I make this asparagus as a side dish to go along with my baked salmon recipe, or my dairy-free bacon and mushroom chicken recipe. SO good.
Also, asparagus is really healthy for you. It's got folate, quercetin, fiber, and vitamins A, C, and K.
Ingredients needed to make broiled lemon asparagus
asparagus
olive oil
salt
pepper
fresh lemon juice
The ingredient list is simple and short. The easier, the better.
How to broil asparagus
First of all you need to prep you asparagus. Make sure it is washed and then dried. Then cut the hard ends off. You can snap the hard ends off by hand or cut them off with a knife.
Then, put the prepped asparagus into the tin foil lined pan.
Sprinkle it with olive oil, lemon juice, salt and pepper, and then BROIL.
Set your oven to the broil setting. Then leave them in the oven for 6-8 minutes. They should be starting to get cooked at this point.
Mix them then put them back into the oven to broil a little longer.
Make sure to check on them often. Some ovens are hotter than others.
Once they are golden and as crisp as you want, take them out.
Recipe tips
Know your oven!

My oven has a low broil or high broil setting. I cook mine at the high broil setting.
If you know your oven runs hot, check on your asparagus sooner.
After the initial 6-8 minutes in the oven, check on your asparagus often.

Make sure the asparagus are on the thin side. If they aren't then you'll have to cook them much longer, but they won't get as crispy as thin ones do.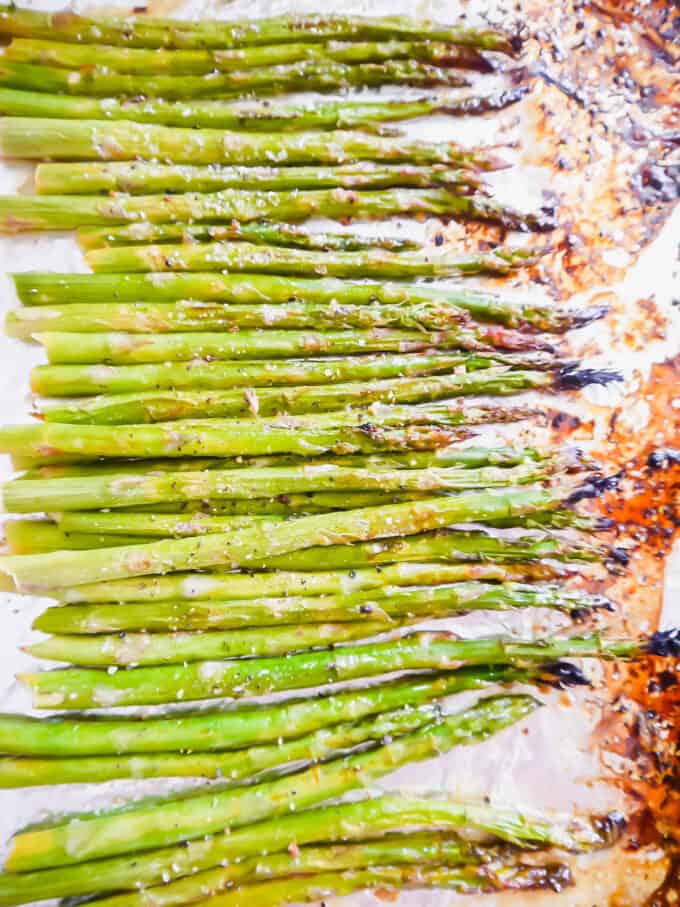 How to serve this asparagus with lemon recipe
As a side dish

all you need is a protein and carb and you are good to go! I love making this broiled lemon asparagus to go along baked salmon and potatoes.
On top of salad

I love adding asparagus to a fresh salad. It gives it great flavor
Other asparagus recipes you may enjoy
This White Asparagus with a Provençal Lemon Mustard Mayo recipe is my favorite way to eat white asparagus.
This Air Fryer Asparagus by Evolving Table results in perfectly crispy fresh asparagus!
Easy Broiled Lemon Asparagus
The asparagus are covered in olive oil and lemon juice and then are broiled until crispy perfection. 
Ingredients
1 bunch of thin asparagus (12 ounces)
2 Tablespoons olive oil
Salt and pepper to taste
1/4 cup lemon juice ( this was from 1.5 lemons for me)
Instructions
Set the oven to broil. Mine has a low and high setting and I used the high setting.

Line a cookie sheet with aluminum tin foil.

Cut the hard bottom ends off of the asparagus. This is the bottom part of the asparagus where it is lighter in color.

Place the asparagus side by side on the cookie sheet.

Pour the olive oil evenly over the asparagus then pour the lemon juice on top. Sprinkle with salt and pepper.

Put the asparagus into the oven and let it broil for 6-8 minutes, then briefly remove the pan from the oven and move the asparagus a bit with a fork, making sure the lemon juice is in middle of pan and the asparagus has oil on them.

Then let the asparagus broil for 2-4 more minutes. The extra broiling time depends on if the asparagus is cooked enough to your liking. I like when the asparagus is golden, with crispy tops. The timing on how long this will take depends on your oven. In my current oven, my asparagus cooked for 11 minutes total on high broil.
Nutrition
Calories: 88kcalCarbohydrates: 5gProtein: 3gFat: 7gSaturated Fat: 1gPolyunsaturated Fat: 1gMonounsaturated Fat: 5gSodium: 3mgPotassium: 243mgFiber: 2gSugar: 3gVitamin A: 851IUVitamin C: 12mgCalcium: 28mgIron: 2mg
Disclosure: This post contains Amazon affiliate links. This means that if you click on a link and make a purchase, I will receive a small commission at no cost to you.