White Asparagus with a Provençal Lemon Mustard Mayo
A French white asparagus recipe where silky soft white asparagus is covered in a Provençal style homemade mayonnaise.
This white asparagus recipe is based off of a French recipe that my French mother used to make often. It involves steamed white asparagus that are covered in a special homemade lemon mustard mayonnaise with a provençal flair.
This recipe makes for a wonderful side dish which is sure to be a crowd pleaser.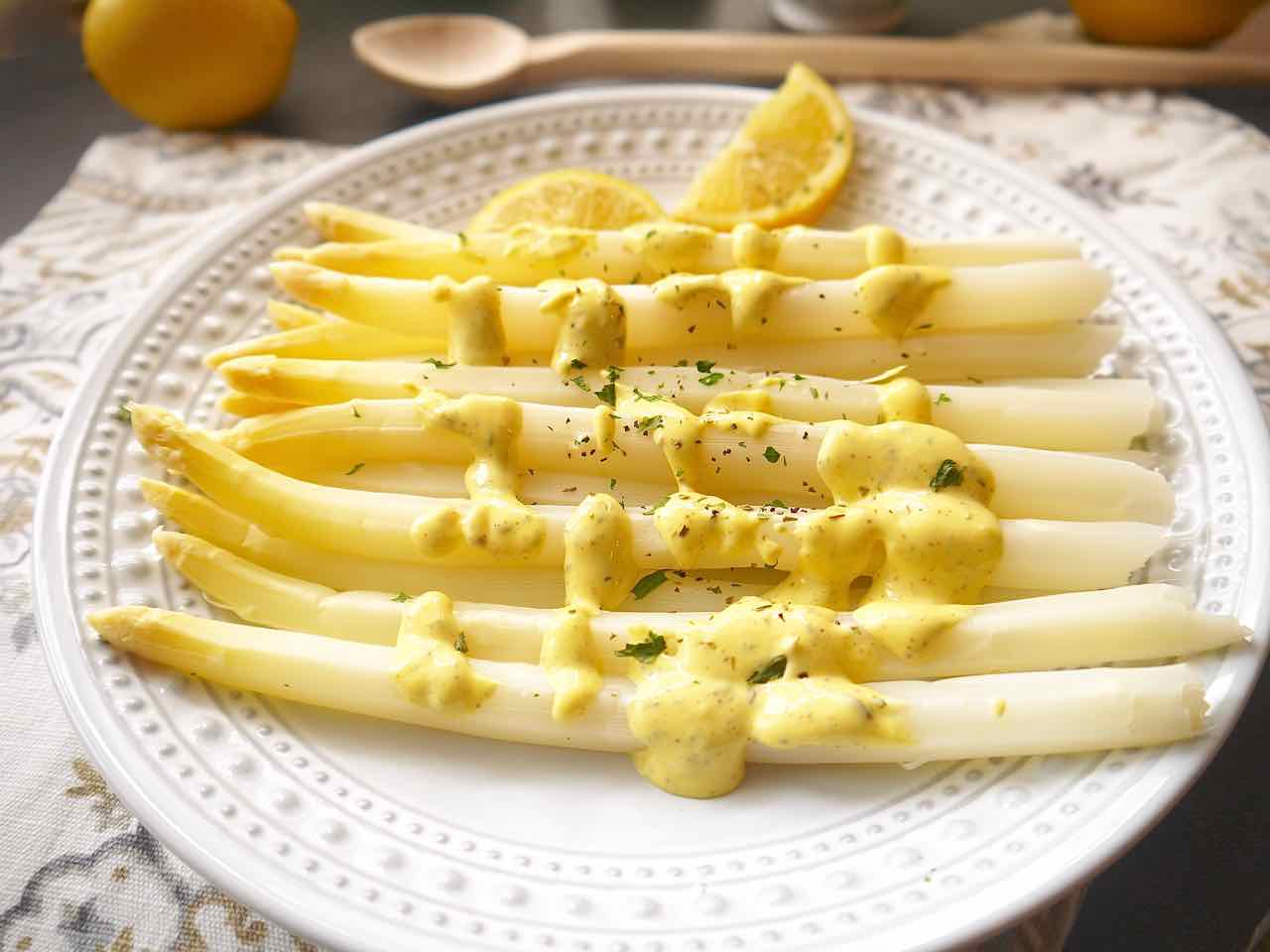 Why I love this white asparagus recipe:
its a flavorful dish which showcases the unique flavor and texture of white asparagus
its got a nice Provencal flavor thanks to the herbes de provence
its a unique and gourmet side dish option
white asparagus is a good source of vitamin B6, vitamin A, vitamin C, and vitamin E.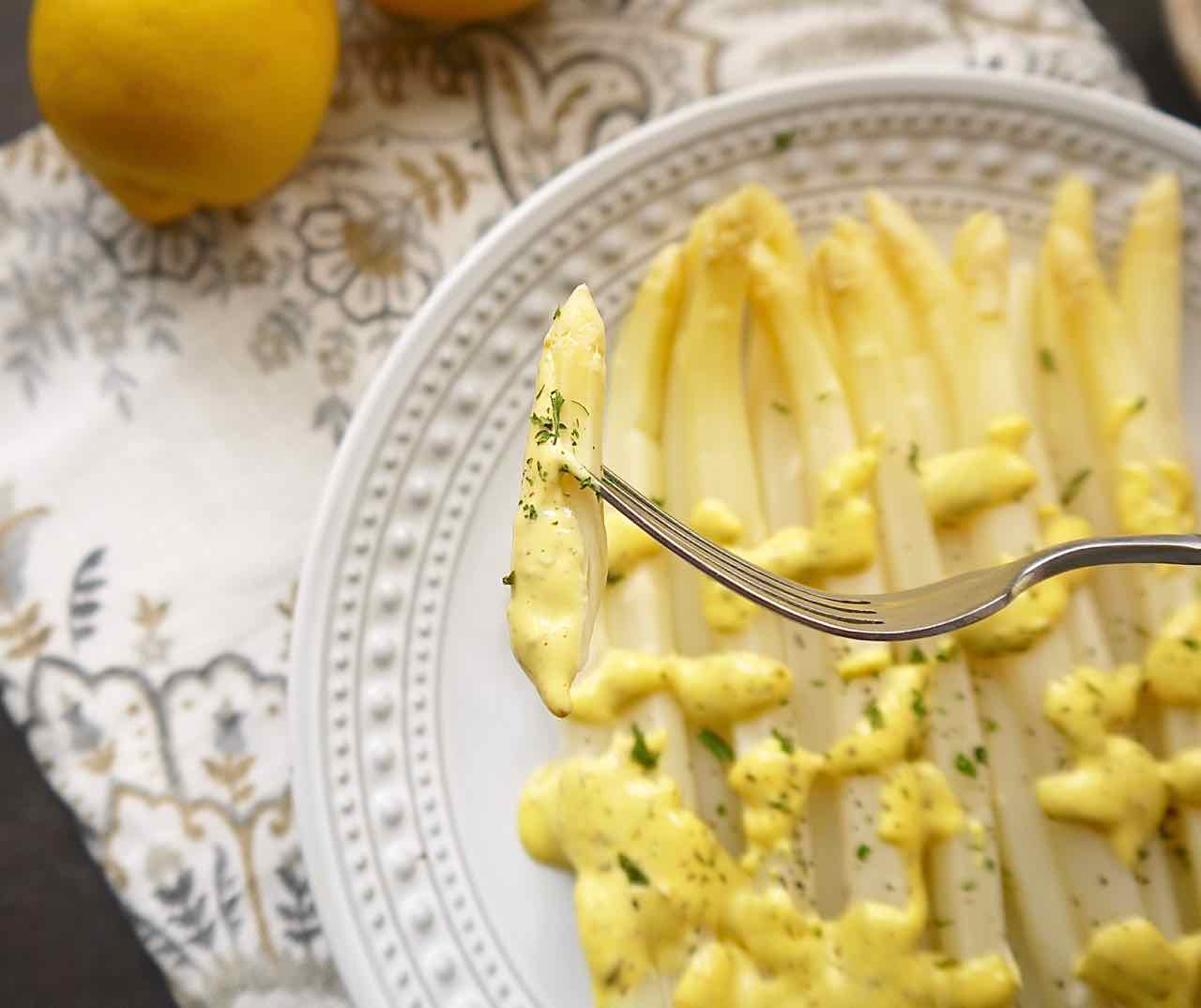 Ingredients needed:
white asparagus– if you see these in season, grab them!
lemon juice– you need this for the asparagus and for the mayo.
egg yolk– this is used to make the homemade mayo.
mustard– this is also part of the homemade mayo.
olive oil– this helps give the mayo texture.
salt
herbes de Provence– you can buy this at a grocery store or online. It includes a mixture of Rosemary,Lavender, Basil, Thyme, Marjoram, Bay leaf, Sage, Savory, Fennel, Oregano.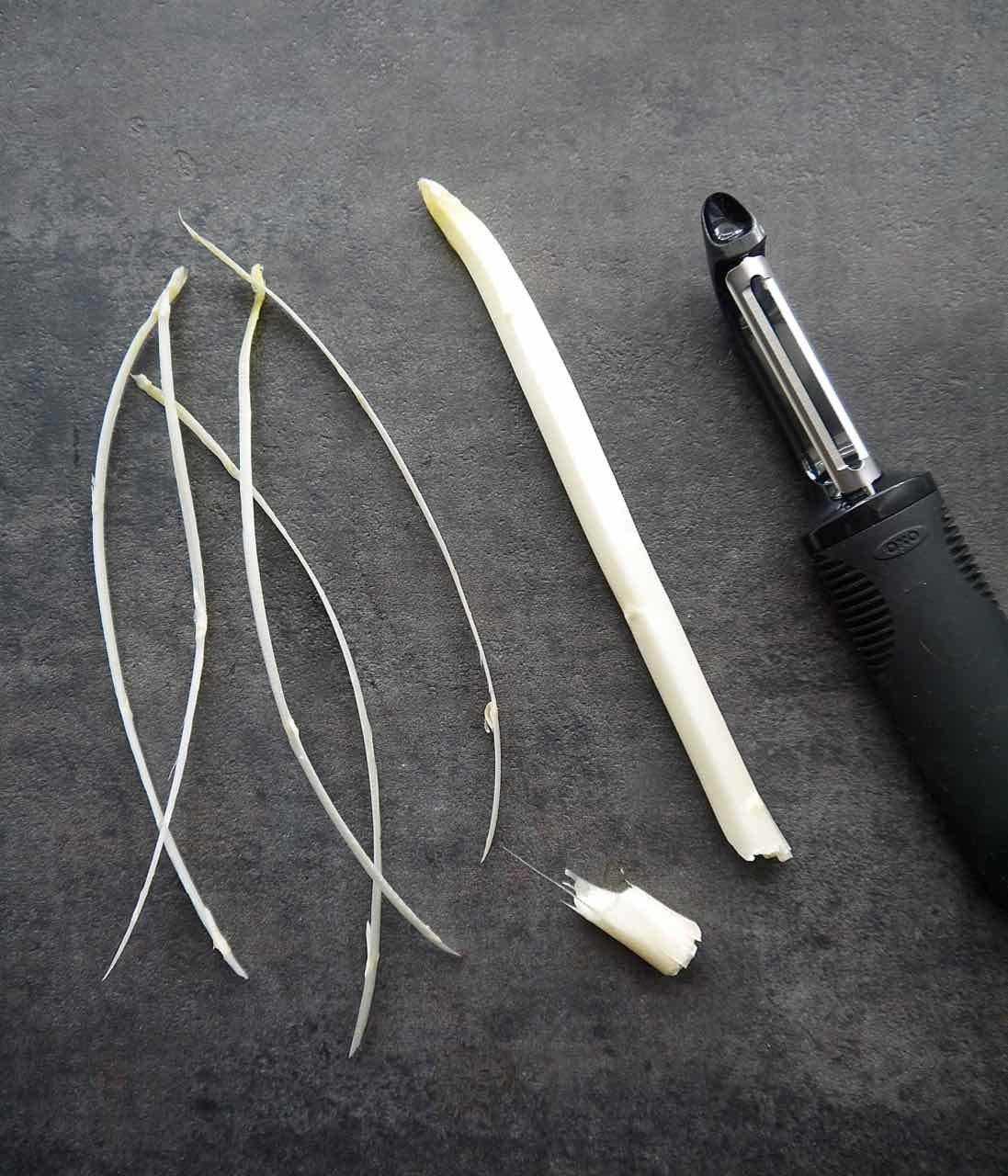 How to prepare and cook white asparagus:
Step 1: Peel off the touch outer layer.
Since white asparagus has a tough outer layer, you need to remove it. To do this, take a peeler and peel off this layer of the white asparagus.
You'll end up having to peel way more off than this picture that I have shown here.
One good way to know that you removed all of the tough outer layer is to snap the bottom part of the asparagus with you hands, then any pieces that stick out and are stringy, need to be removed.
If you don't get all the outer layer off, then the texture of your asparagus will be stringy after you boil it.
Look at the photo below, I have an arrow pointing to an example of the "stringy" parts that need to be removed before boiling.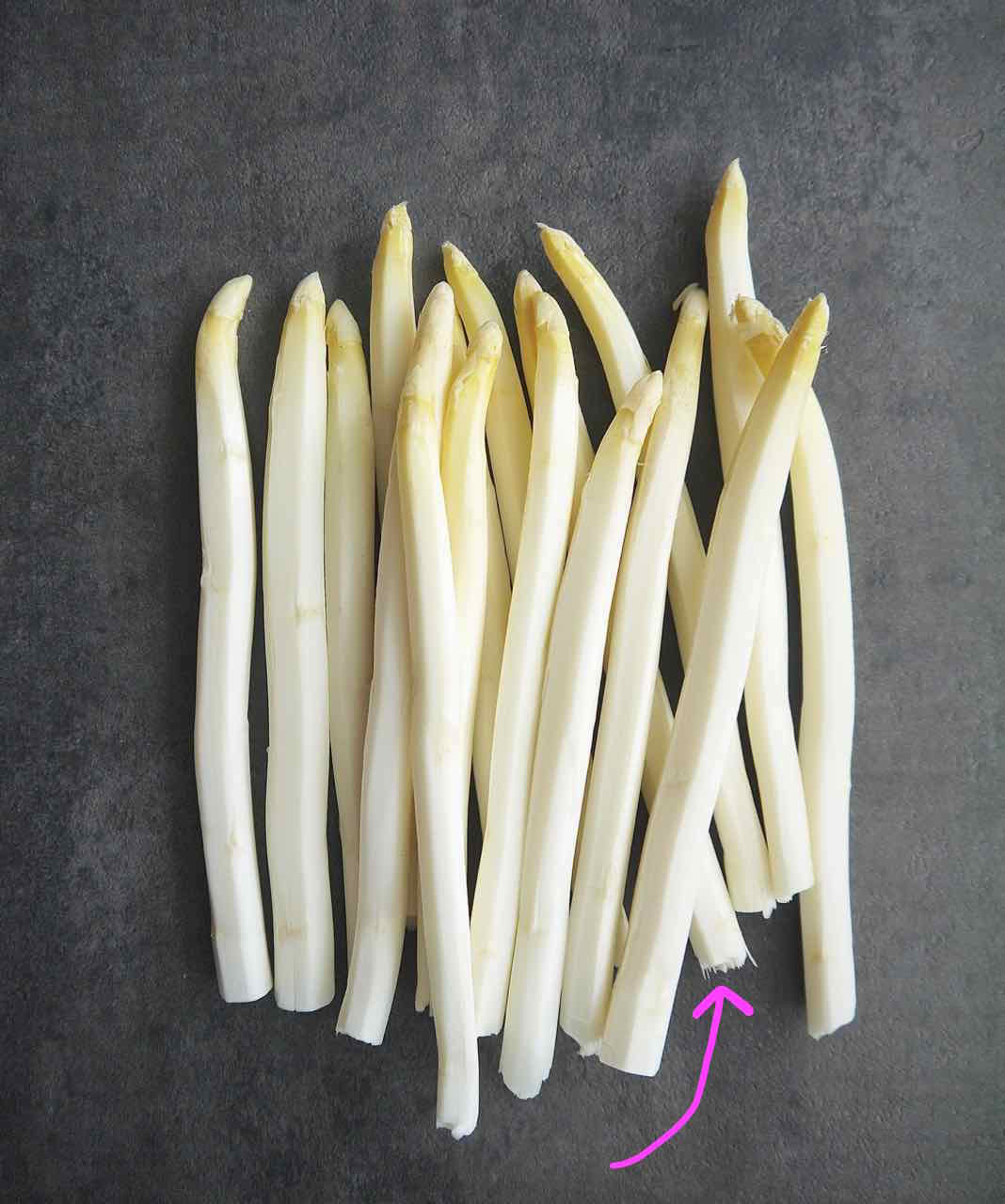 Step 2: boil the peeled white asparagus.
Boil the white asparagus for 12 minutes.
How to make the provençal mayonnaise:
Add the egg yolk, mustard and salt to a food processor and mix until thick. Then slowly add the oil to the mixture and mix until thickened. Then add the lemon juice and herbes de provence and mix again.
The mayo here will be more thin than the mayo you are used to, just FYI.
How to serve:
as a side dish along with meat and a carb
as part of a salad
as a starter to a meal
How to store:
Store in an airtight container in the fridge for 3 days.
Other French recipes you may enjoy:
Couscous Tabbouleh Salad (French Taboulé)
French Beet Salad with Mustard Vinaigrette
White Asparagus with a Provençal Lemon Mustard Mayo
A French white asparagus recipe where silky soft white asparagus is covered in a Provençal style homemade mayonnaise.
Ingredients
1 bunch of white asparagus (17-18 spears)
1 Tablespoon lemon juice
Provençal Lemon Mustard Mayo:
1 egg yolk
2 teaspoons mustard
a pinch of salt
5 Tablespoons olive oil
2 Tablespoons lemon juice
1 teaspoon herbes de provence
Instructions
Using a peeler, peel the outer/tough skin off of each white asparagus. Remove more than you think you should, and any stringy pieces.

Snap the bottom of the asparagus off, it will naturally break towards the bottom end, ( the bottom inch or two of the asparagus). When you snap the asparagus, if you see any strings, lift them off because this is part of the tough outer skin.

Put water, salt and 1 Tablespoon of lemon juice into a pan and boil. Then put the peeled asparagus inside the water, reduce the heat to medium and cook for about 12 minutes, or until you can easily stab the asparagus with knife and the asparagus is soft. Remove the asparagus from the water.

Then make Provençal Lemon Mustard Mayo. Put 1 egg yolk, 2 tsp mustard, and salt in a food processor and mix until thick. (You can also mix this with a handheld electric mixer). Add the oil slowly, then add the lemon juice and herbs de provence, and mix.

Pour the mayo on top of the asparagus.
Nutrition
Calories: 174kcalCarbohydrates: 1gProtein: 1gFat: 19gSaturated Fat: 3gPolyunsaturated Fat: 2gMonounsaturated Fat: 13gCholesterol: 49mgSodium: 40mgPotassium: 23mgFiber: 0.2gSugar: 0.4gVitamin A: 79IUVitamin C: 5mgCalcium: 13mgIron: 1mg
Disclosure: This post contains Amazon affiliate links. This means that if you click on a link and make a purchase, I will receive a small commission at no cost to you.