Zucchini and Kale Quiche with a Sweet Potato Crust (Paleo, GF)
Whoever came up with the idea of using sweet potatoes to make a quiche crust is a genius. A genius that has changed my life.
I went from eating quiche about once a year to becoming a quiche making machine! I've made two just in this past week alone. And one of them (this Zucchini and Kale Quiche with a Sweet Potato Crust) was so delicious, and added such lovely warmth to my meal, that I had to share.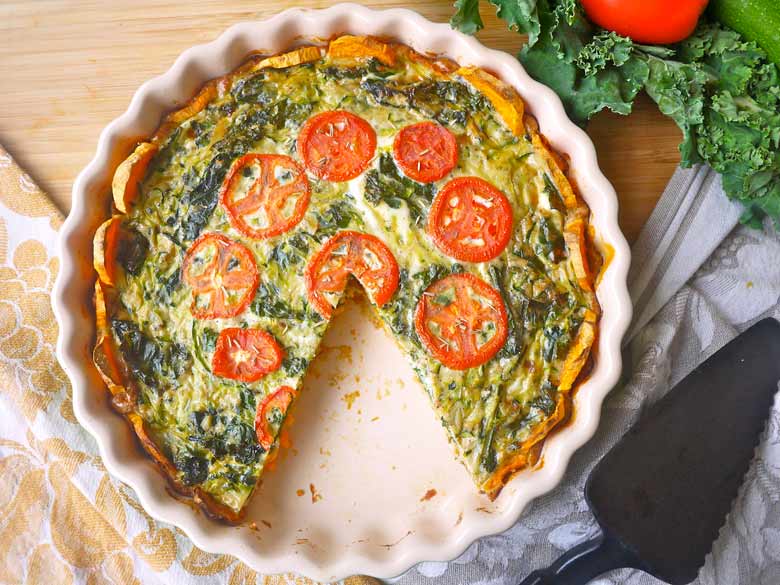 I originally wanted to make a quiche with spinach in it or something more along the lines of Quiche Lorraine.
But I decided to switch it up and use kale instead because kale has more protein and more vitamin C (it has 4x more vitamin C than spinach!).
I then added some zucchini to the quiche to enhance the flavor and to incorporate more green vegetables.
And… to be honest, I wanted to play with my vegetable grater and I happened to have an extra zucchini in the fridge. haha
Next, I topped the quiche with one roma tomato to make it pretty… it really adds a provençal feel, doesn't it?
Note: if you love baked tomatoes, you can add more inside the batter of the quiche as well.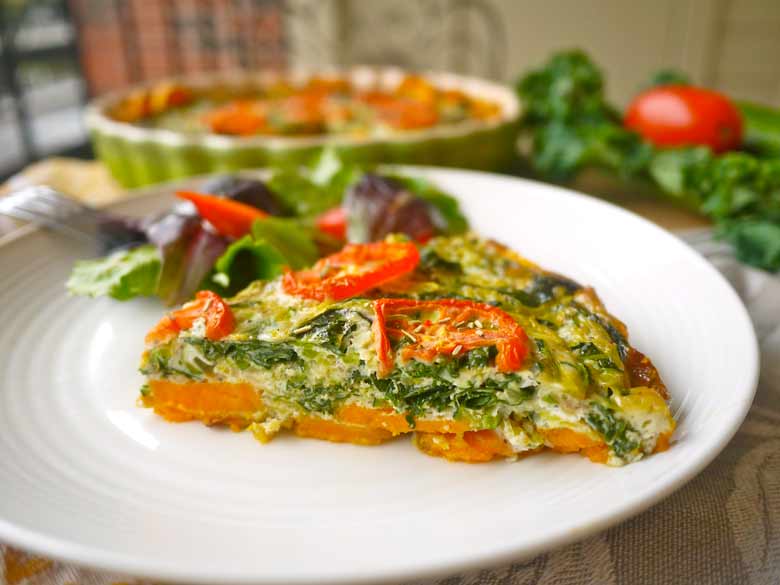 Lastly, I wanted to keep this quiche strictly paleo, so I didn't add any goat cheese to the batter.
If you want to add goat cheese, though, go ahead!
Goat cheese is easier to digest than cow's milk cheeses and many consider goat's milk to be "primal" and cleaner than cow's milk.
I recently added some to my Carrot, Broccoli, Pine Nut and Goat Cheese Quiche and my mouth was in heaven!
Either way, you can't lose.
This Zucchini and Kale Quiche with a Sweet Potato Crust is satisfying, refreshing, tasty, and it will be the star of any kitchen table. Why?
Looking at it makes you feel like you are in Provence.
Which is kind of awesome because it may be winter outside, but it will be Provence in your kitchen!
You can eat this quiche for breakfast, lunch, or dinner. Add a side salad if you are eating it for lunch or dinner. 🙂
Zucchini and Kale Quiche with a Sweet Potato Crust (Paleo, GF)
A paleo and gluten-free quiche with a sweet potato crust.
Ingredients
2 medium sweet potatoes , peeled and sliced thin
1 Tbs olive oil
1/3 cup of minced yellow onion , (this was 1/4 of a large yellow onion for me)
1 Tbs minced garlic , (this was 3 cloves of garlic for me)
2 cups of shredded zucchini (this was 1 large zucchini for me)
2 cups of chopped kale (this was from 4 large kale leaves), make sure to remove the stem
1/4 cup canned coconut milk or coconut cream (I like Goldenstar and Savoy because they don't have any preservatives)
5 eggs
1/2 tsp salt
1/2 tsp pepper
1/4 tsp ground nutmeg
1 roma tomato , sliced
optional- a sprinkle of dried rosemary
Instructions
Preheat the oven to 400 degrees.

Lay out the sliced sweet potatoes in a pie dish in a crust-like fashion. Brush some olive oil onto the sweet potato slices with a

silicone basting brush

.

Bake the sweet potato crust for 20 minutes.

While the sweet potato crust is baking, put 1 tbs of olive oil onto a large frying pan over medium heat.

Put the the minced onion and garlic in the pan, mix them into the olive oil and let them cook 3 1/2 minutes.

Add the shredded zucchini and kale to the pan, mix them into the onions and then let it all cook for 4 minutes, stirring every so often. Set the veggies aside.

Then, in a medium bowl, mix the eggs, coconut milk or cream, salt, pepper, and nutmeg together with a whisk.

Mix the zucchini and kale into the egg mixture and then pour the whole thing into the sweet potato crust.

Top the quiche with the sliced roma tomatoes. If you want, sprinkle with some dried rosemary.

Reduce the oven heat to 375 degrees.

Put the whole thing into the oven for 40 minutes. Let the quiche sit for 15 minutes. Slice and Enjoy!
Nutrition
Calories: 190kcalCarbohydrates: 21gProtein: 8gFat: 9gSaturated Fat: 4gPolyunsaturated Fat: 1gMonounsaturated Fat: 3gTrans Fat: 0.01gCholesterol: 136mgSodium: 308mgPotassium: 660mgFiber: 5gSugar: 6gVitamin A: 13362IUVitamin C: 40mgCalcium: 121mgIron: 2mg
Disclosure: This post contains Amazon affiliate links. This means that if you click on a link and make a purchase, I will receive a small commission at no cost to you.