French Tomato, Tuna, & Mustard Quiche (paleo, GF)
I got the idea to make this quiche while sitting in a café in Bordeaux. Well, it actually wasn't my idea. It was written on the chalkboard in front of me. "Plat du jour: Quiche thon, tomates, et moutarde". How interesting!
As I waited for my croissant and coffee to arrive, I couldn't stop thinking about how intriguing this quiche flavor combination was. I quickly jotted down a note to make this quiche at home, and then continued people watching.
Even though I wrote down a note to remember this quiche, I never forgot it. It's quite honestly been on my mind ever since.
I've done research on this recipe in English and in French, and it is indeed, a well known quiche combination. One that I have never tried, but one that clearly peaked my interest.
Naturally, I decided to make this quiche Paleo.
Which means, making it with a sweet potato crust.
I sliced 1 1/2 sweet potatoes, cooked them in a pie dish for 20 minutes, and then gathered my toppings.
According to many of French recipes, you put a layer of mustard down, then a layer of crumbled tuna, and lastly you top it with a mixture of eggs, milk, and tomatoes.
So that is exactly what I did. (But with coconut milk, of course).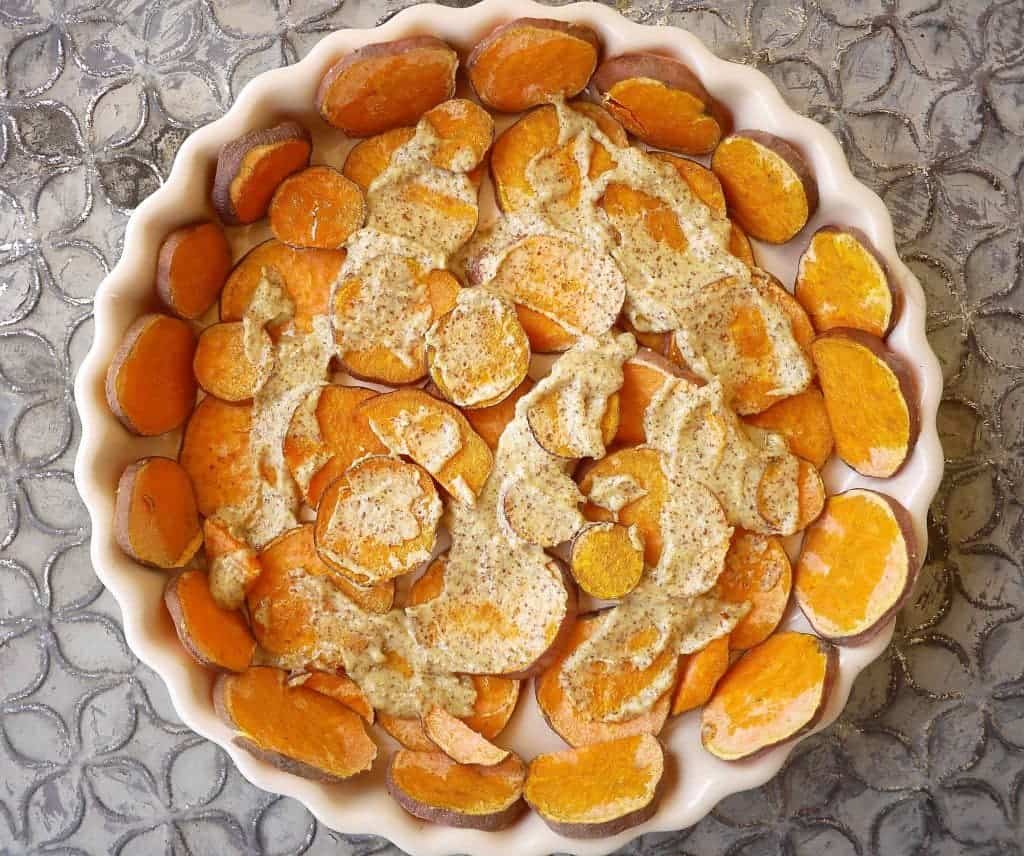 I used Kroger Horseradish mustard because it has no chemicals or sugar inside.
It's deliciously paleo.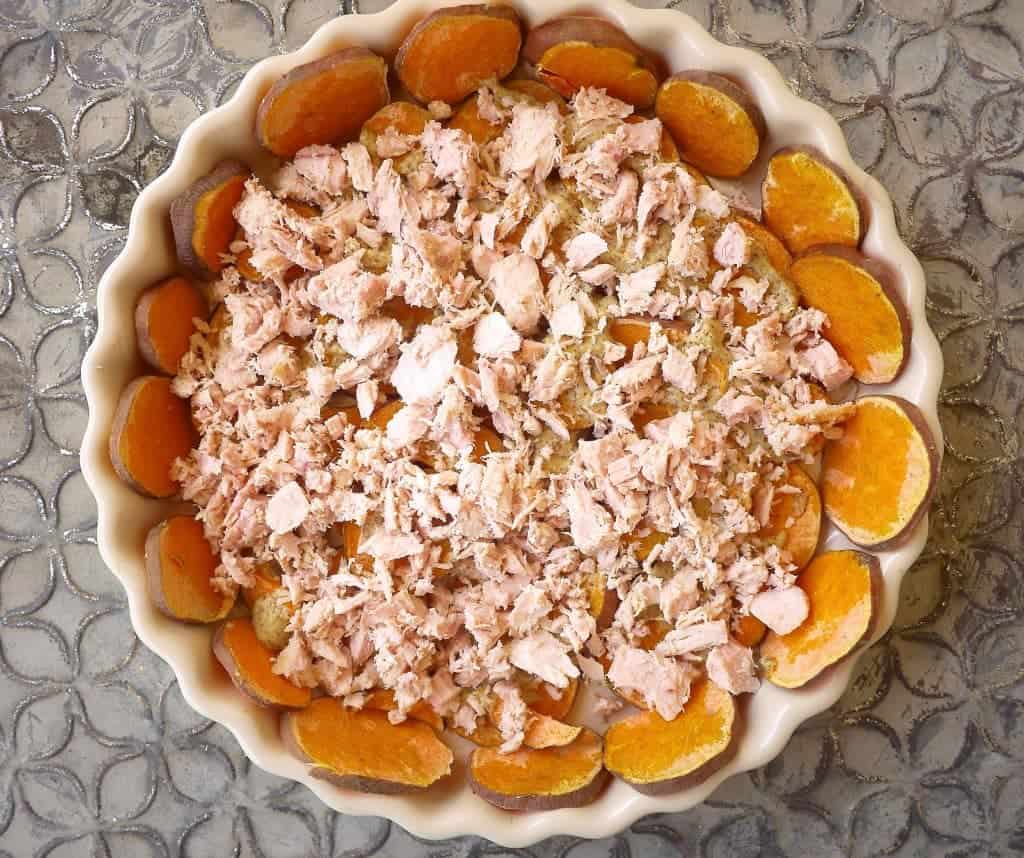 Then I used Wild planet tuna, because it's my favorite.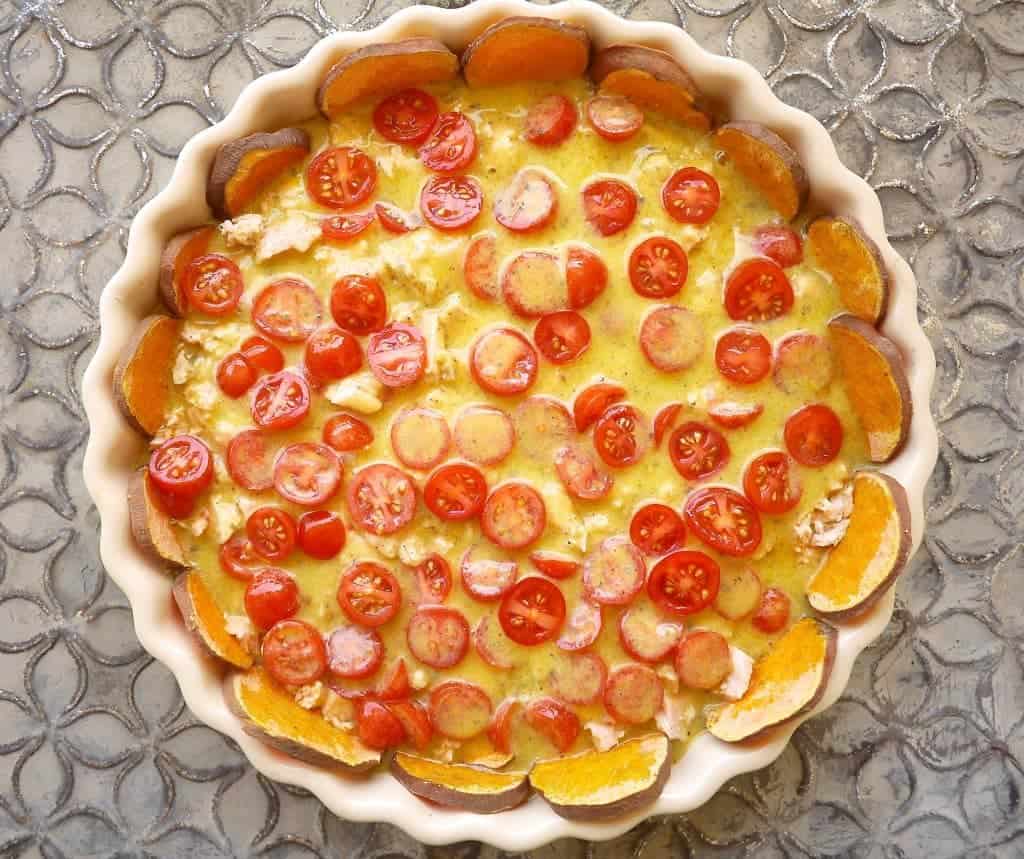 I also used cherry tomatoes, because those are definitely my favorite type of tomato. 🙂
I put the pie pan into the oven for 40 minutes, and anxiously awaited for it to be done so I could finally try this quiche!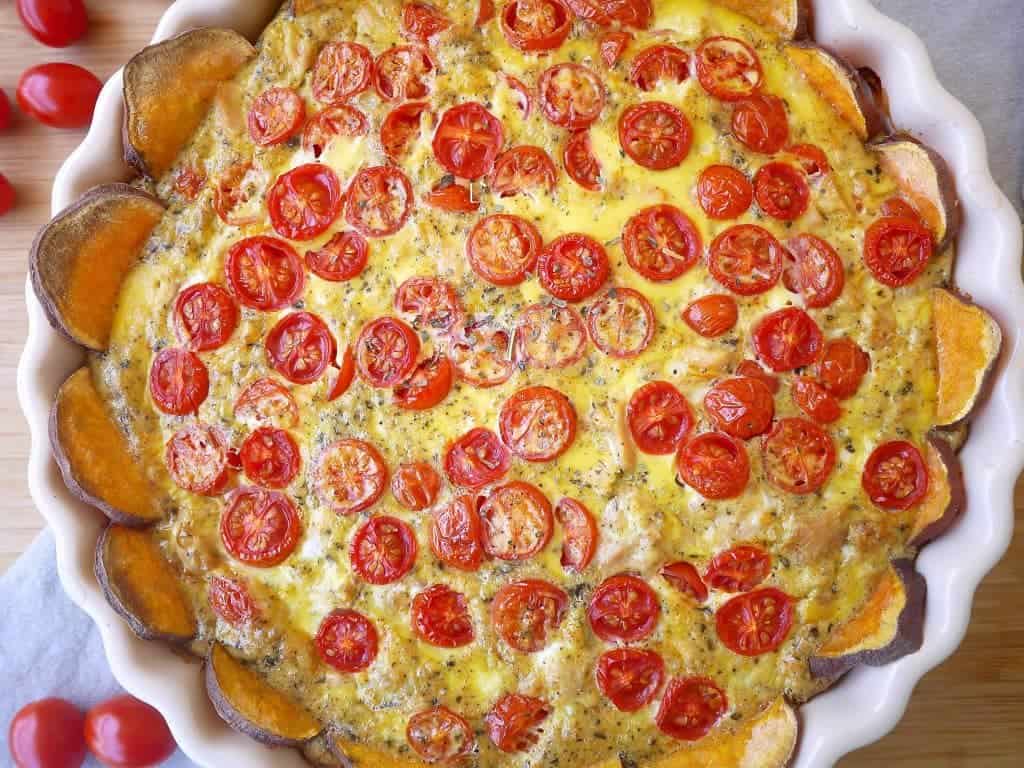 And all I can say is WOW and why have I never thought to pair tomato, tuna, and mustard before!
The mustard( the ingredient that I was most hesitant about) really ties together all the flavors.
And when you taste it in the quiche, it's as if it was meant to be there.
It adds a kick to the sweet potato crust, and seasons the tuna and tomato well.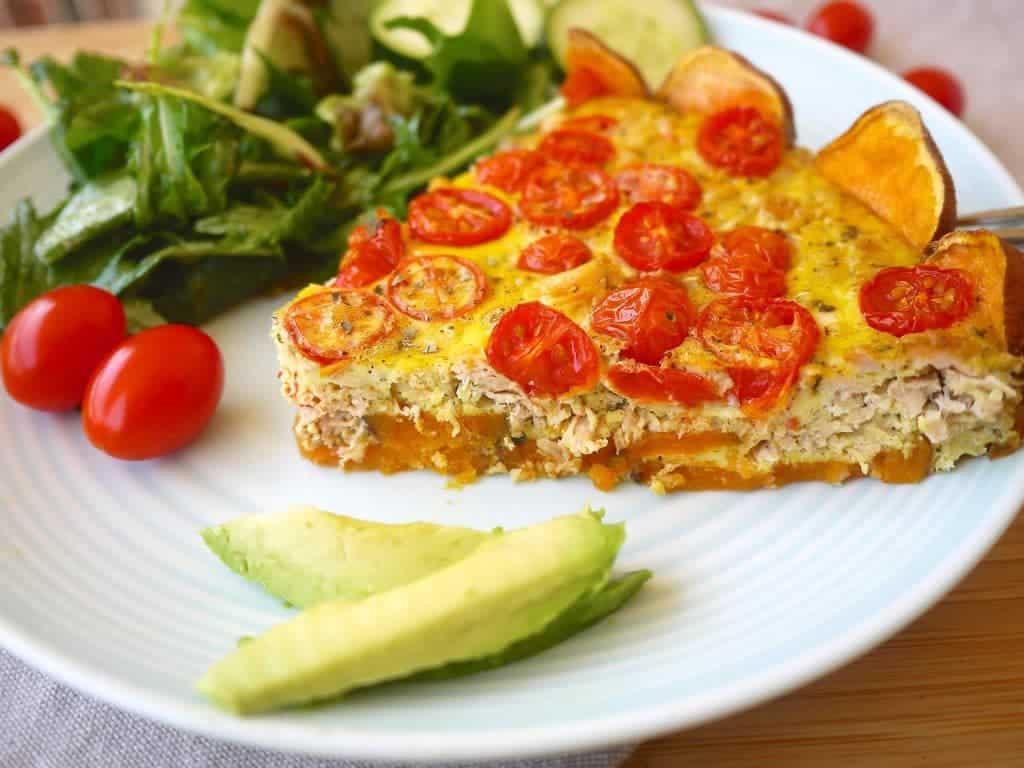 The sweet acidic cherry tomatoes, hearty tuna, and tangy mustard flavors just melt together into the quiche.
The basil is a really nice touch to the egg mixture as well.
And even though, I've never had it before, it really does taste like France to me. I love it!
This French Tomato, Tuna, & Mustard Quiche is a refined adult quiche, perfect for breakfast, lunch or dinner.
I highly recommend eating it with a salad and some avocado. Delish!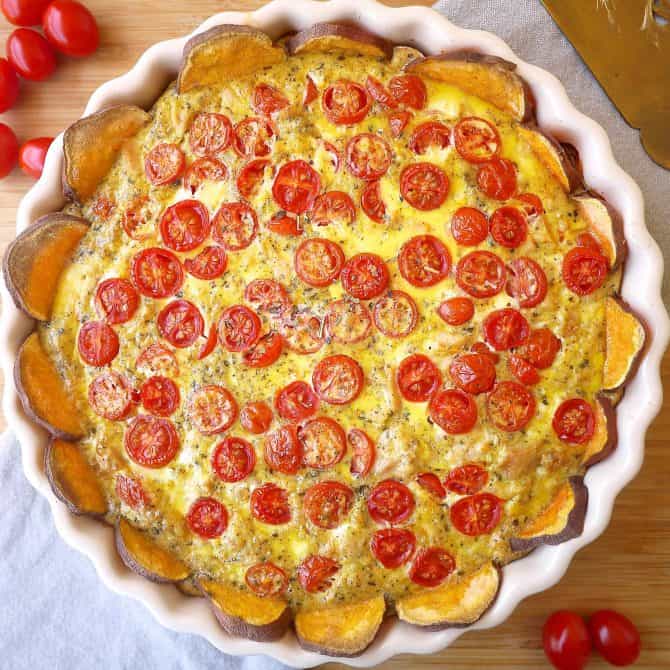 French Tomato, Tuna, & Mustard Quiche (paleo, GF)
A french style quiche with tuna, tomato, and mustard makes a nice change for a paleo breakfast quiche.
Ingredients
1 1/2- 2 medium sweet potatoes , peeled and sliced relatively thin
1 Tbs olive oil
3 Tbs mustard (I use Kroger Horseradish Mustard bc its Paleo)
one 5 ounce can of tuna (I love Wild Planet because there are no soy products inside)
¼ cup canned coconut milk (I like Goldenstar and Savoy because they don't have any preservatives)
5 eggs
½ tsp salt
½ tsp pepper
1/2 tsp of dried basil
1 cup of sliced cherry tomatoes
Instructions
Preheat the oven to 400 degrees.

Lay out the sliced sweet potatoes in a pie dish in a crust-like fashion. Brush some olive oil onto the sweet potato slices with a

silicone basting brush

. Bake the sweet potato crust for 20 minutes.

Once the 20 minutes is up, let the sweet potato crust cool for 5 minutes. Reduce the oven heat to 375 degrees.

Top the sweet potato crust with a layer of mustard. Evenly distribute 3 Tbs of mustard to the sweet potato crust and spread it around with a rubber spatula. (It doesn't have to be perfect).

Put the tuna into a bowl and mash it with a fork until it crumbles. Then, sprinkle the tuna on top of the layer of mustard.

In a medium bowl, mix the eggs, coconut milk or cream, salt, pepper, and basil together in a bowl with a whisk. Add the cherry tomatoes and mix.

Pour the egg mixture on top of the tuna.

Put the whole thing into the oven for 40 minutes. Let the quiche sit for 5-10 minutes. Slice and Enjoy!
Nutrition
Calories: 361kcalCarbohydrates: 43gProtein: 18gFat: 13gSaturated Fat: 6gPolyunsaturated Fat: 2gMonounsaturated Fat: 5gTrans Fat: 0.02gCholesterol: 217mgSodium: 685mgPotassium: 949mgFiber: 7gSugar: 10gVitamin A: 28564IUVitamin C: 14mgCalcium: 114mgIron: 4mg
Disclosure: This post contains Amazon affiliate links. This means that if you click on a link and make a purchase, I will receive a small commission at no cost to you.