Gluten-Free Quiche Lorraine with a Potato Crust
Gluten-Free Quiche Lorraine with a Potato Crust recipe. A Gluten-free Quiche Lorraine that is lightened up by using almond milk instead of heavy cream, and crust made of sliced potatoes instead of a butter crust.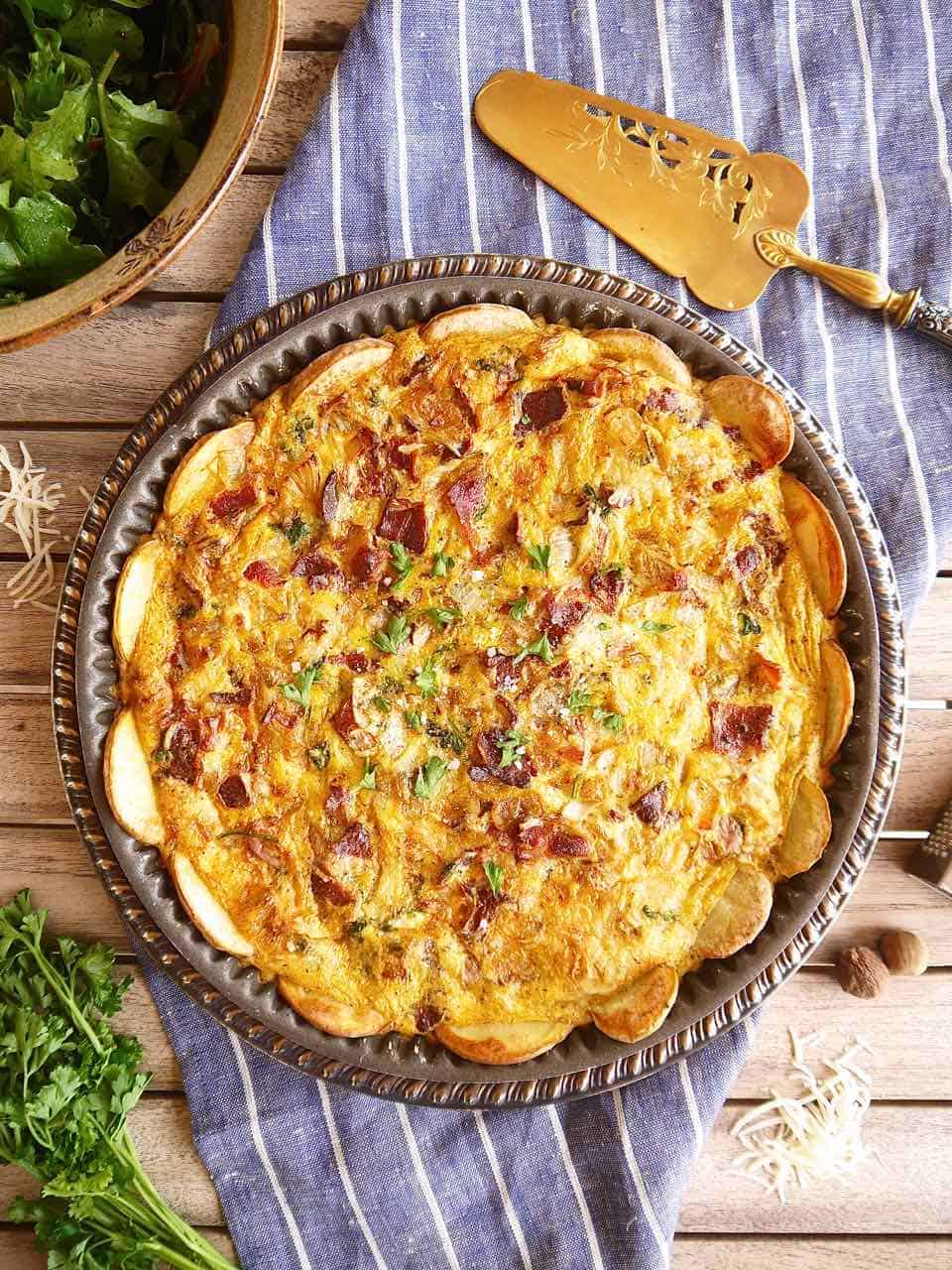 This Gluten-Free Quiche Lorraine with a Potato Crust is on point! I took a classic french quiche Lorraine recipe and lightened it up a bit by using almond milk instead of heavy cream and using sliced potatoes instead of a traditional butter crust.
I also used crispy bacon instead of lardons because I prefer the texture of crispy bacon texture in quiches.
This potato crust quiche is basically an entire breakfast / brunch in pie form. And it is glorious.
I say that this potato crust quiche Lorraine is an entire breakfast because it's got potatoes, eggs, and bacon inside. Which sounds like a complete breakfast to me!
Although, I'm a huge fan of quiche for lunch as well, especially when it's paired with a side salad.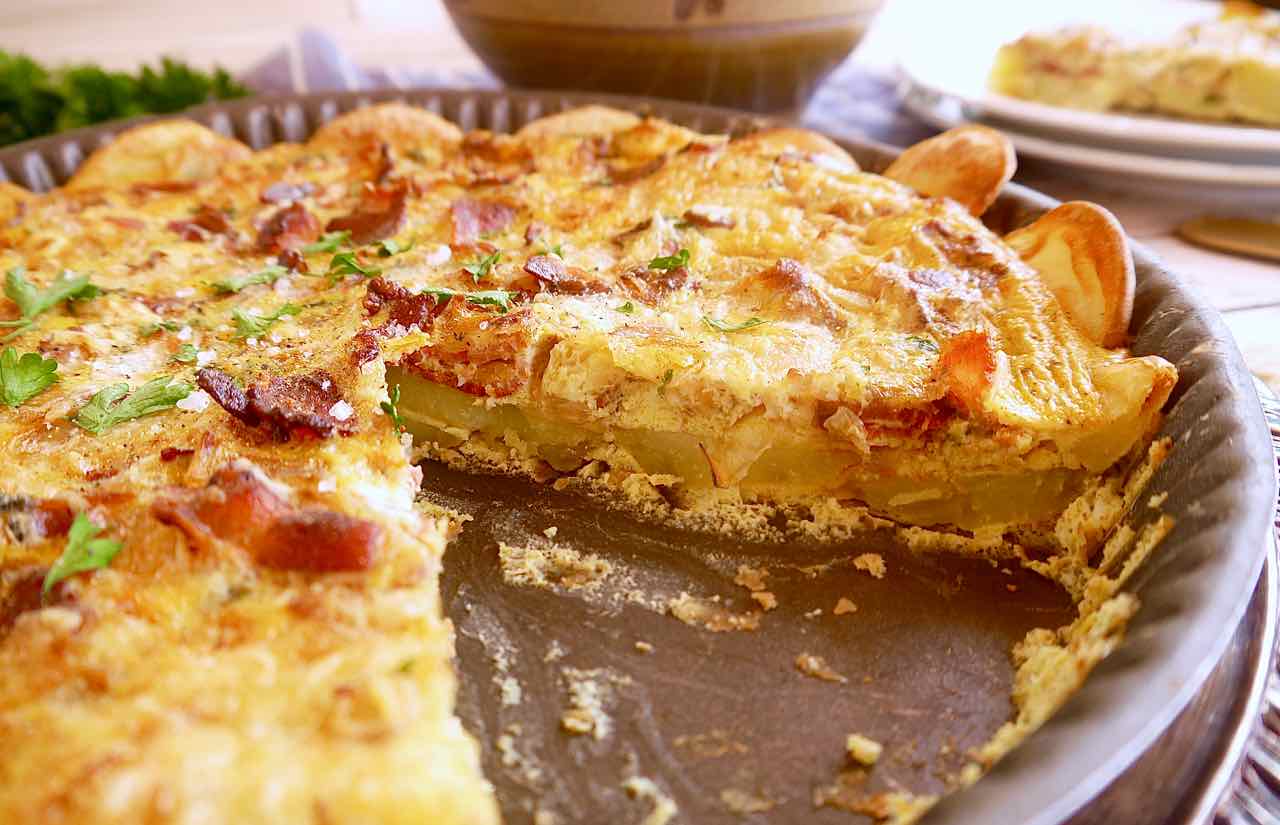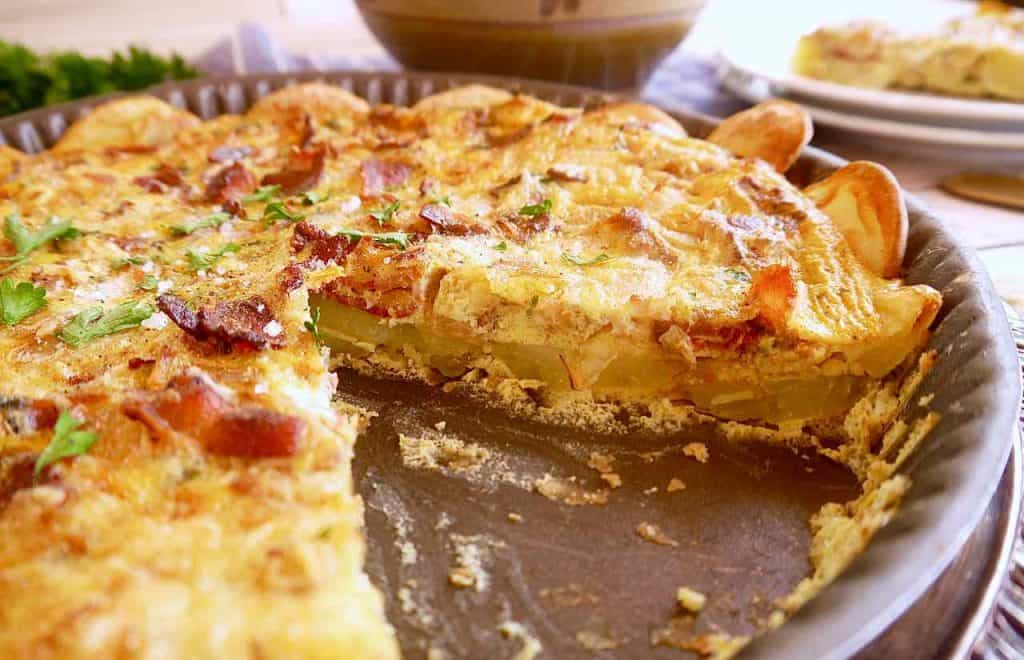 Ingredients needed to make this Gluten-free Quiche Lorraine:
yellow potatoes
bacon
onion
shallot
parsley
eggs
almond milk
salt and pepper
nutmeg
gruyere or Swiss cheese
Note: you can use regular milk or any non-dairy milk of your choice
How to make this Potato Crust Quiche Lorraine:
Step 1: Make the sliced potato crust
Slice you potatoes and then line them up in a pie dish in a circular pattern. Try to cover as much of the pie dish as you can with sliced potatoes.
Spray or brush with some olive oil and then bake the potatoes for 20 minutes.
Step 2: make the inside of the quiche Lorraine
While the potatoes are cooking, start cooking the bacon in a pan to get it nice and crispy. Then remove the bacon from the pan and cook the onions and shallots in the remaining bacon grease.
Then in a large bowl, add the eggs, almond milk, and spices and whisk them together. Then add the bacon and onions and mix them into the egg mixture.
Lastly fold in some gruyere.
Step 3: Bake!
How to serve this french quiche Lorraine with a potato crust:
You can serve this gluten-free quiche Lorraine in so many ways!
with a side of fruit
with a side salad
by itself
with bacon or sausage on the side
sautéed mushrooms
some steamed broccoli or spinach
I vary how I serve this quiche based on if I am eating it for breakfast or dinner.
Other healthy breakfast recipes you may enjoy:
This amazing Gluten-free Quiche from Allergy Free Alaska looks dreamy. It is dairy-free too!
This Vegetable Frittata from Meaningful Eats is full of spinach, eggs and potatoes! It looks so good!
This Paleo Gluten-free Spinach Bacon Quiche is a gluten-free, grain-free and dairy-free quiche recipe made with a paleo flakey crust and a fresh spinach and crispy bacon filling.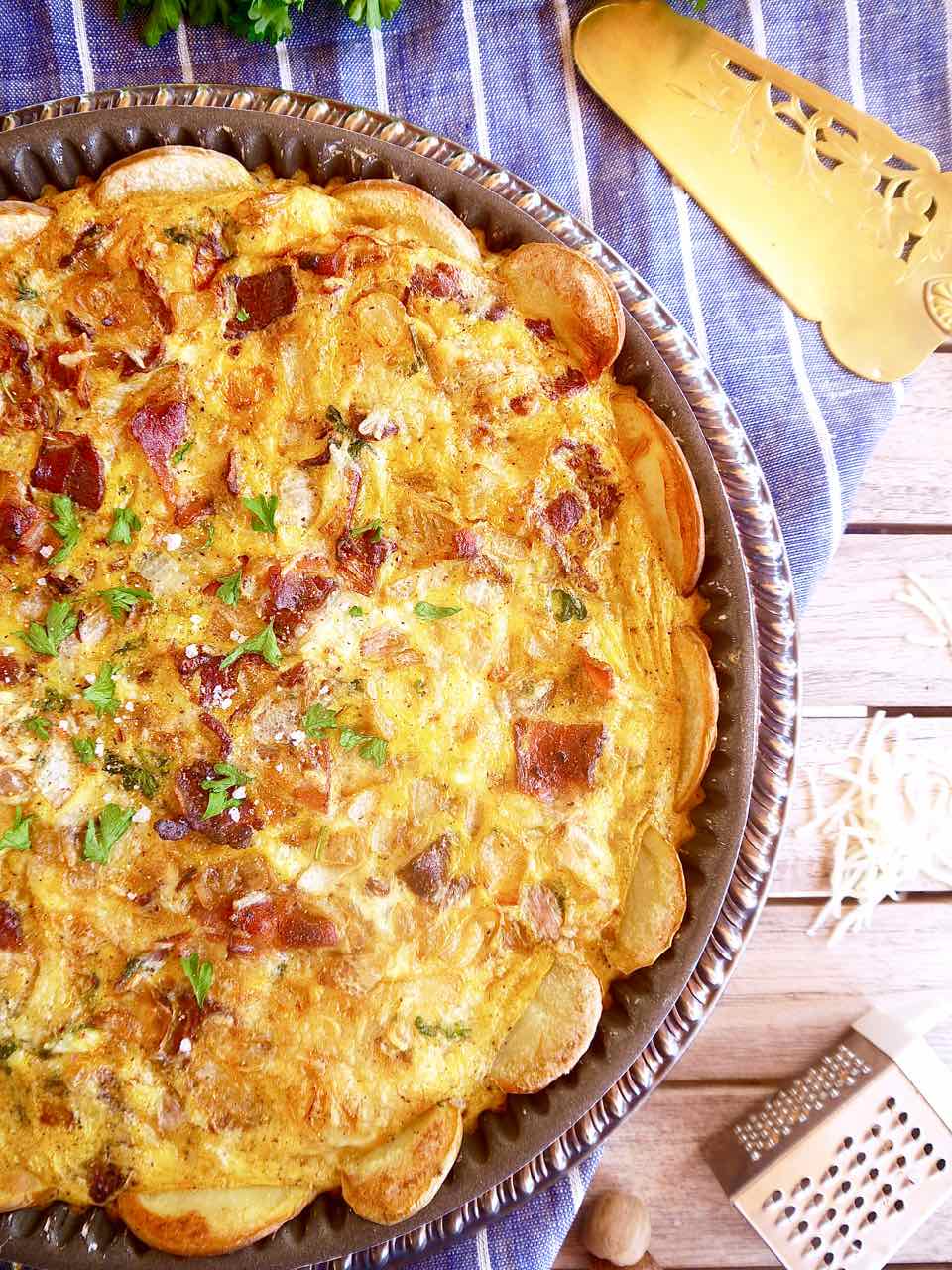 Gluten-Free Quiche Lorraine with a Potato Crust
Ingredients
1 lb organic yellow potatoes, sliced about ¼ inch thick
5 slices bacon, nitrate-free and sugar-free
1 cup diced onions, ( this was 1 medium onion for me)
1 shallot, diced
1.5 Tbs fresh parsley, chopped
6 eggs
1 cup almond milk
½ tsp salt
½ tsp pepper
a pinch of nutmeg
1 cup shredded gruyere/ swiss
Instructions
Preheat the oven to 400 degrees. Grease a round pie dish. (Mine was 11 in x 11 in. )

Lay the sliced potatoes along the bottom of the pie dish, slightly overlapping them in a circular pattern. Use smaller pieces or cut the slices in half, to cover the upper crust area of the pie dish (for reference, look at photos in this post as an example). Brush or spray olive onto the potato slices. Bake the potato crust for 20 minutes. (After 20 minutes, set the potato crust aside and reduce the oven heat to 350 degrees.)

While the crust is cooking, start cooking the bacon in a pan over medium to medium high heat. Cook until the bacon has become crispy. Remove the bacon from the pan and lay on a paper-towel lined plate to soak up some of the fat. Once the bacon has cooled, cut it up into pieces.

Keep about 1- 2 Tbs of the bacon fat/ grease from the pan to cook the onions and shallots in. Add the diced onion and shallots to the pan and cook for 3-5 minutes over medium heat, stirring every so often, until tender. Turn the heat off and stir in the fresh parsley.

In a large bowl, add the eggs, almond milk, salt, pepper, and nutmeg. Whisk well. Then, mix in in the bacon pieces and the cooked onions and shallots. Fold in the gruyere cheese.

Pour the egg mixture into the pie dish with the pre-cooked potato crust. Make sure the egg mixture is evenly in the pie dish.

Bake at 350 degrees for 30- 35 minutes, until the quiche's top is golden and a knife comes out clean when you stab the center of the quiche with it.
Serving: 1slice, Calories: 200kcal, Carbohydrates: 13g, Protein: 11.9g, Fat: 10.8g, Potassium: 381mg, Fiber: 2.1g, Vitamin A: 490IU, Vitamin C: 19.7mg, Calcium: 264mg, Iron: 1.2mg
Disclosure: This post contains Amazon affiliate links. This means that if you click on a link and make a purchase, I will receive a small commission at no cost to you.