French Beet Salad with Mustard Vinaigrette (Paleo, Dairy-free, Gluten-Free)
French Beet Salad with Mustard Vinaigrette recipe. A fresh and delicious naturally sweet beet salad made with boiled beets and seasoned with a simple mustard vinaigrette.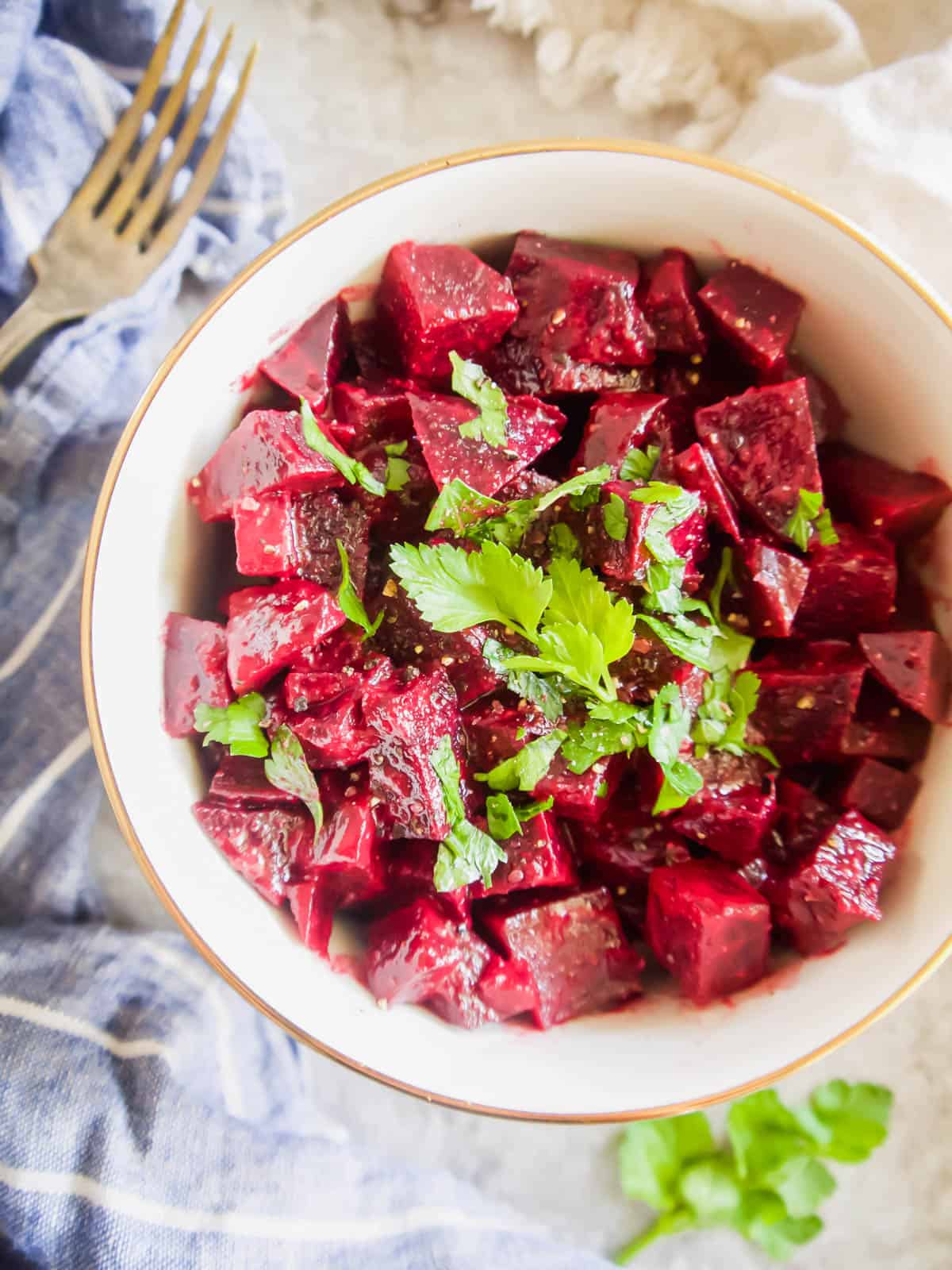 I love incorporating salads into my diet in unique and delicious ways. The more flavor and texture, the better if you ask me.
This boiled beet salad with mustard vinaigrette is exactly my type of salad. It is a versatile and tasty salad that reminds me of the beet salads that I have eaten in France.
It is made with a few healthy ingredients and is naturally dairy-free, gluten-free, Paleo, Whole30, and just overall healthy!
Note this recipe was originally published in December of 2014, and updated with new photos in March of 2021.
I know beet salad might sound weird (to those not used to it) , but I promise it is so so sweetly delicious!
This simple beet salad reminds me of France and not just because my mom ( who is French) makes this salad all the time.
It reminds me of France because when I lived in Bordeaux, I used to buy these ready-made portions of carrot salad in lemon dressing and French beetroot salad in mustard vinaigrette. And they were just delicious!
I would add each of them to a big green salad to create an amazing salad full of flavor and texture.
Well, I no longer live in France, but that doesn't mean I can't keep making these healthy delicious salads!
Ingredients needed:
fresh beets
apple cider vinegar- or tarragon vinegar, both of them work here.
olive oil
horseradish mustard or spicy brown mustard
ground black pepper
salt
That is it!
You can use tarragon vinegar instead of apple cider vinegar but it is harder to find.
As for the mustard, you can use horseradish mustard, spicy brown mustard or dijon mustard. Anything with an extra tang and that isn't too sweet.
How to make it:
Step 1: boil the beets
To make sure this works best, cut the beets in half and then put them into a large pan. Then fill the pan with water until the tops of the beets are just covered in water.
Then let them boil for roughly 35 minutes. Until they are cooked through and fork tender.
Note: fork tender for beets is different than potatoes. They will still feel harder but a knife can easily cut through them.
If anything, boil them for an extra 5 minutes if you aren't sure that they are ready.
Step 2: cut and peel the beets
I usually start dicing the beets on a cutting board and while I am cutting them, the skin peels off.
If this works for you, do it this way.
If not, you can thinly cut the skin off.
Step 3: make the dressing
The dressing is easy to make. All you have to do is mix the mustard, olive oil, salt and pepper together until the mixture thickens.
Step 4: mix the dressing into the beets
How to serve this salad:
With goat cheese on top! The tart goat cheese pairs so well with the sweetness of the beets.
With a side of grilled chicken
Added to another salad.

One of my favorite ways to serve salad is to have different veggies separated out or different kinds of salads separated out and then I mix it all together as I eat it.

Double the recipe to make it more of a meal
Other healthy salads and sides you may enjoy:
This Lightened Up Broccoli Salad is my go-to broccoli salad. It is a healthier version of the classic recipe and it is delish!
I love this Lemon Arugula Salad. It is a copy cat Grimaldi's salad recipe and it hits the spot.
This Asian Shaved Brussels Sprouts Salad has so much flavor! It's a fun way to prepare brussels sprouts.
This Keto Green Bean Recipe is full of garlic, lemon and almonds! It's a great way to prepare green beans.
This white asparagus with provencal mayo recipe. Its a classic French side dish that tastes amazing.
French Beet Salad with Mustard Vinaigrette (Paleo, Dairy-free, Gluten-Free)
A fresh and delicious naturally sweet beet salad made with boiled beets and seasoned with a simple mustard vinaigrette.
Ingredients
3 medium beets washed and scrubbed
1 Tbs apple cider vinegar
2 Tbs olive oil
1 Tbs horseradish mustard
1/4 tsp ground black pepper
1/4 tsp salt
Instructions
Cut the beets in half and put them into a large pan.

Fill the pan with water, until the beets are just covered.

Set the heat to high until the water boils. Then lower to medium.

Boil the beets for 35 minutes, until fork tender or you can easily stab it with a knife.

Drain the beets and let them cool.

Once the beets cool, dice them.

While dicing, you'll notice that the outer skin easily falls off– throw the skin away.

Put the diced beets into a bowl and set aside while you make the dressing.

In a small bowl, mix the olive oil, vinegar, mustard, black pepper, and salt together. Pour the dressing on top of the diced beets. Mix and serve.
Nutrition
Calories: 74kcalCarbohydrates: 2.1gProtein: 0.3gFat: 7g
Disclosure: This post contains Amazon affiliate links. This means that if you click on a link and make a purchase, I will receive a small commission at no cost to you.