French Tuna Potato Salad (Paleo, Whole30)
This tuna potato salad is a healthy French potato salad recipe made with tuna fish and a delicious dijon dressing. It comes together in less than 30 minutes and makes for a wonderful lunch or dinner. Naturally Paleo, Whole30 compliant, Dairy-free, and Gluten-free.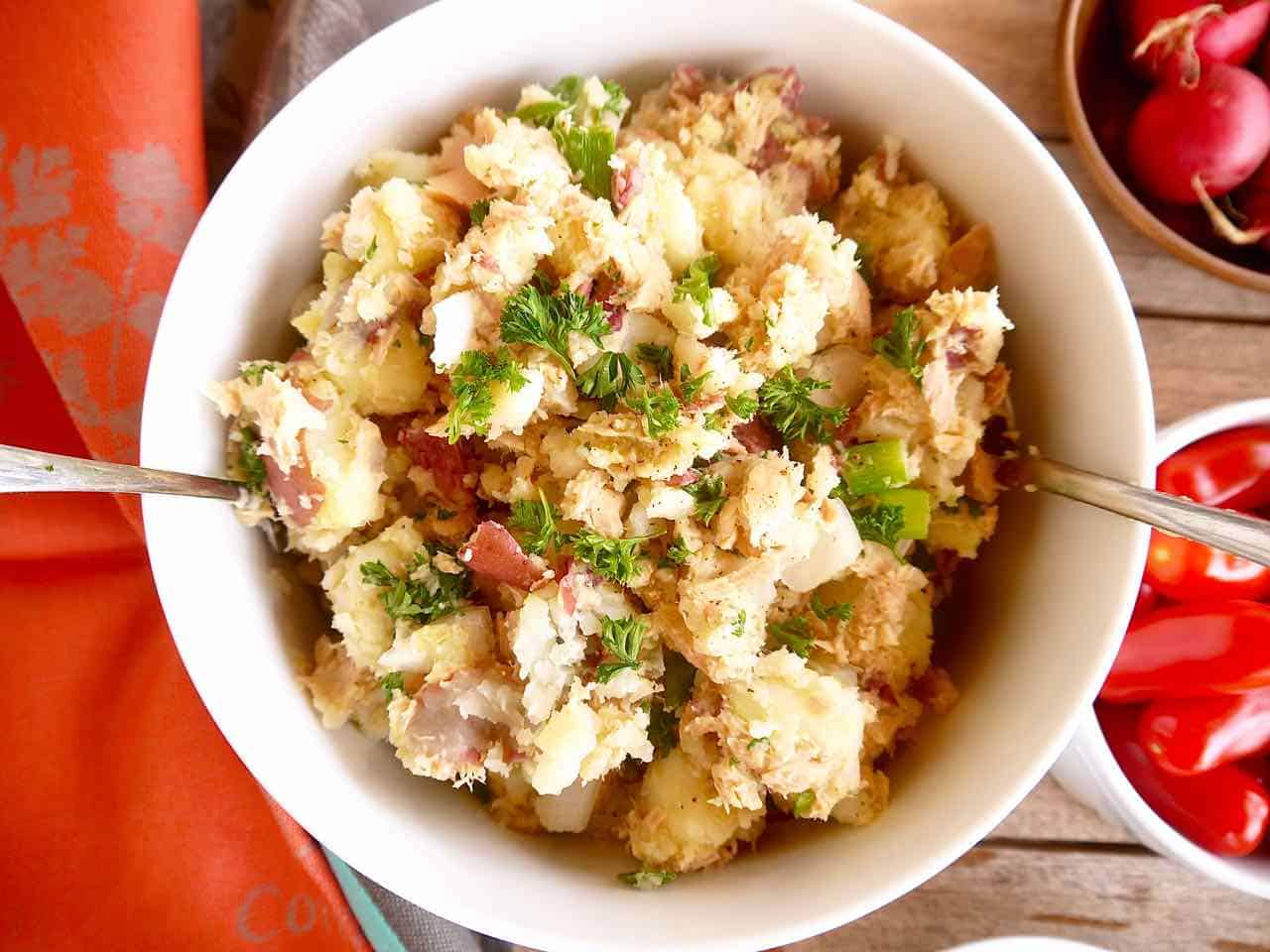 This French tuna and potato salad is a recipe that my mother would make often when I was younger. She is from France and is known for her delicious salads, like this French Beet Salad, and this Kale and mustard salad.
This salad potato tuna salad is a simple yet healthy recipe full of cooked potatoes, onions, canned tuna fish, and a delicious french dressing made with tarragon vinegar, dijon mustard and herbes de provence. It's refreshingly delicious!
Table of Contents
Why this recipe works
It is a unique and delicious way to eat potatoes and tuna.
It is made with clean, real food ingredients.
It comes together in less than 30 minutes!
It is allergy friendly. This recipe is dairy-free, gluten-free, and grain-free.
It is good for the gut. Cooked and cooled potatoes are a great form of resistant starch, which is a prebiotic that helps feed the probiotics in the gut.
It is great for those following a Paleo or Whole30 diet.
It is an easy and delicious meal prep idea.
Recipe ingredients
potatoes– I like to use red potatoes in this recipe
canned tuna fish– use a good quality tuna fish, ideally in olive oil.
onion– any type of onion works, I like using white onion or shallots.
scallions– these add a nice flavor to the potato salad. I
olive oil– this is used to make the dressing.
tarragon vinegar or apple cider vinegar– both work well in this recipe for making the dressing.
dijon mustard
herbes de Provence– these give a taste of France to the dressing.
fresh parsley– adds a nice hint of flavor.
See recipe card below for a full list of ingredients and measurements.
Additions/ Substitutions
Instead of raw onions, you can use 1 teaspoon of onion powder. Just put the onion powder into the dressing.
Instead of fresh parsley, you can use dried parsley.
Instead of herbes de Provence, you can use a sprinkle of basil, rosemary and thyme instead.
Step by step instructions
Step 1: Boil the potatoes for 20 minutes, until fork tender.
Step 2: Break up the tuna into smaller pieces.
Step 3: Make the dressing by mixing the olive oil, vinegar, dijon, salt, pepper, herbes de provence, and fresh parsley in a bowl.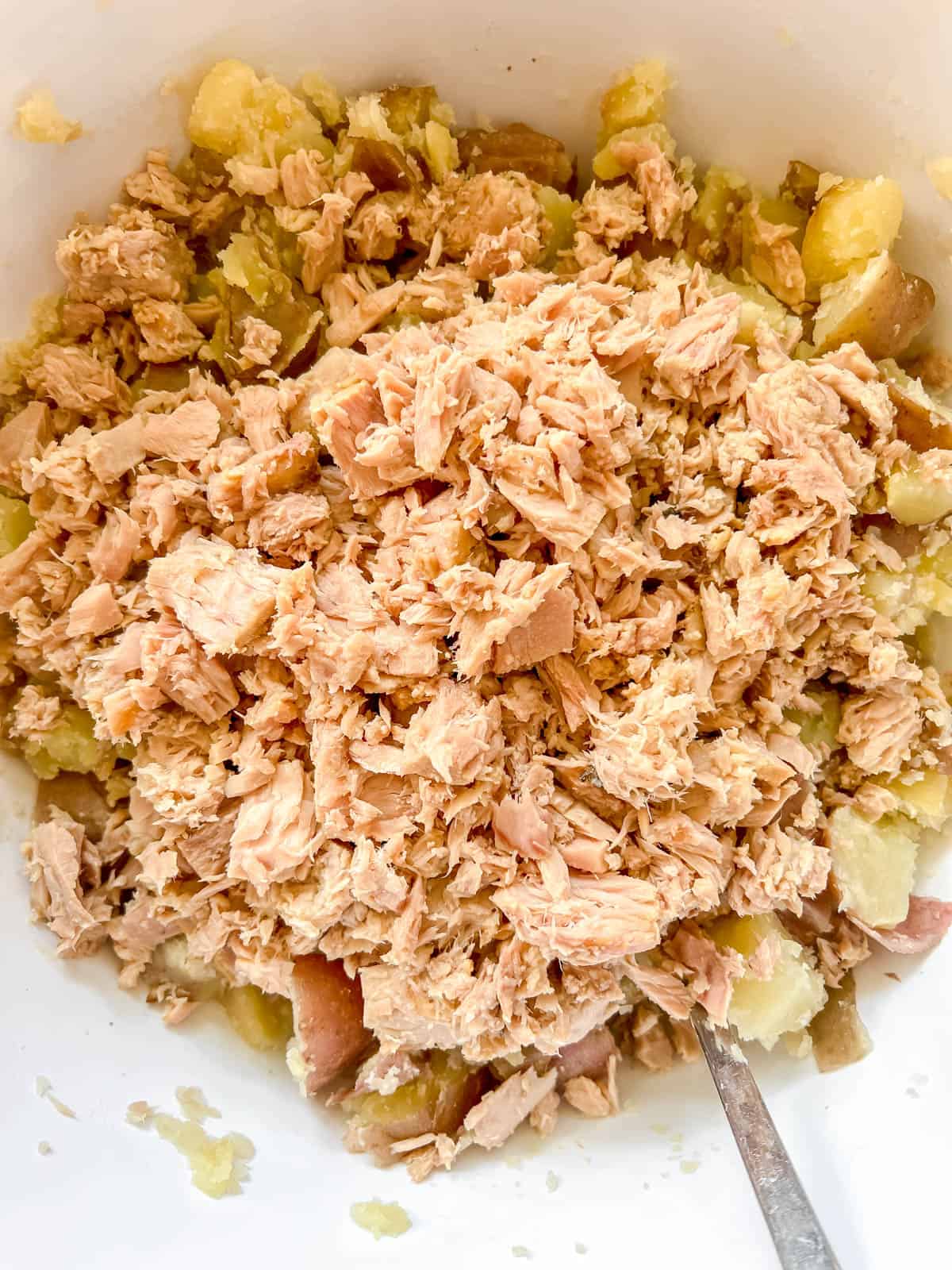 Step 4: Add the boiled potatoes to a bowl and then top with the tuna.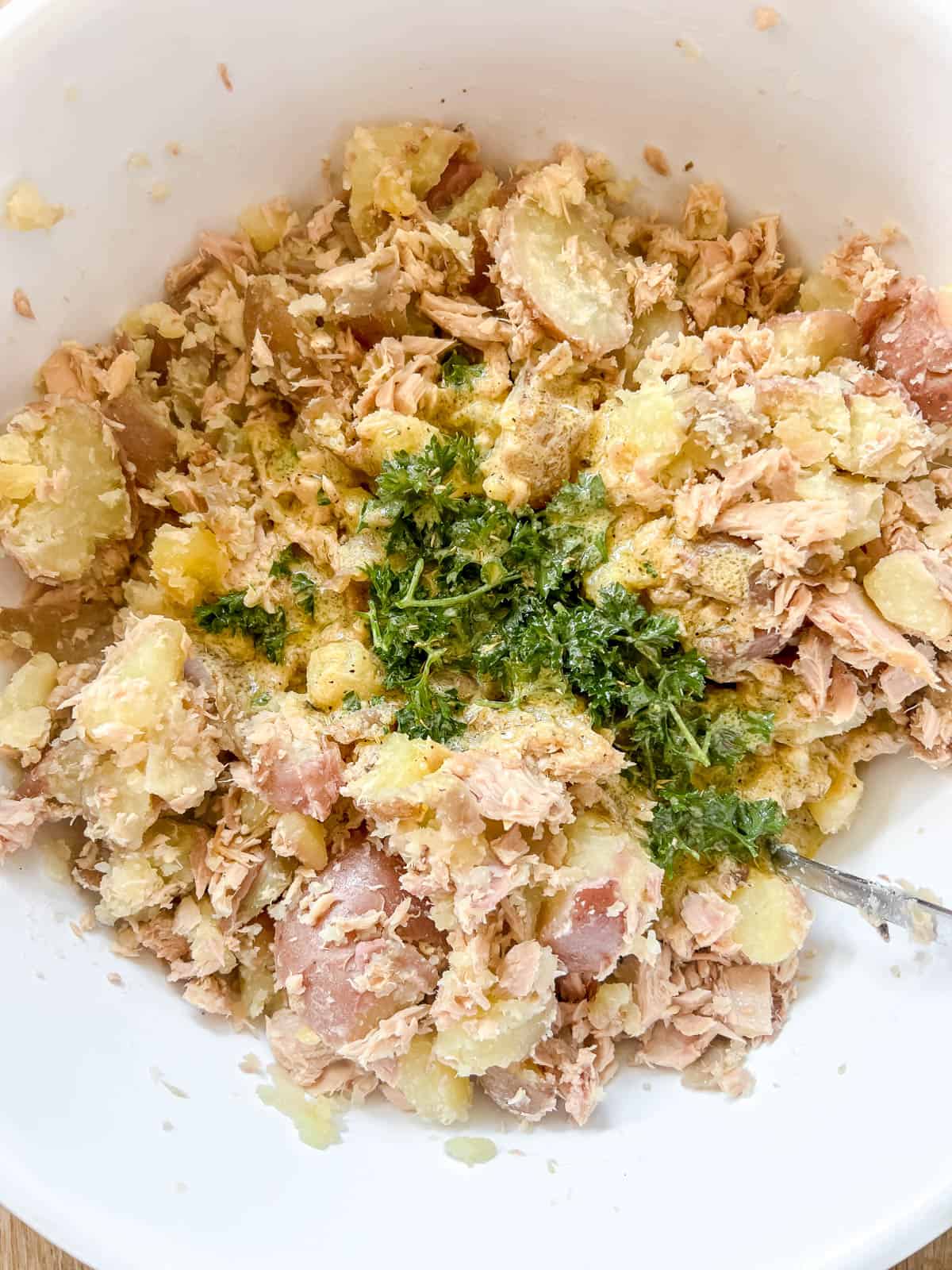 Step 5: Add the onions and dressing to the bowl.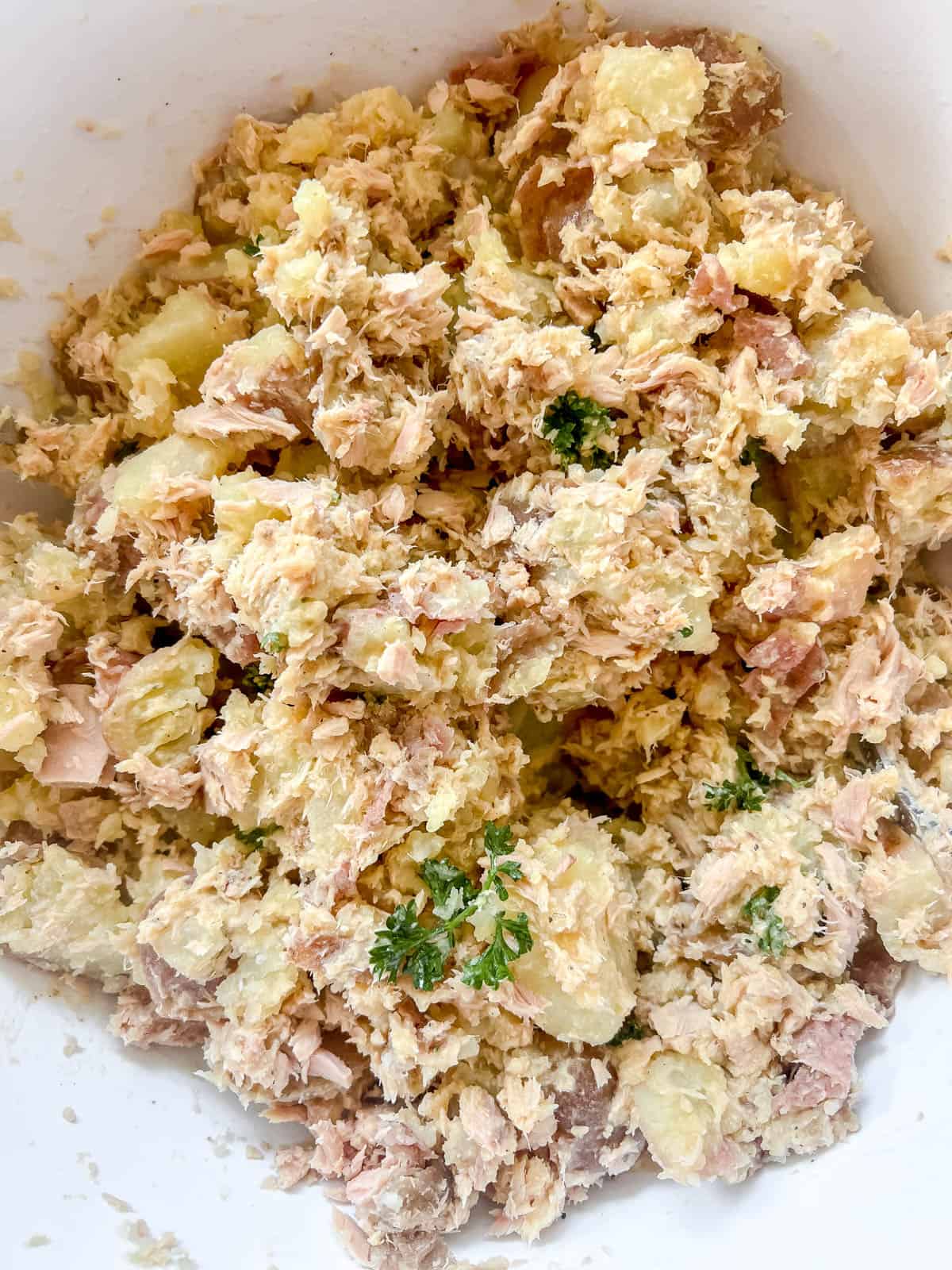 Step 6: Mix everything together.
Expert tips
You can serve this tuna and potato salad warm.
You can also serve it cold. Just put it into the fridge first.

One benefit of letting the potatoes cool is that it becomes resistant starch, which is an amazing natural prebiotic. If you want to read more about it, this article is great.

You can serve this salad as part of a bigger salad.

I love creating a large salad out of this tuna potato salad. All you have to do is add veggies to your plate. I like to add tomatoes, radishes, pickles, green beans, mixed greens, beets, and cucumbers.
Recipe FAQs
Are potatoes Paleo?

This recipe is made with regular potatoes which have become accepted in the Paleo community.

They are 100% Whole30 compliant because, as the Whole30 program says, they are a "whole, real, nutrient-dense food." How nutrient-dense are they? Well according to PaleoLeap, one white potato has 70% of your vitamin C needs and 25% of your potassium needs for one day.

I have found it interesting to read various opinions on this and enjoyed reading the Are White Potatoes Paleo? article by PaleoHacks.

How do you store this salad?
In an airtight container in the fridge for 3-4 days.
Do you have to use red potatoes?
No, you can use any baby potato of choice.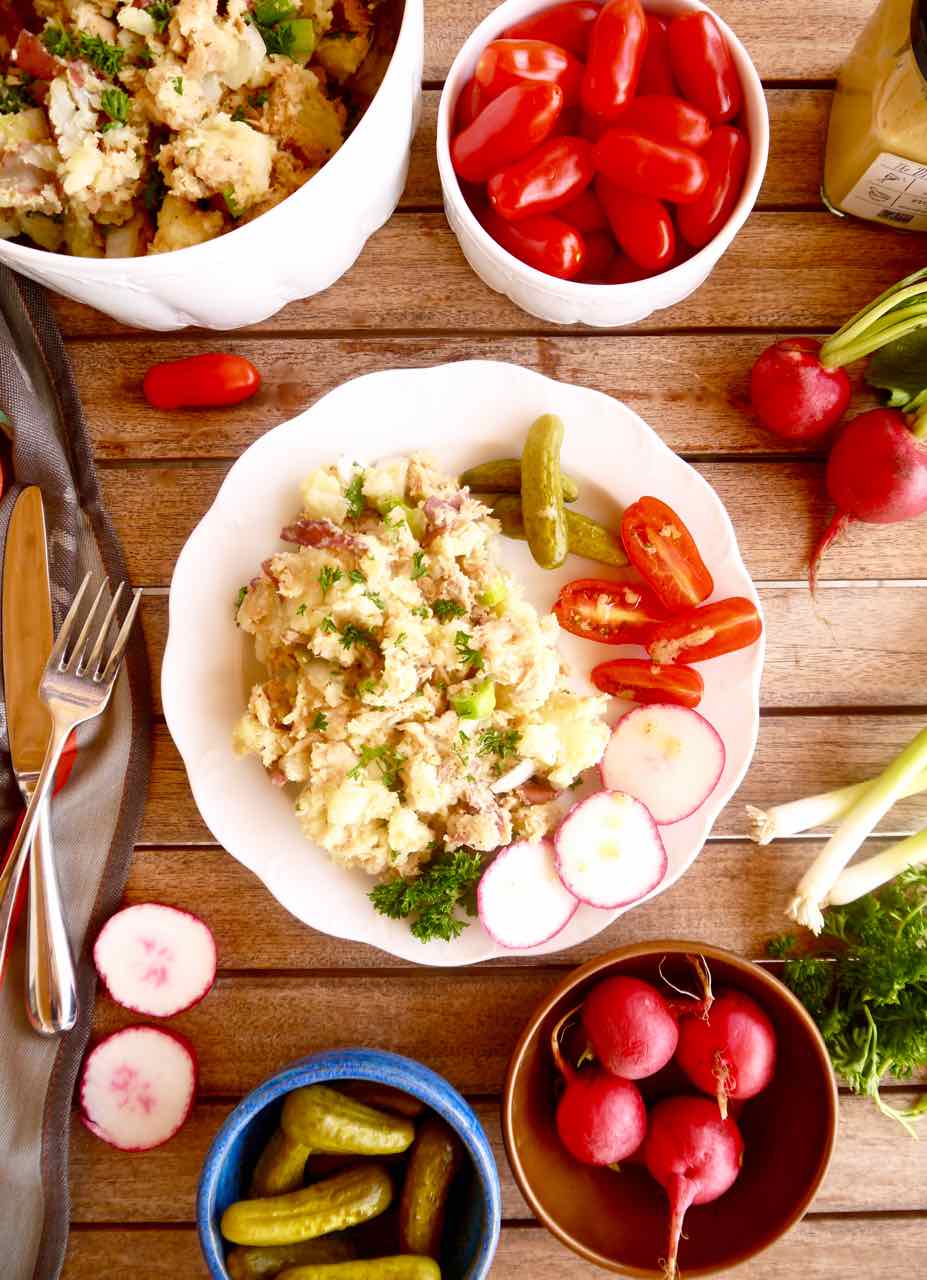 Other potato recipes you'll love:
Did you try this recipe? Please leave me a ⭐ review below!
French Tuna Potato Salad (Paleo, Whole30)
A yummy recipe made of potatoes, onions, tuna fish, and a delicious french dressing.
Ingredients
3.5 lbs red potatoes
25 ounces canned tuna ( Wild Planet is my favorite)
1/2 cup diced white onion
1/2 cup sliced scallions including the green parts
Instructions
Slice your red potatoes into 1 inch thick slices. Put them into a large pot of boiling water, and cook for about 20 minutes. Make sure you can easily stab them with a knife before taking them out.

While the potatoes are cooking, put all of the tuna into a bowl and mix with a fork, cutting up the larger chunks of tuna into smaller pieces.

While the potatoes are cooking, you can also make the French dressing. Mix 8 Tbs olive oil, 4 Tbs tarragon vinegar, 2 Tbs dijon mustard, 1 tsp sea salt, 3/4 tsp ground black pepper, 1/2 tsp herbs de provence, and 3 Tbs diced fresh parsley together until a thick dressing forms.

Once the potatoes are cooked, transfer them to a large bowl and cut them into smaller pieces while mixing them up. Do this while they are still warm. You want there to be various sizes of potato in the salad.

Add the tuna to the bowl of potatoes and mix. Then, add the diced white onions and sliced scallions to the bowl and mix.

Lastly, add the French dressing to the bowl and mix.

Serve warm with a side of tomatoes, radishes, pickles or any other veggie of your choice.

You can also refridgerate it and eat it cold later.
Notes
If you don't have tarragon vinegar, apple cider vinegar works great. Dried parsley works well instead of fresh. If you don't have herbes de provence, use a sprinkle of basil, rosemary and thyme instead.
Nutrition
Calories: 353kcalCarbohydrates: 33gProtein: 21gFat: 15gSaturated Fat: 2gPolyunsaturated Fat: 2gMonounsaturated Fat: 10gTrans Fat: 0.001gCholesterol: 32mgSodium: 564mgPotassium: 1108mgFiber: 4gSugar: 3gVitamin A: 259IUVitamin C: 21mgCalcium: 50mgIron: 3mg
Disclosure: This post contains Amazon affiliate links. This means that if you click on a link and make a purchase, I will receive a small commission at no cost to you.