Dairy-free Scalloped Potatoes (Paleo, Whole30, Gluten-free)
This Dairy-free Scalloped Potatoes recipe is a delicious dish made of thinly sliced potatoes that soak up a rich, creamy, dairy-free sauce made with coconut cream and almond milk. It's the perfect side dish for dinner or the holidays!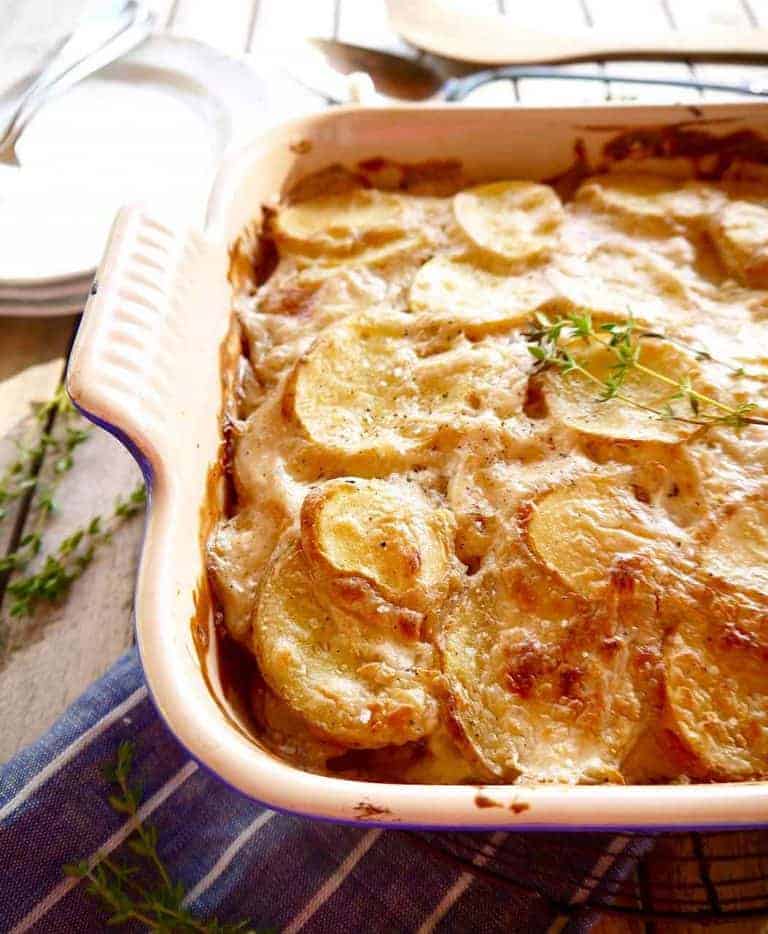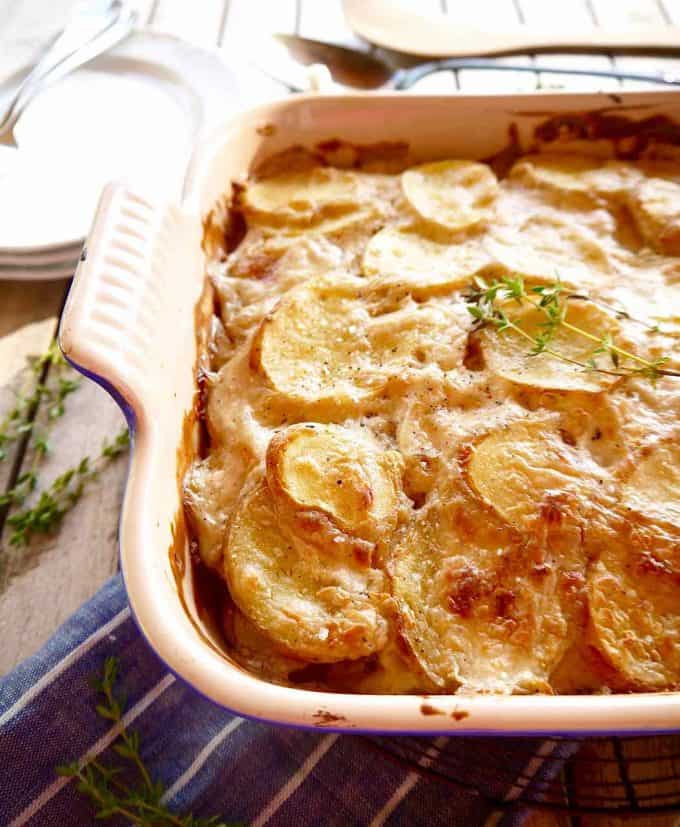 When I think of comfort food, I think of these dairy-free au gratin potatoes because they melt in your mouth.
The potatoes cook until golden and bubbly. They are surrounded by a creamy, dairy-free sauce that is just delicious and that is seasoned with garlic, shallots, thyme, and nutmeg.
Why you'll love this recipe:
it easy classic comfort food but made without dairy.
it's a great option for those with a dairy intolerance or those who are looking to eat Paleo scalloped potatoes or Whole30 scalloped potatoes.
its a wonderful dairy-free potato gratin for the holidays, such as Thanksgiving, Easter, Christmas, or New Years.
it's a dairy-free cream sauce made without cashews, without nutritional yeast, and without tofu.
This recipe is Whole30 compliant, gluten-free, dairy-free, grain-free and Paleo.
You don't need butter and cheese to make scalloped potatoes. You won't even miss the butter and cheese!
Ingredients needed:
yellow potatoes– gold or russet potatoes work well here. The best potatoes are ones that are a bit softer and yellow. They cook well and soften nicely.
garlic– add a much needed seasoning that flavors the sauce.
shallots– this also flavors the sauce.
olive oil
coconut cream– adds the creamy texture needed for the sauce in this recipe
almond milk– a dairy-free milk alternative. You can use any non-dairy milk of your choice.
salt
pepper
ground nutmeg– this adds a wonderful flavor to the sauce.
thyme– this also flavors the sauce and adds a nice touch.
bone broth– this adds protein and waters down the sauce to balance out the other liquids being used.
tapioca flour– this is used to thicken the sauce.
Tips/ Tricks:
(1) Use a good quality coconut cream.
It is important to use a coconut cream that you like the flavor of. I find that a lot of coconut creams taste like sunscreen, which affects the recipe.
I personally like Savoy coconut cream. I enjoy the light taste and how creamy it is, and that there are no gums or chemicals inside.
(2) Be careful with the tapioca flour.
If you use too much, the sauce can get gummy. If you use too little, the sauce doesn't thicken.
You can also use arrowroot flour here, but I prefer using tapioca flour in my sauces.
(3) How to make this dish Vegan.
Use vegetable broth instead of the bone broth.
How to make dairy-free scalloped potatoes:
Step 1: slice the potatoes
slice them about 1/8 of an inch thick
it is ok if you don't have a machine and some are thicker and some are thinner.
I didn't use a machine, but I did try to keep them about 1/8 of an inch thick. Some of the slices are thiner, some are thicker, but overall the slices were about that thick.
Step 2: make the dairy-free béchamel type sauce.
cook the diced shallots and garlic. This really flavors the sauce and covers up the taste of coconut cream or the non-dairy milk
add the almond milk, coconut cream, nutmeg, salt, pepper and thyme to the pan and let boil.
add the bone broth and tapioca flour and whisk
Step 3: Layer the potatoes and the sauce.
Alternate layers of the sliced potatoes and the dairy-free sauce
Make sure the sauce is evenly spread on top.
Step 4: Bake!
cook for about 75 minutes, but start checking it around the 60 minute mark.
then broil for a few minutes
Recipe variations:
add bacon to the sauce
add pesto to the sauce
add nutritional yeast to the sauce or to the top of the potatoes
add dairy-free bread crumbs to the top of the dish
add spinach to the sauce
FAQs
What can I use instead of milk in scalloped potatoes?
almond milk, oat milk, coconut milk, coconut cream
Are potatoes paleo?
Yes. They have become widely accepted in the Paleo community. If your body can tolerate them and if they are made in a healthy way, they are considered Paleo.
What are the best potatoes for scalloped potatoes?
Gold, yellow or russet potatoes.
How to serve them:
as a side dish
with a lemon salad and roasted veggies
as part of a holiday meal, like Thanksgiving, Christmas, or New Years
Other potato recipes you may enjoy:
Paleo Whole30 Potato Soup– this is one of my favorite potato recipes! This soup is divine, creamy, and dreamy!
Paleo Whole30 Potato Pancakes – I LOVE this recipe. They are made with part mashed potatoes and part shredded potatoes and they work well with so many different proteins.
French Potato and Tuna Salad – this is a family potato salad recipe that has been passed down to me by my mother.
Dairy-free Scalloped Potatoes (Paleo, Whole30, Gluten-free)
This Dairy-free Scalloped Potatoes recipe is a delicious dish made of thinly sliced potatoes that soak up a rich, creamy, dairy-free sauce made with coconut cream and almond milk. It's the perfect side dish for dinner or the holidays!
Ingredients
3.25- 3.5 pounds yellow potatoes ( sliced thin, 1/8 in. thick)
1 Tbs minced garlic ( this was 4 cloves for me)
¾ cup diced shallots ( this was 2 larger shallots for me)
2 tsp olive oil
1 14 ounce can of coconut cream (without preservatives in it, like Savoy)
1 cup almond milk
1/2 tsp salt
1/4 tsp ground black pepper
1/4 tsp ground nutmeg
½ tsp fresh thyme (and more to put on top)
1/2 cup organic chicken bone broth
2 Tbs tapioca flour
Instructions
Grease a large baking dish. Preheat oven to 350 degrees Fahrenheit.

Put 2 tsp of olive oil into a sauce pan and heat over medium heat. Put the diced shallots and minced garlic into the pan, mix into the olive oil with a spatula, and cook for 3-4 minutes.

Add the almond milk, coconut cream, salt, pepper, ground nutmeg, and fresh thyme to the pan. Mix, and let the mixture boil for 10 minutes.

Add the organic chicken bone broth and the tapioca flour to the pan and whisk ( make sure the tapioca flour chunks dissolve).

Let the mixture boil for 5 minutes, while whisking every so often. Remove from heat, whisk, and set the pan aside.

Put 1/3 of the sliced potatoes into the pan, slightly overlapping each other. Top with 1/3 the sauce, and evenly spread it out using a spatula. Repeat this step two more times. Top with a few branches of fresh thyme.

Cover the pan with aluminum foil and bake for 75 minutes. ( Note: check to see if the potatoes are ready around the 60 minutes mark. Make sure a knife can easily slide through all the layers of potatoes and hit the bottom. If not, cook for longer. Mine took 75 minutes)

Remove the aluminum foil, and the thyme branches. Broil for 5 minutes, until golden brown.

Sprinkle with sea salt and pepper, serve.
Disclosure: This post contains Amazon affiliate links. This means that if you click on a link and make a purchase, I will receive a small commission at no cost to you.