Paleo Whole30 Potato Pancakes (Gluten-Free)
Paleo Whole30 Potato Pancakes that are crispy on the outside, soft on the inside, and incredibly delicious and comforting.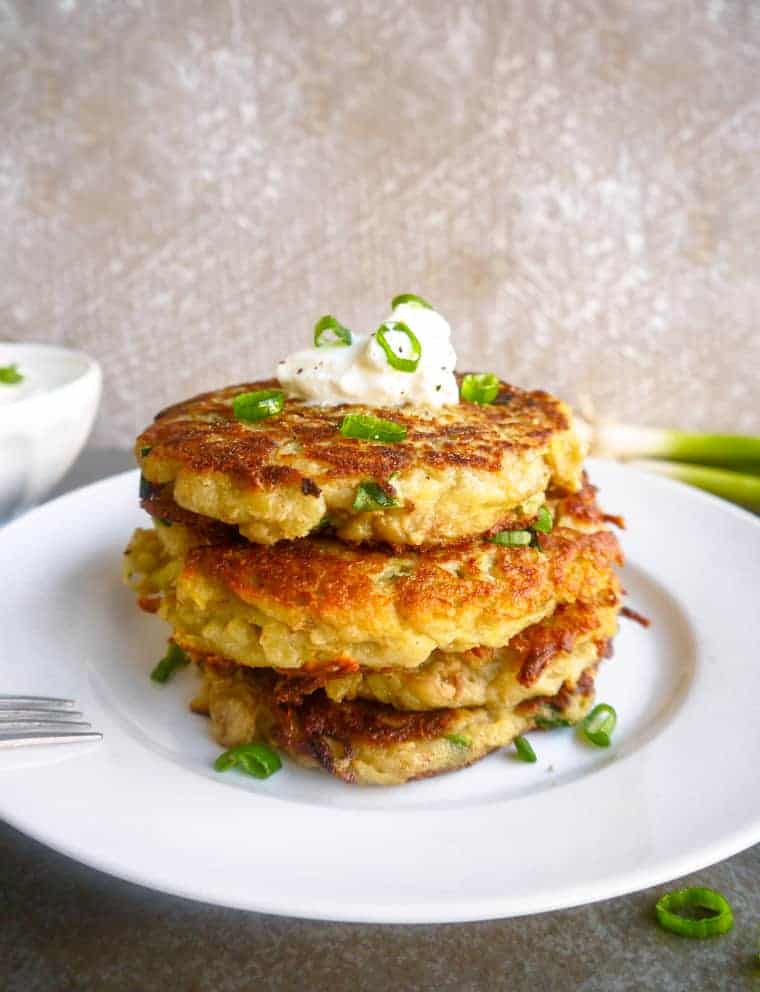 THESE. These Paleo Whole30 Potato Pancakes are one of my favorite things!
For starters, they are crispy on the outside, yet soft on the inside… ( this is thanks to shredding half the potatoes and mashing the other half…).
They are also ridiculously delicious and versatile all while being grain-free, Paleo and Whole30 compliant.
What are potato pancakes?
They are a cross between hash browns, mashed potatoes, and pancakes.
They are soft buttery pillows of potato seasoned with green onions (also called pencil onions).
They make everything better and they are so satisfying and fun!
I like changing things up in my diet. And these certainly take potatoes to a whole other level.
Ingredients needed to make them:
potatoes
grassfed butter
almond milk
eggs
green onions
garlic powder
salt and pepper
almond flour
tapioca flour
baking soda
olive oil
What to serve these Paleo Whole30 Potato Pancakes with:
After I made these for the first time, I ended up eating them for several meals.
I ate them with chicken sausage and sautéed kale for dinner.
I ate them with bacon and over-medium eggs for breakfast.
And I also ate them as a snack topped with some greek yogurt mixed with chives and pepper. If you can have dairy, this dip is really great with them!
They remind me of the potato pancakes I had when I lived in Northern Ireland
I love that these Paleo Whole30 Potato Pancakes remind me of my time in Northern Ireland. I used to live in Belfast and during that time traveled a lot in Ireland.
I tried many an Irish potato pancakes while I was there and loved each and every one.
In Ireland they are called Boxtys, and are made using a similar technique to this recipe… using part shredded potatoes and part mashed potatoes.
There was a stand in the train station that I used to go to where someone would make them fresh, and then they would be served warm in these little bags. They were SOOOOO good. Especially on a cold day.
Ahhh I think it's time for me to make this recipe again.
This recipe is adapted from the Traditional Irish Boxty Recipe from Fusion Craftiness. I relied on her tips and techniques and then I paleoified the recipe to make it gluten-free and whole30 compliant. It worked great!
Other potato recipes you may like:
If potato snacks are your thing, ( how can they not be?!), I highly suggest checking out these Gluten-Free Croquetas from Eat at Our Table.
If you like ranch dressing, I highly recommend this Dill Ranch Potato Salad with Avocado and Eggs
Paleo Whole30 Potato Pancakes (GF)
Paleo Whole30 Potato Pancake recipe. Crispy on the outside, soft on the inside, and incredibly delicious and comforting.
Ingredients
3 lbs gold potatoes
4 Tbs grassfed butter ( note: use ghee to keep Whole30) ( also have some extra handy for frying)
1 cup almond milk
2 eggs lightly beaten
1 cup sliced green onions/ pencil onions ( this was 5 pencil onions, including green parts, for me)
1 tsp garlic powder
1 1/2 tsp salt divided
1/2 tsp black pepper
1/2 cup almond flour
2 Tbs tapioca flour
1/4 tsp baking soda
2 Tbs olive oil
Instructions
Divide the potatoes in half. Slice half the potatoes into 3/4 inch slices. Put the sliced potatoes into a large pan filled with water. Boil the water and cook the potatoes until you can easily stab them with a knife, about 20-25 minutes.

Take the other half of the potatoes and grate/ shred them using a grater. Put the shredded potatoes into a sieve or colander (with small holes) and place it either over a bowl or in the sink. Add 1 tsp of salt to the grated potatoes, mix, and then and let the potatoes rest for 15-20 mins. During this time, excess moisture will drain out. Then, throw away the potato water, and pat down the shredded potatoes with a paper towel. Set aside.

Take the boiled potatoes, drain, and then put them into a large bowl, or back in the pan. Add 4 Tbs butter or ghee and the almond milk to pan, and mash with a potato masher. Then, add the eggs, garlic powder, and sliced green onions and mash into the potatoes.

In a separate bowl, add 1/2 tsp salt, 1/2 tsp pepper, 1/2 cup almond flour, 2 Tbs tapioca flour, and 1/4 tsp baking soda, and mix with a fork until combined. Add the flour mixture to the pot of mashed potatoes and mix. Add the shredded/ grated potatoes to the pot of mashed potatoes and stir.

In a large frying pan, heat 2 Tbs of oil and 1 Tbs of butter over medium-high heat. Using a ½ cup measuring cup, scoop the batter and pour into the pan. Pat down to flatten a little.

Cook each side of the potato pancake until golden brown. For me this was 3.5-4 minutes on each side for my first batch and 2.5-3 minutes on each side for the second batch. ( You may need to add more oil and butter to the pan in between batches). ( You may also need to reduce the heat to medium if it's too hot).

Place the cooked potato pancakes onto plates covered in paper towels.

This recipe yields 12 potato pancakes.
Disclosure: This post contains Amazon affiliate links. This means that if you click on a link and make a purchase, I will receive a small commission at no cost to you.