My Top 10 Valentine's Day Desserts Roundup, The Paleo Edition
A few things lead me to write this post. For starters, I recently made freezer fudge (see post below) and my first thought was "this would be perfect for Valentine's Day!" This got me thinking about Valentine's Day recipes in general and all of my favorite Paleo dessert recipes that I have made in the past.
Around the same time, I kind of had a kitchen tantrum. My current oven is a pain in the butt and is not cooperating with my desire to experiment with desserts. I miss my old oven that I could set to 350 degrees and get a trusted result. Now I have to select if I want heat from the top or the bottom or both and I think that it heats food at a much hotter temperature that it should be. This has really messed with my baking mojo and had me reminiscing about the days where I could experiment more easily… which lead me to thinking about some of those recipes.
After looking at some of my all time favorite dessert recipes twice in such a short time, I realized that I had some really good dessert recipes in my recipe section! And that these needed to be shared in a Valentine's round up of sorts.
The result is My Top 10 Valentine's Day Desserts Roundup, The Paleo Edition, which is full of wonderful grain-free, gluten-free, and non-processed dessert ideas that are perfect for treating that special someone, a friend, or even yourself!
1) The BEST Gooey Paleo Chocolate Chip Cookies (GF, grain-free)
When my fiancé asks me to make "those cookies", he is always referring to these bad boys. They are the ultimate melted gooey chocolate chip cookies, which rival a regular cookie any day! If you like your cookies soft, almost like warm cookie dough in the middle, these are for you!
2) Dulce de Leche Cookie Dough Balls (paleo, GF)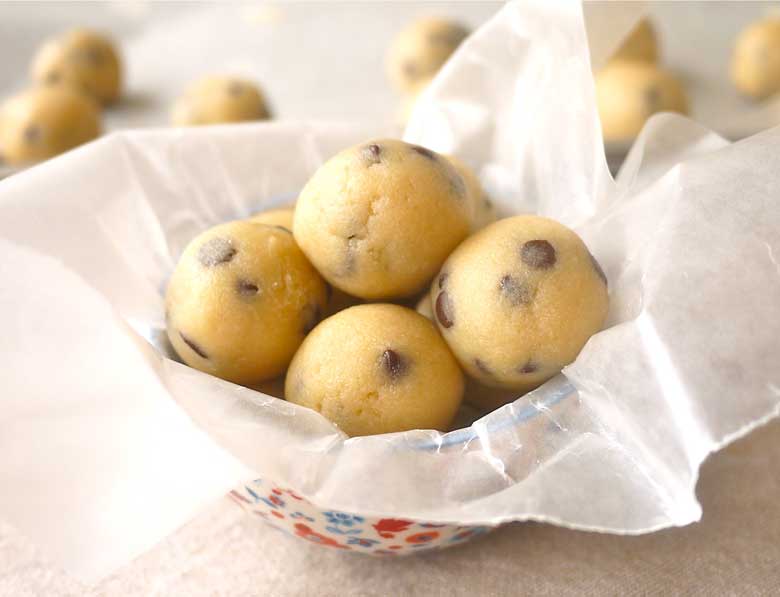 Speaking of cookie dough… these cookie dough balls are a caramel lovers dream. The texture is that of cookie dough, but the flavor screams DULCE DE LECHE. Bite sized desserts are good for portion control, right?!
3) Molten Chocolate n' Espresso Cakes (for two) (Paleo, GF, dairy-free)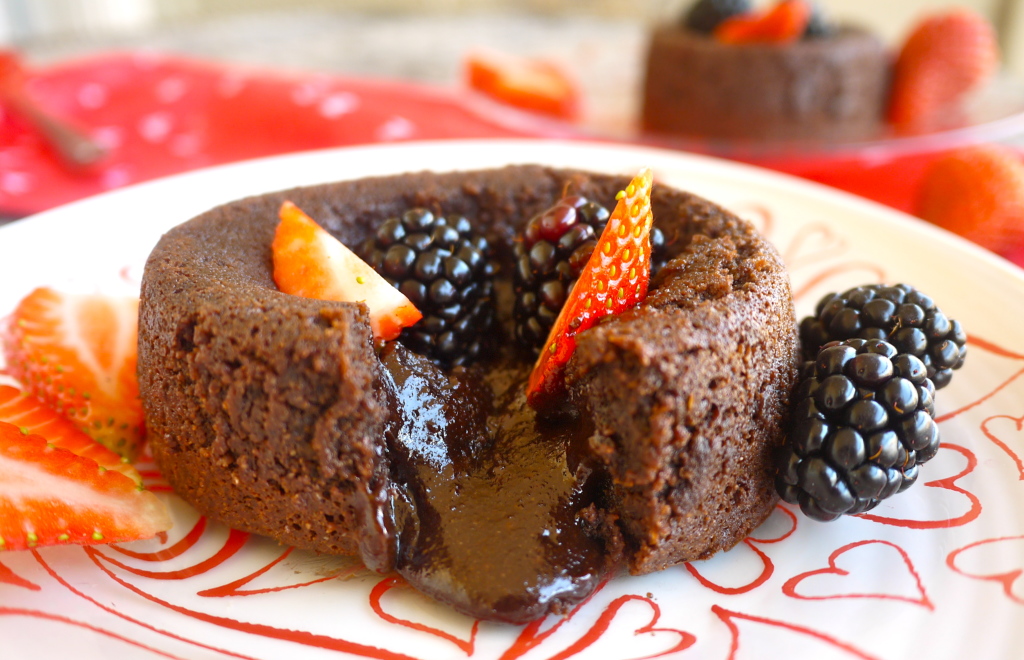 This dessert oozes chocolate romance… because let's face it, molten chocolate anything is as romantic as a dessert can get! 🙂 Add some coconut ice- cream for the ultimate melted chocolate and ice-cream combo.
4) Salted Caramel Paleo Bark (GF, dairy-free)
My paleo caramel sauce strikes again! Dark chocolate, caramel, and a pinch of salt is a sultry combination that is hard to resist! If you are a salted caramel lover, these are a must try. Plus, this beautiful bark makes a wonderful gift or party companion.
5) Red Velvet Drop Cookies (Paleo, GF)
I love these gooey chocolatey red velvet cookies… They are a cross between a brownie and a cookie that just melt in your mouth. The red color also gives them some Valentine's day spirit, but don't worry I didn't use food dye, just some beet juice! (which you can't taste).
6) Paleo Fondant au Chocolat et Cerises–For Two! (GF)
This is my personal favorite dessert on my blog… it reminds me of France, of summers, and of family. And I can't lie, I have a massive soft spot for baked cherries and molten dark chocolate cake. This decadent, delicious chocolate bomb is sure to impress. I've made them for numerous friends and family and all of them loved it (and had no idea it was paleo).
7) Paleo German Chocolate Cake (GF)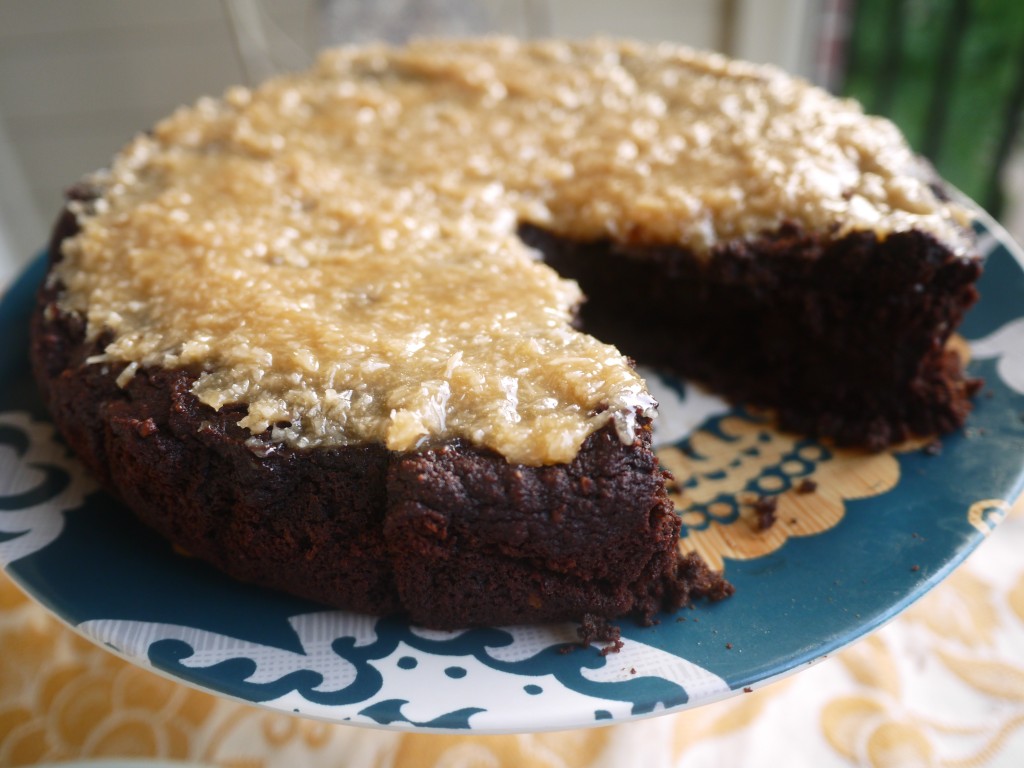 Now this is a chocolate cake! A moist, rich, delicious chocolate cake covered in paleo caramel sauce and shredded coconut… Its versatile in that it tastes good warm or cold… for dessert or breakfast… with small or large slices. 🙂 If you are looking to make a cake this Valentine's Day, this one is for you!
8) Fudgy Paleo Brownies (GF)
Brownies are always a good idea. Especially when they taste this good, and are this fudgy! This recipe is an oldie, but definitely a goodie. These taste great on their own, with fruit, or with some coconut whipped cream or ice-cream… drool.
9) Mixed Berries and Cream (paleo, GF, dairy-free)
I couldn't post only chocolate recipes, could I? For anyone who prefers fruit, and who may not want a baked dessert, this is a great option. The cream and berries combo results in so much flavour and satisfaction that your bowl will be licked clean before you know it!
10) Strawberry Shortcake (Paleo, gluten-free)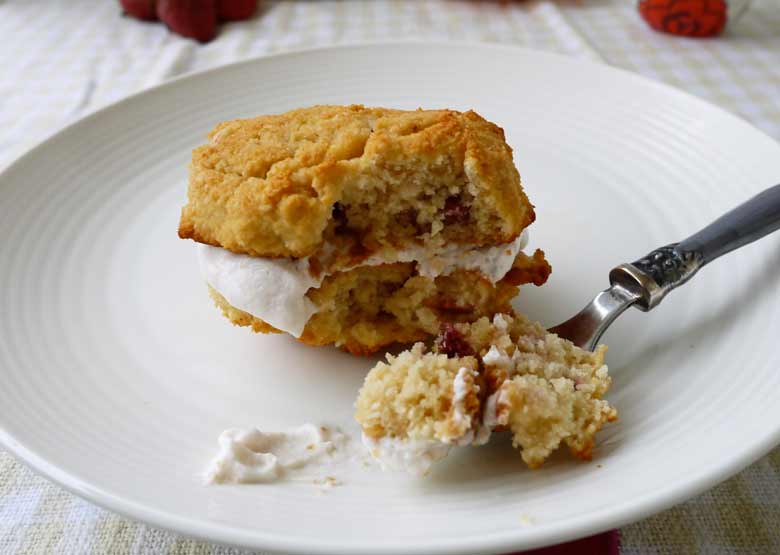 And last but not least, one of the most popular recipes on my blog is this strawberry shortcake recipe! The way warm strawberry shortcake tastes with strawberries and whipped cream is too good for words. These are a must try.
**Bonus Recipe** DIY Dried Fruit and Chocolate Lollipops (Paleo, GF)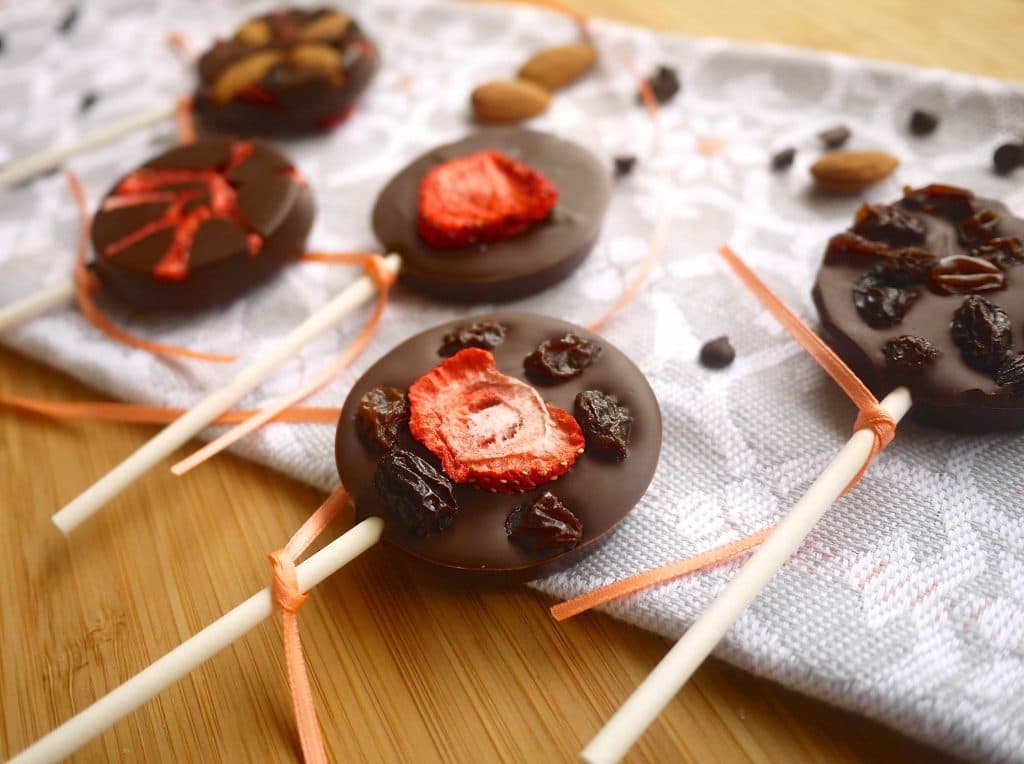 I had to add this recipe to the mix because it's just perfect for Valentines day! These lollipops are easy to customize and make really nice pretty gifts. Plus, there's just something about the simplicity of dark chocolate and fruit that is hard to beat.
Disclosure: This post contains Amazon affiliate links. This means that if you click on a link and make a purchase, I will receive a small commission at no cost to you.