Fudgy Paleo Brownies (GF)
A few days ago, I had some eggs and half of an avocado for dinner, but I still wanted something more afterwards. Something chocolatey… and then brownies came to mind. I realized that I had not tried to make brownies or even eat brownies since I started the Paleo diet. Whhhat??
I immediately decided to create some fudgy brownies…  I figured why not use that other half of the avocado that I didn't eat earlier. This turned out to be a great decision. I was so happy with the chocolatey deliciousness that resulted that I kept singing to myself, "Can you take me to…brownie town!?" haha
Notice the green flecks? I really think that the avocado is what makes these so great! The extra fat from them takes the place of butter or oils that would normally be in a brownie.
But don't worry, you will not taste any avocado here.
These Fudgy Paleo Brownies are the perfect amount of satisfying… they just hit the spot.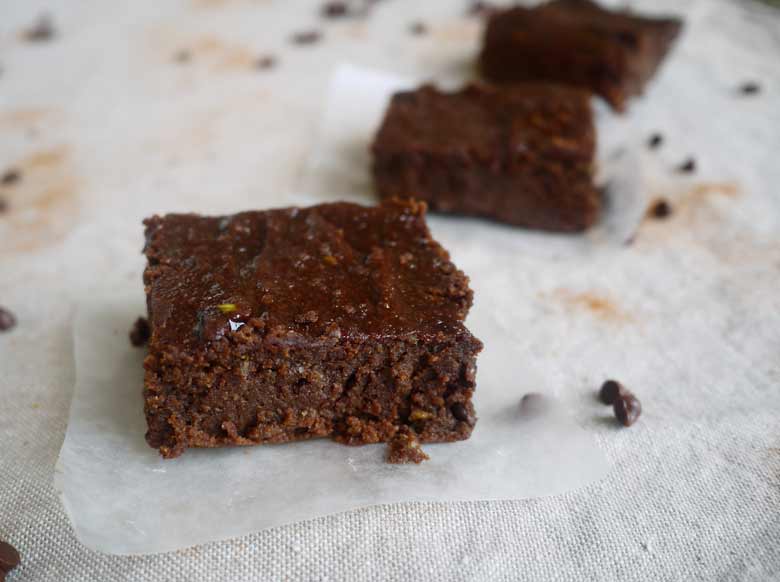 They are pretty versatile in that they taste great both warm and cold. I honestly can't even decide what is better.
If you let them cool first and then put the pan in the fridge for a bit, it is easier to cut them. But it's totally up to you… and whether you can wait that long to eat them.
Though, let's get real… nothing is like a warm brownie… nothing.
I brought a bunch to a girls night at my friend's house.
I always like to test out my paleo baked goods with non-paleo people to make sure that they taste as good as my potentially biased taste-buds may think.
Well, they were a hit!
Especially because they are made without any butter in them.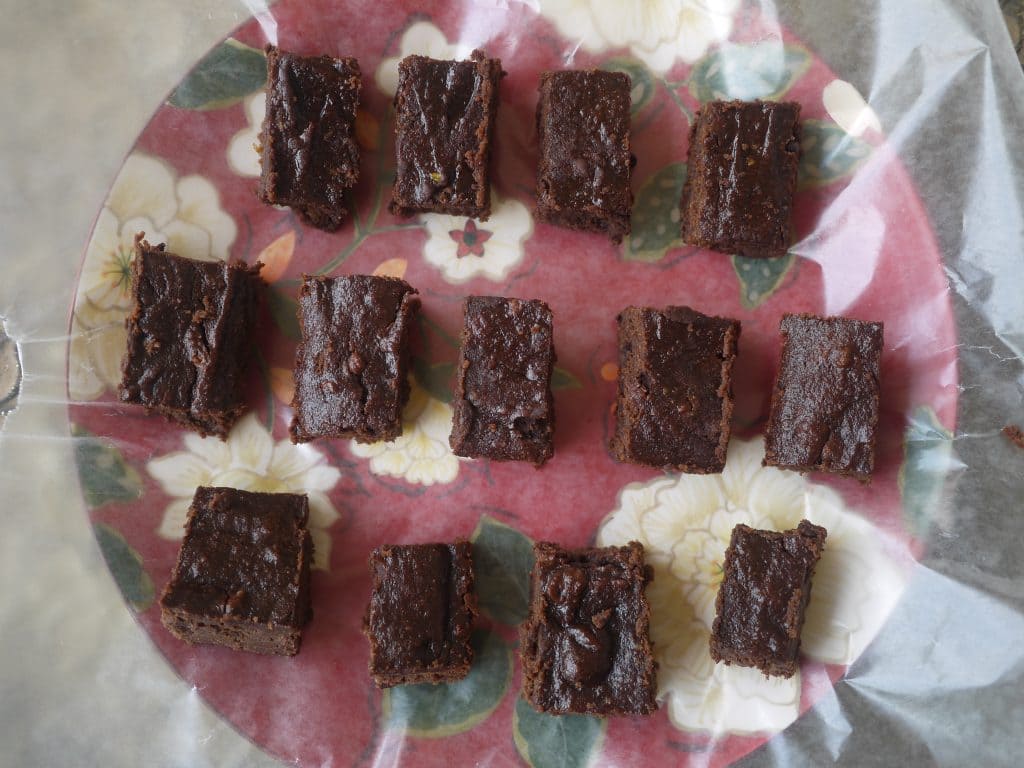 I mean, who wouldn't want to be able to have delicious non-processed brownies…
Especially ones that don't have a stick of butter in them and are made of chocolate that's dairy-free and gluten-free( Enjoy Life chocolate).
Now if only I had an ice-cream maker so that I could make Paleo coconut milk ice-cream… 🙂
I could just stare at these all day. 🙂
And if you love Blackforest cake, or cherries and chocolate together in general, check out these Paleo Black Forest Brownies.
Fudgy Paleo Brownies
A rich chocolate brownie that's suitable for anyone following a paleo diet.
Instructions
Preheat the oven to 350 degrees.

Grease an 8x8 pan with coconut oil.

Put 4 Tbs of melted coconut oil into a bowl and add 1/4 cup of chocolate chips into it.

Place the bowl holding the coconut oil and chocolate chips over a pan of boiling hot water. Mix until the chocolate is melted and remove from heat. (You can also microwave for 30-60 seconds). Whisk the chocolate and coconut oil together.

In large bowl #1, put the mashed avocado and the melted chocolate/coconut oil mixture inside and whisk both together. Add the eggs, maple syrup, honey, and vanilla to the bowl and whisk until the mixture thickens and everything is well mixed.

In bowl #2, mix the flour, salt, cocoa powder, and cinnamon together.

Pour the dry ingredients from bowl #2 into the chocolate bowl #1 and mix with a fork or whisk until everything is just mixed.

Fold in 1/2 cup of chocolate chips.

Cook for 30 minutes (a tooth pick should come out clean, but the mixture will still look wet/moist)

Let cool before cutting.
Nutrition
Calories: 352kcalCarbohydrates: 39gProtein: 6gFat: 21gSaturated Fat: 11gPolyunsaturated Fat: 1gMonounsaturated Fat: 2gTrans Fat: 0.01gCholesterol: 82mgSodium: 188mgPotassium: 162mgFiber: 5gSugar: 22gVitamin A: 130IUVitamin C: 1mgCalcium: 63mgIron: 2mg
Disclosure: This post contains Amazon affiliate links. This means that if you click on a link and make a purchase, I will receive a small commission at no cost to you.