Black Forest Brownies (Paleo, GF)
I have been wanting to make a paleo black forest cake for a while now. Something about the mixture of chocolate, whipped cream, and cherries is so irresistible to me! I have also been wanting to make my Fudgy Paleo Brownies and have not been able to stop thinking of all the delicious versions of them that I could make.
So I decided to combine my desire for black forest cake and my Fudgy Paleo Brownies together with these Black Forest Brownies. The combination was magical! Fudgy cherry-full brownies covered in a layer of Paleo Fudgy Chocolate Frosting, and topped with a dollop of coconut whipped cream. Delightful! And they are made completely of non-processed ingredients, even better!
These Black Forest Brownies remind me of my trip to Hamburg, Germany. Isn't that awesome how food can do that?
Maybe it's just me because I love food so much, but many of my travel memories involve tasting local foods and restaurants and the adventures associated with it.
Last year, I was studying abroad in Lyon, France and my boyfriend was studying abroad in Hamburg. I went to visit him for a weekend and I was blown away by how great the food was there. Not just German food, but everything!
I had the most authentic Chinese food. I also had a ridiculously amazing Italian pizza and hands down the best steak ever at a Portuguese steak house.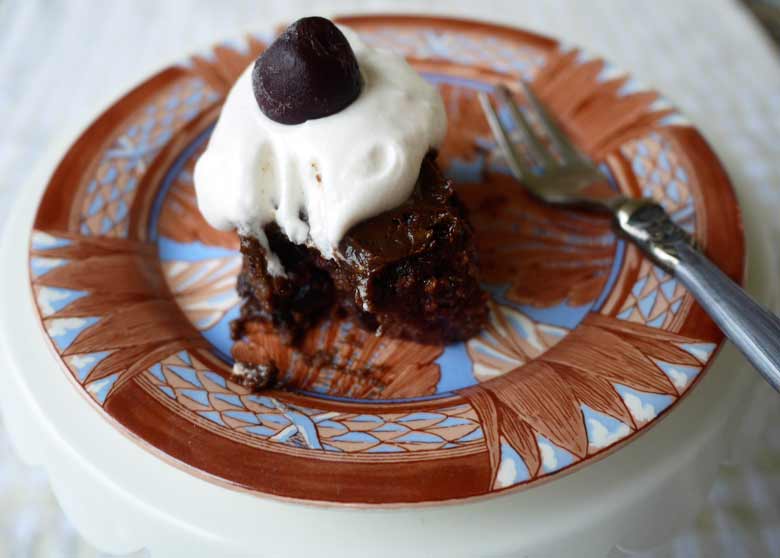 My boyfriend and I kind of went on a German Pastry binge that weekend in Hamburg. We bought them in grocery stores, bakeries, coffee shops, and even in a department store. Yes, a cafeteria in a department store had a ridiculous spread of delicious pastries. How could I not be tempted? It was really hard to not buy every pastry that I saw!
Towards the end of my stay I realized that I had not had any black forest cake in Hamburg. So we bought some from a small bakery and decided to eat it outside on a bench. We got lost during our search for a bench and ended up eating this cake in one of those little covered bus stops.
It didn't matter that we were cramped and people were looking at us funny because that black forest cake was amazing! As we tried to find our way home, we stumbled upon the best little pancake place on the water. We ordered pancakes with homemade fruit coulis.
It was a perfect morning! And all of these memories were sparked by my eating these Black Forest Brownies! haha
So back to these brownies. I wanted to make a nice layered presentation out of it, so I had to make sure that they were cool first. Since they are very fudgy, I put the pan in the fridge for an hour or two so that it would be easier to cut them.
I then made a batch of my Paleo Fudgy Chocolate Avocado Frosting and a batch of whipped cream. Which I finally figured out how to make more easily. The key is to put the can of coconut cream in the fridge, it whips easily this way and stays whipped even afterwards. I put my leftover whipped cream in a Tupperware in the fridge and was able to enjoy it for days!
I prepared each piece individually. I layered each brownie with some Paleo Fudgy Chocolate Avocado Frosting, then I topped each frosted brownie with whipped cream, and topped it off with a cherry. Fudge brownie, fudge frosting, and whipped cream …talk about delicious and indulgent!
I brought a little tuperware of this dessert to work everyday this week and let me tell you, it made my day… everyday. Especially because I knew these were made of non-processed ingredients, without flour or butter or chemicals… the ultimate paleo treat!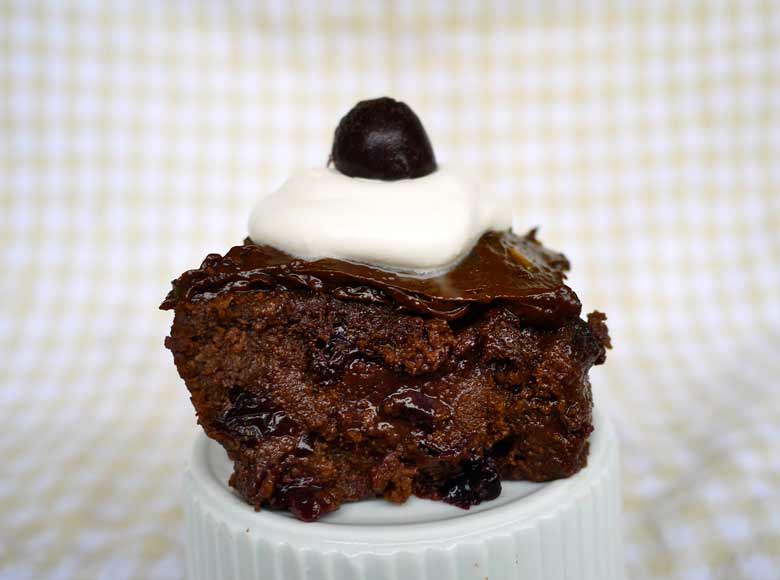 Black Forest Brownies (paleo, gluten-free)
Delicious Paleo brownies full of cherries and topped with coconut whipped cream.
Instructions
Put a can of coconut cream in the refrigerator, this should be in for at least 2 hours.

Preheat the oven to 350 degrees.

Grease an 8x8 pan with coconut oil.

Melt the coconut oil and put ¼ cup of chocolate chips inside into it.

Place the bowl holding the coconut oil and chocolate chips over a pan of boiling hot water. Mix until the chocolate is melted and remove from heat. Whisk the chocolate and coconut oil together.

In large bowl #1, put the mashed avocado and the melted chocolate/coconut oil mixture inside and whisk both together. Add the eggs, maple syrup, honey, and vanilla to the bowl and whisk until the mixture thickens and everything is well mixed.

In bowl #2, mix the flour, salt, cocoa powder, and cinnamon together.

Pour the dry ingredients from bowl #2 into the chocolate bowl #1 and mix with a fork or whisk until everything is just mixed.

Fold in 1/4 cup of chocolate chips and the 1 1/2 cup of chopped cherries.

Cook for 35 minutes (the mixture will still look wet/moist)

Let cool and then refrigerate for about 60 minutes

While the brownies are in the fridge, take out the cooled can of coconut cream.

Put the cream, 1 tbs honey, 1 tbs maple syrup, 1 tbs vanilla in a bowl and whip with an electric mixer until the mixture thickens and turns into whipped cream. Place the whipped cream in the fridge until ready to be used. If the cream isn't whipping into a thick enough texture, I find that putting the bowl into the freezer for 10 minutes and whipping it again works.

If you want a layer of fudge frosting for the brownies, make a batch of Paleo Fudgy Chocolate Avocado Frosting. A link to this recipe is in my post above 🙂

When the brownies are cool you can either layer the frosting, and whipped cream while they are in the pan OR individually prepare each piece (that is what I did).

I cut each piece of brownie and layered some Paleo Fudgy Chocolate Avocado Frosting on top, then I put a dollop of frosting on each piece and then topped each piece with a cherry on top.
Nutrition
Calories: 353kcalCarbohydrates: 42gProtein: 7gFat: 19gSaturated Fat: 9gPolyunsaturated Fat: 1gMonounsaturated Fat: 3gTrans Fat: 0.01gCholesterol: 82mgSodium: 189mgPotassium: 253mgFiber: 5gSugar: 29gVitamin A: 154IUVitamin C: 3mgCalcium: 70mgIron: 2mg
Disclosure: This post contains Amazon affiliate links. This means that if you click on a link and make a purchase, I will receive a small commission at no cost to you.