Paleo Fudgy Chocolate Avocado Frosting (GF)
This week is going to be dedicated to frosting. To this Paleo Fudgy Chocolate Avocado Frosting to be exact. It is smooth and creamy and delicious! The smooth texture is thanks to the avocado, which I think pairs really well with chocolate.
I came up with this frosting a while back when I wanted to cover paleo chocolate chip cookies in frosting and it has been my go-to frosting ever since. I have used it to cover muffins, brownies, cookies and cake. It is so versatile and delicious that it would be unfair to not share this recipe… so here it is 🙂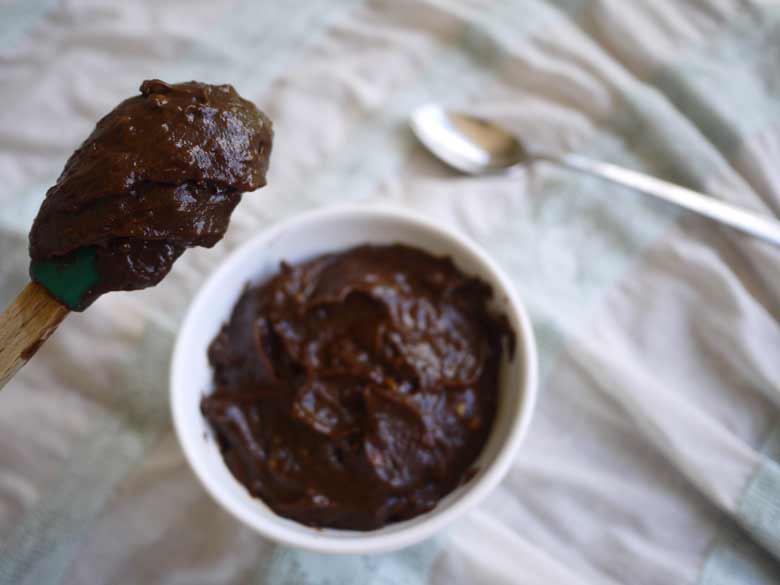 The reason that this frosting is so versatile is that the texture is thick and fudgy.
It coats any dessert surface and stays put.
By stay put, I mean that it doesn't melt if left out or harden if put in the fridge.
It stays thick and fudgy no matter what… and that is the beauty of it.
It also tastes great. You may be wondering what the deal is with the avocado.
I'd be lying if I said that you don't notice that it's in the frosting.
However it works with the chocolate and hints of vanilla and cinnamon flavors.
Plus, it's frosting without butter and made of non-processed ingredients. It's hard to beat that.
I've been asked by a few people what I mean when I say "paleo".
Basically, it is anything that falls under the Paleolithic diet, which I won't go into long detail here.
What is important here is that when I say Paleo, I'm also saying nonprocessed.
And nonprocessed means healthy. Or healthier.
As I mentioned, I've used this Paleo Fudgy Chocolate Avocado Frosting on a wide variety of desserts. One of my favorite desserts to pair this frosting with would have to be my Fudgy Paleo Brownies, as pictured above. Yuuum!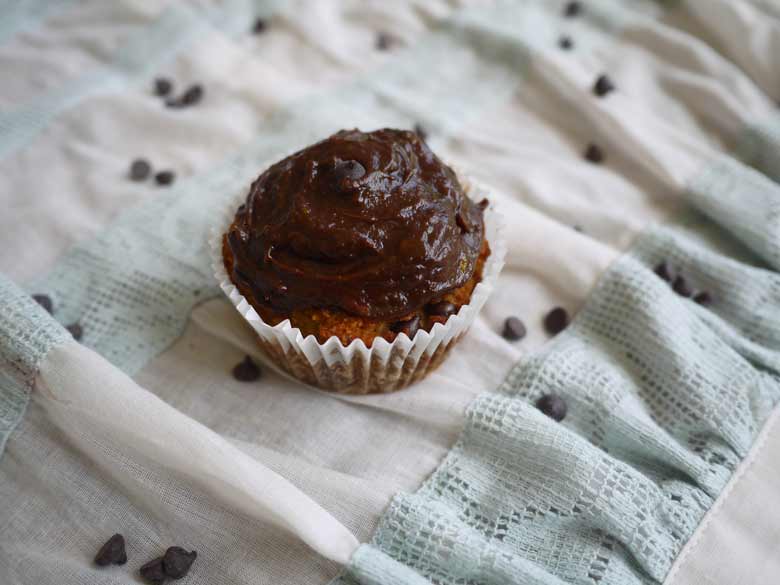 Another favorite use for this frosting is on top of these Chocolate Chip Muffins, pictured above.
These muffins were made for this frosting! Stay tuned for the recipe and one more frosting related recipe this week 🙂
Paleo Fudgy Chocolate Avocado Frosting
It is smooth and creamy and delicious!
Instructions
Mash the avocado well in a bowl.

Put the cocoa powder, honey, maple syrup, vanilla, and cinnamon in the bowl and mix with a hand held electric mixer until smooth and well blended.

Use immediately or put in a tupperware and refrigerate for future use.

This amount should be enough to frost 12 cupcakes or 1 batch of brownies.
Nutrition
Calories: 143kcalCarbohydrates: 20gProtein: 1gFat: 7gSaturated Fat: 1gPolyunsaturated Fat: 1gMonounsaturated Fat: 5gSodium: 5mgPotassium: 275mgFiber: 4gSugar: 15gVitamin A: 75IUVitamin C: 5mgCalcium: 23mgIron: 0.4mg
Disclosure: This post contains Amazon affiliate links. This means that if you click on a link and make a purchase, I will receive a small commission at no cost to you.