Chocolate Chip Muffins w/ Chocolate Avocado Frosting (paleo, GF)
Based on my recent posts it may appear that I have gone muffin crazy…and the truth is that I have! I have a "to-do"or "to-bake" muffin list. Yes, I have a never ending Paleo muffin list that I am determined to get through. Does this qualify me as having gone muffin crazy?
Surprisingly enough, chocolate chip muffins were not on my list. I honestly would never have thought to make them had it not been my boyfriend's birthday this week. His favorite ice cream flavor of all time is chocolate chip ice-cream, so I figured why not bake him chocolate chip muffins?!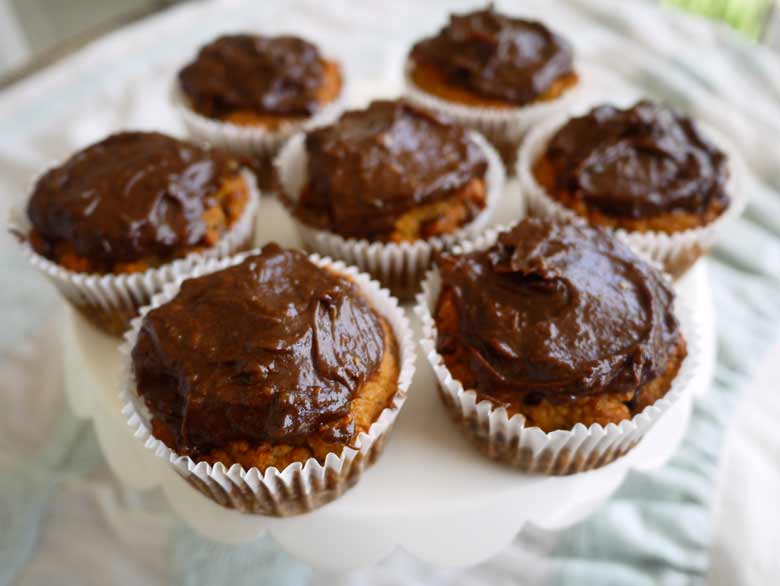 I always give him a hard time for having chocolate chip ice-cream as his favorite flavor. Of all the flavors?!
Cookie dough, yes! Oreo, awesome! But chocolate chip? Meh! haha.
I've actually tried to buy chocolate chip ice-cream for him and have had a really hard time finding it in stores… cough… maybe there is a reason…cough.
Anyways, I figured that in honor of his birthday, I should attempt Paleo Chocolate Chip Muffins with Paleo Fudgy Chocolate Avocado Frosting (this week is dedicated to that frosting, after-all).
And I am so glad that I did because these are the bomb!
They are moist, chocolatey and delicious! And topped with the frosting? Oh my, indulgence!
Each bite is soo good! These may be my best muffins yet!
We had a guest in town visiting over the weekend and he had no idea that these muffins were Paleo or that the frosting was made with avocado, and he loved them!
Yum Yum Yum!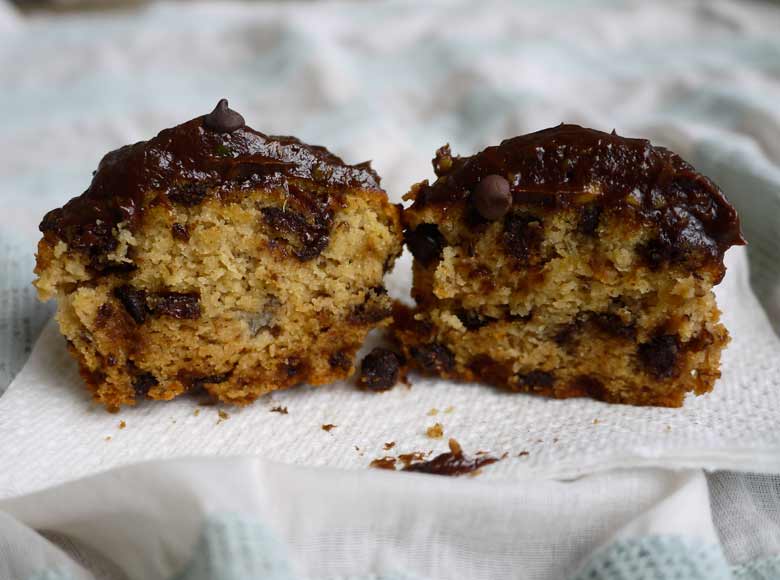 I liked these Chocolate Chip Muffins with 3/4 cup of Enjoy Life chocolate chips, but my boyfriend mentioned that he would prefer them with less chocolate chips.
So maybe start with 1/2 cup and see how it distributes in the batter first.
Coming from the chocolate chip ice-cream lover? Hmmm…
It is important to make these with a small banana or else it will taste more like a banana muffin than a chocolate chip muffin.
So either use 1/2-3/4 of a large banana or make sure the mashed banana in this recipe is a small one.
In my muffin insanity defense, I do have to say that I have had a crazy schedule for the past six weeks and thus have been seriously relying on preparing a lot of my food for the work week on Sundays.
12 muffins is breakfast for me and my boyfriend for the week! It's a life saver having them around to grab on my way to work.
I also just think that muffins are delicious, so maybe I can't blame my schedule tooo much. 🙂
These muffins were made on Friday but unfortunately didn't even make it to Sunday! Ya, they were that good! I'll have to make more of these and soon!
Chocolate Chip Muffins with Chocolate Avocado Frosting (paleo, GF)
Delicious Paleo muffins full of chocolate chips and frosted in avocado frosting.
Instructions
Preheat the oven to 350 degrees.

Line a 12 cupcake pan with muffin tins.

In bowl 1, mix the almond flour, coconut flour, baking soda, baking powder, and salt. Set the bowl aside.

In bowl 2, mix the eggs, honey, vanilla, and coconut milk with an electric mixer until well mixed. Add the melted coconut oil to the bowl and mix with the electric mixer until well blended. Add the mashed banana to the bowl and mix with the electric mixer until well blended.

Put bowl 1 into bowl 2 and mix with an electric mixer.

Fold in the chocolate chips.

Evenly divide the batter into all 12 muffin tins. I usually start by putting 1-2 tbs of batter into each one and add more from there.

Bake for 30 minutes- switching the direction of the tray half way through.
Disclosure: This post contains Amazon affiliate links. This means that if you click on a link and make a purchase, I will receive a small commission at no cost to you.