Strawberry Shortcake (Paleo, GF)
Mmmm! Strawberry shortcake— I almost forgot what this tasted like! Until now! Part cake, part biscuit— this Paleo Strawberry Shortcake is the best crumbly, sweet, and refreshing strawberry dessert that I have had in a loonng time.
Topped with some Paleo whipped cream and some fresh cut strawberries, this truly is the perfect strawberry dessert. Where is the whipped cream you ask? Keep Reading. 🙂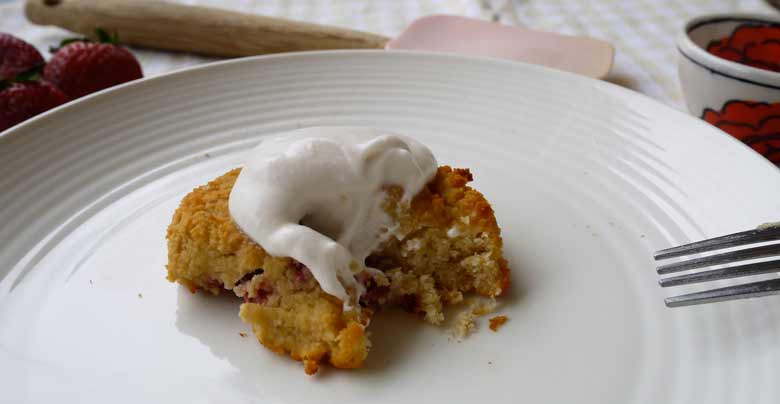 The best part about this recipe is that there are just so many ways to eat these strawberry shortcakes.
Alone… Topped with a dollop of whipped cream…. Sitting in lots of whipped cream with a side of strawberries.
Even as shortcake sandwiches with whipped cream in the middle. These are good anyway, anyhow…warm out of the oven or refrigerated.
I mean, there is a reason this glorious dessert is so popular in the first place.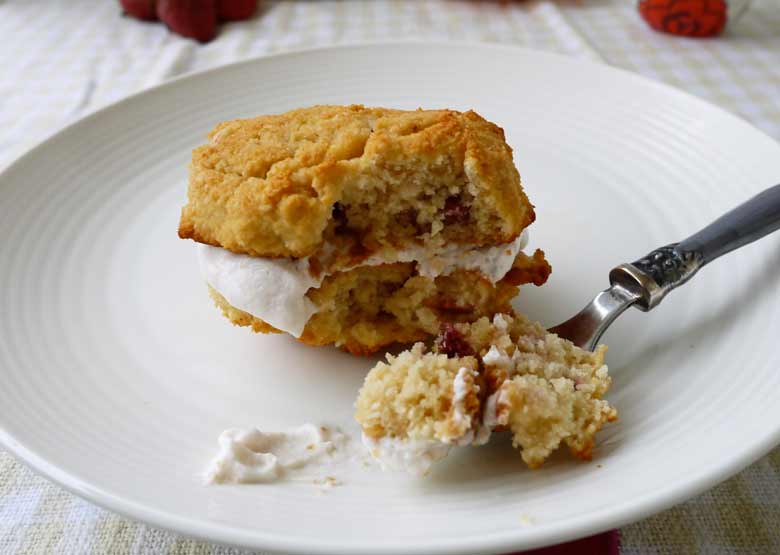 I made a few sandwiches and kept them in the fridge for 15-20 minutes before tasting them… so delicious!
Though you don't have to cool them if you don't want to.
I just found cooling them first kept the coconut cream from melting.
The presentation was also a bit better. But the flavors were the same.
I think my favorite was eating these warm with a dollop of whipped cream on top.
I was about to post that this was the best way to eat them, when my boyfriend said he preferred them as sandwiches and cold and to make sure that I put that on my blog… haha. To each their own; you really can't go wrong!
Warm or cold, its nice to be eating an all-natural, non-processed version of strawberry shortcake… I can't believe that I almost forgot what it tasted like!
These will definitely be a repeat in my house.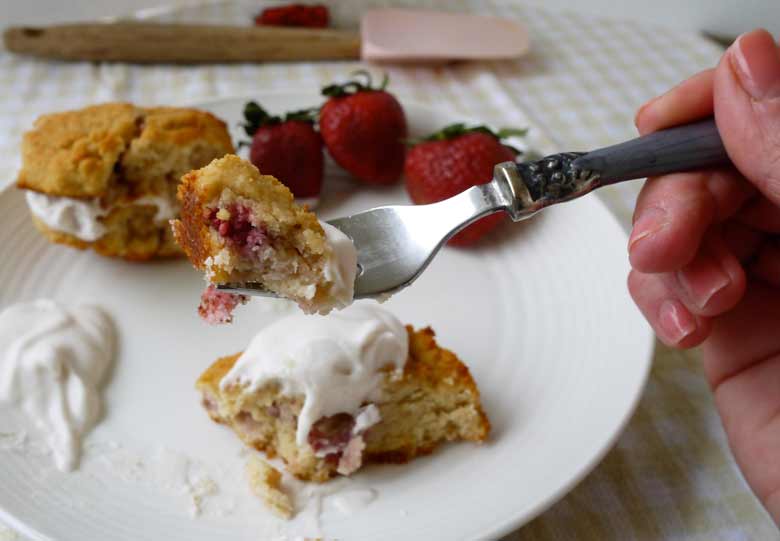 Making whipped cream out of coconut cream was a bit difficult to figure out, but I think I finally got it. I used a stand mixer and put one can of coconut cream, 1 tbs of honey, 1 tbs of maple syrup and 3 tbs of vanilla and mixed it all together for a few minutes.
Then, I put the whole thing in the fridge, including the metal bowl, for 45 minutes. I removed it and mixed it again for a few minutes- this time it thickened up.
I put the bowl again in the fridge for another 45 minutes. After that, I mixed it once more and it finally turned into whipped cream. I'm sure there are other ways of doing this, but this one worked for me.
One thing worth noting, is that I had better results with coconut cream without any preservatives in it. Savoy has proved to be reliable for me every time.
I could just eat these Paleo Strawberry Shortcakes all day!
Really.
Help me.
🙂
Strawberry Shortcake (Paleo, GF)
A delicious Paleo strawberry shortcake covered in coconut whipped cream.
Instructions
Preheat the oven to 375 degrees.

Dice 1 cups worth of strawberries.

In a small bowl, put 2tsp of vanilla and 2 tsp of honey on top of the diced strawberries and mix well. Set aside.

In a medium bowl, mix the almond flour, coconut flour, baking powder, baking soda, and salt together with a fork. Mix well.

In another medium bowl, mix the milk, coconut oil, eggs, and 1/2 cup of honey with an electric mixer.

Add the flour mixture to the milk and eggs mixture and mix with an electric mixer until everything is blended and thickens.

Add the small bowl with the strawberries to the mixture and stir with a fork until everything is evenly mixed.

Scoop 2 tbs of the dough onto a baking sheet covered in a cooking mat.

Mold the dough into a flat oval shape and repeat until the rest of the dough is done. There should be enough dough to make about 14 little shortcakes.

Cook for 20 minutes on a lower oven rack, the tops of the shortcakes will be browned.

Let cool on the sheet for 10 minutes.

The whipped cream recipe is in the post. 🙂
Nutrition
Calories: 131kcalCarbohydrates: 12gProtein: 3gFat: 8gSaturated Fat: 4gPolyunsaturated Fat: 0.2gMonounsaturated Fat: 0.4gTrans Fat: 0.002gCholesterol: 23mgSodium: 141mgPotassium: 42mgFiber: 3gSugar: 8gVitamin A: 35IUVitamin C: 6mgCalcium: 57mgIron: 1mg
Disclosure: This post contains Amazon affiliate links. This means that if you click on a link and make a purchase, I will receive a small commission at no cost to you.