Paleo Caramel Sauce (Gluten-free, Dairy-free)
Rich buttery caramel sauce made without butter? Or sugar? And that is non-processed? I didn't think it was possible, but it is!
All you need is maple syrup, coconut cream, coconut oil, salt and vanilla. It is so easy and simple, and so multi-purpose, that there is no reason not to make this!
This recipe started off as an experiment. I had never made caramel sauce before, let alone attempt to make it Paleo, so I was really excited when this sauce was so easy to make.
I was even more excited when it tasted so authentically delicious! A buttery, sweet, rich, creamy caramel… yum yum yum! There really is nothing like the flavor and texture of a rich creamy caramel sauce.
All you need to do is whisk the ingredients together in a pan over low heat on the stove.
Eventually, the mixture will thicken up and turn into caramel. NOM NOM NOM.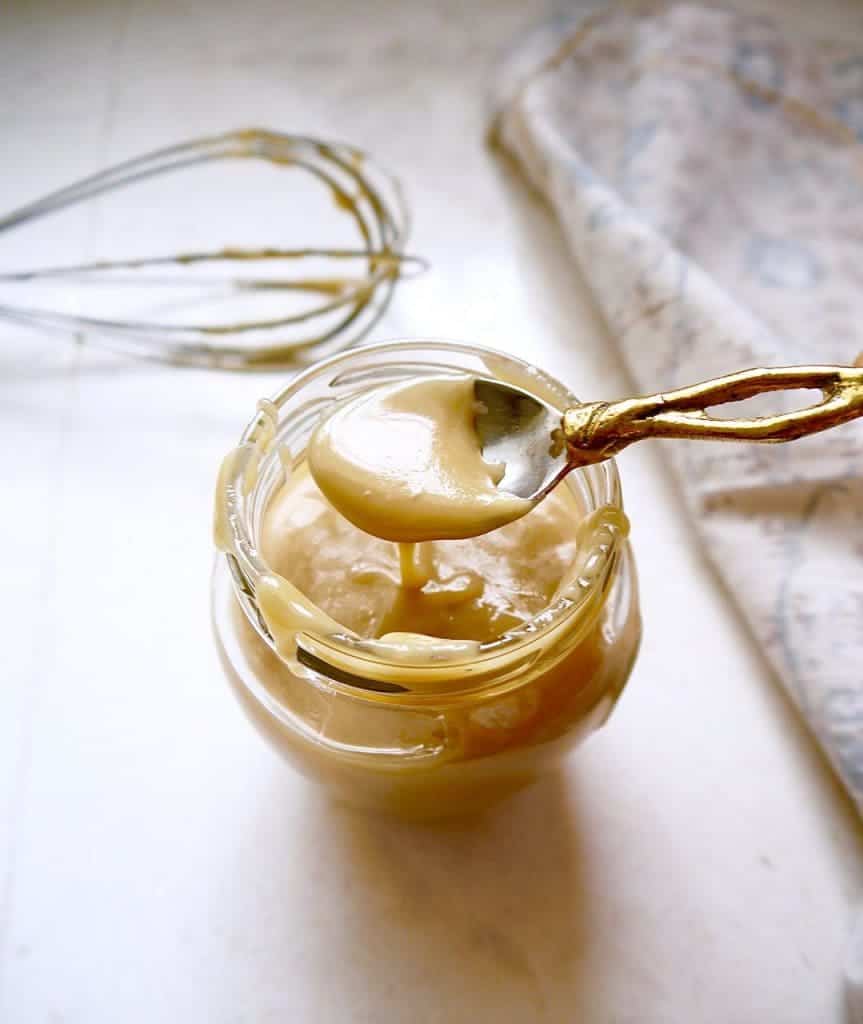 You'll know it is ready when the caramel thickens enough to cover the back of a spoon.
You can also make it as thick as you want, all you have to do it cook it longer!
It may be hard to avoid licking the spoon… or eating a few spoonfuls, BUT tasting it immediately made me think of all of the wonderful uses for this delicious caramel.
As a dipping sauce for apples, bananas, or any fruit… on top of brownies, crumble, cupcakes, cake, ice cream… this sauce changes everything!
Yummy paleo desserts, here I come!
Note: I recently updated these Paleo Caramel Sauce Photos. The ones currently up are the new ones, they happen to be lighter in color than my prior photos because my maple syrup was lighter in color and I used a different coconut cream brand. ( I think)
Check out one of the old photos below: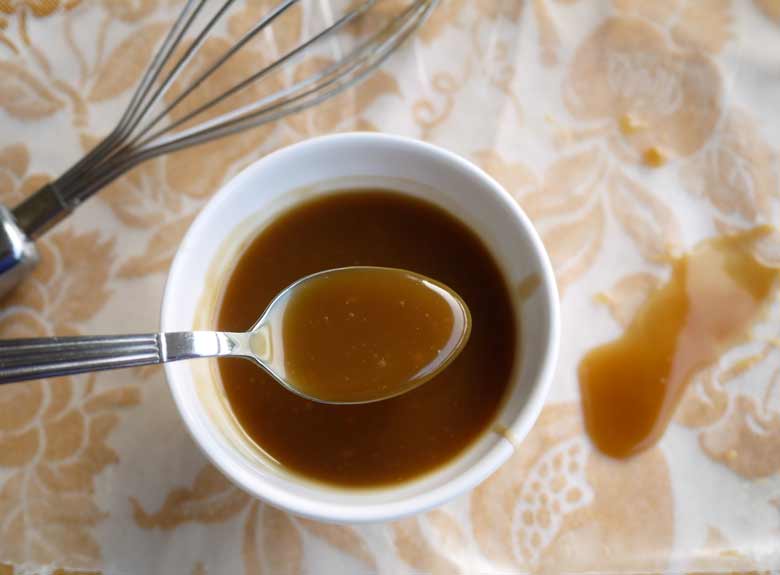 Another note: if you are doubling the recipe, it will take more time to turn into caramel. I have found it can take me over 30 minutes.
Caramel Update: In case you were needing some ideas on how to use this Paleo Caramel Sauce, here are some recipes that I loved using this sauce for.
This recipe was shared on the AIP recipe roundtable.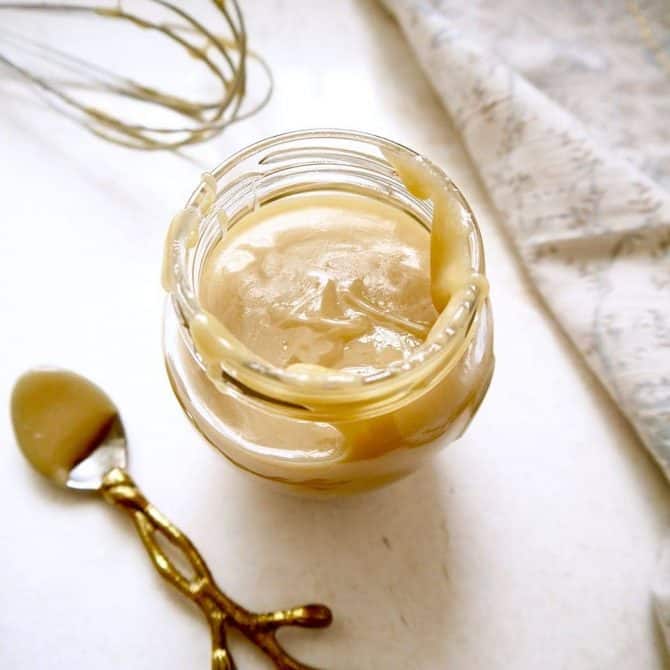 Paleo Caramel Sauce
Rich buttery caramel sauce made without butter or sugar.
Instructions
Put the maple syrup, coconut cream, coconut oil, salt, and vanilla in a pan and whisk well.

Set the stovetop heat to high until the mixture starts to boil and then immediately set it to low- low-medium heat.

Whisk the mixture for the next 20 minutes or so. At the beginning, you can let the mixture sit and thicken, whisking it from time to time. As the mixture thickens, start to whisk the mixture more often. Towards the end, you'll be whisking the mixture non-stop.

Once the mixture is thick enough to cover the back of a spoon, turn off the heat.

I let the mixture cook for 22 minutes.

Then pour the sauce into a bowl or container and let cool OR let it cool in the pan and pour into a container or bowl after.

This recipe yields 1/2- 3/4 cup of caramel sauce, depending on how long you cook it and how much the liquid dissolves. (this all depends on how thick you want the caramel to be)
Nutrition
Calories: 86kcalCarbohydrates: 8gProtein: 0.3gFat: 6gSaturated Fat: 5gPolyunsaturated Fat: 0.1gMonounsaturated Fat: 0.3gSodium: 4mgPotassium: 51mgFiber: 0.2gSugar: 6gVitamin C: 0.2mgCalcium: 13mgIron: 0.2mg
This recipe was shared on the AIP recipe roundtable.
Disclosure: This post contains Amazon affiliate links. This means that if you click on a link and make a purchase, I will receive a small commission at no cost to you.