Refreshing Tomato Carrot Juice
Refreshing Tomato Carrot Juice recipe. A healthy homemade juice made of carrots, tomatoes, oranges and grapefruit.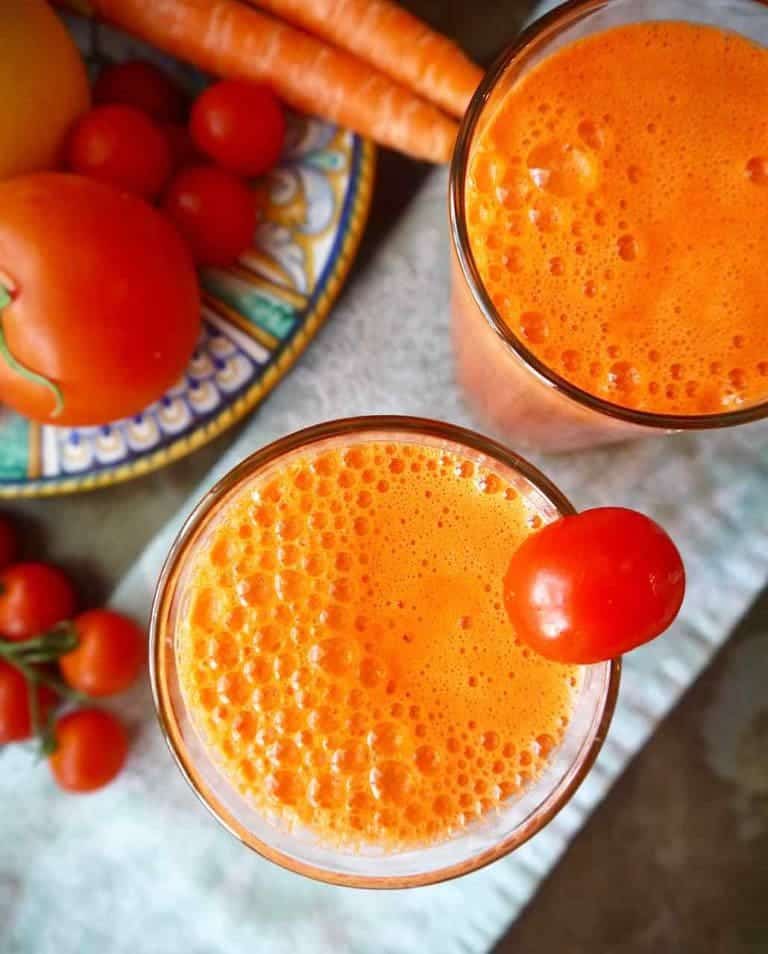 Juicing is my favorite way to get back on track and to detox my body.
You can't beat the nutrients, and uplifting feeling that comes along with a fresh juice. Especially this Refreshing Tomato Carrot Juice. I love it!
Refreshing Tomato Carrot Juice is one of my absolute favorite juices. It is made of carrots, grapefruit, oranges, and tomatoes and if you couldn't tell by the name, it is so refreshing!
Note: this post was originally published in 2014 and was updated in 2020.
If you have read some of my other juice posts, you'll know that I was inspired to start juicing by The Juiceman's Power of Juicing.
I have juiced for many years and after much experimentation, I pretty much have my regular juices in my rotation. Which includes this Refreshing Tomato Carrot Juice.
Ingredients needed to make this Refreshing Tomato Carrot Juice:
carrots
oranges
grapefruit
tomatoes
That is it! Sometimes I put two oranges into this juice and sometimes I put one in. It depends how sweet I want the juice to be.
Tomatoes may seem like a strange addition to juice, but don't be afraid of it. It will not turn your drink into something that tastes like canned tomato sauce. I promise! haha
Adding tomatoes adds a light warmth to the juice, which instantly makes the juice more refreshing.
Plus the grapefruit and orange juices really even out the flavoring here.
The carrots add the perfect hint of sweetness too.
Why are tomatoes refreshing?
Tomatoes are 95% water! They are also full of vitamins. Water + vitamins together is very hydrating.
Before initially making this Refreshing Tomato Carrot Juice, my husband and I had a debate over what a refreshing drink would be.
He said lemonade and I said cucumber water.
Then after he tasted this drink, he said this juice was incredibly refreshing.
I'm tempted to add some cucumbers to this drink the next time I make it.
Now I don't know if this normal, or my body is telling me something, but I drank this in about 30 seconds. Actually more like 15 seconds. And I loved every second of it!
I use a Warring Pro juicer to make all of my juices. I find that it cleans really easily and that I don't juice if I can't put all the pieces into the dishwasher.
Other Healthy Juice recipes you may enjoy:
This Celery Juice recipe by Clean Eating Kitchen. She gives you options on how to use a juicer or blender to make it.
This Healthy Green Lemonade is lemonade but with a green veggie twist!
This Fresh Parsley Kale Garden Juice has an amazing flavor thanks to the parsley.
This Fennel Immune Booster is my go-to if I am feeling under the weather.
Refreshing Tomato Carrot Juice
A healthy homemade juice made of carrots, tomatoes, oranges and grapefruit.
Ingredients
6 medium carrots
2 medium tomatoes
1-2 oranges, (it tastes great with 1 or 2)
1 grapefruit
Instructions
Peel the oranges and grapefruit.

Wash and dry the carrots and tomatoes.

Juice all of the fruits and vegetables.

Mix the juice with a spoon before pouring.

Makes 30 ounces of juice.
Disclosure: This post contains Amazon affiliate links. This means that if you click on a link and make a purchase, I will receive a small commission at no cost to you.