Immune Booster Fennel Juice
This Immune Booster Fennel Juice recipe is an antioxidant and vitamin filled juice made from fennel bulb, orange, grapefruit, lemon, apple and grapes. Not only is it delicious, but it helps to boost your immune system!
This fennel based juice is one of my all time juices. I discovered a similar juice at a breakfast place called Satsuma in New Orleans and knew that I had to recreate something similar at home.
So, I came up with my own version of it and have been drinking it ever since. It has a hint of anise flavor (thanks to the fennel), with lots of citrus tastes and an overall refreshingly and light taste.
If you are wondering what fennel juice tastes like, don't worry!
It has a light anise flavor, but it doesn't taste like strong licorice.
Also, don't be afraid if you drink it in 30 seconds… it just disappears so quickly! Especially with a straw. Which is great considering how many fruits/veggies are inside!
How to make fennel juice
If you've wondered how to juice fennel bulb, look no further!
It is simple, cut your fennel bulb into pieces that fit your individual juicer. I personally use a waring pro juicer.
And then you put the fresh raw fennel into your juicer and collect the juice.
This is all you need to know to juice fennel bulb.
How to make this Immune Booster Fennel Juice
First step– wash all your fruit and vegetables
Second step– cut your fruits and veggies to fit into your juicer
Note: the peel of the citrus needs to be removed so your juice isn't butter
Third step– juice!
After all of the juice has been extracted from your juice extractor, then mix the juice together with a spoon, then pour and serve.

Variations to this juice
You can add berries or carrots to this juice to change up the flavor or add more nutrients.
I personally love adding carrots because I find carrots to be powerhouses of vitamins and minerals.
More information about juicing:
I got into juicing after reading the Juiceman's Power of Juicing and that transformed my life.
It's my favorite juicing book because the recipes are realistic and the information on fruit/veggie combinations is important (the combinations do matter).
One thing that I learned from the book is that after cutting open a fruit or vegetable and juicing them, the nutrients of the fruits and vegetables instantly begin to lose their power so you shouldn't wait more than 10 minutes to drink it.
I have tried pretty much all of his recipes and spent a good year being really adamant about having a different juice every time that I made it. Fast-forward to now, and I stick to my five favorite recipes.
I juice 4-5 times a week and alternate between those five. I sometimes change things up and throw in extra berries or carrots lying around. For this Fennel Immune Booster, for instance, I add carrots to it about every other time that I make it.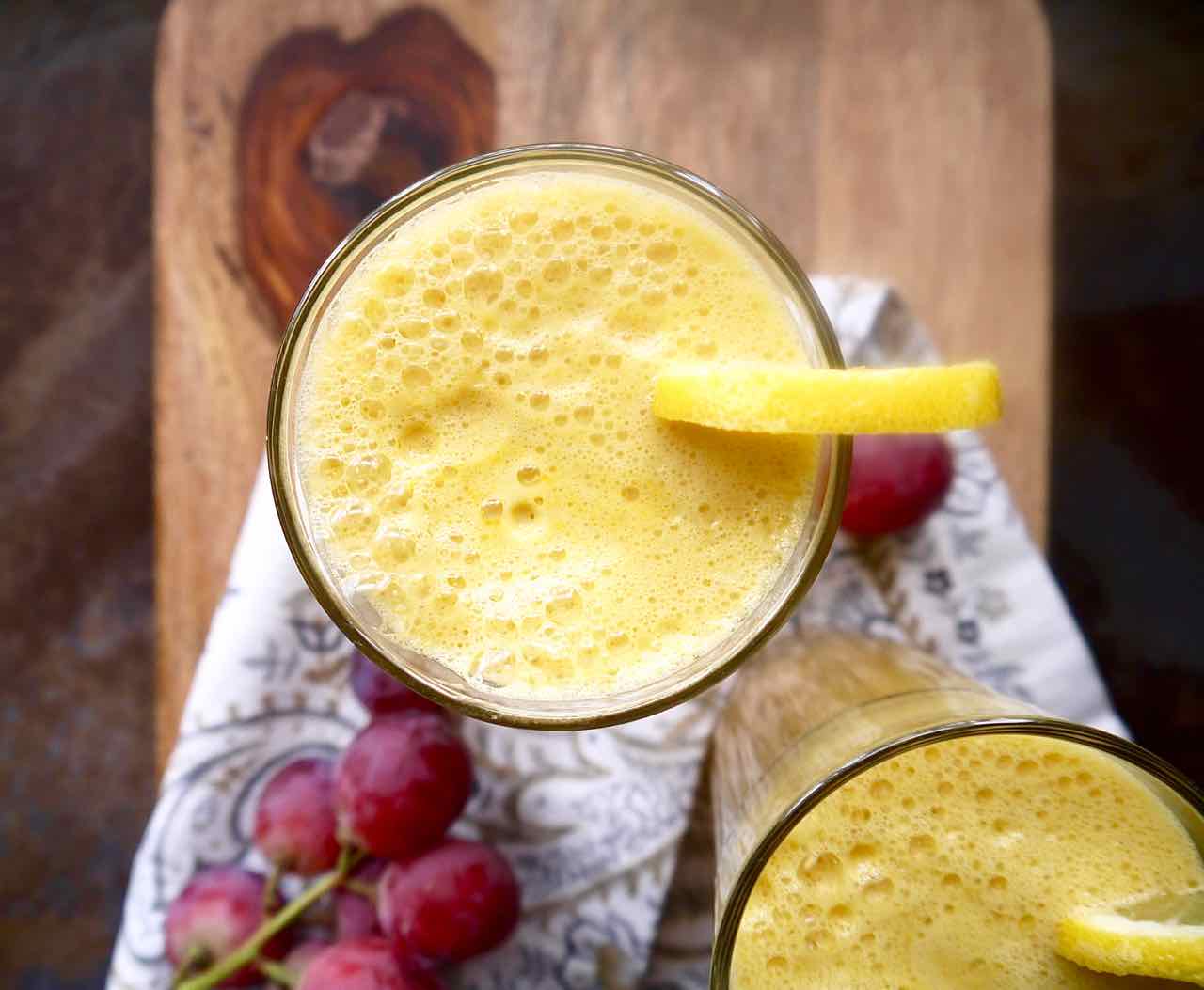 This makes 32 ounces of juice— the perfect amount for two large glasses!
Other immune boosting juice recipes you may enjoy:
Refreshing Tomato Carrot Juice
Fresh Green Apple Cucumber Kale Ginger Juice
Refreshing Cucumber Watermelon Juice
Turmeric Shot from Clean Eating Kitchen
Immune Booster Fennel Juice
An antioxidant and vitamin filled juice made from fennel bulb, orange, grapefruit, lemon, apple and grapes. Not only is it delicious, but it helps to boost your immune system!
Equipment
1 juicer / juice extractor
Ingredients
1 small fennel bulb or 1/2 of a large one
1 cup purple grapes (about 12 large grapes)
1 orange
1 small apple or 1/2 large apple
1 grapefruit
a sliver of a lemon – about 1/5 of a lemon (with peel)
Instructions
Rinse all of the vegetables with water and dry off.

Chop the fennel into pieces.

Cut the grapes off the vine in such a way that it fits into the juicer. Leaving the vine is fine since the juicer separates it.

Remove the peel from the orange and grapefruit and slice into pieces.

Cut a sliver of lemon and leave the peel.

Put all of the cut up fruit into a juicer.

Makes 32 ounces of juice.
Nutrition
Calories: 220kcalCarbohydrates: 56gProtein: 4gFat: 1gSaturated Fat: 0.2gPolyunsaturated Fat: 0.3gMonounsaturated Fat: 0.1gSodium: 63mgPotassium: 1017mgFiber: 10gSugar: 41gVitamin A: 1875IUVitamin C: 95mgCalcium: 125mgIron: 1mg
Disclosure: This post contains Amazon affiliate links. This means that if you click on a link and make a purchase, I will receive a small commission at no cost to you.