Easy Fresh Mint Tea
This easy fresh mint tea is a healthy homemade tea recipe made using fresh mint leaves, water, and honey. It comes together quickly and results in the most comforting cozy cup of tea!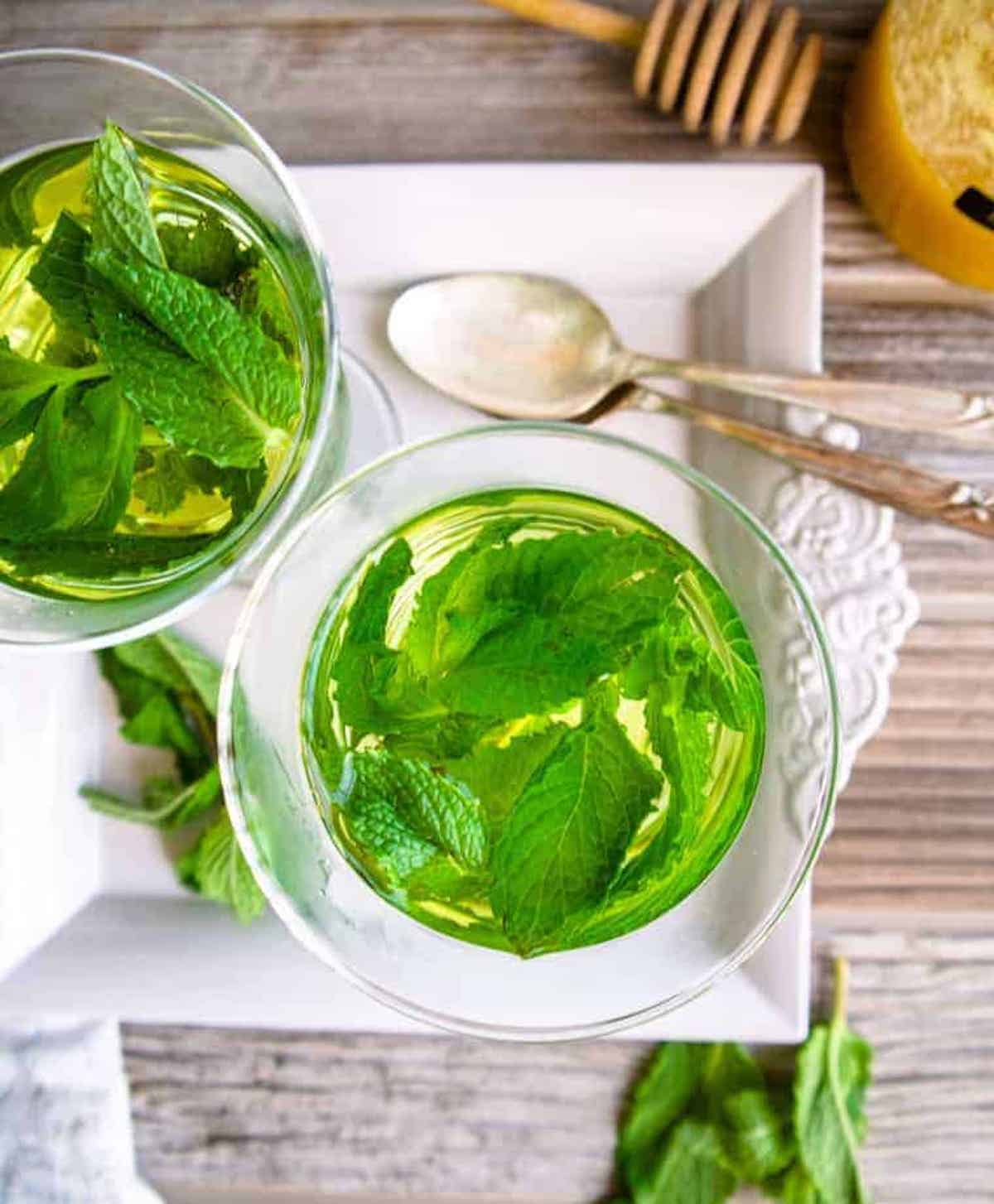 Nothing compares to homemade tea. Whether its iced tea, matcha tea, or this hot fresh mint tea, making it at home always has the best results.
I love the flavor you get by using fresh herbs when making this tea. If you love big flavor from fresh ingredients, you should check out my strawberry iced tea made with real strawberry juice. YUM.
I got the idea to start making mint tea from fresh mint from my trip to the Netherlands. Every time that I ordered mint tea at a restaurant there, I was given a big glass of hot water with lots of fresh mint tea leaves inside, and a small pot of honey next to it. I was blown away with how delicious mint tea tasted this way, so I started making it like this at home.
Table of Contents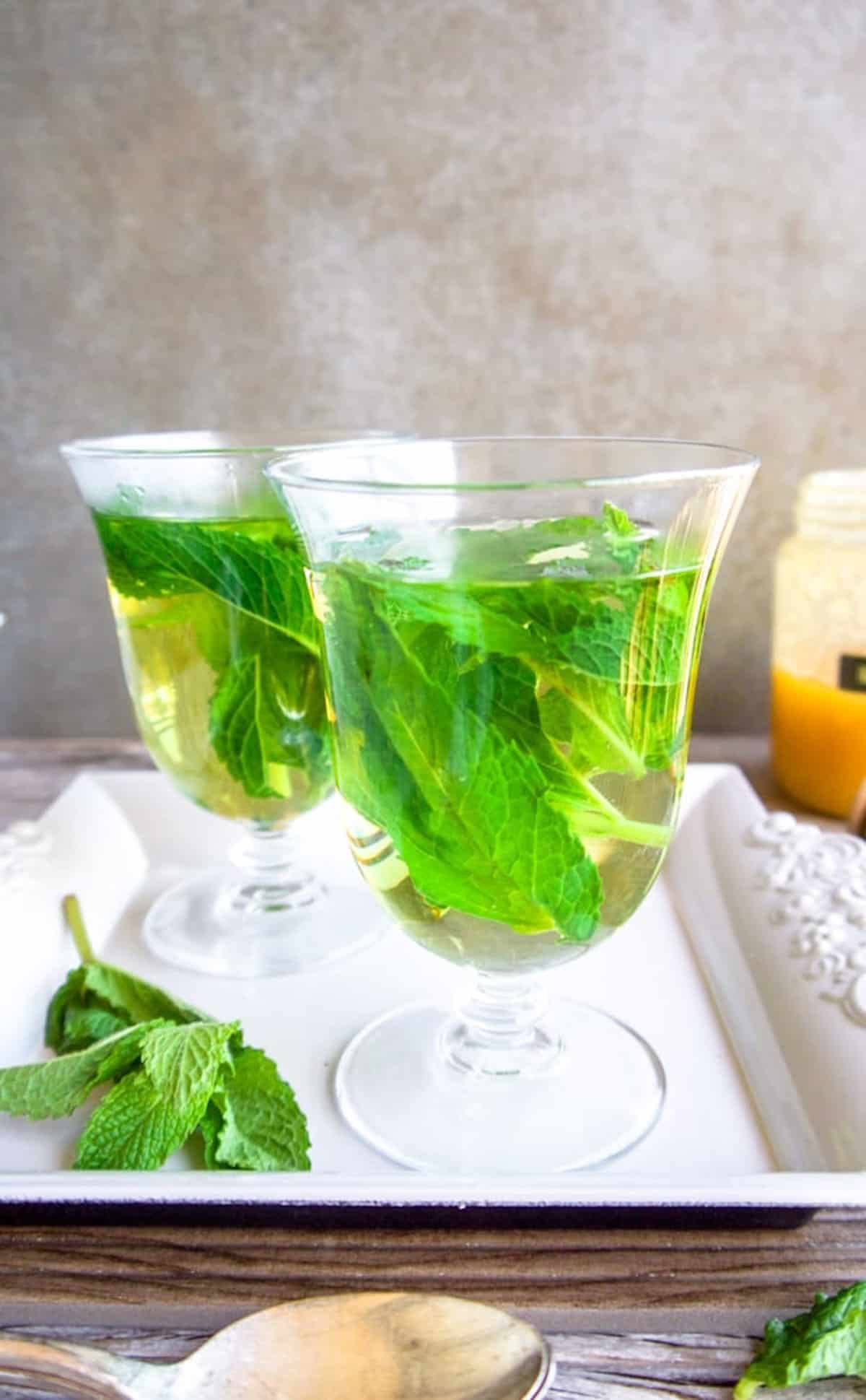 Why this recipe works:
You only need 3 ingredients!
It is easy and quick. It comes together in 5 minutes.
You don't need a teapot or kettle, all you need is a teacup and some boiling water.
This herbal tea is healthy and fits a wide variety of dietary needs.
Recipe Ingredients: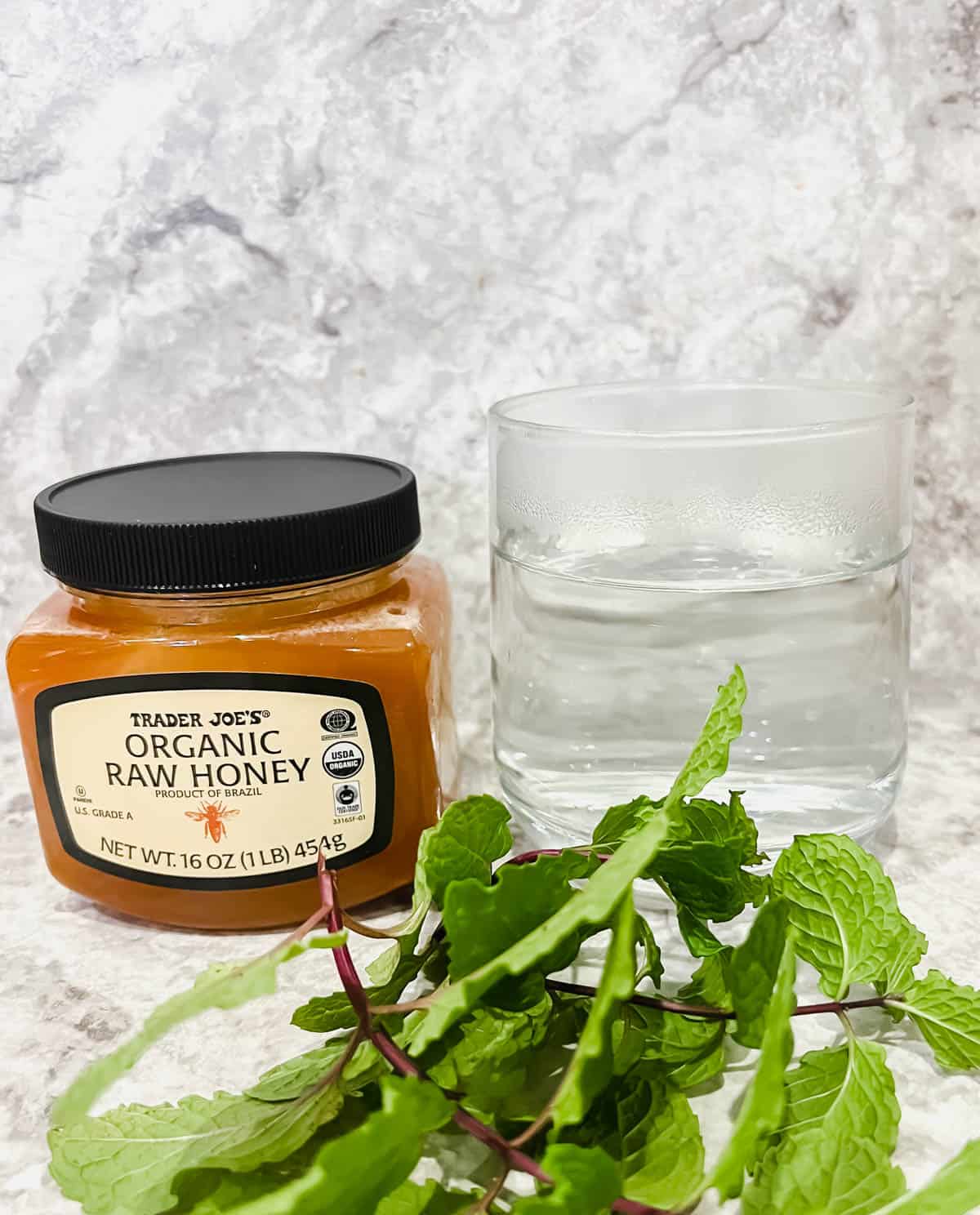 boiling water– you can use a water boiler or boil it on the stove.
honey– any type of honey works, but I like to use raw honey.
fresh mint leaves– you can buy them at the grocery store or grab them from your garden outside.
See recipe card below for a full list of ingredients and measurements.
Recipe Variations:
Instead of honey, you can use maple syrup.
Instead of peppermint leaves, you can use spearmint leaves.
You can add lemon juice or lemon slices.
You can add ginger root.
You can add green tea to make it a morrocan mint tea.
You can add black tea to the mint leaves.
You can add basil leaves.
You can turn this into iced mint tea!
How to make fresh mint tea:
Step 1: Boil water, add it to a glass or mug, and add fresh mint leaves to a cup.
Step 2: Add honey and mix into the water until it is dissolved. Let the mint tea leaves steep for 3-5 minutes.
Mint tea health benefits
It can help calm your stomach and help with digestion.
Peppermint is a natural anti-bacterial.
It can help ease a sore throat, reduce stress, and prevent nausea.
It can help you relax before bed. Peppermint is a muscle relaxant. Check out the following article for more information on the health benefits of mint.
Recipe FAQs
Can you make this into iced mint tea?
Yes! Once you have added the honey and let the mint leaves steep, then add ice cubes OR put the mug into the refrigerator to cool and then add ice cubes later.
Where can I find fresh mint?
In the produce section of the grocery store or in your garden.

I find that mint is one of those herbs that grows really well outside and needs minimal intervention, so I always have some growing in my yard.
What kind of mint can I use for this tea?
Traditional peppermint, chocolate mint, spearmint, apple mint.
Other mint recipes you'll love:
Did you try this recipe? Please leave me a ⭐ review below!
Easy Fresh Mint Tea
A healthy easy tea recipe made with only three ingredients… fresh mint tea leaves, water, and honey.
Ingredients
1.5 cups boiling water
1 tsp honey
2 sprigs of fresh mint leaves ( this was 15 mint tea leaves for me)
Instructions
Boil water and pour it into a mug. Then, put the mint into the mug/cup, add honey, mix, and let the mint leaves seep for 3-5 minutes.
Notes
You can add more mint leaves or honey after tasting to tweak it to your tastes.

You can turn this into iced tea. To do so, follow the instructions above, then once the mint leaves have steeped and the honey has been added, then you can add ice-cubes right away or refrigerate then add ice-cubes.
Nutrition
Calories: 21kcal
Disclosure: This post contains Amazon affiliate links. This means that if you click on a link and make a purchase, I will receive a small commission at no cost to you.