The Netherlands- Arnhem, Amersfoort, Gouda, Delft, Veere
It's kind of crazy to think that last month I was bouncing around from town to city in the Netherlands. I started off my trip in Arnhem, then visited Amersfoort, Gouda, Delft, and Veere. Time has flown! But I'm excited to finally be posting about it.
I loved all the greenery and forests in the Netherlands ( living in Florida really makes me miss this!)…and I was very inspired by how active people of all ages are in the Netherlands. I felt like most of my trip involved forest bathing and my body loved it!. Eating cheese and pancakes were also involved. 🙂
My family and I ( my husband, mother, father, brother, sister, brother-in-law, and two nephews), all went on a European adventure of sorts last month. We were invited to a wedding in Belgium, and since the trip is so far away, we decided to do a bit of site-seeing both before and after the wedding.
We flew into Amsterdam and visited the Netherlands and Belgium for one week, then we attended the wedding, and then we spent a week in Stockholm.
Arnhem
We started off staying at Hotel Groot Warnsborn, a beautiful estate in the middle of the forest, beside the town of Arnhem.
The scenery here was beyond peaceful and beautiful, full of trees and trails. You could spend hours exploring and never see it all.
And if that wasn't good enough, the breakfast here was amazing… they have fresh bread made every morning…. along with local fruit, honey, jams, yogurt and cheese. And they had fresh eggs and bacon. We were in breakfast heaven.
(The red oval thing on my plate is a plum! And one of the best I've had.)
One thing that I loved about this hotel and this area was that there are a ton of outdoor activities, such as life size chess, lots of children's cars /toys, and miles and miles of forest trails to walk or bike around.
We spent hours walking the grounds here, and my nephews really enjoyed it as well.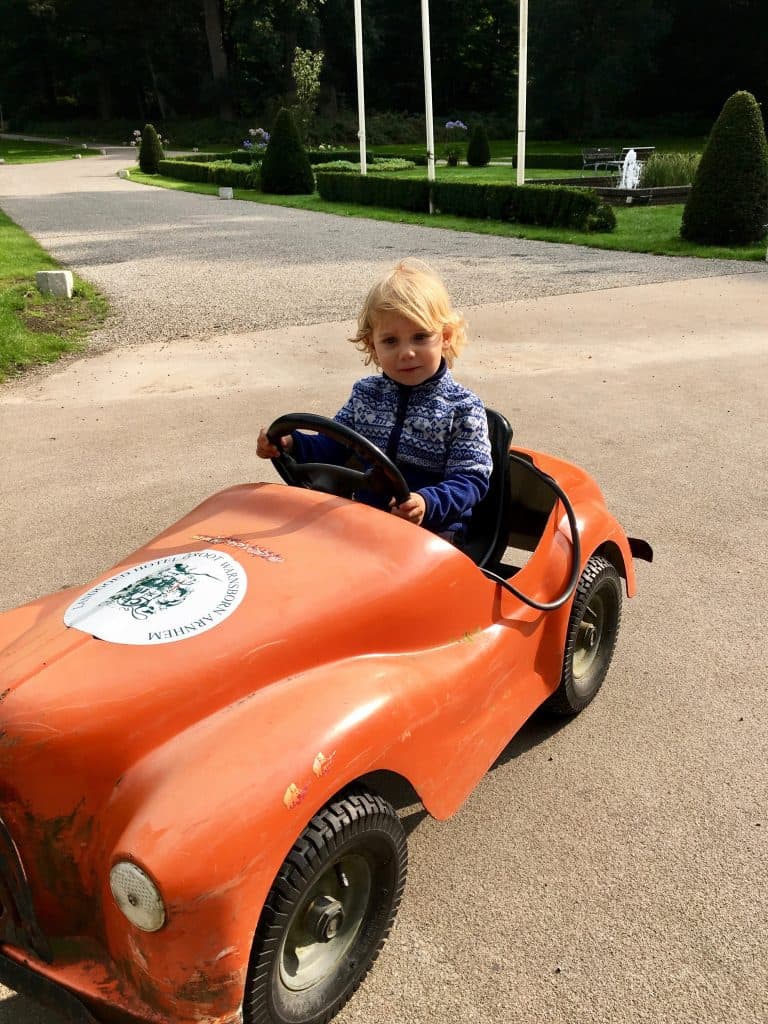 Look how tiny I am in this forest?! I can still smell the fresh air…
Side note: keep an eye out for my sister's son Hugo's famous stink-eye. haha
I found this to be a really family-friendly place, and I was astonished at how active everyone in the area was.
As I mentioned a bit earlier, it was very inspiring for me to see so many people of all ages walking, hiking and biking.
Honestly, I've never seen a more active population in my travels. Especially an active elderly population.
It made me realize how I need to change my habits NOW. I do workout and walk etc, but it isn't the same as the amount of activity there.
EVERYONE is walking around or biking. I mean I can't tell you how many thousands of people that were biking around every single day.
I do not see this amount of movement where I am from, and it really made me start to wonder why.
Yes it is hot in Florida, but I think the problem is more the way that cities and towns are set up in the USA. We don't really have town centers that cater to walking and biking. Everything here is SOOO spread out and massive.
And I don't mean to offend anyone, but my observations were that this active lifestyle resulted in older people being in much better shape in the Netherlands than in the United States.
Well, that was a huge tangent! But this really was a big thing that I noticed during my time in Arnhem.
One of the main reasons we stayed in this area was to go to the Kröller-Müller Museum.
It's been on my father's bucket list for years now, and has a huge selection of Van Gogh pieces, which I was excited about.
Van Gogh is my favorite painter, and I found myself mesmerized by the colors and textures of his paintings.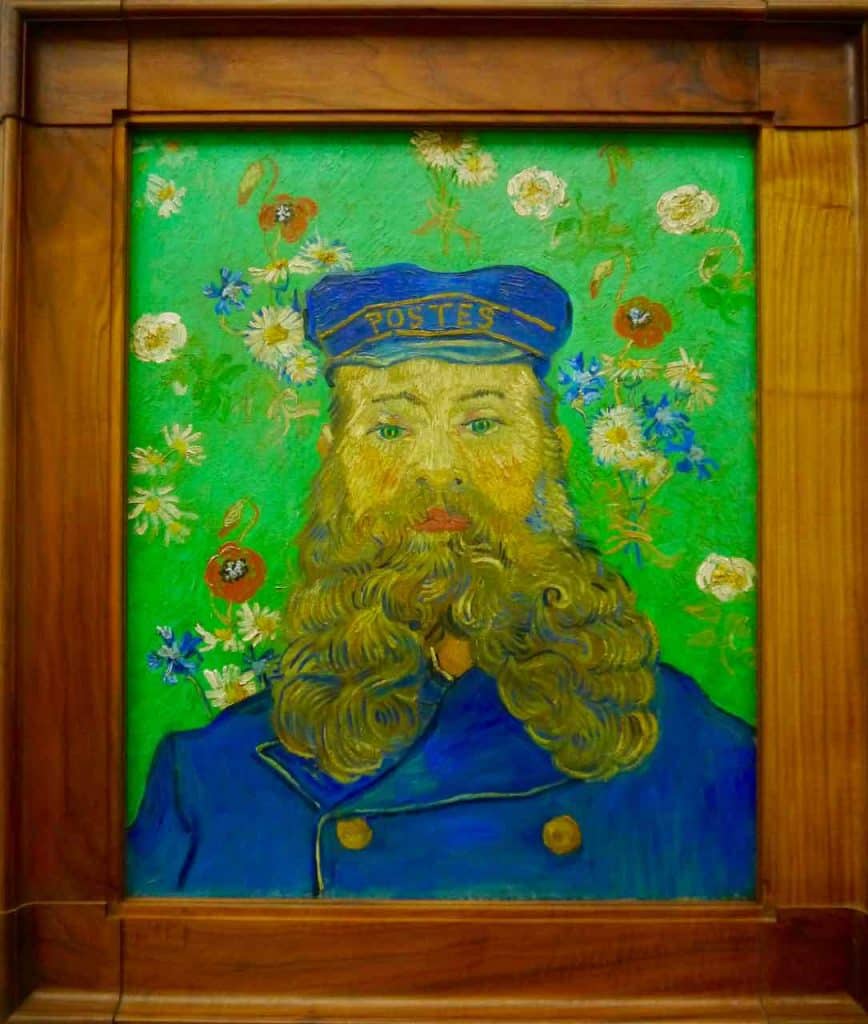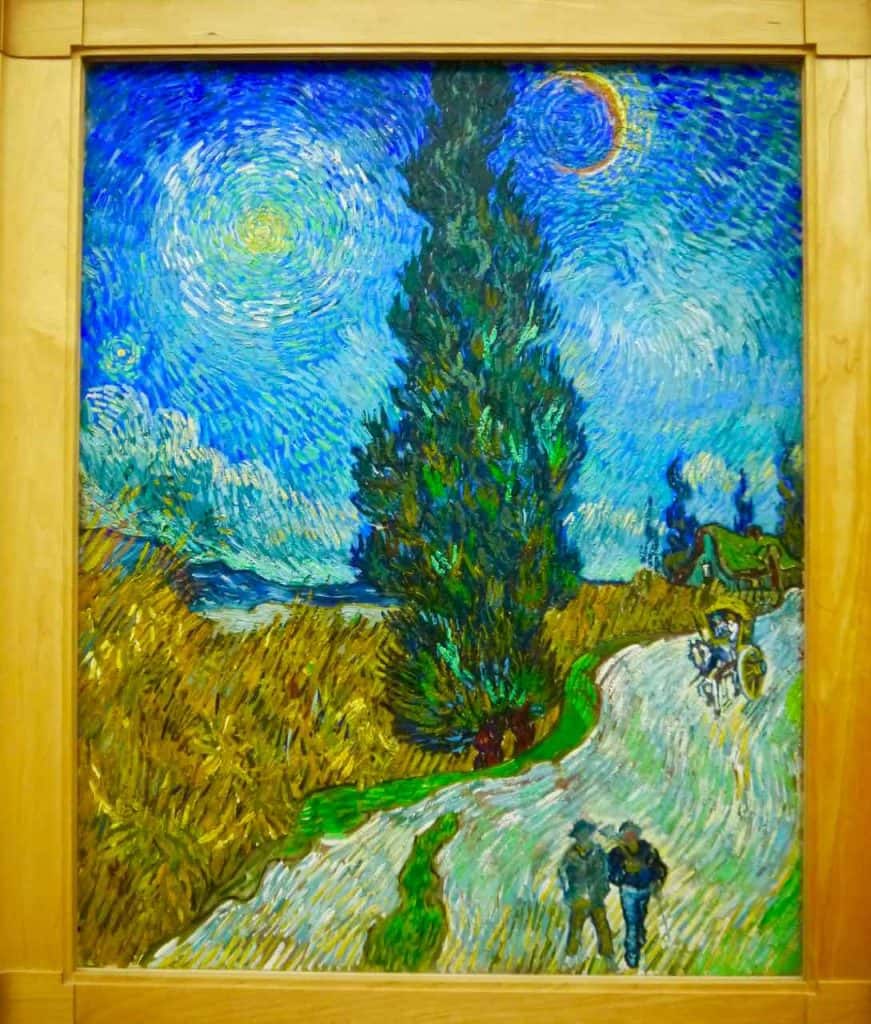 How can you not be happy after looking at such color?! It was hard to look away from some of his paintings sometimes. If you are ever in the area, I highly highly recommend this museum!
After visiting the musuem, we needed lunch!
We found a great cafe, Eetcafé De 3-Ster, that had super cute outdoor seating with big pillows to sit on and a really friendly guy that worked there. We ended up having great sandwiches and dutch bacon pancakes.
The bacon pancakes weren't actually on the menu, but I LOVE them, and they happily made them for us. 🙂 🙂
Amersfoort
We took a day trip to Amersfoort after I saw a photo of one of the waterfront entrances to the city and did some research on the medieval town center of the city.
We were not dissapointed in our decision to visit. There are several canals surrounding the city, with beautiful homes on the water and lots of romantic trees.
This is seriously a really dreamy city.
The inside of Amersfoort has cobblestone streets, quaint shops and buildings, and beautiful details to soak in.
We walked around for hours, taking photos, and going into shops until we got hungry and needed a snack.
We didn't want a meal, but some coffee and snacks, so we ended up going to Coffee Corazon.
This was a wonderful decision!
Since my sister, brother, father, and I are allergic to nuts, we ordered one of every dessert that they had that didn't have nuts in them, and shared them all so we could taste.
We ended up with homemade cheesecake, chocolate cake and dutch apple pie. It was all SO GOOD.
We then took one last look at some of the Amersfoort sites to take some photos and headed to our next stop.
( the stink eye! )
Het Loo Palace
Next, we did half a day at the Palace Het Loo. This palace, built in the 1600s, is different than other castle/ palaces that I have visited in Europe.
For starters, you walk into a stable of sorts, which has peacocks running around in the grass. Then, you walk down a long tree-lined path to the palace.
The architecture is very neat and orderly. It's beautiful, but in a way is less extravagant on the outside than say, castles in France, but the inside was certainly just as extravagant.
But the most impressive part, for me, was the amazing gardens behind the palace. When I did some research on the Palace Het Loo prior to our visit, the gardens were described as the "Versailles of Holland", with a baroque vibe.
I didn't really know what to expect, but I was blown away by the layers and layers of amazing flowers, plants, and fountains.
This would be a really fun spot for a picnic and to breathe in some fresh air. We spent the afternoon feeding fish in one of the fountains, looking all of the unique flowers, and exploring.
Gouda
Our next stop was getting some gouda in Gouda… Seriously. haha
We bought lots of cheese in a really cute shop in Gouda and have been enjoying it to this day. The best part about lots of the cheese shops here that you can taste pretty much all of their cheeses. There are and endless number of types and flavors of gouda and it's soooo fresh.
Gouda as a city is a bit more commercialized than I was expecting, but it had some really beautiful areas and lots of shops.
We ended up choosing to walk on smaller side streets to get away from the crowds, and to get a feel for what life was really like in Gouda.
The smaller side streets had so many cute buildings and details to look at and the stores in them were actually better than in the center of town.
One of my favorite experiences here was visiting a chocolate shop called PUUR chocolate. I was drawn to the storefront and popped in to check it out, but then the amazing smell of fresh chocolate was almost too much to handle.
I immediately got my family and we all started checking out what chocolate we wanted to buy.
But in the process, the owner started letting us taste his creations. He let us try his chocolate in it's pure form, some of the ganaches he was creating and testing, and his most popular chocolates.
It was so fun, and soooo delicious. Look at my face here! haha He just told us about his passion fruit chocolate… I couldn't handle it.
This was the best chocolate that I had my whole entire trip and definitely one of the best of my life. If you happen to be in Gouda, this is a must try!
Delft
Our last night in the Netherlands was spent in Delft.
Delft is famous for it's blue and white pottery, called Delftware.
We ended up going to the official Delft museum and checking out the pottery… or more like and buying some pottery. haha
I really loved Delft. It has lots of charming buildings, canals, and open spaces full of outdoor seating and outdoor restaurants.
It also has a very young vibe. I believe there is a university… or two… in Delft and you could see students everywhere.
Or at least the night that we were there. It seemed like there was some sort of a fraternity and sorority recruitment night going on. I know they don't have this in Europe, but I think they do similar type events between the different department or schools within a university.
Either way, there were LOTS of boat parties with live bands on these big barges, and lots of college students wearing matching t-shirts… pretty much all over Delft.
It looked really fun, and it made me wish that I had considered studying abroad here way back in the day. haha
We ended up site seeing and then eating dinner at one of the outdoor cafes.
I can't remember the name of it but we had some traditional dutch beef stew, and then fruit and ice-cream in a dutch shoe.
Veere
We went to Veere on our drive to Belgium. And I have to say of all the towns and all the places that we saw in the Netherlands, this was the best hidden gem.
We drove along the coast to get here, which was beautiful in itself, and we weren't sure what to expect, except that we read many recommendations not to miss this town.
I'm glad we followed those tips because. WOW
To me it felt like history had stopped in time and we were in the most beautiful magical historic small village.
We walked into town and the first thing we saw was a man making homemade stroopwaffles. The smell was SO GOOD. I honestly don't know if anyone can walk by without stopping. A stroopwaffle is basically crispy waffles with caramel sandwiched in the middle.
We ate several on our trip but these fresh ones were hands down the best ones.
We were surrounded by ice cream shops, small candy shops, boats and water and everyone seemed so happy and relaxed here.
We walked around, soaking in the quaint beauty of this village…wishing that we booked a hotel here so that we could have spent more time here.
Then, we stopped for lunch at an outdoor cafe called 'T Waepen of Veere and it was SOOO good.
I had amazing cheese croquettes and my brother and father had a smoked salmon sandwich. They both said it was the best smoked salmon they had ever had.
Veere was a breathe of fresh air…a clean, quaint, beautiful village on an island, which really captured the magic of The Netherlands.
Alright… now that I'm hungry for Dutch food and really missing Veere, I'll put a stop to this post.
Stay tuned for another post on what we did in Belgium and another post (or two) on Sweden. Have a good weekend!
Disclosure: This post contains Amazon affiliate links. This means that if you click on a link and make a purchase, I will receive a small commission at no cost to you.