Strawberry Sweet Iced Tea (Paleo, GF)
Strawberry Sweet Iced Tea recipe. A simple, refreshing and delicious iced tea recipe made from only water, tea, honey, and strawberries.
One of my favorite drinks of all time is sweet tea. I could just drink it every single day… especially when it's hot outside! And especially when it has strawberry juice inside.
This Strawberry Sweet Iced Tea recipe is my go-to when it comes to sweet tea. It's simple ( there are only 4 ingredients inside), healthy, refreshing and incredibly delicious!
I was introduced to strawberry iced tea back when I lived in Texas a few years ago and I was hooked! Why would I ever not add strawberries to my iced tea?!
So, naturally, I decided to make my own at home so that I could have some anytime I please.
It's actually really easy to make.
Ingredients needed to make this Strawberry Sweet Iced Tea:
water
strawberries
iced tea bags
honey
That is it!
Note: You will need a juicer to juice your strawberries. I have used this Waring Pro juicer for years! I like it because it isn't delicate and you can just put everything into the dishwasher to clean it.
I juiced a 16 ounce pack of strawberries to make this sweet tea. This should yield approximately 1 cup of strawberry juice.
I honestly don't know if stores sell strawberry juice. But if you have a juicer, it's time to get that machine out and juice some strawberries to make some of this tea!
And if you don't have a juicer, I highly highly suggest getting one. I literally use mine all the time.
How to make this Strawberry Sweet Iced Tea:
I used iced tea bags instead of regular tea bags to make the tea.
I'm sure regular tea bags would work great, I just figured iced tea bags were designed to be used for iced tea.
I used Luzianne iced tea bags, and followed the instructions on their box regarding how to make it. Which is basically to seep the iced tea bags in boiling water, remove the tea bags, and then add cold water.
I added honey while the water was hot to add the sweetness needed for sweet tea. You can add more or less of it if you like.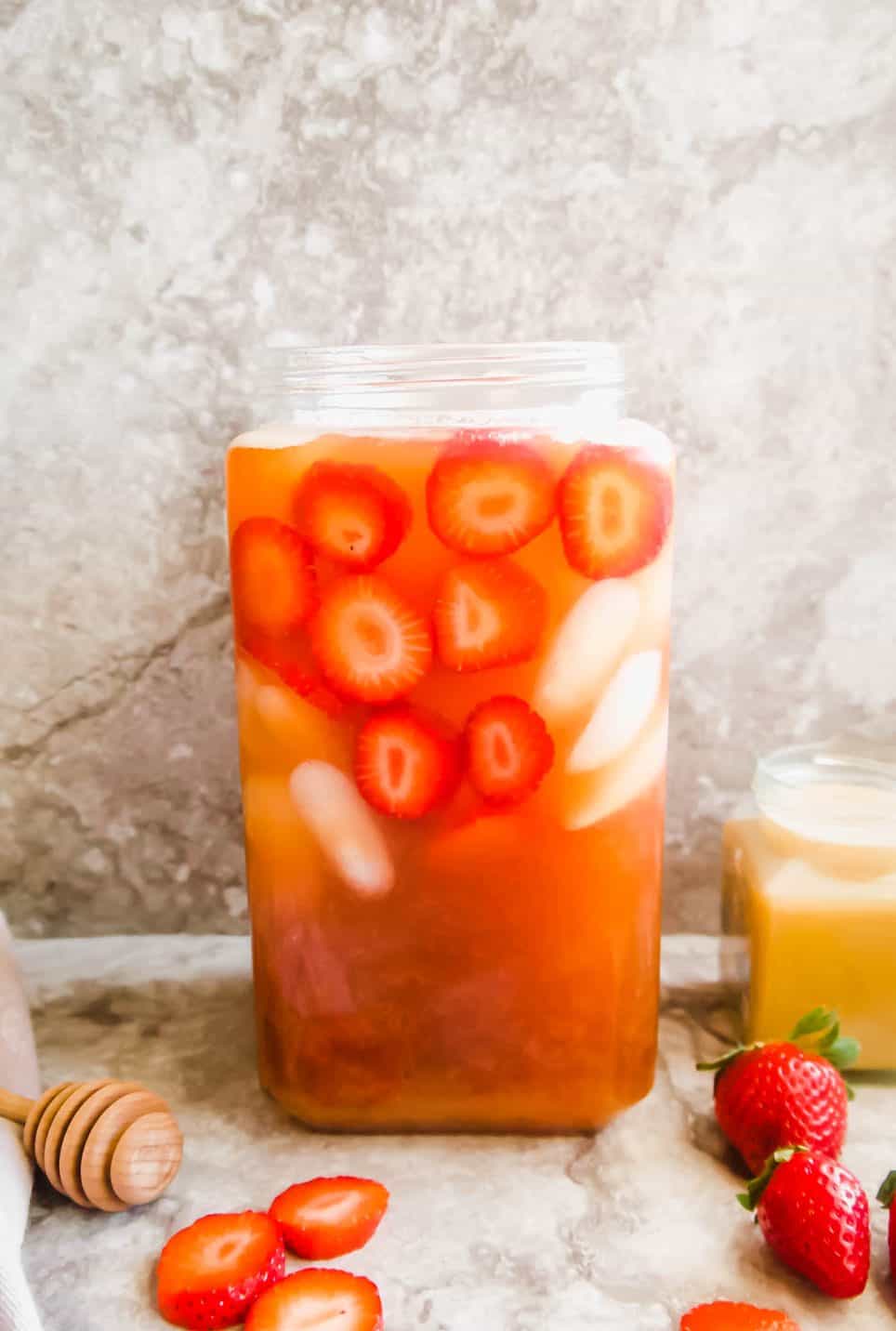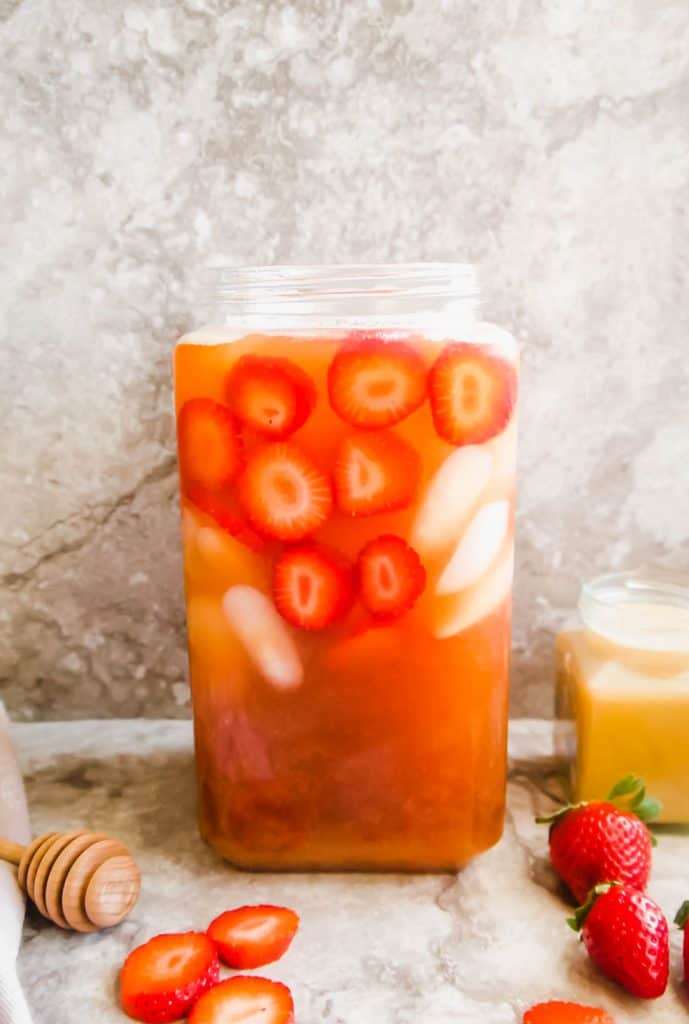 Once the sweet tea was done, I added ice and some sliced strawberries (to make it pretty and to have chunks of strawberries to eat).
That's it! Pretty simple.
This recipe is an updated version of an older one that I made.
I improved the recipe and the photos. Check out a before and after! Woooah, kind of cringe worthy haha. Thank goodness I updated this.
Other yummy drink recipes you may enjoy:
Check out this Lavender Lemonade by my friend Chandice from This Vivacious Life. Homemade lavender lemonade sounds perfect on a hot day! YUM.
This Healthy Green Lemonade recipe is refreshing, sweet and tart. It is made with kale, cucumber, lemon, and apples.
This Easy Fresh Mint Tea is my favorite way to make mint tea with peppermint leaves from the garden.
Strawberry Sweet Iced Tea (Paleo, GF)
 A simple, refreshing and delicious iced tea recipe made from only water, tea, honey, and strawberries.
Ingredients
4 cups boiling water
2 iced tea bags (I used Luzianne iced tea bags)
1 cup strawberry juice ( this was from 16 ounces of strawberries juiced using a juicer)
3 cups cold water
¼ cup honey
optional- sliced strawberries to add to the iced tea
Instructions
Put boiling water into a large pitcher and add iced tea bags. Then add honey, mix and let the tea bags seep for 3-5 minutes.Note: you can make your iced tea more or less sweet based on your personal taste.

Remove the iced tea bags, add the strawberry juice, then add 3 cups of cold water, and mix.

At this point, this recipe yields a little less than 2 quarts of iced tea, without ice in it.

Then, add desired amount of ice to the pitcher, and serve.
Nutrition
Calories: 50kcalCarbohydrates: 13gProtein: 0.4gFat: 0.2gSaturated Fat: 0.01gPolyunsaturated Fat: 0.1gMonounsaturated Fat: 0.03gSodium: 1mgPotassium: 92mgFiber: 1gSugar: 11gVitamin A: 7IUVitamin C: 33mgCalcium: 10mgIron: 0.3mg
Disclosure: This post contains Amazon affiliate links. This means that if you click on a link and make a purchase, I will receive a small commission at no cost to you.