Paleo Cinnamon Scones (GF)
I feel like scones can be the answer to SO many questions. What should I eat with this coffee? Umm…scones. What should I make when a friend comes over for tea? Definitely scones. What can I bake that would be easy to grab and go? Mmmm, scones. And more recently… What should I bring on a 10 hour road trip? Scones!
And by scones, I mean paleo, gluten free, dairy free, non-processed scones. Duh! 🙂
Here are a few scone tidbits about myself… I'm a MAJOR scone lover.
Cinnamon scones are my favorite.
And I tend to prefer the more classic British scone over American-style scones.
Up until now, I never really thought Paleo Cinnamon Scones were possible because…
1) When I first started baking paleo goods, I attempted a few paleo scone recipes that majorly failed and
2) I didn't really think making cinnamon scones could be possible without cinnamon chips (which are majorly NOT paleo).
But after dreaming about cinnamon scones for like 3 days in a row, I knew I had to try again.
I figured that maybe things would turn out better after having over a year of paleo baking under my belt.
So I mixed some almond flour, coconut flour, cinnamon, baking soda, baking powder salt, and melted coconut oil together until the mixture looked clumpy and almost like "sand".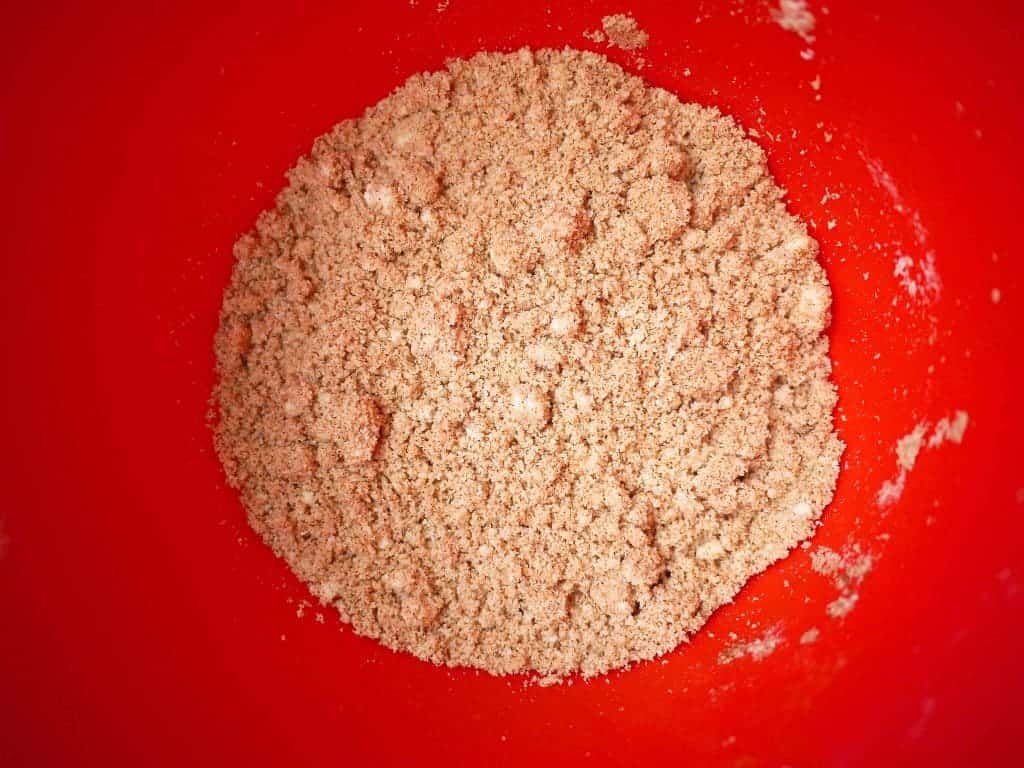 Then I added coconut milk, vanilla, eggs, and maple syrup to the mixture. I mixed it all with a fork until the dough thickened.
Then, I took the dough out, rolled it into a ball, and flattened it onto a glass cutting board.
I cut the dough, put each scone slice onto a cookie sheet, covered them in some egg whites, and baked them.
Once the scones were cool, I poured a little maple cinnamon sauce on top.
Annnnd. They turned out to be deliciouuuus! Yay!
My fiance tested them out and agreed. But I wanted to make sure more people thought so too.
So I brought them on this 10 hour road trip that I was talking about.
4 of my friends test them out and they all agreed that these Paleo Cinnamon Scones are AMAZING.
I do have to admit that this recipe is the second batch/version of scones that I came up with recently.
The first was a bit tooo dry.
I still really enjoyed them, but I thought I could do better and the recipe that I'm posting today is the second, much more moist version.
Happy baking!
Paleo Cinnamon Scones (GF)
A homemade paleo scone flavored with the warming flavors of cinnamon.
Instructions
Preheat the oven to 375 degrees.

Cover a cookie sheet with a silicone baking mat or parchment paper.

In a large bowl, mix the almond flour, coconut flour, baking powder, baking soda, salt, and cinnamon together with a fork. Pour 1/4 cup of melted coconut oil on top of the dry ingredients and mix with a fork until everything is clumpy and almost looks like "sand".

In another bowl, whisk the coconut milk, 3 eggs, vanilla, and maple syrup together. Pour this mixture into the large bowl with the clumpy "sand" mixture. Mix everything together with a fork. At first, the mixture will seem too wet, but keep mixing. Mix until there are no clumps left, then let the mixture sit for a few minutes so the coconut flour can absorb and thicken the mixture.

Take the dough out of the bowl with your hands and make it into a ball. Then put the ball of dough onto a clean surface and flatten it with your hands, until it is an 8 inch circle. It will look like a VERY thick pancake.

Cut the dough in half, then in fourths… etc… until the dough is cut into 8 scones. Using a spatula, separate each scone and place them onto the covered cookie sheet.

When all the scones are on the cookie sheet, use a

silicone baking brush

to brush on a little bit of the whisked egg white on top of every scone. (You will have a lot of egg white left)

Bake the scones at 375 degrees for 20 minutes.

While the scones are baking, mix the 1/2 tsp of cinnamon, 1 tsp of coconut milk, and 1 Tbs of maple syrup together in a small bowl. Let the frosting sit and settle.

Remove the scones from the oven and let them cool on the cookie sheet. Once cool, evenly sprinkle the frosting onto each scone.

Note: make sure to cover uneaten scones with aluminum foil so that they don't dry out.
Nutrition
Calories: 230kcalCarbohydrates: 17gProtein: 6gFat: 17gSaturated Fat: 9gPolyunsaturated Fat: 0.5gMonounsaturated Fat: 1gTrans Fat: 0.01gCholesterol: 61mgSodium: 216mgPotassium: 84mgFiber: 5gSugar: 9gVitamin A: 92IUVitamin C: 0.3mgCalcium: 73mgIron: 1mg
Disclosure: This post contains Amazon affiliate links. This means that if you click on a link and make a purchase, I will receive a small commission at no cost to you.