Dairy free Gluten free Apple Tart (Paleo)
This dairy free gluten free apple tart is a delicious rustic apple tart made with an almond flour crust topped with jam and sliced apples. It is elegant and beautiful and always a crowd pleaser. This recipe is naturally Paleo.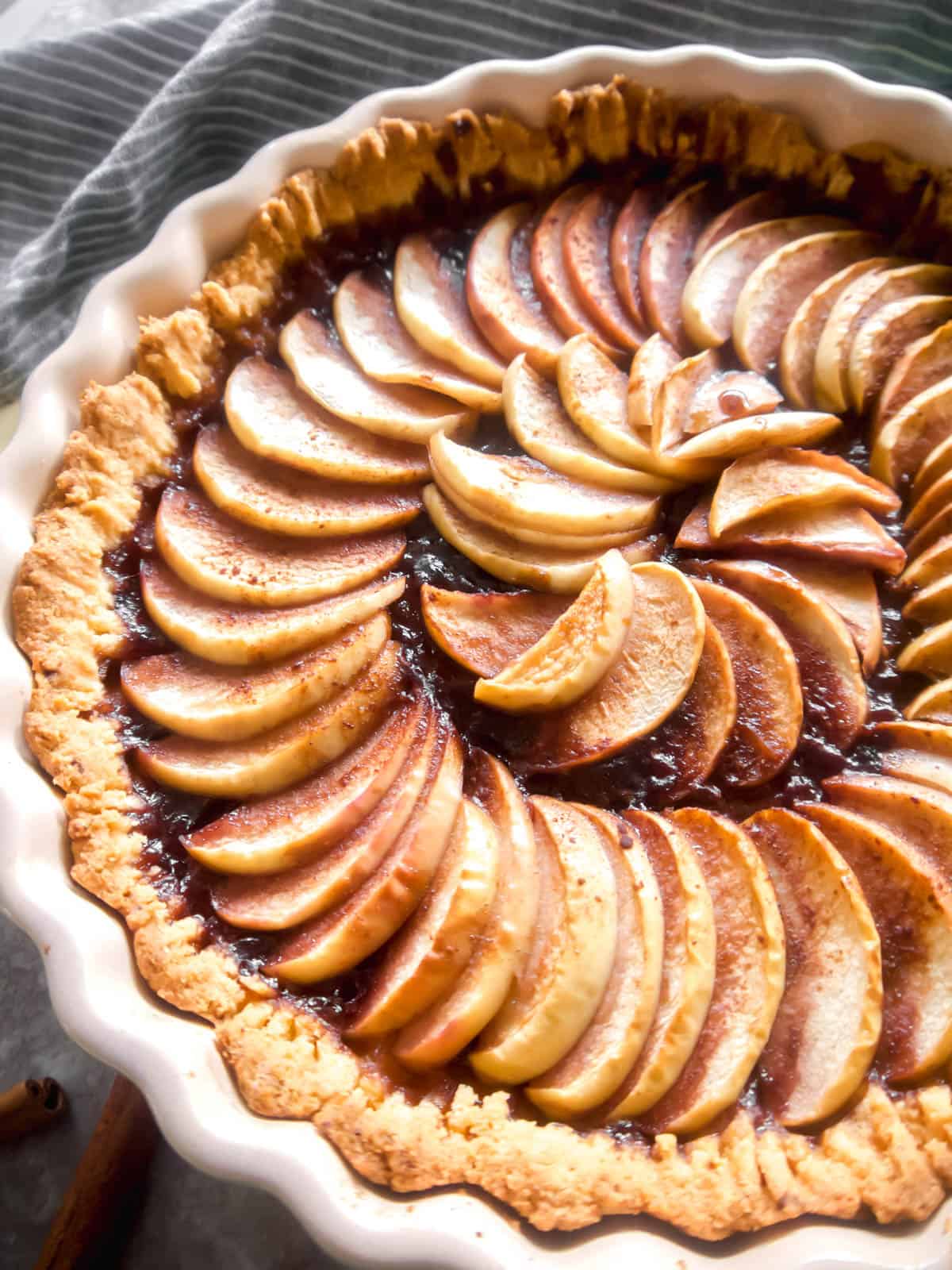 This apple tart recipe is based off of my mother's French tart recipe. I have several of her French recipes on my site. The French beet salad, French potato tuna salad, Couscous Tabbouleh, and Apricot Tart are some of my favorites. And this healthy apple tart is another favorite.
It has a crisp "buttery" tart crust, topped in a layer of sugar-free jam, and a layer of melt-in your mouth baked cinnamon apples. It's delicious and made with healthier ingredients, which makes it dairy free, gluten free, and Paleo.
Table of Contents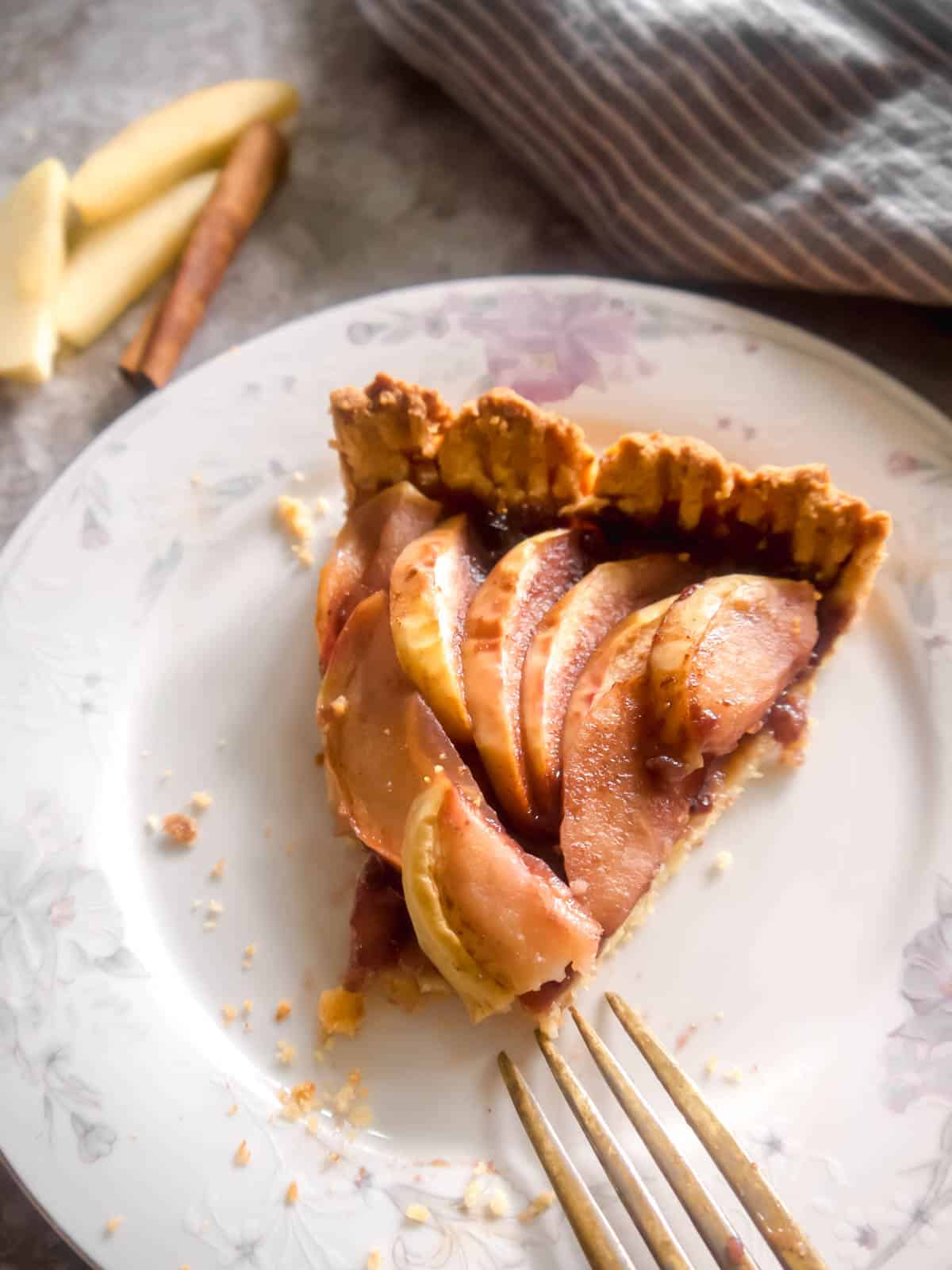 Why this recipe works
It tastes like a French apple tart, but is made without gluten or dairy. It uses my paleo tart crust recipe as the base.
This recipe is great for those with gluten or dairy allergies, or who are following a Paleo diet.
It is made with healthier ingredients. Almond flour is used instead of all purpose white flour. There is no added sugar in the jam. And there is no butter in the tart.
This recipe is really easy to make but it looks and tastes super complicated and fancy.
Recipe ingredients
almond flour– a refined blanched almond flour works best in this recipe because it results in a more refined texture.
tapioca flour– this helps with the texture of the gluten free tart crust.
coconut flour– this also helps with the texture of the gluten free tart crust.
non-hydrogenated plant based organic shortening– this is used as a butter replacement. I like using Nutiva plant-based shortening which is made out of a mixture of red palm and coconut oil.
coconut sugar– this has a lower glycemic index than other sugars.
egg– this is used to bind the crust batter together.
water– this is used to wet the crust batter.
sugar-free jam– any good quality brand without added sugar. I like St. Dalfour jam for this.
apples– you can use any type of apple.
cinnamon– Ceylon cinnamon has great flavor here.
See recipe card below for a full list of ingredients and measurements.
Additions/ Substitutions
Instead of tapioca flour, you can use arrowroot powder.
Instead of coconut sugar, you can use white sugar ( but then the recipe won't be Paleo).
Step by step instructions
Step 1: Make the tart crust in a food processor.
Add the almond flour, tapioca flour, coconut flour, plant based shortening, salt, and coconut sugar into your food processor and mix. Then, add the water and egg and mix again.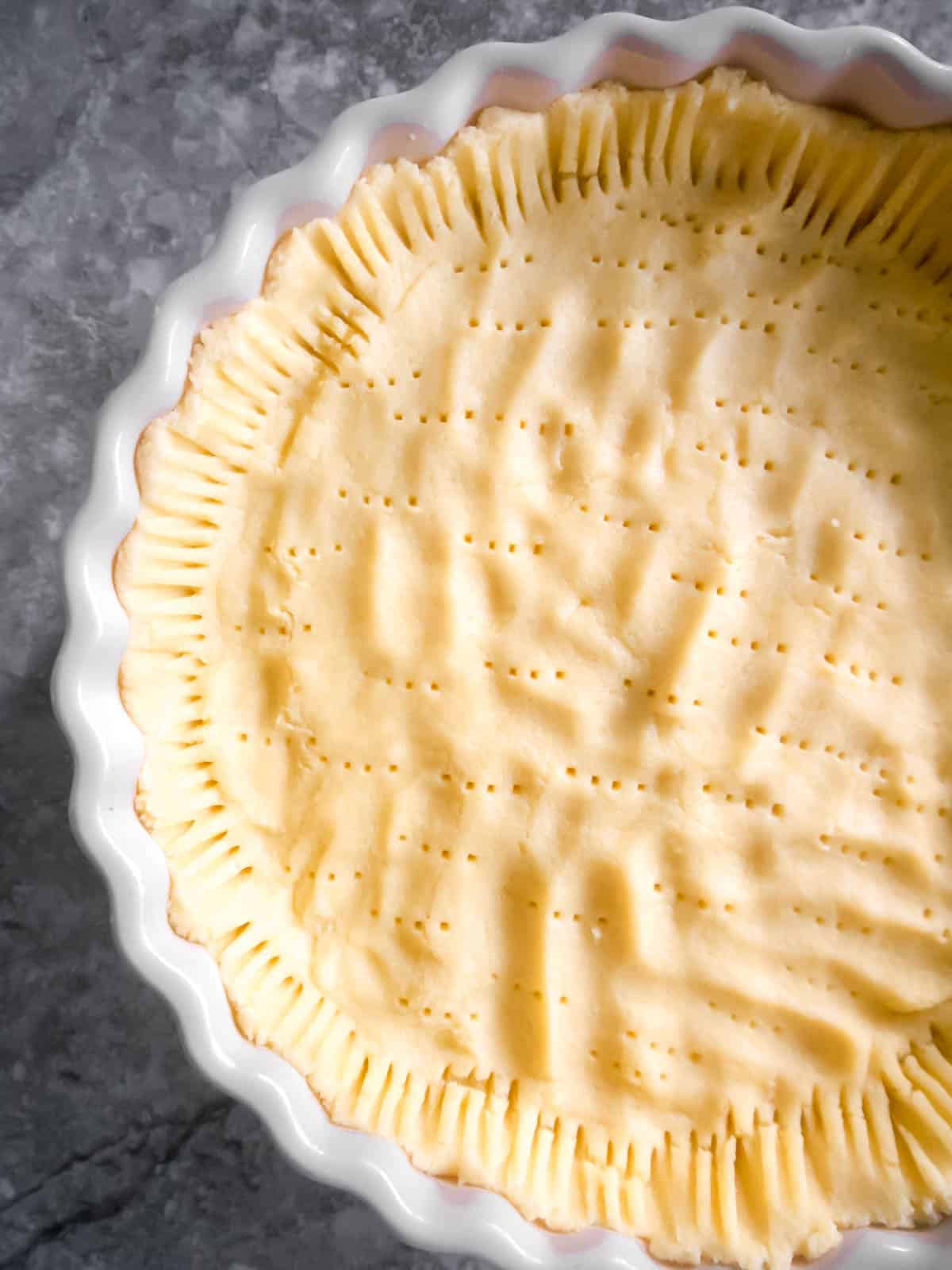 Step 2: Manually press the tart crust into a tart dish, poke some holes in it, and push the sides against the side of the tart dish.
Step 3: Spread the jam on top of the tart crust.
I like using black raspberry jam or apricot jam.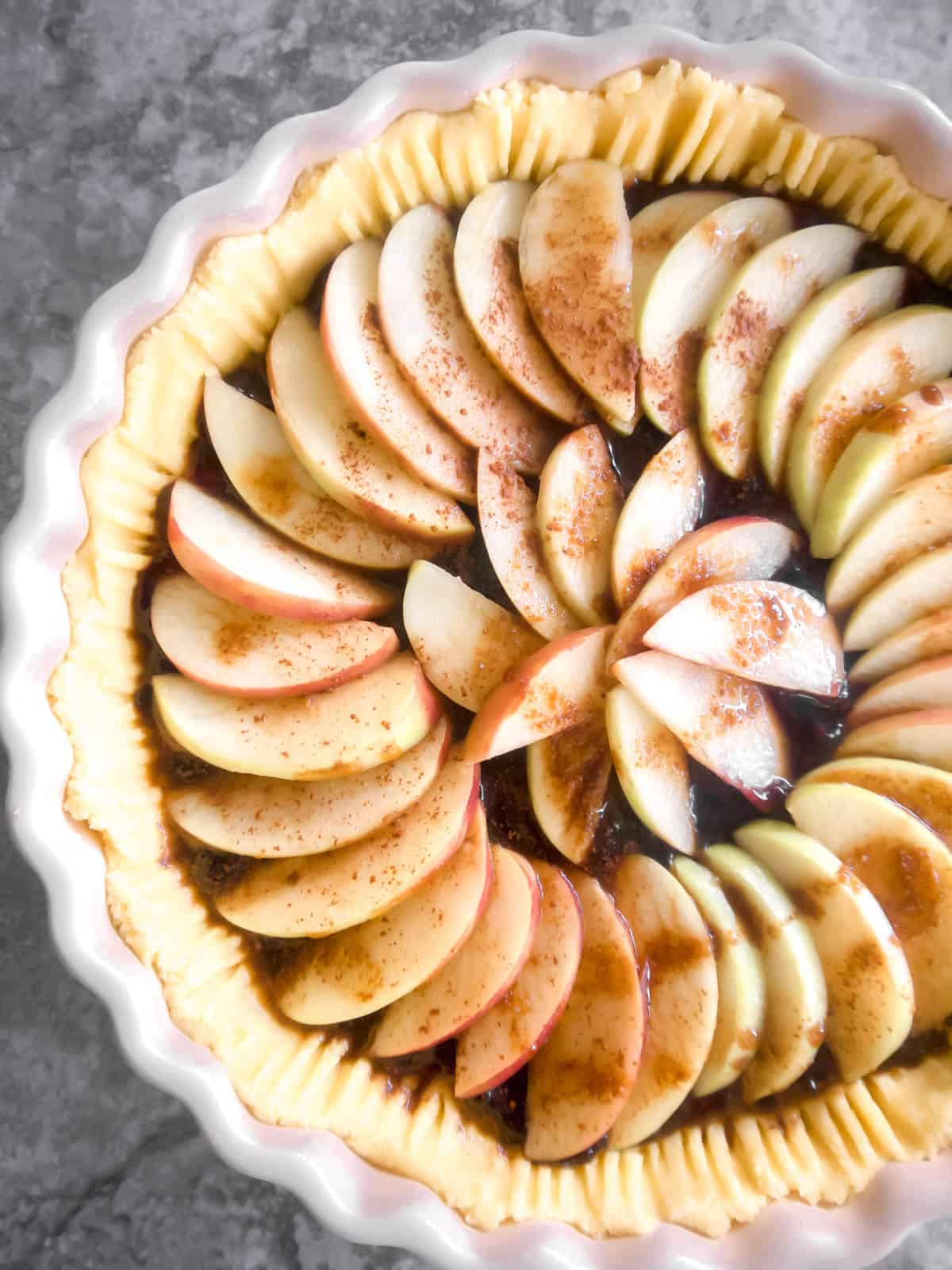 Step 4: Add the layer of sliced apples. Place them in a circular pattern and try to cover the empty space.
Sprinkle the apples with a mixture of coconut sugar, cinnamon and water, so they can caramelize while baking.
Step 5: Bake until golden.
Recipe FAQs
What type of apple should I use?
I like using Pink lady apples. I also like Granny smith or Golden delicious apples.
What makes this recipe gluten free?
There is no white flour in this recipe, which means there are no grains or gluten. A mixture of almond flour, tapioca flour and coconut flour is used.
What makes this recipe Paleo?
There are no refined sugars or flours in this recipe. There is also no dairy or gluten.
How do you store this recipe?
You can cover the tart and leave the tart on the counter for 2 days. You can also cover it and refrigerate it for 4-5 days.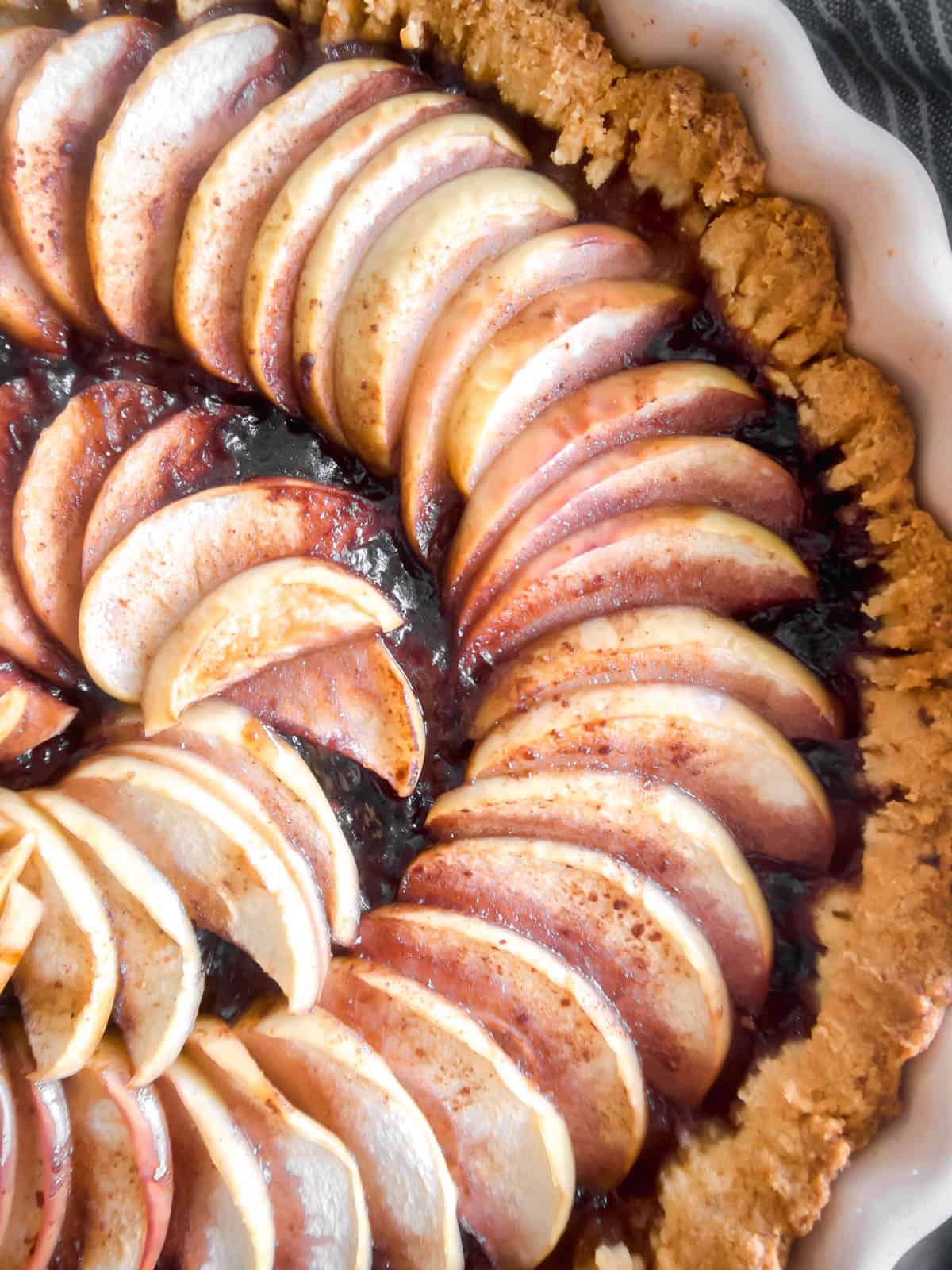 Other healthy tarts you may enjoy:
Other gluten free apple dessert recipes you may enjoy:
Paleo Apple Tart (Gluten-free, Dairy-free)
A delicious Paleo, dairy-free, and gluten-free rustic apple tart that will please everyone at the table.
Instructions
Preheat your oven to 375 F. Lightly grease a 9.5 inch round tart pan ( I used a le creuset tart dish and it worked great.)

Add 3/4 cup almond flour, 1/2 cup tapioca flour, 3 Tbs coconut flour, 1/2 cup non-hydrogenated plant based organic shortening, 1/2 tsp salt, and 1 tsp coconut sugar to a food processor. Mix until fully integrated. It should be thick and creamy looking.

Add 2 Tbs of water and 1 egg to the food processor and and mix. Let the mixture sit for 5 minutes.

Take the pie crust mixture out of the food processor and roll it into a ball in your hands. Put the ball into the center of the tart dish and push it gently into the pan until it has been evenly distributed. I find that it helps to have slightly wet hands to do this so it doesn't stick too much. Also, make sure there aren't holes in the crust when you are pushing it into the dish.

Then, poke the pie crust with a fork to make small holes all around the bottom of the pie dish, and push the pie crust into the sides of the tart dish with a fork.

Next, add 1/3 cup of jam on to of the prepared pie crust and evenly distribute it with the back of a spoon.

Add the sliced apples on top of the jam. Make sure to overlap them while placing them in a circular pattern. It helps to save the smaller apple slices for the middle of the pie.

In a small bowl, mix 2 Tbs water, 1 Tbs coconut sugar and 1/4 tsp cinnamon together. Evenly pour this mixture on top of apples in the tart.

Bake the tart until golden, about 45 minutes. Then let the tart cool before serving.
Notes
Instead of tapioca flour, you can use arrowroot powder.
Instead of coconut sugar, you can use white sugar ( but then the recipe won't be Paleo).
Nutrition
Calories: 265kcalCarbohydrates: 25gProtein: 3gFat: 19gSaturated Fat: 4gPolyunsaturated Fat: 4gMonounsaturated Fat: 5gTrans Fat: 2gCholesterol: 20mgSodium: 164mgPotassium: 77mgFiber: 4gSugar: 11gVitamin A: 61IUVitamin C: 3mgCalcium: 30mgIron: 1mg
Disclosure: This post contains Amazon affiliate links. This means that if you click on a link and make a purchase, I will receive a small commission at no cost to you.