Paleo Gluten-Free Apple Crumb Muffins
Paleo Gluten-Free Apple Crumb Muffins recipe. Light and airy Paleo apple muffins that taste like apple cinnamon donuts! They are made with almond flour and olive oil, making them also Grain-free and Dairy-free.
These Paleo Gluten-Free Apple Crumb Muffins have become my new favorite breakfast muffin. Besides the fact that they are filled with the best cinnamon apple flavors, they are also light and airy and almost taste like a donut.
I wasn't sure if it was just me, but when my husband said that he thought they kind of tasted like a donut too, I knew these Paleo apple muffins were going to be a hit!
Ahhh baked apple goods, that kind of taste like donuts ( old fashioned baked donuts, that is)… these are my kind of treat!
I did quite a bit of research as to what makes for a good apple crumb muffin… and then I got to recipe testing because I knew I needed Paleo apple streusel muffins in my life.
Ingredients needed to make these Paleo Apple Muffins:
almond flour– Blanched almond flour works best here. It tends to be lighter in texture and color.
tapioca flour
coconut flour
baking soda
salt
cinnamon– Ceylon cinnamon has a deeper flavor, which is great for cooking.
nutmeg
olive oil– Extra light olive oil is best for baking.
coconut sugar
eggs
vanilla
apples
Make sure you have a grater of some sort as well because you need to shred some of the apples for this recipe. I use a cheese grater that I have and it works great here.
The keys to making these almond flour apple muffins:
(1) Shredded and chopped apples.
The key is using both chopped and shredded apples. This ensures that the apple flavor is distributed but that there are also chunks of apple.
(2) Use an almond flour, tapioca flour, coconut flour mixture.
The other key ( which comes from my own trial and error research) is a mixture of almond flour, tapioca flour, and coconut flour…
This gives these muffins great texture, while letting them remain Paleo, Gluten-free, and Grain-free.
(3) Use fall spices!
Cinnamon and nutmeg spices, to be precise.
In circumstances like these Paleo Gluten-Free Apple Crumb Muffins, I feel like cinnamon and nutmeg were made to be paired with apples. Specifically in baked good form.
They add a richness to baked goods that makes them extra satisfying.
I always love using ceylon cinnamon above other types because it has a rich, deep, cinnamon smell and taste. If you have more than one type of cinnamon on hand, try doing a smell test.
Ceylon cinnamon wins every time! Plus cinnamon has antioxidants in it, so… the more the merrier!
Anyways, these gluten free apple cinnamon muffins are just delightful.
I had a friend taste test them out. I wanted to make sure that my taste buds weren't partial to my baking, and she loved them!
She actually yelled "These are so good!" within seconds of taking a bite.
Which is always a good sign. 🙂
She also didn't know that they were gluten-free, grain-free, and dairy-free which is another good sign.
These paleo apple streusel muffins taste really great with coffee or tea and really brighten up the morning.
If you are in the mood to bake and have some extra apples lying around, I highly recommend making these!
More healthy muffin recipes you may enjoy:
These Gluten-free Apple Muffins from my friend at My Gluten-Free Kitchen are a drool-worthy apple muffin recipe.
These Healthy Whole Wheat Blueberry Muffins ( GF option provided!) by Food Faith Fitness look like the perfect blueberry muffin.
These Paleo Chocolate Banana Muffins (Dairy-free, Gluten-free) are basically chocolate banana bread in muffin form and they are SO good.
These Paleo Orange Cranberry Muffins ( GF, Grain-free ) are one of my favorite muffins. The flavor combo of orange paired with tart cranberry is perfect!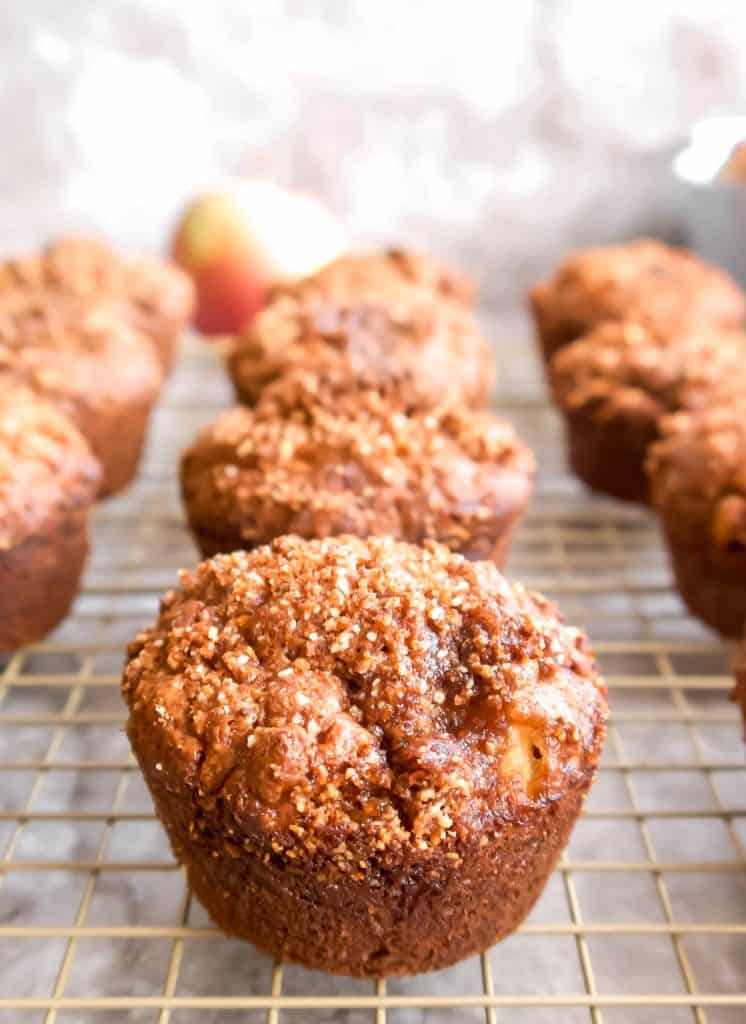 Paleo Gluten-Free Apple Crumb Muffins
Light and airy muffins filled with cinnamon and apple flavors that are Grain-free and Dairy-free.
Ingredients
Crumb topping ingredients:
Instructions
Preheat oven to 375 degrees F. Grease a 12 cup muffin pan. ( I used an olive oil spray).

In a medium bowl, mix the almond flour, tapioca flour, coconut flour, baking soda, salt, cinnamon and nutmeg.

In a large bowl, whisk or beat together the olive oil, coconut sugar, eggs, and vanilla until smooth. Stir in the chopped and shredded apples. Add half of the dry flour mixture and mix, then add the other half and mix again. Spoon the batter into the greased muffin tin.

Then make the crumb topping. Add 1/3 cup coconut sugar, 2 Tbs almond flour and 1/8 tsp cinnamon to a small bowl and mix. Add 1 Tbs olive oil and mix. Sprinkle the crumb topping mixture over the tops of the batter in the muffin pan.

Bake for 20 minutes, or until a toothpick comes out clean. Let the muffins cool in the pan for 5 minutes before letting them cool completely on a wire rack.
Disclosure: This post contains Amazon affiliate links. This means that if you click on a link and make a purchase, I will receive a small commission at no cost to you.