Easy Paleo Pumpkin Muffins (Dairy-free, Gluten-free)
These Easy Paleo Pumpkin Muffins are delicious, fluffy, Fall spiced almond flour pumpkin muffins that come together easily with healthy ingredients. Dairy-free, gluten-free, grain-free, and Paleo.
I can eat pumpkin muffins non-stop this time of year.
These Paleo Pumpkin Muffins are similar to a childhood favorite pumpkin muffin recipe of mine, except much more healthy.
They are made without any refined sugars, refined flours, or dairy. All while being decadently pumpkiny, moist, fluffy, and SO delicious.
They are the perfect make ahead breakfast, on the go snack, or Fall dessert.
My favorite almond flour pumpkin muffins:
I take my pumpkin recipes seriously. From my pumpkin olive oil cake, to my pumpkin stuffed dates, to these pumpkin muffins, my love of pumpkin recipes runs deep.
I actually have an older pumpkin muffin recipe on this blog that won a contest back in the day, but this recipe is even better!
These Paleo pumpkin muffins are soft and fluffy. They come together easily. They have the the perfect amount of Fall pumpkin spices inside. And they taste amazing with added chocolate chips inside.
They are a wonderful Fall or Thanksgiving recipe option.
Oh and they are toddler approved. Picky toddler approved.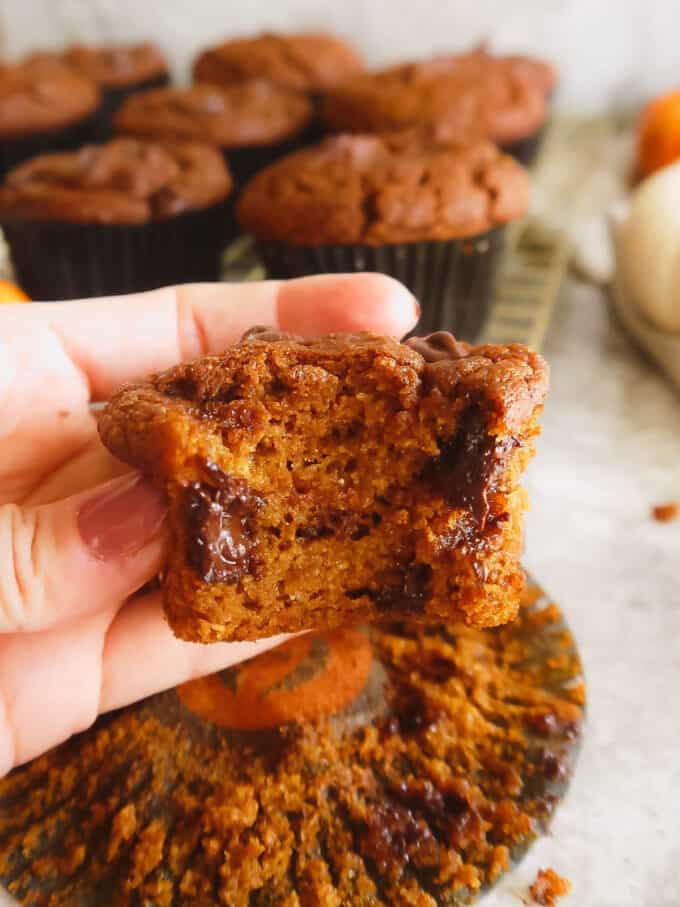 Ingredients needed:
blanched almond flour– blanched almond flour is more refined in texture and works better in this recipe as opposed to almond meal.
tapioca flour– this adds a nice texture to baked goods and I find makes a difference in Paleo or Grain-free baking.
coconut flour– this flour is super absorbent so make sure not to use more than what the recipe calls for.
coconut sugar– I like using coconut sugar because it doesn't spike your blood sugar the way that refined white sugar does.
baking soda– this lifts the muffins up.
salt– I like using sea salt or Himalayan pink salt here
ground cinnamon– Ceylon cinnamon has better flavor than other types.
ground nutmeg– you can grind yourself or buy it pre-ground.
ground cloves– the combo of cloves with the other spices adds a wonderful Fall taste.
ground ginger– this also adds to the Fall spice combination
eggs– these bind together the muffins together.
extra light olive oil– olive oil is used to replace butter here.
pumpkin puree– fresh or canned works great!
vanilla extract– homemade or store bought works well here.
dairy-free chocolate chips– these are optional but highly recommended
Ingredient substitutions or recipe tweaks
Use arrowroot powder/ starch instead of tapioca powder: both are interchangeable at a 1:1 ratio.
Use brown sugar instead of coconut sugar: you can use brown sugar instead but keep in mind that the recipe will no longer be Paleo.
Use pumpkin pie spice instead of the other spices: I would add 1 teaspoon of pumpkin pie spice to replace the ground ginger, ground nutmeg and ground cloves if you don't have them on hand.
Use coconut oil or avocado oil instead of olive oil: any light tasting oil will do.
Add different add-ins to the batter: Instead of adding chocolate, you can add in walnuts, cranberries, or raisins.
Add a topping to your muffin: sprinkling chia seeds on top adds a nice crunch, along with adding pumpkin seeds.
Expert Tips
Coconut oil– if you are using coconut oil here, make sure to measure it in its melted state
Chocolate chips: they are optional, but to please crowd that is mixed on their liking of chocolate chips, you can divide the batter in half and add 1/3 cup chocolate chips to half the batter. That way you end up with 6 plain pumpkin muffins and 6 chocolate chip pumpkin muffins.
Baking with almond flour: Blanched almond flour is better for baking than almond meal because it is finely ground and the outer skin layer of the almond flour has been removed.

Almond meal is a bit heavier. It probably could work in this recipe, but in general I think blanched almond flour is best for any Paleo or gluten-free baking.
If you are in a bind and only have almonds on hand, then you can grind them in a food processor until almond meal forms.
How to make them:
Step 1: mix together the dry ingredients in a bowl. This includes the almond flour, coconut flour, tapioca flour, coconut sugar, baking soda, salt, cinnamon, ginger, cloves, and nutmeg.
Step 2: mix the wet ingredients together in another bowl. This includes the eggs, pumpkin puree, oil and vanilla
Step 3: mix the wet and dry ingredients together. Then fold in your mix-ins.
Step 4: Pour the batter into the lined muffin tins and bake!
How to serve these muffins:
with a nut butter on top ( almond butter on top is my favorite)
with a cup of tea or coffee
with butter slathered on top
with pumpkin butter on top and some pumpkin spice sprinkled on top
FAQs

Can you use the batter to make a pumpkin bread/ loaf?
Yes you can, pour the batter into a loaf and bake. Lower the heat to 350F and bake for 45 minutes.

Are chocolate chips Paleo?
It depends what is inside them. Often they are not. But if you are looking for Paleo chocolate chips, try HU chocolate.
What can you use instead of almond flour?
I've heard that cashew flour is a good replacement but I have not tried it.
What makes these muffins Paleo?
They are made without refined sugars, refined flours or dairy.
What pan is best to use here?
You can use any pan as long as it is greased well.
How do you store these muffins?
Store them in an airtight container for up to a week.
Can you freeze these muffins?
Yes, you can freeze them for up to 4 months
Other healthy pumpkin dessert recipes you may enjoy:
Pumpkin Chocolate Chip Cookie in a Mug (Paleo, Gluten-free, Dairy-free)– if you have 5 minutes, then you have time to make this cookie in a mug recipe!
Low Carb Pumpkin Spice Meringues Recipe by That's Low Carb?!- it's the best of the meringues and pumpkin spice flavor worlds!
Pumpkin Cinnamon Swirl Banana Bread (Paleo, Gluten-free, Dairy-free)– this is the ultimate pumpkin banana bread recipe… it's full of swirls of cinnamon streusel… so good!
Soft Paleo Pumpkin Molasses Cookies (GF)– these are the ultimate chewy and soft molasses flavored pumpkin cookies.
Paleo Pumpkin Pie Chocolate Chip Cookies (Gluten-free)– if pumpkin pie and chocolate chip cookies had a baby, it would be these cookies! They are the best!
Healthy Pumpkin Muffins from Clean Eating Couple- these muffins are low sugar, gluten-free and dairy-free AND made in the blender.
❤️ Also, check out my favorite Thanksgiving recipes here! ❤️
Note this post was originally published in October 2020 and it was updated in September 2022.
Easy Paleo Pumpkin Muffins
Delicious fluffy Fall spiced pumpkin muffins that are dairy-free, gluten-free, grain-free, and Paleo.
Instructions
Preheat the oven to 375 degrees F and line a standard size muffin baking pan with tin liners.

Put almond flour, coconut flour, tapioca flour, coconut sugar, baking soda, salt, ground cinnamon, ground nutmeg, ground cloves, and ground ginger in a medium bowl and whisk together. Set aside.

In another bowl, add the eggs, pumpkin puree, oil and vanilla extract. Mix.

Pour the dry ingredients into the wet ingredients and mix together. If you are adding chocolate chips, fold them in.

Then, evenly pour the pumpkin muffin batter into each muffin tin.

Bake the muffins for 20-22 minutes, or until a toothpick comes out clean.
Notes
Note: If you want to add chocolate chips to the batter add in 2/3 cup of chocolate chips. If you want half of the muffins to be plain and half to have chocolate chips, then divide the batter evenly into two bowls and then add 1/3 cup of chocolate chips to one of the bowls.
Disclosure: This post contains Amazon affiliate links. This means that if you click on a link and make a purchase, I will receive a small commission at no cost to you.