Carrot Grapefruit Salad (Paleo, GF)
Carrot Grapefruit Salad recipe. A tart yet sweet salad made of carrots and grapefruit.
This salad is so simple (it can't get any more simple than 2 ingredients), and yet it has so much flavor! It's sweet from the carrots and it is tart yet sweet from the grapefruit.
The grapefruit juice softens the carrots and seasons them with the most refreshing grapefruit flavor. It's amazing.
This recipe was originally posted in 2014 and was updated May 26, 2020 with an updated recipe and photos.
This Carrot Grapefruit Salad was a regular appetizer at my house growing up and I absolutely love it. I honestly could eat it every single day.
I do have to admit though, that I am a huge grapefruit person, so I may be partial to the flavor.
I've found that many people either love grapefruit or hate it. However, the sweetness of the carrots balances out the acidity of the grapefruit in such a way that I think anyone would love this dish.
And if you love grapefruit and carrots then you will really love this.
I almost feel guilty posting this as a recipe because there are only 2 ingredients! But every time that I make this and someone tries it, they absolutely love it! And they always say that they have never heard of such a salad.
So I feel like I need to share.
I have to share the amazingness of this Carrot Grapefruit Salad.
This is my mother's recipe and she said that she would always eat this in France. So maybe it's French? Maybe it's just something that my mother's family came up with? Either way, here it is. 🙂
Tips on how to make this Carrot Grapefruit Salad:
One- Use cold carrots and cold grapefruit. This dish tastes best cold!
Two- You need to shred the carrots yourself.
You could technically buy shredded carrots, BUT they don't taste as flavorful. When you shred them yourselves, you get fresh carrot juices. Also fresh shredded carrots are softer, making them absorb the grapefruit juices better.
To shred them you could use a cheese grater. I've done it but it does take more work.
You could also use an electric vegetable shredder. I personally use this electric shredder and it is amazing! It shreds carrots at lightening speed.
Three- Make sure to remove the grapefruit pith from the grapefruit meat.
The pith of the grapefruit is the white part in between the peel and the grapefruit meat itself. It is quite bitter and you don't want that in your salad.
Four- Really mix the grapefruit and carrots together.
You want the grapefruit juices to cover the shredded carrots. So as you mix them together, press down on the grapefruit, releasing some of the juices.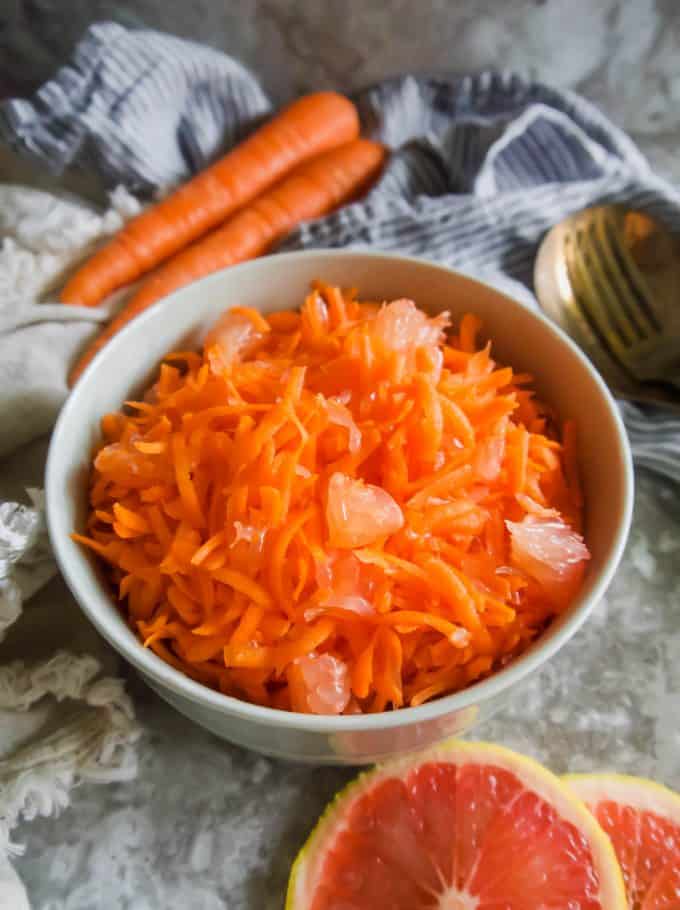 How to eat and serve this salad:
If you can, refrigerate prior to eating.
Like I mentioned, this Carrot Grapefruit Salad tastes best cold.
I like the wait a few hours prior to eating it to really let the acidity of the grapefruit break down the carrots, so they are softer and so they absorb the sweet sweet grapefruit flavor.
You can eat it right away though… it's great fresh.
Eat it by itself or in another salad.
This salad is great all on its own. As I mentioned, I could eat this as is every day!
BUT I also love putting this Carrot Grapefruit salad into another salad to add extra flavor because the flavor is sooo good!
For example, if you are making a simple salad with tomatoes, spinach and cucumbers inside… add a scoop of the Carrot Grapefruit salad to it!
Hope you enjoy this as much as I do.
Other healthy salads you may enjoy:
French Kale Salad à la Moutarde
Carrot Grapefruit Salad (Paleo)
Carrot Grapefruit Salad recipe. A tart yet sweet salad made of carrots and grapefruit.
Ingredients
1 1/2 regular sized grapefruits ( or 1 large grapefruit)
4 cups shredded carrots (this was 16 ounces of carrots for me)
Instructions
Use a peeler to remove the skin off of your carrots.

Shred the carrots. You can use a handheld grater, or an electric vegetable grater. Put the shredded carrots into a large bowl.

Remove the peel off of the grapefruit. Remove the grapefruit meat from the rest of the grapefruit– leaving no skin or pith or anything.

Cut the grapefruit into small pieces and mix into the shredded carrots. Mix the grapefruit and carrots together while pressing on the grapefruit meat to get the juices flowing.

Eat this salad either right away or after being in the fridge for a few hours. Store this salad in the refrigerator. I personally like to refrigerate this salad for a few hours prior to eating.
Notes
I find it best to shred cold carrots and to use cold grapefruit in this recipe. It tastes best cold.
Nutrition
Calories: 186kcalCarbohydrates: 45gProtein: 4gFat: 1gSaturated Fat: 0.1gPolyunsaturated Fat: 0.3gMonounsaturated Fat: 0.1gSodium: 177mgPotassium: 1078mgFiber: 10gSugar: 25gVitamin A: 44975IUVitamin C: 75mgCalcium: 127mgIron: 1mg
Disclosure: This post contains Amazon affiliate links. This means that if you click on a link and make a purchase, I will receive a small commission at no cost to you.