Tuna Rice Salad with Corn and Beans
A refreshing tuna rice salad that is filled with beans and corn, and is seasoned with a fresh oregano vinaigrette. It makes for the perfect light yet filling lunch and comes together in less than 30 minutes!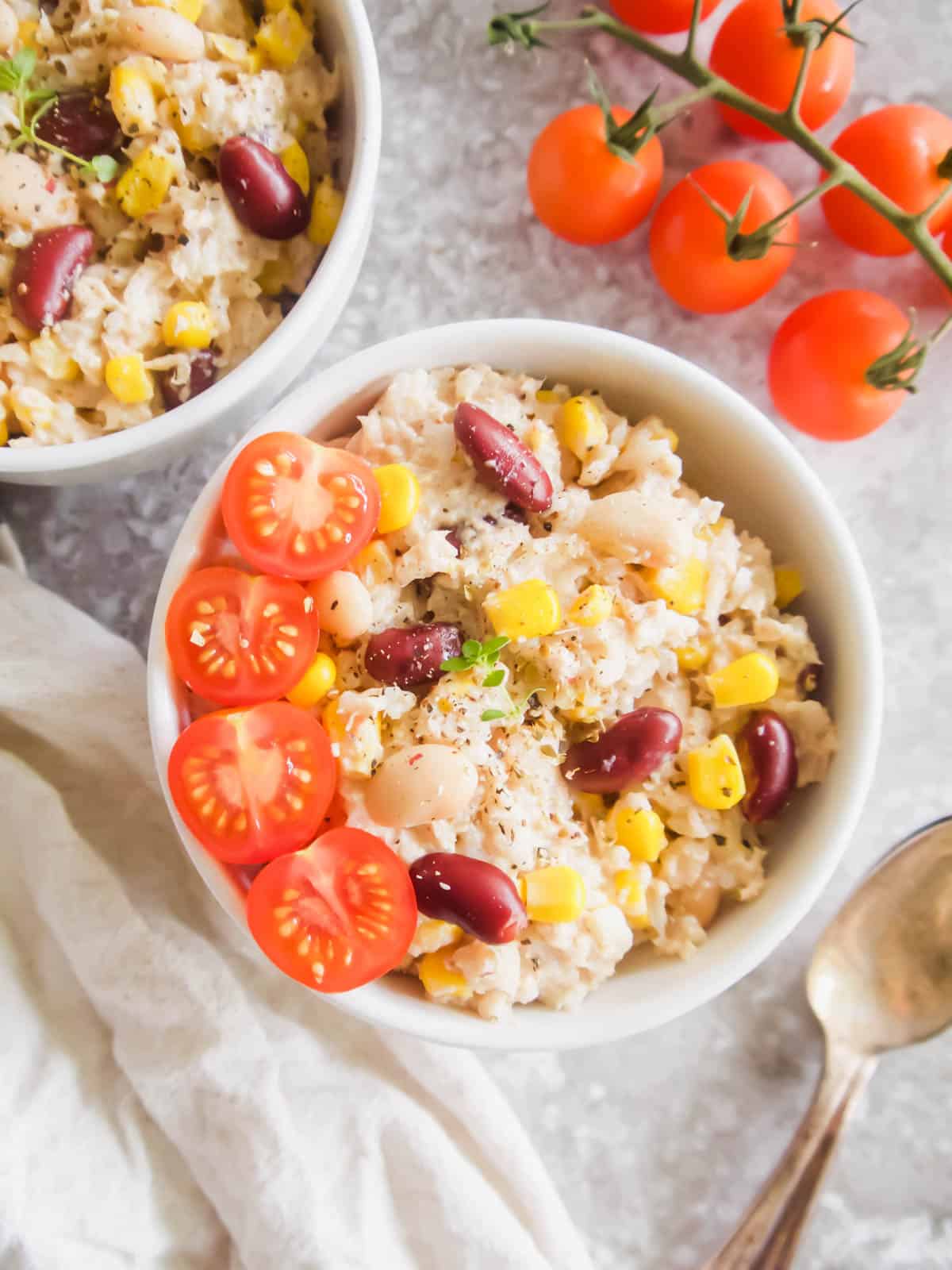 This tuna and rice salad with corn and beans makes a regular appearance in my lunch rotations. It's filling, it's tasty, it's quick, and it's a crowd pleaser.
It is a great salad to eat on its own, with other veggies, or on top of a green salad. It's one of my favorite salad to meal prep, since it stores well and tastes amazing cold. I also love that this salad is a great source of protein and omega-3 fatty acids.
Table of Contents
Why this recipe works
As I mentioned, this salad is a great source of protein and omega-3 fatty acids thanks to the tuna. One serving has over 25 grams of protein.
It is easy to make and comes together in less than 30 minutes.
It is toddler approved, both my toddlers love it and ask for it regularly. This is probably the recipe that I make the most from my blog because my toddlers ask for it so much.
It is versatile, you can make this with whatever you have on hand. I love serving it along side my French beet salad.
It's delicious! It is one of my favorite tuna and rice recipes.
Recipe Ingredients: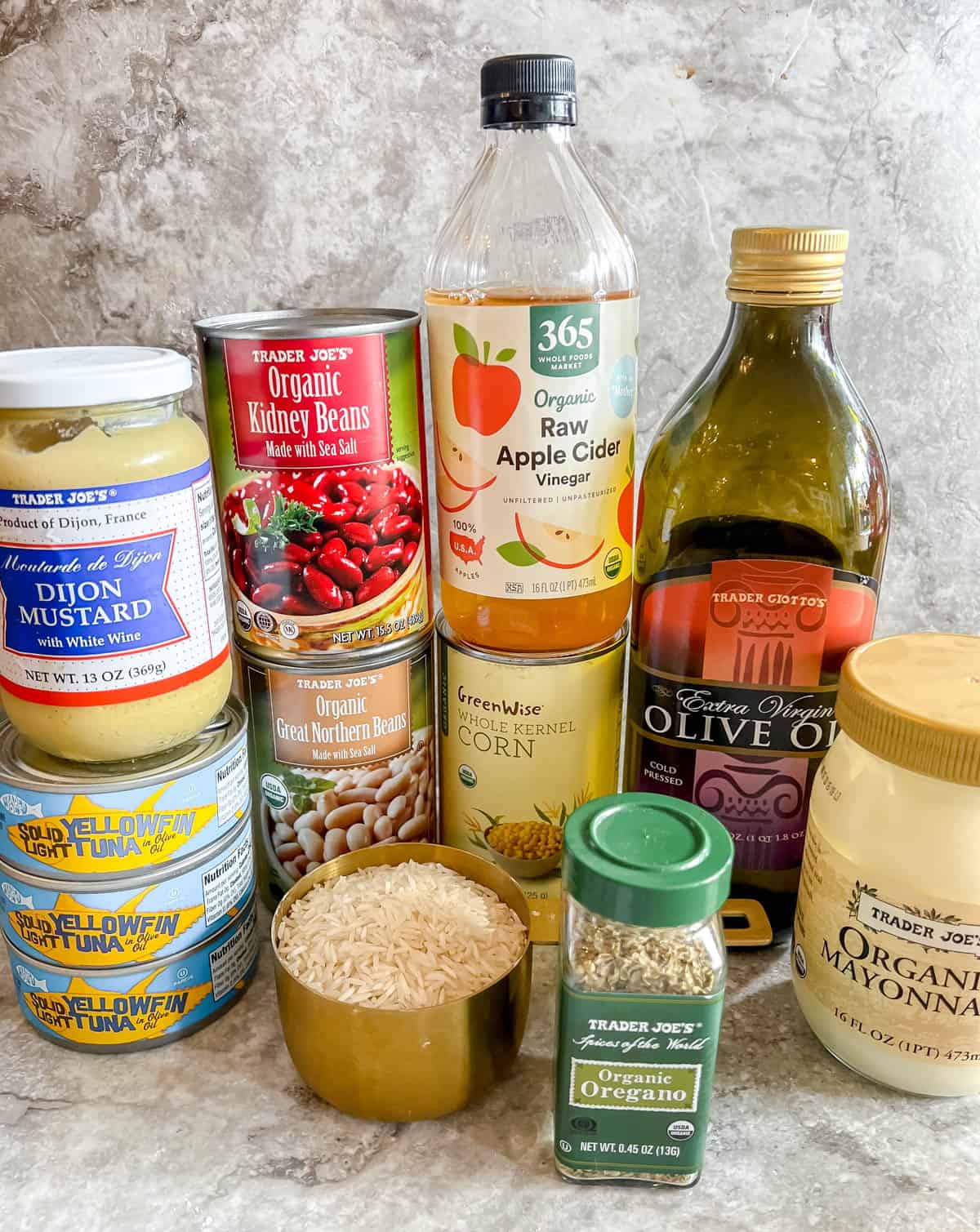 white rice– any type of white rice works here, just make sure to cook it first!
canned tuna fish– I like tuna fish in olive oil, but just use your favorite one.
mayonnaise– any type will do, whether store bought or homemade mayonnaise.
mustard– dijon or spicy brown mustard.
kidney beans– canned.
white beans– also canned.
corn– without added salt or sugar.
olive oil– a good quality extra virgin olive oil.
tarragon vinegar– or apple cider vinegar.
dried oregano– fresh works here as well!
See recipe card below for a full list of ingredients and measurements.
Additions/Substitutions
Instead of tarragon vinegar, use apple cider vinegar.
Instead of white rice, you can use brown rice.
Instead of tuna fish, you can use sardines. I actually like to make this with half tuna and half sardines.
Instead of kidney and white beans, you can add black beans, pinto beans, or any bean of choice.
You can diced bell peppers, pickles, or beets.
Step by step instructions:
Step 1: Start cooking the rice. Then, mix the tuna with the mayo and mustard in a large bowl. Add the corn and beans and mix everything together.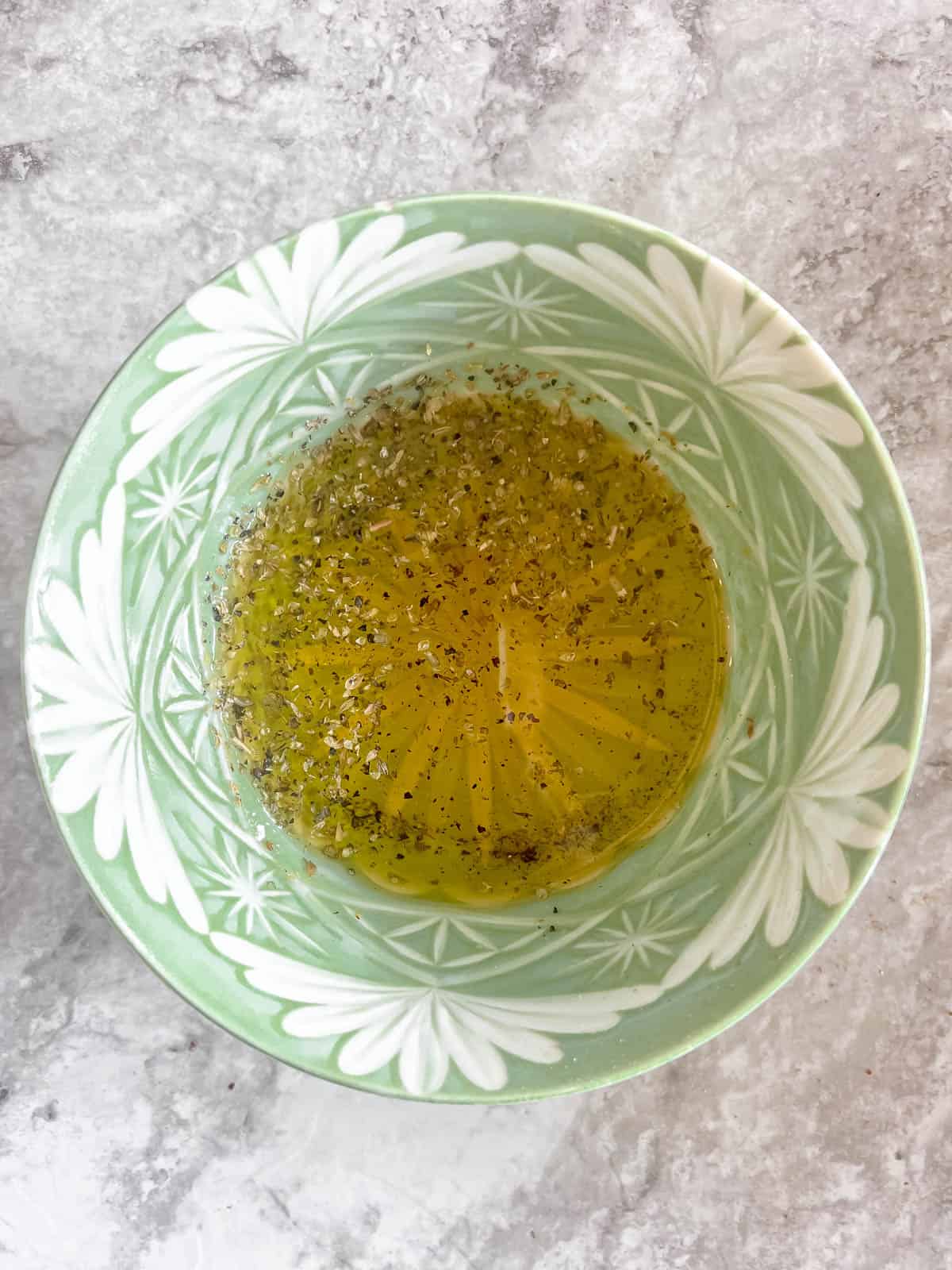 Step 2: Make the dressing. Mix the olive oil, vinegar, salt, pepper and oregano together.
Step 3: Put the cooked rice into the bowl and pour the dressing on top.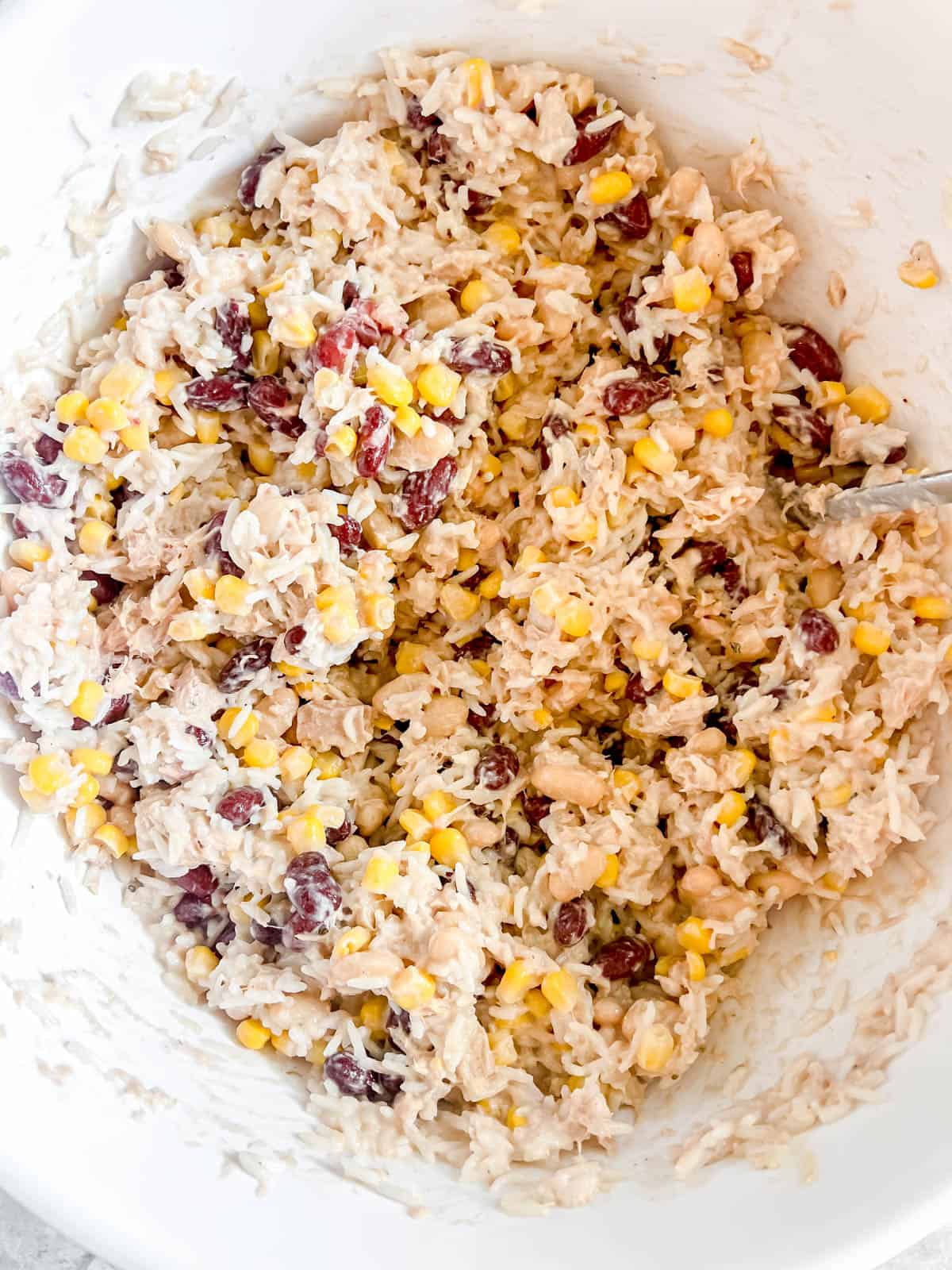 Step 4: Mix everything together.
Recipe FAQs
How to serve this tuna and rice salad?
You can eat this salad with lots of added veggies on the side. Tomatoes, boiled beets, avocado, radishes, and peppers on the side work great. You can also add this salad to mixed greens or eat it on its own.
How do you store it?
Put in an airtight container and refrigerate for 3-4 days.
Can you eat this warm?
Yes! This recipe is delicious warm or cold.
Other healthy hearty salad recipes you may enjoy:
Did you try this recipe? Please leave me a ⭐ review below!
Tuna Rice Salad with Corn and Beans
A refreshing rice and tuna based salad that is seasoned with beans, corn and a fresh tarragon vinaigrette
Ingredients
2 cups cooked white rice (1 cup uncooked rice)
3 cans of tuna 15 ounces total
2 Tbs mayonnaise
3 Tbs spicy brown mustard divided
1 can kidney beans 15.5 ounces
1 can northern beans/ white beans 15.5 ounces
1 can corn 15.25 ounces
3 Tbs olive oil
4 Tbs tarragon vinegar (or apple cider vinegar)
1/2 tsp salt
1/4 tsp pepper
1/2 tsp dried oregano
Instructions
Drain tuna and put into a large bowl. Mix tuna with 2 Tbs mayo and 2 Tbs mustard, while breaking tuna into smaller pieces.

Drain the beans and corn. Add them to the bowl of tuna.

Add the cooked rice to the bowl, and mix.

Make the vinagraitte. In a small bowl, mix the olive oil, tarragon vinegar, 1 Tbs mustard, salt, pepper and oregano together. Then pour into the bowl and mix.

Salt and pepper to taste. I like sprinkling a bit more vinegar on top at the end.
Nutrition
Calories: 352kcalCarbohydrates: 37gProtein: 25.6gFat: 12.5g
Disclosure: This post contains Amazon affiliate links. This means that if you click on a link and make a purchase, I will receive a small commission at no cost to you.