Caro's Homemade Mayo (paleo, GF)
Being the mayonnaise lover that I am, you would think that I'd already have a Paleo mayonnaise recipe on this blog. Especially because I'm all about the condiments and finding sauces that I can dunk paleo sweet potato fries into (re: paleo sweet and spicy sauce).
I didn't really have a good reason as to why I had not tried to perfect a Paleo mayo up to this point. But once my sister had not only made me her delicious homemade mayo recipe, but also showed me how to do it, I really had no excuse to not have it in my life anymore.
It's just too good. And too easy!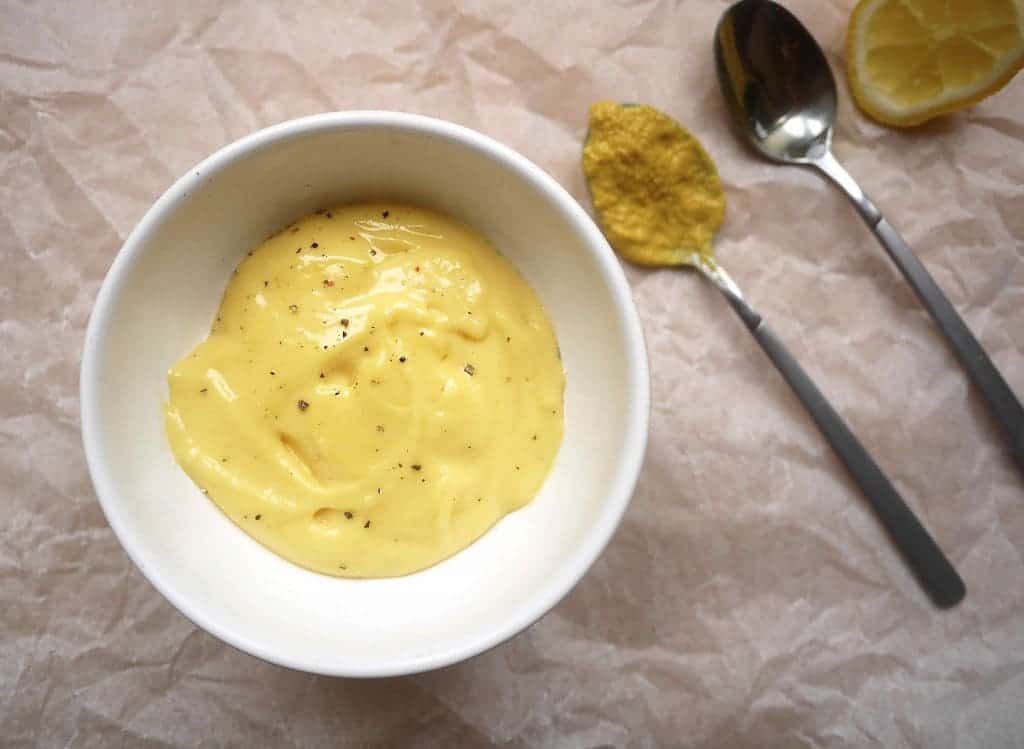 My sister Caroline has a really delicious homemade mayonnaise recipe that she uses with her really delicious homemade French fries recipe.
DROOL.
The combo is unreal and also very French, which is fitting because that is where her and her family live. 🙂
The last time that I was at her house, her husband took care of making the fries, while she took care of making the mayo… now that's what I call teamwork.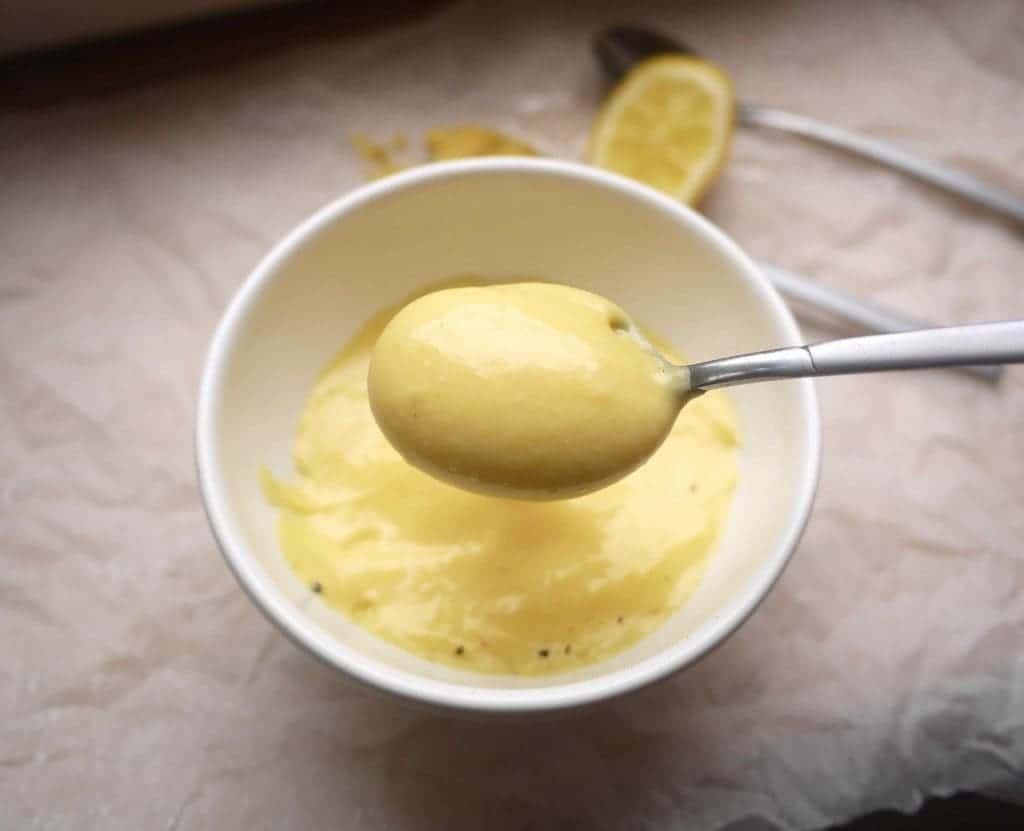 Thank goodness she gave me the recipe recently, and said she would be happy to have it on this blog!
I mean, you really can't beat the light yet creamy fresh taste of homemade mayo, can you?
I'm kind of kicking myself now for waiting so long to make her recipe.
All I had to do was replace the canola oil in my sister's recipe with light olive oil (make sure the olive oil is light in color, so that the olive flavor does not affect the mayo taste too much), and voila Caro's Homemade Mayo recipe came to be.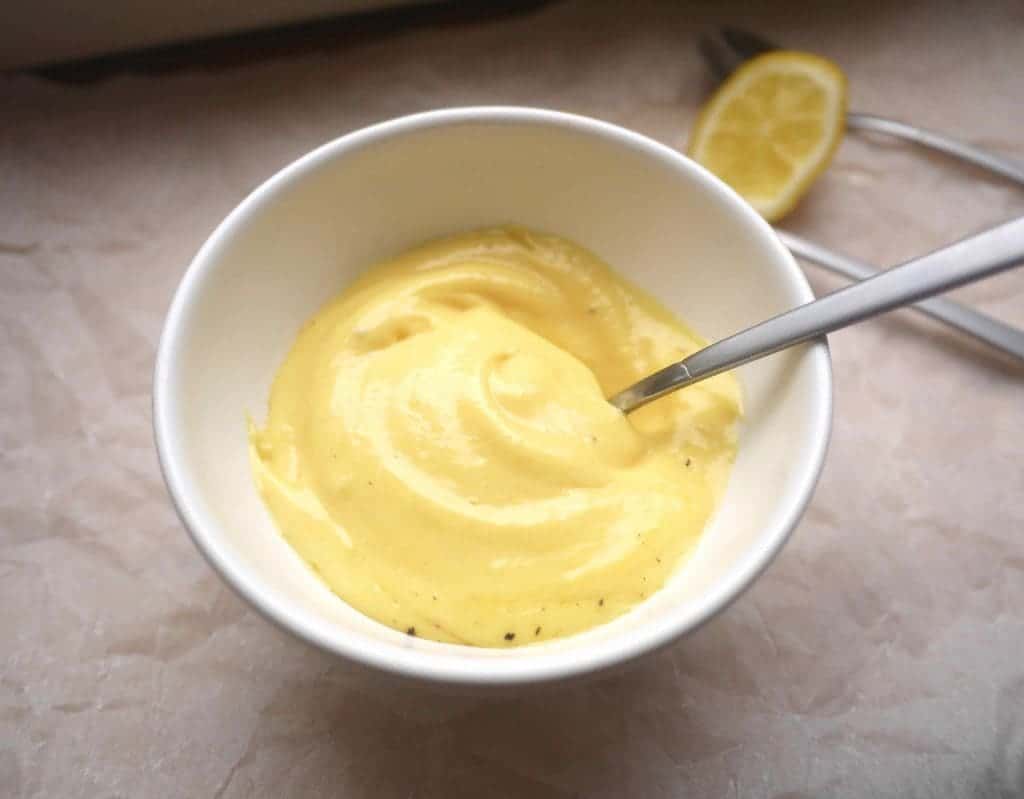 I used hot English mustard, but you can also use Dijon. I also added some lemon juice to balance out the flavor of the olive oil flavor. Delllish!
And revolutionary! The future of all my tuna salads, egg salads, French fry dipping sessions, burgers, coleslaws… etc etc have now vastly improved. Can't wait to use this mayo for soooo many things…
I think I'll start with coleslaw. 🙂
Caro's Homemade Mayo (paleo, GF)
A tasty homemade mayo that's suitable for paleo and gluten-free diets.
Ingredients
1 egg yolk
1 tsp mustard (hot english mustard or dijon mustard)
a pinch of salt
5 Tbs extra light olive oil
1 tsp lemon juice
Instructions
Put the egg yolk, mustard, and salt in a bowl and mix with a hand-held mixer for about 45 seconds, until everything has mixed and thickened a little.

Then turn the mixer back on and slowly pour 1 Tbs of of olive oil into the bowl, while continuously mixing. This should take about 15-20 seconds. Repeat this step for each additional Tbs of olive oil, adding and mixing them in one at a time.

Add the lemon juice and mix for a few seconds. The mixture is done when it is thick and creamy.

This recipe yields btw 1/4- 1/2 cup of mayo (exactly in between the two to be exact).
Nutrition
Calories: 170kcalCarbohydrates: 0.3gProtein: 1gFat: 19gSaturated Fat: 3gPolyunsaturated Fat: 2gMonounsaturated Fat: 13gCholesterol: 49mgSodium: 26mgPotassium: 8mgFiber: 0.1gSugar: 0.1gVitamin A: 66IUVitamin C: 0.5mgCalcium: 7mgIron: 0.2mg
Disclosure: This post contains Amazon affiliate links. This means that if you click on a link and make a purchase, I will receive a small commission at no cost to you.