Paleo Chocolate Chip Cookie Bars (Gluten-Free, Dairy-free)
Paleo Chocolate Chip Cookie Bars are soft, chewy, and thick bars of chocolate chip cookies that are naturally Gluten-free, Dairy-free, Grain-free, and Paleo! They are made with healthier-for-you ingredients like almond flour, tapioca flour, coconut flour, and coconut sugar
If you couldn't tell, I love all kinds of chocolate chip cookies. Mini chocolate chip cookies, extra large chocolate chip cookies, and chocolate chip cookie bars!
Oh I just love a good chocolate chip cookie bar. And these Paleo Chocolate Chip Cookie Bars have become my new favorite Paleo bars!
They are soft and chewy, yet sturdy and thick. Plus they are Gluten-free, Dairy-free, Grain-free, and Paleo!
What exactly are gluten-free chocolate chip cookie bars?
Well, gluten-free chocolate chip cookie bars are similar to regular chocolate chip cookies but they are made using a thicker stiffer batter that is pressed into a baking pan.
This results in a big layer of thick chewy chocolate chip cookie.
Since they are chewier and thicker than a regular cookie, they end up being more sturdy and have more of a "bar" texture and consistency.
Chocolate chip cookie bars are also normally cooled completley after baking and then cut into squares.
However, sometimes when I make these, I only wait 15 minutes so I can eat them when they are warm. (Don't tell anyone…shhhh).
Ingredients needed to make these Paleo Chocolate Chip Cookies Bars:
almond flour
tapioca flour
coconut flour
baking soda
salt
coconut oil
coconut sugar
eggs
vanilla
dairy-free chocolate (I like using Enjoy Life Chocolate Chips)
sea-salt (optional)
The ingredients in these bars make them naturally Paleo, Gluten-free, Grain-free AND Dairy-free.
There's no wheat, refined flours, or refined sugars in here!
How to make these Almond flour Cookie Bars:
It's pretty simple really!
In a large bowl, mix the almond flour, coconut flour, tapioca flour, baking soda, and salt together with a fork until everything is well mixed.
Then in a another bowl, whisk the coconut oil with the coconut sugar.
Note: Make sure the coconut oil is in it's melted state! It needs to be measured this way and used this way.
Then whisk in the egg and egg yolk into the coconut oil and coconut sugar mixture. And after that, add the vanilla and whisk again.
Then, pour the bowl of dry ingredients into the bowl of wet ingredients and mix until a cookie dough forms.
Fold in some chocolate chips and, boom, your dough is done!
Then, press this dough into a parchment paper lined baking pan. Since the dough is thicker, you do need to press it down to get it even. I like doing this with a rubber spatula.
Once the dough is pressed into the pan, all you have to do is bake the cookie bars!
The last and final piece to the puzzle is to let these paleo bars cool for an hour after they come out of the oven.
You don't necessarily have to wait but it is easier to cut them once they are cooled.
Paleo Bars FAQs:
(1) Do I have to use coconut oil?
No, you can use olive oil or avocado oil. They work great as well.
(2) How do I measure my coconut oil?
Measure it in it's melted state. I usually put a large spoonful into a microwave safe bowl, then microwave it. And then I pour the melted coconut oil into a measuring cup.
(3) What do I do if I don't have coconut sugar?
You can always use maple sugar. I love baking with maple sugar and the recipe remains Paleo that way.
Other healthier chocolate chip cookie recipes you may enjoy:
Paleo Coconut Oil Soft Chocolate Chip Cookies– these cookies are for all who enjoy ooey gooey melty chocolate chip cookies. SO good.
Edible Eggless Chocolate Chip Cookie Dough – the dough in this recipe is ridiculously good. You can also use this vegan dough to make cookies!
The BEST Gooey Paleo Chocolate Chip Cookies – this is an oldie but a goodie from the blog. These cookies are super soft and chewy.
A very special thanks to my friends at Stroller Envy, for the awesome graphic below. I wish all of my recipe cards looked this good. 🙂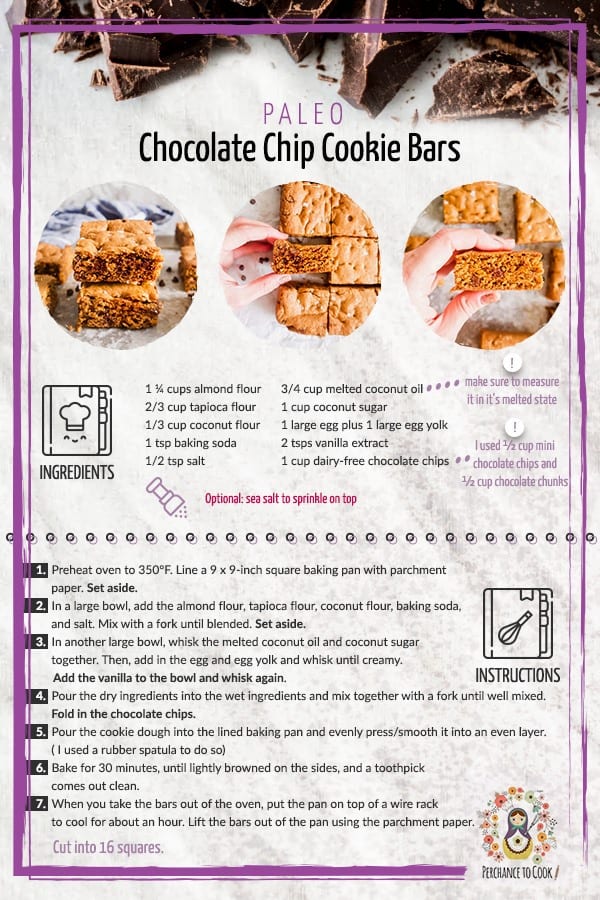 Paleo Chocolate Chip Cookie Bars (GF)
Soft, chewy, and thick chocolate chip cookie bar recipe that is naturally Gluten-free, Dairy-free, Grain-free, and Paleo!
Instructions
Preheat oven to 350°F. Line a 9 x 9-inch square baking pan with parchment paper. Set aside.

In a large bowl, add the almond flour, tapioca flour, coconut flour, baking soda, and salt. Mix with a fork until blended. Set aside.

In another large bowl, whisk the melted coconut oil and coconut sugar together. Then, add in the egg and egg yolk and whisk until creamy. Add the vanilla to the bowl and whisk again.

Pour the dry ingredients into the wet ingredients and mix together with a fork until well mixed. Fold in the chocolate chips. I personally like using a mixture of chocolate chunks and mini chocolate chips because this gives various amounts of chocolate in each bite.

Pour the cookie dough into the lined baking pan and evenly press/smooth it into an even layer. ( I used a rubber spatula to do so)

Bake for 30 minutes, until lightly browned on the sides, and a toothpick comes out clean.

When you take the bars out of the oven, put the pan on top of a wire rack to cool for about an hour. Lift the bars out of the pan using the parchment paper. Cut into 16 squares.

( Note: If you don't want to wait an hour to eat these you could wait 15 minutes before cutting them and eat them while they are warm )

You can store these in an airtight container at room temperature for up to a week (if they last that long).
Nutrition
Calories: 260kcalCarbohydrates: 23gProtein: 4gFat: 19gSaturated Fat: 12gPolyunsaturated Fat: 0.3gMonounsaturated Fat: 1gTrans Fat: 0.002gCholesterol: 20mgSodium: 174mgPotassium: 9mgFiber: 3gSugar: 12gVitamin A: 30IUCalcium: 36mgIron: 1mg
Disclosure: This post contains Amazon affiliate links. This means that if you click on a link and make a purchase, I will receive a small commission at no cost to you.