Foil Packet Lemon Rosemary Halibut (GF, Grain-free)
Foil Packet Lemon Rosemary Halibut recipe. A quick and easy fish recipe made with only a few ingredients that is packed with protein AND delicious. Naturally Grain-free and Gluten-free.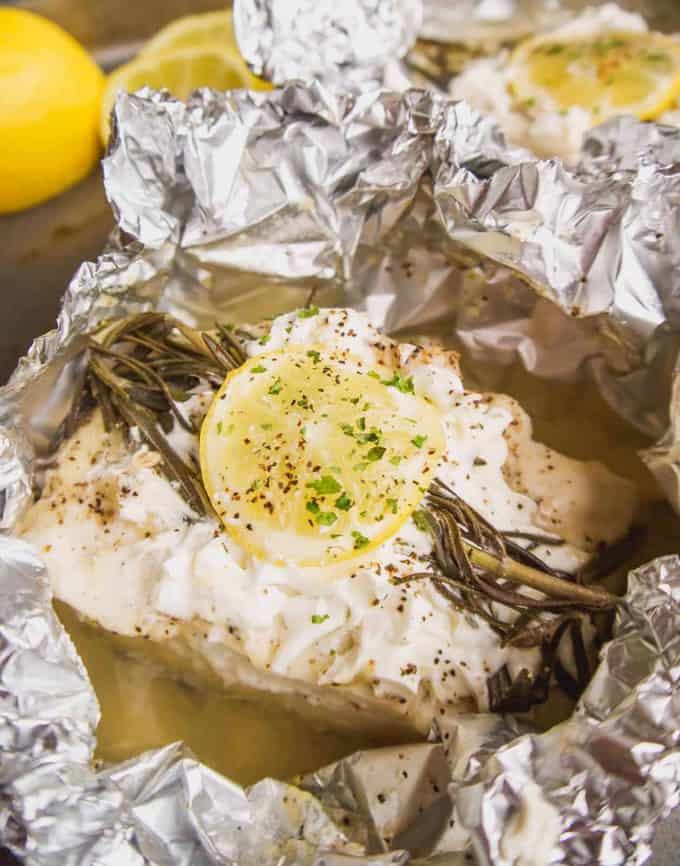 This Foil Packet Lemon Rosemary Halibut is one of my favorite fish recipes. It's simple, made with only a few ingredients, and is packed with protein all while tasting great.
The sauce that results from the lemon, rosemary, and greek yogurt mixture tastes amazing on to of veggies, rice, quinoa ( or anything really! )
This gluten-free recipe also works with different types of white fish, but halibut is my current favorite. 🙂
This recipe is actually similar to a very old recipe that used to be on my blog. It is a recipe that my mother made growing up that we all absolutely loved.
She would put white fish in a foil packet and top it in lemon juice, herbs, and sour cream.
I wanted to create something with a similar taste but without the sour cream. Greek yogurt works amazing here!
Ingredients needed to make this Foil Packet Lemon Rosemary Halibut:
halibut
lemon juice
greek yogurt
rosemary
lemon slices
salt and pepper
Greek yogurt is high in protein and low in fat ( make sure to use one that is 0% or 2% fat).
In my old recipe, I used tilapia to make this dish, but I didn't want to do that here. I have been staying away from tilapia the last few years.
The reason for this is it's so hard to trust that it's actually sourced well.
Check out this article from Dr. Axe, if you want to look into why I avoid tilapia.
How to make this Foil Packet Lemon Rosemary Halibut recipe:
This recipe is really easy to put together!
You start by cutting small to medium sized pieces of aluminum foil. You need one piece per of fish.
Put the halibut in the middle of the aluminum foil. Then cover the fish in lemon juice, salt, and pepper.
Lastly top the fish in greek yogurt, fresh rosemary, and slices of lemon.
You could probably use dried rosemary, but the flavor of fresh rosemary really makes it taste so much more flavorful and fresh!
Then you fold up the aluminum foil to create a packet so that all of the fish is covered up.
And then you bake it!
Basically, you just put all the ingredients into a foil packet, and 20 minutes later you have a really healthy, high protein meal ready!
Quick tip: bake whatever else you want to eat with the fish on the pan at the same time! I like to add cauliflower or potatoes to the pan and then it all cooks at the same time!
As I mentioned, this recipe is an update of an old recipe. So I just made sure the recipe proportions were right and retook the photos.
It basically required more taste testing and a new blog post! It was fun to do because it is delicious.
The photos needed a major upgrade!
It's funny comparing my old photos to my new ones.
I mean look at my original recipe's photo below compared to the rest on this post. Wahhh Would anyone want to eat that fish? haha
Other healthy seafood recipes you may enjoy:
Poached Halibut in San Marzano Tomato Sauce with Olives – if you haven't tried poaching your fish in tomato sauce, you need to. You will be in for a treat!
Paleo Asian Salmon Fishcakes (GF)– these fish cakes are made with the best sauce made with pencil onions and orange juice. SO good.
Cherry Tomato, Garlic, and Basil Baked Salmon in Foil– another foil packet recipe! This one has salmon, garlic and cherry tomatoes and is so tasty!
These Steamed Mussels from Healthy Seasonal Recipes look just perfect!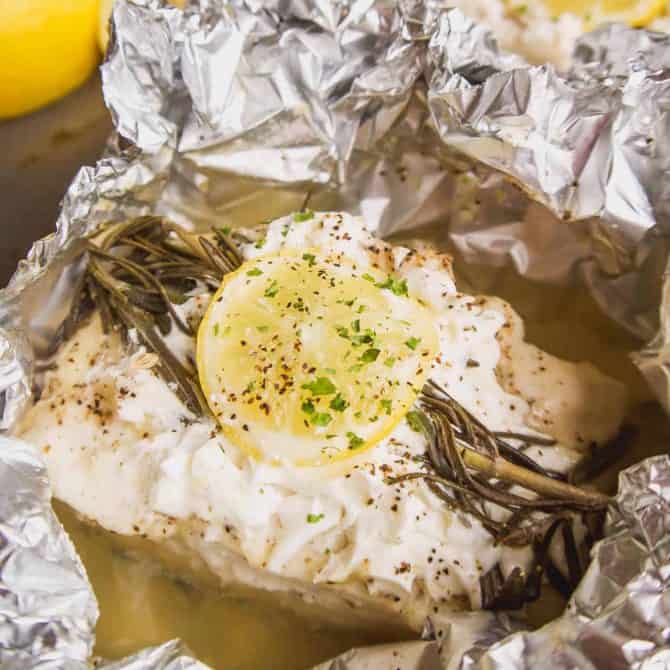 Foil Packet Lemon Rosemary Halibut (GF, Grain-free)
A quick and easy fish recipe made with only a few ingredients that is packed with protein AND delicious.
Ingredients
1 lb halibut (2 fillets)
6-8 Tbs lemon juice (3-4 Tbs per fillet, depends on how much sauce you want)
sea salt to taste
pepper to taste
3 Tbs  greek yogurt (1.5 Tbs per fillet) ( use 0-2% fat greek yogurt)
2 branches of rosemary (1 per fillet)
2 slices of lemon (1 per fillet)
Instructions
Preheat oven to 375 degrees F.

Take two large pieces of aluminum foil and place one halibut fillet in the middle of each piece of foil. Curve the ends of the foil, creating a bowl, so you can put liquid in without it falling out.

Put 3-4 Tbs of lemon juice on top of each fillet. Top each fillet with heavy pinches of sea salt and black pepper.

Then top each fillet with 1.5 Tbs of greek yogurt. Add a branch of fresh rosemary to each fillet, and a slice of lemon as well.

Push foil around the top of the fillets until aluminum packets are closed.

Cook the fish for 20 minutes. ( Cook time will be more or less depending on how thick your piece of halibut is )

Note: Don't throw away the sauce! Use the lemon greek yogurt rosemary sauce on top of rice, potatoes or veggies.
Nutrition
Calories: 230kcalCarbohydrates: 4gProtein: 45gFat: 3gSaturated Fat: 1gPolyunsaturated Fat: 1gMonounsaturated Fat: 1gCholesterol: 112mgSodium: 163mgPotassium: 1066mgFiber: 0.2gSugar: 2gVitamin A: 159IUVitamin C: 18mgCalcium: 45mgIron: 0.4mg
Disclosure: This post contains Amazon affiliate links. This means that if you click on a link and make a purchase, I will receive a small commission at no cost to you.