Paleo Asian Salmon Fishcakes (GF)
Paleo Asian Salmon Fishcakes made with baked salmon, almond flour, eggs, and a delicious homemade asian sauce. Gluten-free, grain-free, dairy-free.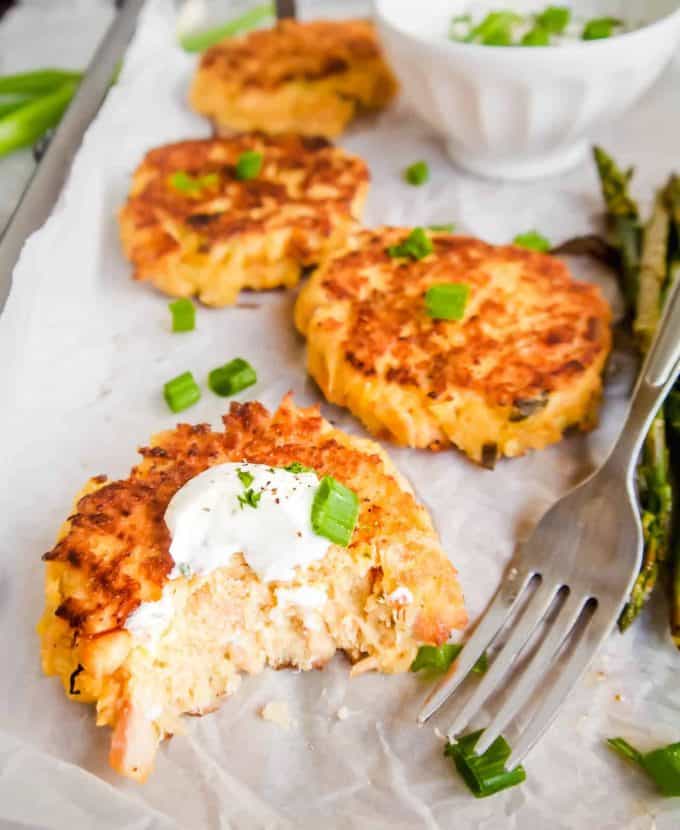 I am obsessed with these Paleo Asian Salmon Fishcakes. They have the most delicious flavoring thanks to a homemade asian sauce made of pencil onions, garlic, coconut aminos, maple syrup, and orange juice.
They've also got a great fresh texture, and are a wonderful source of protein and omega 3 fatty acids. Healthy, filling, and delicious… it's hard to beat that!
This is another recipe that I updated. It's based off of one that I made a few years ago, but I had terrible blurry photos.
In the process of redoing the post, I decided to tweak the recipe and WOW, it's so much better than I could have imagined.
I'm super excited to be sharing this updated version with you guys… because this is the way to eat salmon!
So delicious!
Ingredients needed to make these Pale Asian Salmon Fishcakes:
salmon
sesame oil
pencil onions
garlic
maple syrup
coconut aminos
orange juice
red pepper flakes
salt and pepper
eggs
almond flour
How to make these Paleo Asian Salmon Fishcakes:
Start by cooking salmon filets in the oven for about 25 minutes.
While the salmon is cooking, it's the perfect time to make the Paleo asian sauce. It basically involves cooking garlic, pencil onions, maple syrup, coconut aminos, orange juice and red pepper flakes until a sauce is formed.
Side note: have you tried coconut aminos yet? I was late to the game and am kicking myself for waiting so long. It is a soy sauce alternative that tastes amazing. I keep using it in recipes and just love the taste it gives.
Once the salmon is cooked, you flake the fish in a large bowl until it's in tiny pieces and mix it into the asian sauce. NOM.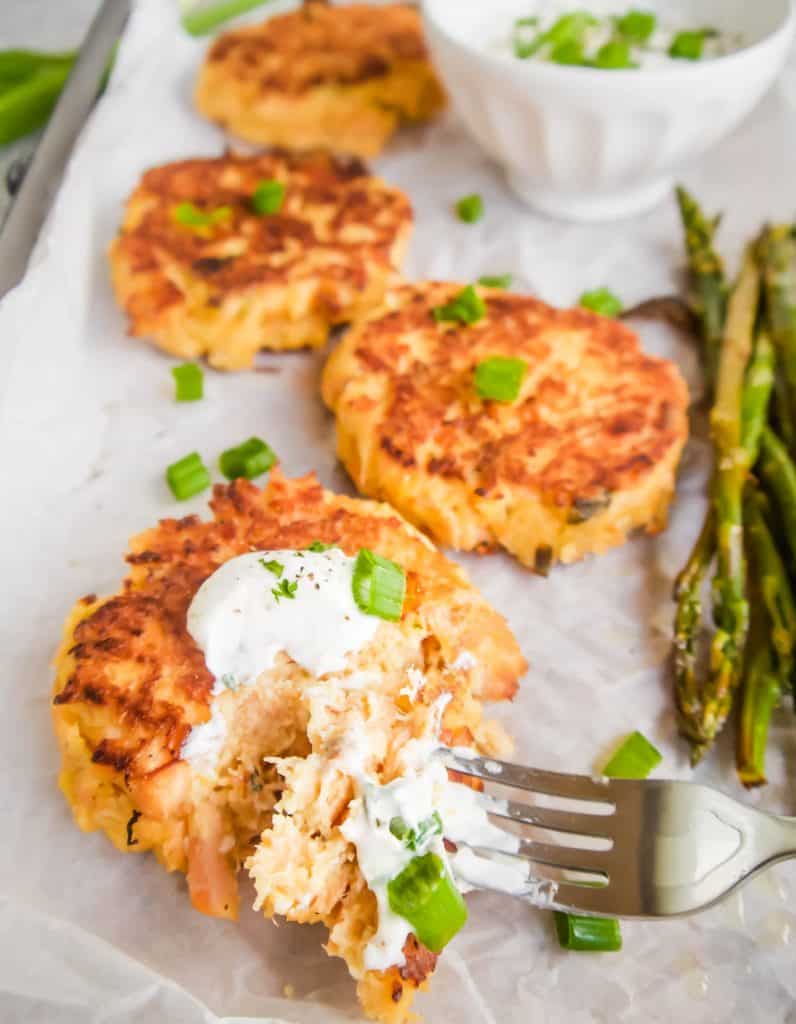 Eggs and almond flour are added to the fish mixture and then it is ready!
Once oil is heated in a frying pan, you add a large scoop of the salmon mixture and fry each side for several minutes until browned. Easy enough!
These Paleo Asian Salmon Fishcakes taste great with salad, with grilled veggies or topped with a yummy greek yogurt dip.
I made a greek yogurt dip ( which is what is in these photos) by using a sugar-free plain greek yogurt and mixing it with garlic powder, onion powder, slices of green onions, salt and pepper. I highly recommend it!!
Other Paleo Fish recipes you may enjoy:
Cherry Tomato, Garlic, and Basil Baked Salmon in Foil
Dairy-free Pan Seared Salmon in Cream Sauce
Paleo Asian Salmon Fishcakes (GF)
Ingredients
2  pounds  fresh salmon
1  Tbs  sesame oil
1  Tbs minced garlic
3  pencil onions /green onions, sliced including green parts
2  Tbs  maple syrup
1  Tbs  coconut aminos
1/3 cup  orange juice, freshly squeezed
a pinch of crushed red pepper flakes
1/2  tsp  salt
1/4  tsp  ground black pepper
3  eggs
1 cup  almond flour
a few Tbs oil for frying ( I used olive oil )
Instructions
Preheat the oven to 400 degrees.

Cover a cookie sheet in aluminum foil and spray it with some olive oil. Place the salmon filets, skin down, onto the foil and cook for 25 minutes.

While the salmon bakes, make the pencil onion Asian sauce. Put 1 Tbs of sesame oil into a large pan and heat over medium heat. Add the minced garlic to the pan, mix, and cook for 2-3 minutes. Add the sliced pencil onions, mix, and cook for 2 more minutes. Then add 2 Tbs of maple syrup, 1 Tbs of coconut aminos, 1/3 cup orange juice, red pepper flakes, 1/2 tsp salt, and ¼ tsp pepper, and mix. Cook for 5-6 minutes until the sauce evaporates a bit and thickens.

Once the salmon is cooked, remove from the oven and let it cool. Remove and throw away the skin and then put the salmon meat into a large bowl. Using a fork, flake the fish into small pieces.

Then, pour the Asian pencil onion sauce into the bowl. Mix into the salmon. Add 3 eggs and 1 cup of almond flour to the bowl and mix well.

Add a few Tablespoons of oil to a frying pan and heat over medium heat.

Using a 1/3 cup measuring scoop, scoop some of the salmon mixture and put onto the frying pan. I cooked 4 fishcakes at a time. Cook each fish cake for 3-4 minutes, per side.

Remove the fish cakes from the pan and place on a paper towel before serving. Add more oil to the pan and repeat until all the fish cakes are cooked.

This recipe should yield 10 salmon cakes.
Disclosure: This post contains Amazon affiliate links. This means that if you click on a link and make a purchase, I will receive a small commission at no cost to you.