Sweet Lemon-Pepper Turmeric Salmon (paleo, GF)
This Sweet Lemon-Pepper Turmeric Salmon has been a go-to in my house lately. And when I say go-to, I mean that I have it at least twice a week.
I really can't get enough of it! Plus I love that it only takes 12 minutes to cook because this really opens up my evenings so that I can spend time doing other things… like wedding plan, wedding plan, and oh wedding plan! I'm getting married in 2 months, ah!
This recipe has also been fitting well into my "wedding diet" AKA recipes that make me feel like I'm not on a diet because they are delicious and filling.
The healthy fats in salmon always do a good job in keeping me full.
I'm not really on a diet diet to be honest, I'm just eating less desserts… which is hard when that is one of my favorite things to experiment in the kitchen with.
I love baking Paleo and making paleo dessert creations, but those will have to be on the back-burner for now.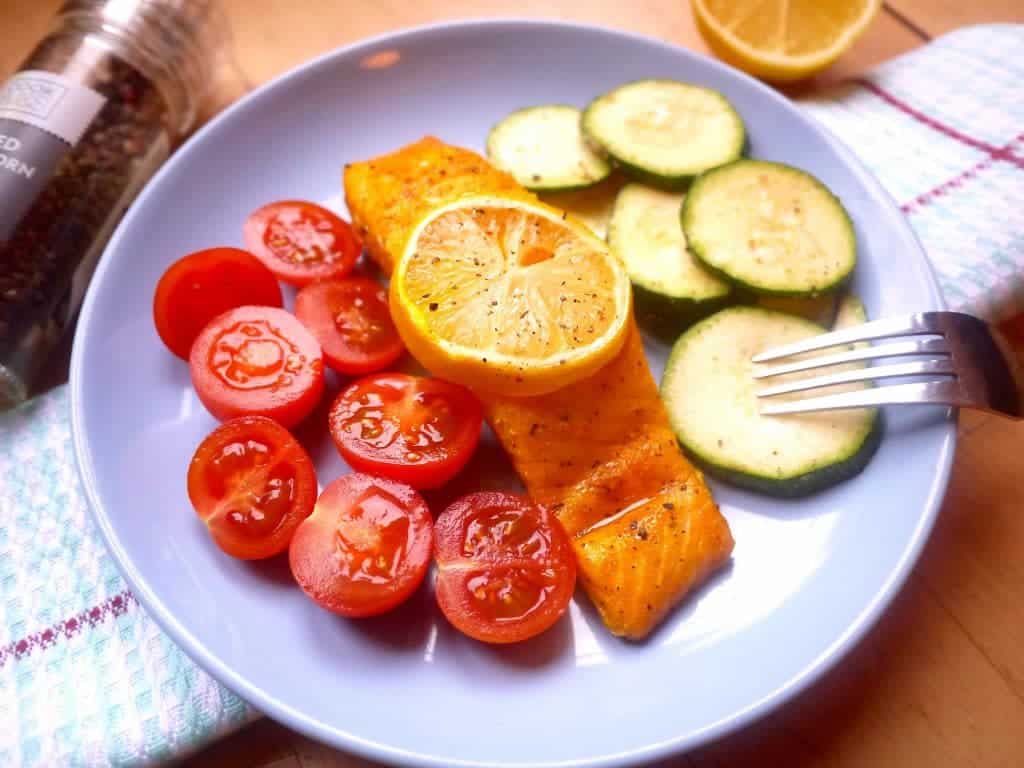 And to be honest, I would eat all of the foods that I have been posting on the blog lately whether I was on a wedding diet or not… especially this Sweet Lemon-Pepper Turmeric Salmon!
It is just so flavorful! To make it, I mixed lemon juice, fresh ground black pepper, honey, and turmeric together and marinated the salmon in that mixture for an hour.
Then I poured a little of that sauce on top of the fish and cooked it with a slice of lemon, more fresh pepper, honey and turmeric on top.
You can't get enough turmeric in your life, can you?!
It's just too healthy to pass up.
Turmeric has incredible anti-inflammatory effects, and has been touted as a miracle spice.
It has been said it can help prevent the growth of cancer, as well as fight a wide array of medical issues ( arthritis, IBS, among others). I've heard that people now take turmeric pills!
Because of this, one of my new year's resolutions was to incorporate more Turmeric into my diet.
I think I've been doing a pretty good job of that.
Turmeric works really well in salad dressings, or in fresh juices, or on top of protein.
Although, I have to be honest, it's been a lot easier than I expected because I've been inspired by the foods that I've found in Northern Ireland.
I was comparing salmon filets at the grocery store, for example, and noticed they had some pre-seasoned ones.
Out of curiosity, I looked at what was in one of them, and saw that it was seasoned with lemon and turmeric. Who would have thought?
I decided that that sounded like a wonderful idea, so I tried it at home, tweaked the recipe to my liking, and have been hooked ever since!
I love when a healthy protein, that is full of omega-3s and vitamins tastes this good! 🙂
Sweet Lemon-Pepper Turmeric Salmon (paleo, GF)
Ingredients
1/4 cup lemon juice
a large pinch of ground black pepper, ( avoid if AIP)
1/4 tsp+ 1/8 tsp ground turmeric, , divided
1/2 tsp honey
1/2 pound of salmon, ( about 8 ounces or roughly 220 grams) (this was 2 salmon fillets for me)
extra slices of lemon
an extra drizzle of honey
Instructions
In a small bowl, mix the lemon juice, a large pinch of ground black pepper, 1/4 tsp of ground turmeric, and 1/2 tsp of honey together.

Place your salmon into a large ziplock bag, pour the lemon mixture into the bag, and put everything into the fridge to marinate for about 1 hour.

Preheat your oven to 200 degrees Celcius, (roughly 400 Farenheight)

Remove the salmon from the bag and place on a cookie sheet. Cover the salmon fillets in two spoonfuls of the mixture from the bag, and then place the salmon skin side up.

Cook for 6 minutes, and then flip the salmon so that it is flesh side up. Then, sprinkle 1/8 tsp of ground turmeric on top of the salmon and sprinkle some more pepper on top. Cover each filet with a slice of lemon and a drizzle of honey.

Cook for 6 more minutes, or until the salmon flakes easily.
Disclosure: This post contains Amazon affiliate links. This means that if you click on a link and make a purchase, I will receive a small commission at no cost to you.