Creamy Mushroom and Chicken Spiralized Potato Casserole (Whole30, Paleo)
I'm just going to come out and say it. This Creamy Mushroom and Chicken Spiralized Potato Casserole is the best casserole that I've made in a REALLY long time. Forget that it's Paleo, Whole30, Dairy-free, and Gluten-free, it's freaking delicious! Those qualifiers are just bonus points.
The texture of the baked spiralized potatoes and the taste of the peppery creamy mushroom and chicken sauce on top is unbelievable.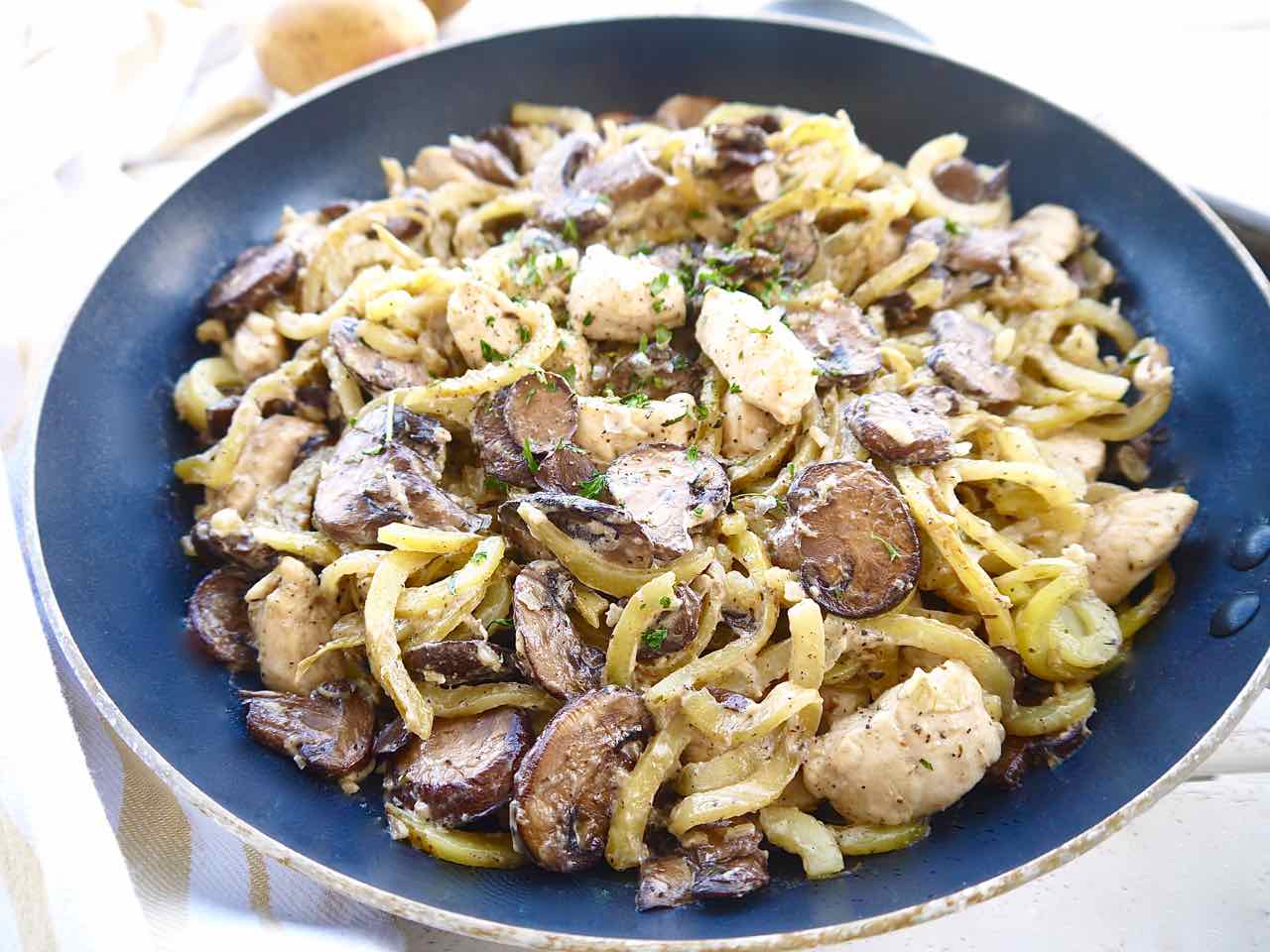 I don't know if these photos do this casserole justice (I'm working on my photography skills 🙂 ), or if they indicate just how creamy it is… it actually kind of boggles my mind. How is a casserole so creamy without butter, cream, or cheese?
I personally think using high quality coconut cream is the answer.. it's just so delightful to cook with! And no, you can't taste the coconut… which is a big reason why I like using coconut cream without any preservatives in it.
Quick PSA: If you are following a Whole30 or Paleo diet. Or just looking to eat healthier in general, trust me and get coconut cream without preservatives in it… it's a game changer. (Savoy has been my go-to for years now. I just order it in bulk off Amazon.)
I know I repeat myself a lot on this, but all of my recipes are tested and created with preservative free coconut milk and cream. As much as I am a proponent of a healthy lifestyle, I'm also just obsessed with really delicious food, and high quality ingredients are the best way to create deliciousness.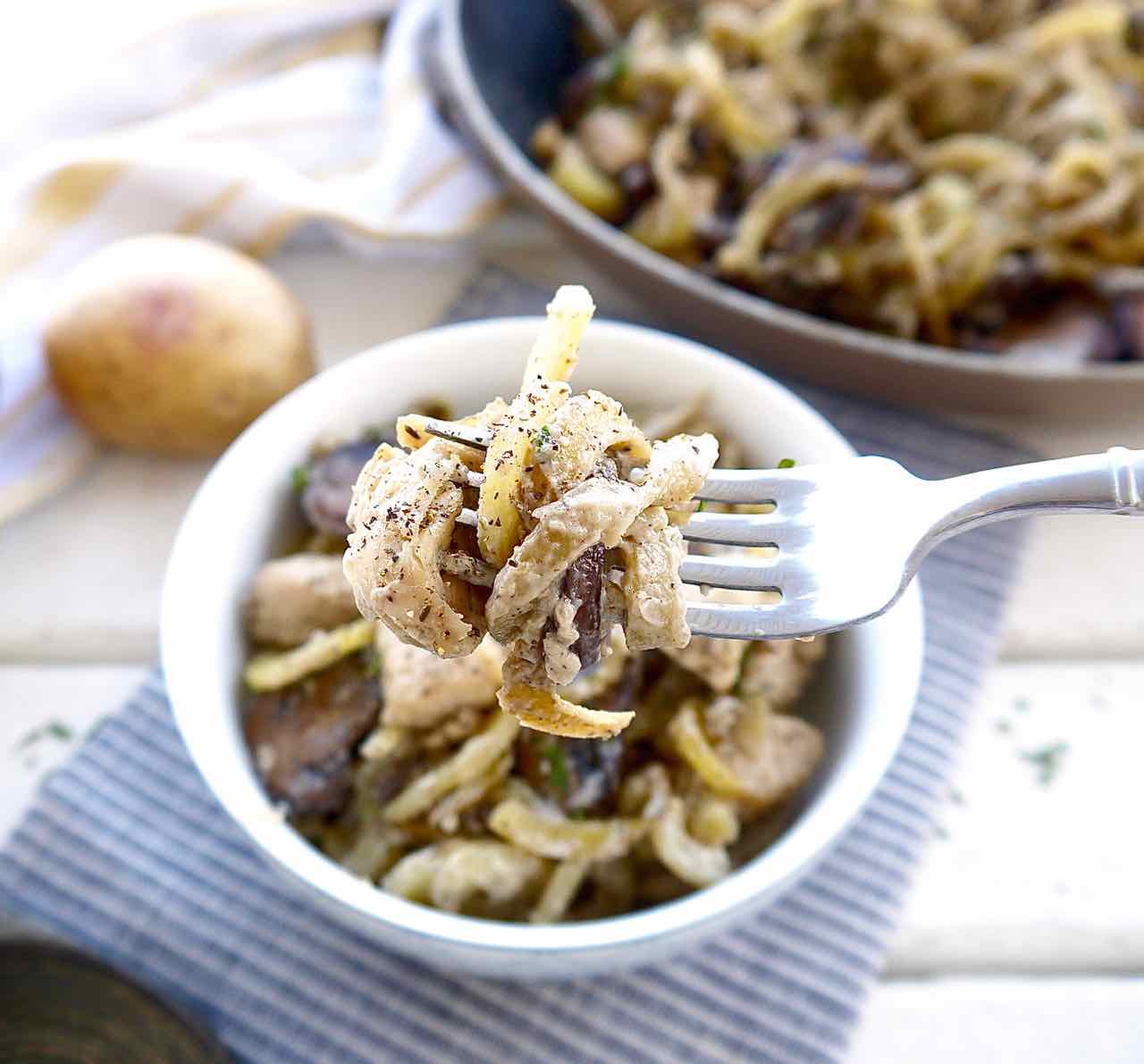 Speaking of deliciousness…I'm actually kind of mad at how much I love this casserole.
I know this sounds weird, but hear me out. I went through a Whole30 two months ago, and years of Paleo without having this deliciousness in my life. Howwwww?!
I'm not joking, I have been craving this Creamy Mushroom and Chicken Spiralized Potato Casserole nonstop since I came up with the recipe.
I can't stop wanting it! The creamy spiralized potato, covered in creamy peppered mushroom sauce. Ahhh it's calling my name.
Also, if you haven't spiralized potatoes before, do it! It's almost like real pasta satisfaction but with the added heartiness and oomph that a potato has to offer.
Plus, creamy mushroom pepper sauce is DELISH, add in some protein and your golden.
I wish I could make a really big pot of this and have every reader sample it, so that I don't sound so crazy raving about how much I love this casserole.
But alas, I can not. But I will be making it again this week.
I knew there was no way that I could write this Creamy Mushroom and Chicken Spiralized Potato Casserole post and not make it as soon as humanly possible.
Also, don't be put off by how many steps this recipe has, it's actually a really simple recipe… to sum it up, you bake the spiralized potatoes a bit, brown the mushrooms, cook the chicken, add coconut cream and the chicken to the mushrooms, and pour everything on top of the spiralized potatoes and bake.
One thing worth nothing, my cooking times are based on the width of the spiralized potatoes… I used the chipper blade from my Paderno Spiralizer, which results in thicker spiral strands.
Enjoy!
And please let me know how much you love it, so I don't think that my taste buds are crazy. 🙂
#perchancetocook and tag me in your recipe.
Creamy Mushroom and Chicken Spiralized Potato Casserole (Whole30, Paleo)
A healthy, Whole30, Paleo casserole full of creamy mushroom and chicken sauce topped on baked spiralized potatoes.
Ingredients
1 1/2 Tbs olive oil , divided
16 ounces baby bella mushrooms , sliced
3 medium potatoes , spiralized = 5 cups spiralized potatoes ( I used the Chipper/ Chipping Blade of my Paderno Spiralizer)
1 tsp salt , divided
1 1/4 tsp black pepper , divided
1/4 tsp garlic powder
1 pound chicken tenderloins , cut into bit sized pieces
1/2 cup minced onion ( this was 1/2 of an onion for me)
1 heaping Tbs minced garlic (this was 4 cloves for me)
1/2 tsp Herbes de Provence
1 cup canned coconut cream , without preservatives (Savoy is the best)
Instructions
Preheat the oven to 350 degrees. This casserole is made in 4 steps.
Step 1: Bake the spiralized potatoes.
Put the spiralized potatoes into a large frying pan (I used this T-FAL 12 inch oven safe pan). Top the spiralized potatoes with 1/2 Tbs olive oil, 1/4 tsp salt, 1/4 tsp black pepper, and 1/4 tsp garlic powder, and mix. Then put the pan into the oven and bake for 20 minutes. (After 20 minutes, remove them from the oven and set them aside, while leaving them in the pan). While the potatoes are baking move on to step 2.
Step 2: Start cooking the mushrooms.
Put 1/2 Tbs of olive oil onto a large frying pan and heat over medium high heat. Add the sliced baby bella mushrooms, and mix them into the oil. Cook the mushrooms until they are golden brown, about 15-20 minutes, while mixing every so often. First they will sweat, then the water will evaporate, and then they will turn golden brown. They will cook faster if you are using a larger pan, and slower in a smaller pan, so keep an eye on them. Leave them in the pan and set them aside once they are done.
Step 3: Prepare the chicken.
Put 1/2 cup minced onion, 1 Tbs minced garlic, and 1/2 Tbs of olive oil into a frying pan and mix. Cook over medium-high heat for 3 minutes. Add the bite sized chicken to the pan, top with 1/4 tsp salt, 1/4 tsp ground black pepper, and 1/2 tsp Herbes de Provence and mix. Cook for 5 minutes while mixing often, then set the chicken aside.
Step 4: Put it all together.
Put the pan of cooked mushrooms back over medium-high heat and add 1 cup of coconut cream, 3/4 tsp of black pepper, 1/2 tsp of salt, and the grilled chicken (make sure to scoop all the minced garlic and onion into the pan with the mushrooms). Mix everything together and let it boil for about 3 minutes.

Pour the creamy mushroom chicken mixture on top of the baked spiralized potatoes. Then, put the pan back into the oven for 15 minutes at 350 degrees F. Then set your oven to broil and cook for a few minutes more. (Keep an eye on it so it doesn't burn). Enjoy!
Nutrition
Calories: 533kcalCarbohydrates: 39gProtein: 33gFat: 29gSaturated Fat: 20gPolyunsaturated Fat: 1gMonounsaturated Fat: 6gTrans Fat: 0.01gCholesterol: 73mgSodium: 733mgPotassium: 1837mgFiber: 6gSugar: 4gVitamin A: 46IUVitamin C: 36mgCalcium: 63mgIron: 4mg
Disclosure: This post contains Amazon affiliate links. This means that if you click on a link and make a purchase, I will receive a small commission at no cost to you.