Bacon Wrapped Raspberry Stuffed Dates (Paleo, Whole30)
Bacon Wrapped Raspberry Stuffed Dates recipe. An easy, three-ingredient, healthy crispy bacon wrapped dates recipe that tastes like raspberry jam surrounded by bacon! It's an amazing raspberry appetizer and stuffed medjool dates recipe that is sure to be a crowd pleaser!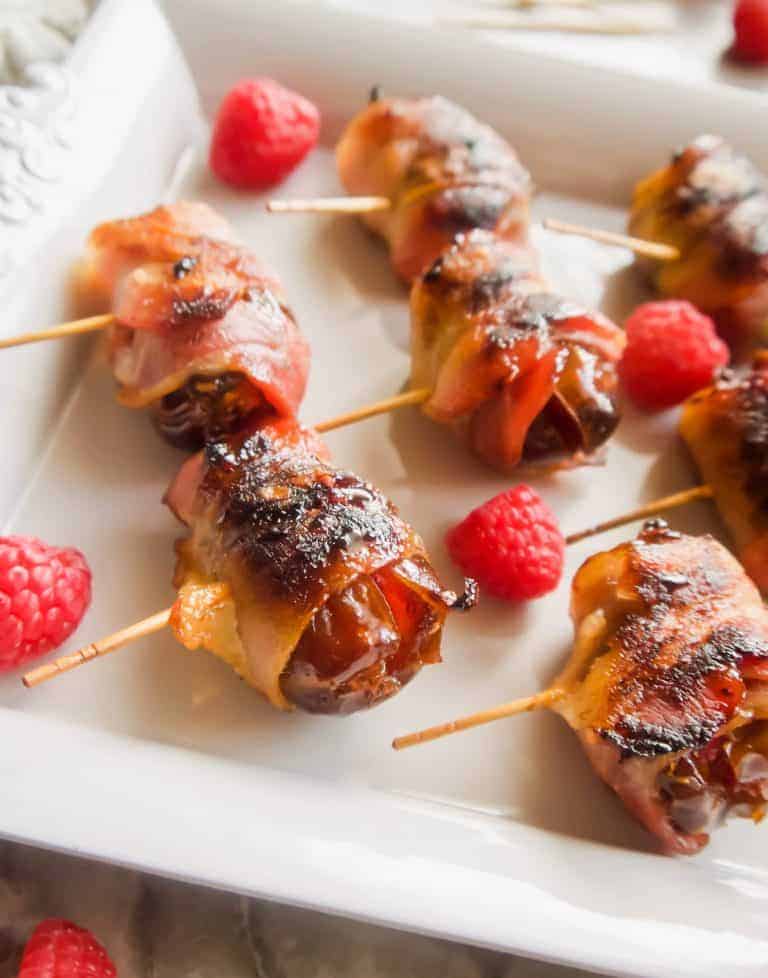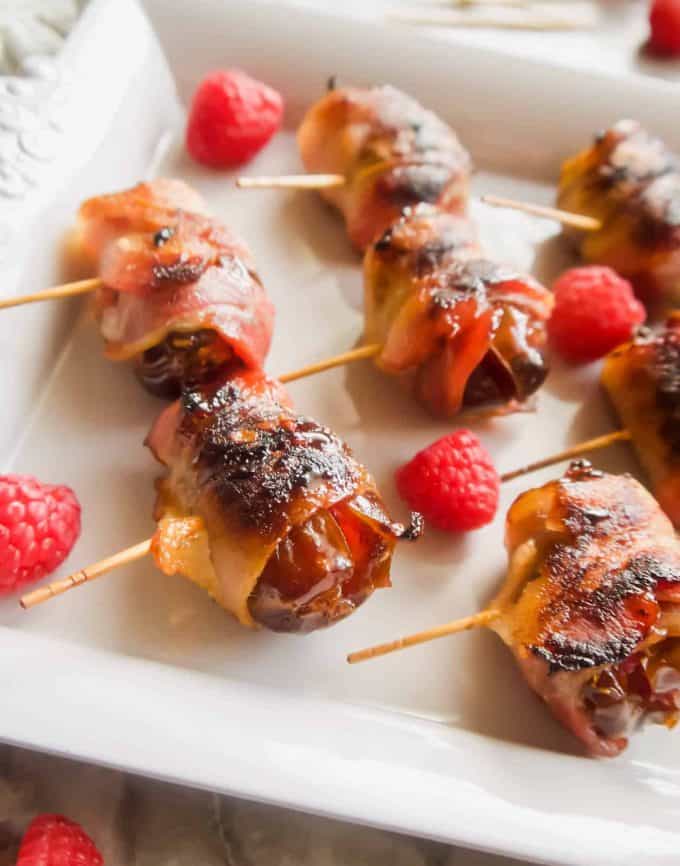 Do you like raspberry jam? Do you like bacon? What about healthy snacks? If you answered "YES" to these questions, then you need to try these Bacon Wrapped Raspberry Stuffed Dates.
These easy, three-ingredient, healthy stuffed medjool dates are AMAZING and naturally Paleo, Whole30, Grain-free, Gluten-free and Dairy-free.
These crispy bacon wrapped dates taste like raspberry jam surrounded by bacon and they are the best snacks and appetizers ever!!
Seriously, this is one of those paleo recipes with medjool dates that you need to save!
I am ALL about bacon wrapped appetizer recipes (These bacon wrapped chicken tenders are a favorite of mine). I'm also all about raspberry appetizers and Paleo date recipes.
The fact that both of those worlds combine here. And in an epic way, is a dream come true!
It's one of those flavor combinations that you have to try to understand but then once you do, you'll be hooked!
I've made these raspberry stuffed bacon wrapped dates as a New years appetizer, as birthday party appetizer, and even as a Thanksgiving appetizer.
And every single time, someone asks me for the recipe. They are just THAT good.
Ingredients needed to make these Bacon Wrapped Raspberry Stuffed Dates:
dates
raspberries
bacon (I like Maverick bacon because it doesn't have added sugar)
That is it!
What's great about these stuffed medjool dates is that you only need these three ingredients (dates, raspberries and bacon) to make them.
I find that the less ingredients, the healthier and tastier, the better!
And that certainly is the case for this paleo date recipe.
These stuffed medjool dates are made of simple all natural ingredients and they taste like sweet raspberry jam wrapped in bacon.
They really do!
The dates soften and get gooey when they heat up, and so do the raspberries. They almost melt into each other, forming a sweet raspberry center (which tastes like jam) inside of the bacon wrap.
It is fabulous.
Are dates Paleo?
Yes! Dates are considered to be a fruit, and fruit is Paleo.
Dates are non-processed, and come from nature.
The reason some may not know whether dates are Paleo is because dates have a high sugar content. BUT that is how they were created in nature. They also have vitamins, minerals, and other health benefits because they are a fruit.
If you love dates, check out my chocolate covered pumpkin stuffed dates. SO good.
How to make crispy bacon wrapped dates stuffed with raspberries:
Step 1:
Remove the pit from the dates and slice them on one side ( not all the way through).
Step 2:
Fill the dates with one raspberry each.
Step 3:
Wrap each raspberry stuffed date with bacon and then keep the bacon in place using a toothpick.
Since dates are so naturally sweet, they enhance the raspberry flavor… and make them more sweet and less tart. (hence the jam taste)
This amazing natural raspberry date jam is then complimented by crispy bacon.
It's a bite sized flavor explosion! They really make for the best bacon wrapped appetizer recipe!
My husband actually said that these stuffed dates taste like "bacon pop-tarts", which surprisingly sounds amazing to me!
Bacon pop tarts that happen to be Paleo, Whole30, Grain-free, Gluten-free and Dairy-free?! YES PLEASE.
Seriously… yes yes yes please to all this raspberry bacon amazingness.
Please let me know if you try these bacon wrapped raspberry stuffed dates! It always makes my day to hear how much this recipe is loved.
Other healthy appetizer recipes you may enjoy:
These Paleo Deviled Eggs topped with Tomato Bacon Jam are a favorite of mine. The savory egg pairs so well with the sweet yet savory tomato bacon jam. The flavor combo is a treat!
These Paleo "Everything" Almond Crackers (GF) are a reader favorite on this blog. They are great to use for dips or to add meat or cheese on top.
This White Bean Hummus from Heartbeet Kitchen looks so incredibly creamy. It's made with real food simple ingredients too. YUM.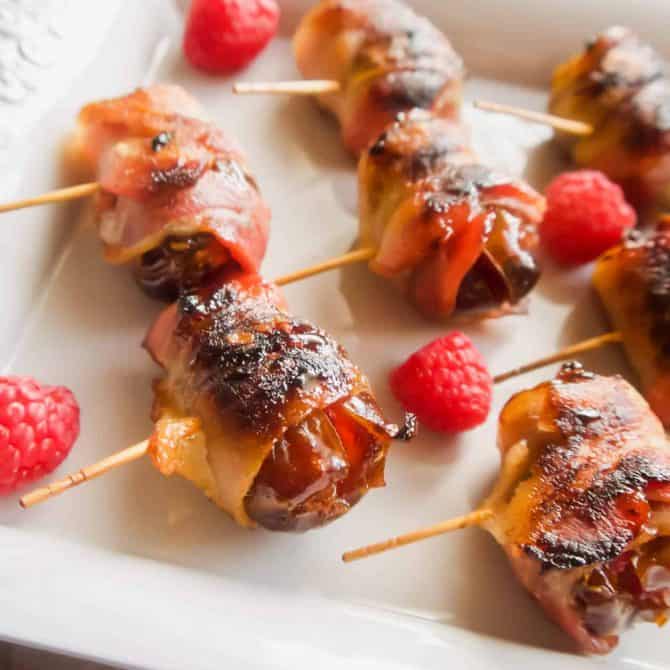 Bacon Wrapped Raspberry Stuffed Dates ( Paleo, Whole30)
An easy, three-ingredient, healthy crispy bacon wrapped dates recipe that tastes like raspberry jam surrounded by bacon.
Ingredients
8 medjool dates
8 raspberries
4 strips of bacon ( nitrate-free and sugar-free bacon)
Instructions
Preheat the oven to 425 degrees F. Cover a cookie sheet in aluminum foil.

Slice the dates lengthwise on one side; create an opening, but do not cut them all the way through. Remove the pit. Stuff each date with one raspberry. ( If raspberries are small, you may need to use two per date)

Cut each bacon slice in half so that you have 8 pieces. Wrap each date with one of the 8 pieces/ slices of bacon and secure the bacon in place with a toothpick.

Put each date on the cookie sheet, with the toothpick laying down against the bottom of the cookie sheet. Bake the stuffed dates for 16-18 minutes, making sure to flip them halfway through so the bacon is evenly cooked.

Put paper towels onto a plate, and then put the stuffed dates on top of the paper towels to absorb the fat while they cool. Serve warm or at room temperature.
Nutrition
Calories: 68kcalCarbohydrates: 18gProtein: 1gFat: 0.1gSaturated Fat: 0.01gPolyunsaturated Fat: 0.01gMonounsaturated Fat: 0.001gSodium: 10mgPotassium: 170mgFiber: 2gSugar: 16gVitamin A: 36IUVitamin C: 1mgCalcium: 16mgIron: 0.2mg
Disclosure: This post contains Amazon affiliate links. This means that if you click on a link and make a purchase, I will receive a small commission at no cost to you.