Maple Bacon Wrapped Carrots (Paleo, Gluten-free)
Maple Bacon Wrapped Carrots recipe. A delicious recipe where carrots are surrounded by sweet maple and crispy bacon.
These Maple Bacon Wrapped Carrots are a wonderful side dish or appetizer recipe idea.
Soft sweet carrots are covered in crispy baked bacon that is slathered in a maple syrup glaze.
They are so good and so simple to make!
Ingredients needed to make these Maple Bacon Wrapped Carrots:
carrots
bacon
maple syrup
salt
pepper
The ingredients are really minimal hear and I find it is for the best.
The only other tweaks you could make would be adding chili powder or paprika for some extra heat.
As for the carrots, I found that a bunch of carrots that was medium in size was perfect for this recipe. You need to cut off the stem and the leaves prior using them in this recipe.
Note: make sure to use real maple syrup. It makes all the difference in flavor.
Also, make sure your bacon has no nitrates inside and no added sugar.
How to make bacon wrapped carrots with maple syrup:
Making these maple bacon wrapped carrots are relatively easy.
To start, you clean your carrots. Then place them in boiling water for 5 minutes.
I've found that if you don't boil them for a little bit first then they wont soften enough while baking.
Then you wrap each carrot in bacon.
To do this, start at the larger end of the carrot and move downwards towards the tip.
Then, place the carrot down with the bacon ends placed downwards on the cookie sheet.
If one of the ends happens to be facing upwards, you can use a toothpick to hold it down.
Once all the carrots are wrapped in bacon, sprinkle 2-3 Tbs of maple syrup on top of them. And then add some salt and pepper on top.
Then BAKE.
Once the bacon has gotten crispy, and the carrots are cooked through, take the carrots out of the oven.
I like to sprinkle 1 more tablespoon of maple syrup on top of them at this point.
Other bacon wrapped recipes you may enjoy:
These Bacon Wrapped Chicken Thighs by Cooking LSL. They are low-carb and Keto and look fantastic.
These Bacon Wrapped Raspberry Stuffed Dates. They are Paleo and Whole30 and taste like raspberry jam covered in bacon.
These bacon wrapped chicken tenders are a classic on my site. So good and easy to prepare.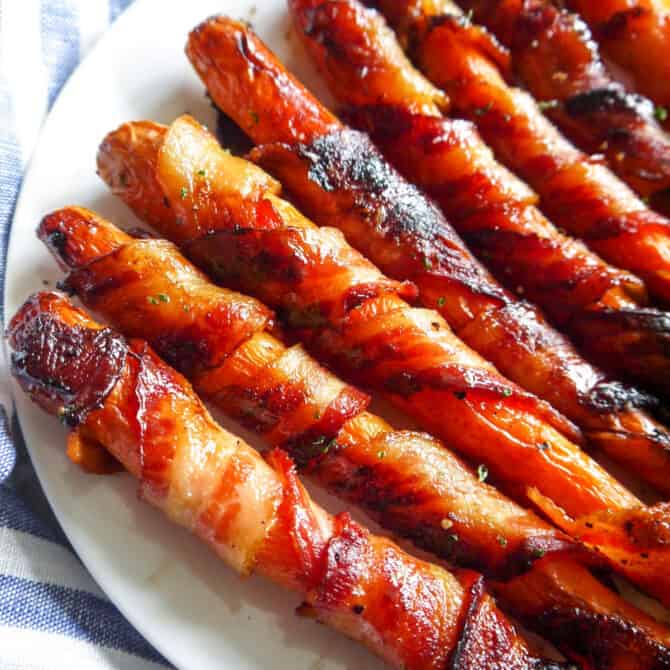 Maple Bacon Wrapped Carrots (Paleo, Gluten-free)
A delicious recipe where carrots are surrounded by sweet maple and crispy bacon.
Ingredients
8 medium carrots peeled (1 bunch)
8 strips of bacon without nitrates
3-4 Tbs maple syrup divided
salt and pepper
Instructions
Preheat oven to 425 F. Cover a cookie sheet in aluminum foil and spray with olive-oil spray.

Cut tops off carrots, wash, and put in boiling water for 5 minutes. Then drain.

Wrap each carrot with bacon. It helps to start by wrapping it on one end and going down to the other end. Place the carrot down on the cookie sheet with the bacon ends facing the cookie sheet ( so it stays wrapped). If the ends don't match up on both ends of the carrot, then use a tooth pick to hold the end of the bacon down.

Sprinkle eat bacon wrapped carrot with 2-3 Tbs maple syrup and then sprinkle with salt and pepper. Bake for 25-30 minutes, then remove from the oven and sprinkle 1 Tbs maple syrup on top.
Nutrition
Calories: 46kcalCarbohydrates: 11gProtein: 1gFat: 0.2gSaturated Fat: 0.04gPolyunsaturated Fat: 0.1gMonounsaturated Fat: 0.01gSodium: 63mgPotassium: 212mgFiber: 2gSugar: 7gVitamin A: 10191IUVitamin C: 4mgCalcium: 28mgIron: 0.2mg
Disclosure: This post contains Amazon affiliate links. This means that if you click on a link and make a purchase, I will receive a small commission at no cost to you.