Paleo Zoodle Chicken Stir Fry (GF)
Life has been moving so quickly lately. I've been having to make an effort to stop, breathe, and enjoy the moment. Which is easier said than done, but thinking of my favorite things definitely helps. Well at least thinking of my current favorite things… 🙂
My favorite things change with the seasons and right now, I have been enjoying snap dragons, afternoon thunderstorms, cherries, baking clafoutis, and this Paleo Zoodle Chicken Stir Fry.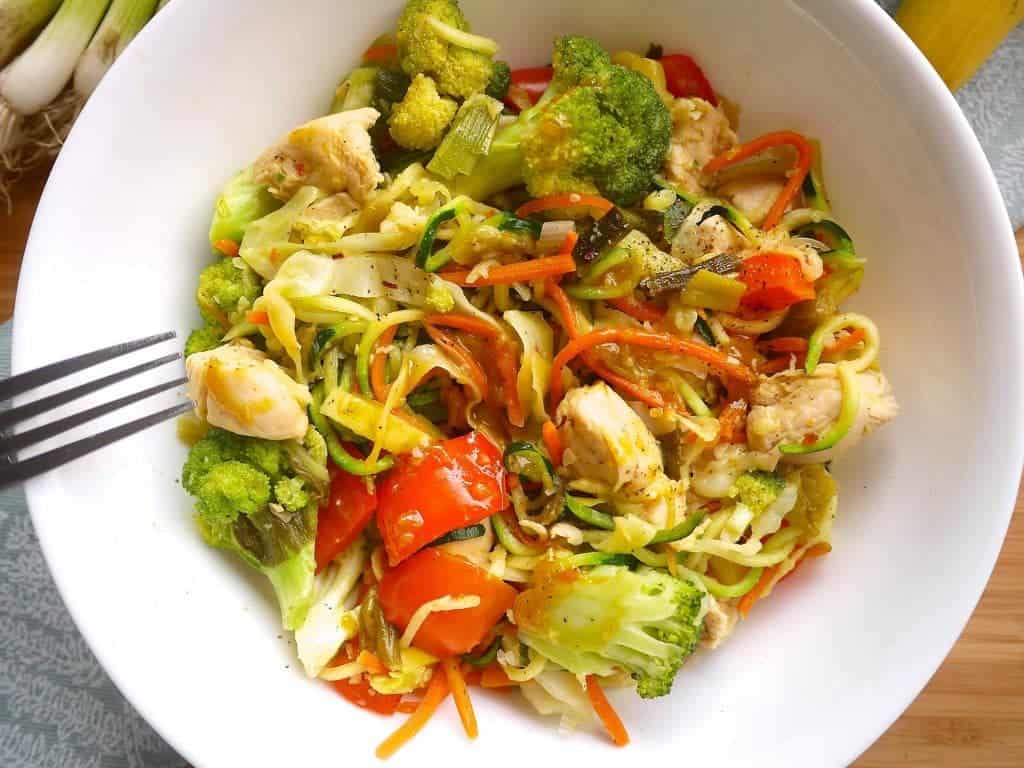 This Paleo Zoodle Chicken Stir Fry is my new summer meal! It's fresh, it's light, and it's FULL of vegetables!!
And when I say full, I mean there's zucchini, broccoli, red pepper, carrots, cabbage, and squash inside.
I felt so good after eating it, and I know it's because of the amount of vegetables inside.
The first thing that I did, was spiralize the zucchini to create zoodles.
I lightly salted them, placed them in a strainer and let them sit, so that the excess moisture would drain.
Then, I made the fabulous sauce for the stir fry.
The sauce adds a light asian flavor to the dish and just tastes amazing with grilled chicken and veggies.
I boiled orange juice, garlic, maple syrup and pencil onions together until it thickened.
Note: if you want your stir fry to have lots of sauce, I recommend making more than this recipe calls for. I tried to keep the amount of sauce on the lighter side for this recipe.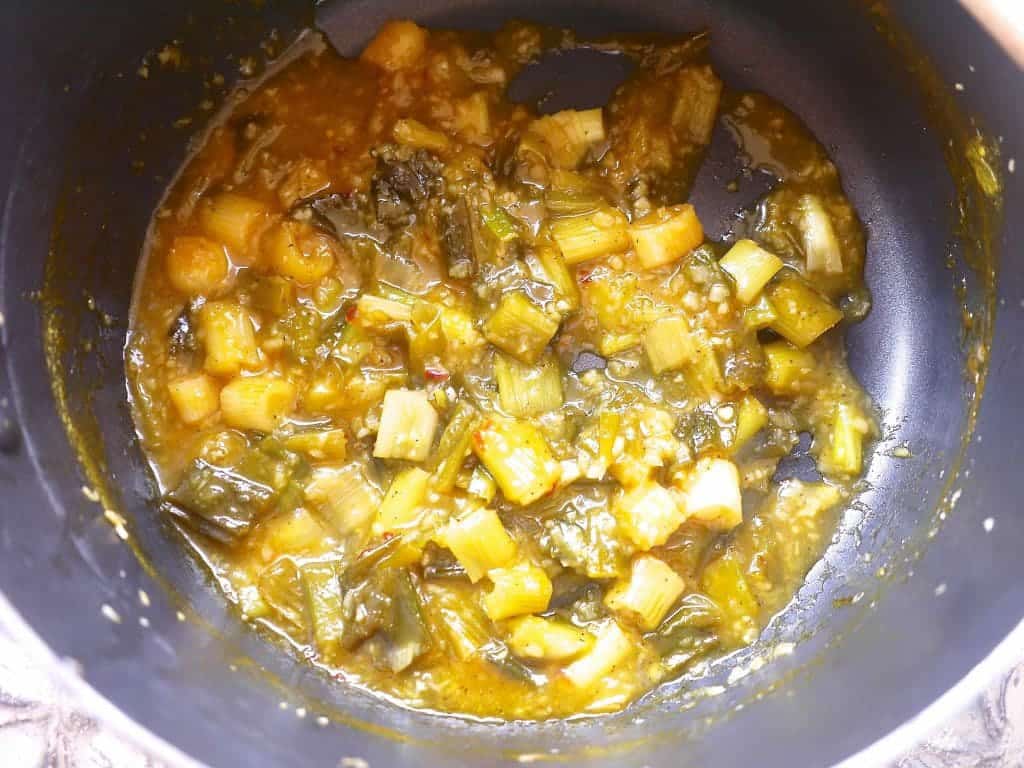 Once the sauce was done, I grilled the chicken in half of the healthy asian orange sauce.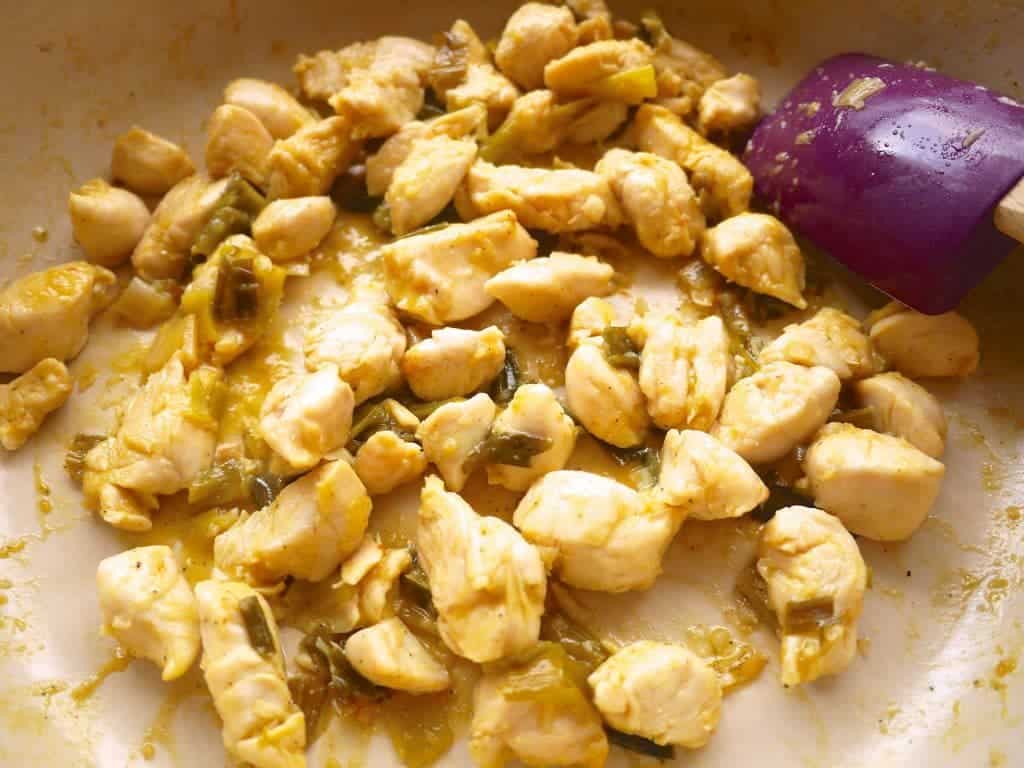 Then I added the broccoli, red pepper, carrots, cabbage, and squash to the pan, and let it all cook for a bit.
Once the stir fry was ready, the final touch was to add the zoodles and the remaining sauce.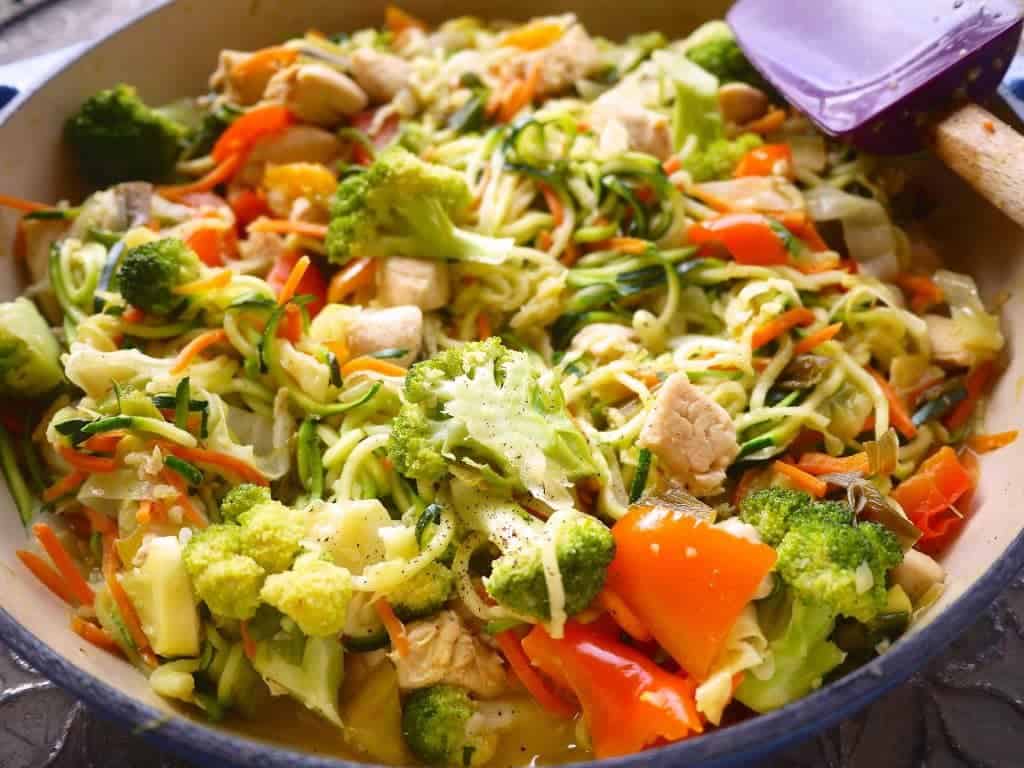 Yum, yum, yum!! I really think this might be my new favorite way to eat zoodles.
I may or may not have put most of the broccoli in my bowl and left out most of the chicken.
I'm a broccoli girl, what can I say?! 🙂
Also, I really loved using raw cabbage in this dish.
It adds the sweetest crunch, and it was so hard to not just take a bite out of the cabbage as I was cutting it.
Anyone else have that problem?
One more thing! Make sure you use pencil onions in this recipe (also known as green onions).
The flavor just won't be the same with regular onions.
Now, is it just me, or do pencil onions kind of look like skeeter from the cartoon Doug? haha
Have a good weekend everyone!
Paleo Zoodle Chicken Stir Fry (GF)
An easy chicken and zucchini noodle stir fry with orange sauce.
Ingredients
Orange sauce ingredients:
2 tsp olive oil
2 heaping Tbs minced garlic (this was 8 cloves for me)
4 pencil onions , chopped (including green parts) (note: these are also called green onions)
2 Tbs maple syrup
1 cup +1 Tbs orange juice (this was the juice of 1 orange for me)
1/2 tsp salt
1/4 tsp ground black pepper
1/8 tsp red pepper flakes
Stir Fry ingredients:
2 medium-large zucchini
1 tsp olive oil
1 pound chicken cutlets , cut into bite sized pieces
a pinch of salt
a pinch of black pepper
1/2 crown of broccoli , cut into smaller florets
1 red pepper , diced
2 pencil onions , chopped (including green part) (also called green onions)
1 cup shredded carrots
1 cup shredded cabbage
1 cup of yellow squash , sliced and quartered (this was one small squash for me)
Instructions
Orange sauce instructions:
Put 2 tsp of olive oil into a sauce pan and heat over medium-high heat. Put the minced garlic, and chopped onions into the pan and mix into the oil with a rubber spatula. Mix often for 2 minutes, making sure it does not burn.

Reduce the stovetop heat to medium. Put the orange juice, maple syrup, salt, ground black pepper, and red pepper flakes into the pan. Mix and then let the mixture boil for 20 minutes. The sauce should reduce and thicken. Set the sauce aside when it's done.
Stir Fry instructions:
While the sauce is cooking, spiralize the zucchini. (I used the shredder blade from my

Paderno Spiral Vegetable Slicer

for thinner zoodles). Place the zoodles in a colander/strainer and put a large pinch of salt into them. Toss the zoodles around to spread the salt around. Let the zucchini sit so that the liquid can drain from it. Set the colander/strainer into the sink.

Put 1 tsp of olive oil into a very large cast iron skillet and heat the pan over medium heat. Put the bite sized chicken into the pan with 1/2 of the orange sauce, a pinch of salt, and a punch of ground black pepper. Let the chicken cook for 10-12 minutes, stirring every so often to cook all sides of the chicken.

Add the broccoli florets, diced red pepper, chopped pencil onions, shredded carrots, shredded cabbage, and yellow squash to the pan. Mix well. Then let the stir fry cook for 5 minutes.

Increase the stovetop heat to medium-high, put the cover on the pan and cook for another 5 minutes.

During this time, take out a plate, cover it in paper towels and place the zoodles onto it. Cover with a paper towel and press down to get all the remaining liquid off of the zoodles.

Then, put the zoodles and the remaining 1/2 of the orange sauce into the pan, mix and cook for 1.5 minutes.

Turn the heat off, and serve immediately. (The zoodles are crunchier right away, but you can still eat them later)
Nutrition
Calories: 300kcalCarbohydrates: 31gProtein: 30gFat: 7gSaturated Fat: 1gPolyunsaturated Fat: 1gMonounsaturated Fat: 3gTrans Fat: 0.01gCholesterol: 73mgSodium: 502mgPotassium: 1546mgFiber: 7gSugar: 21gVitamin A: 7499IUVitamin C: 182mgCalcium: 123mgIron: 2mg
Disclosure: This post contains Amazon affiliate links. This means that if you click on a link and make a purchase, I will receive a small commission at no cost to you.