Paleo and Whole30 Tomato Vegetable Soup
This Paleo Vegetable Soup is the ultimate healthy tomato vegetable soup. It is part tomato based, part bone broth based, and filled with carrots, potatoes, green beans, zucchini, chopped kale, herbs and spices.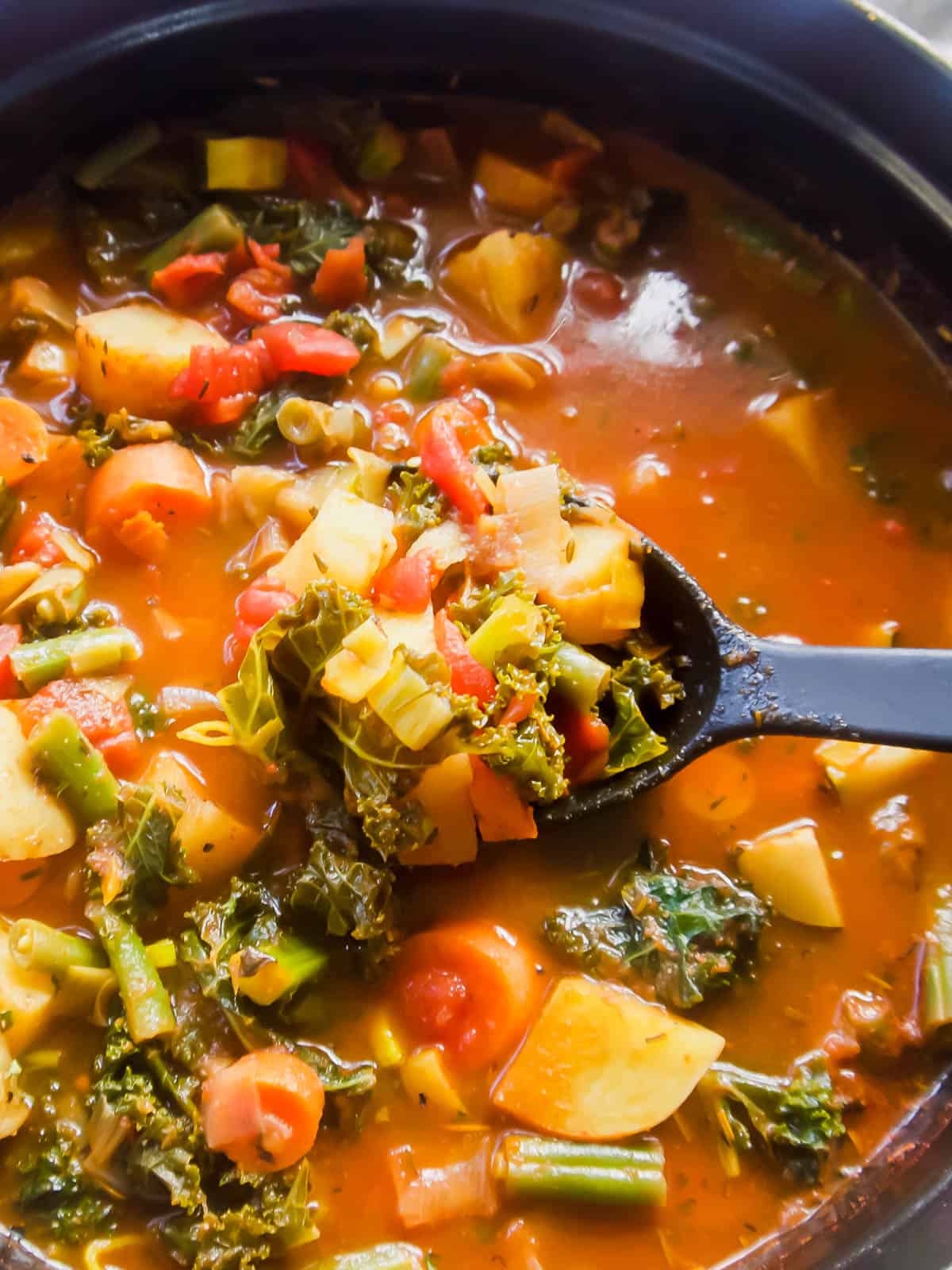 This easy homemade vegetable soup is my newest soup obsession. If I ever feel like I need more veggies in my life, I make this soup. It is filled filled with chopped tomatoes, carrots, potatoes, green beans, zucchini and kale.
It also has the most delicious tomato and bone broth base that makes you want to lick your bowl clean. YUM. Plus, this soup is naturally Whole30, Paleo, Dairy-free, Gluten-free, and Grain-free.
The best vegetable soup
I love that this soup is satisfying. Yes, a vegetable soup can be satisfying! It reminds me of an Italian vegetable soup that I ate at a restaurant. So if you are looking for a restaurant quality tomato vegetable soup, you need to try this.
Also, the combination of good quality chopped tomatoes and bone broth makes for the best soup base. So much flavor! And added protein thanks to the bone broth.
Lastly, I like that this recipe is so delicious that you wouldn't know it is healthy. This Whole30 vegetable soup is made with only the best real food ingredients.
Ingredients needed:
onion
garlic
leeks
dried thyme
dried rosemary
carrots
bone broth
chopped tomatoes
salt and pepper
bay leaf
dried oregano
dried basil
potatoes
zucchini
green beens
kale
dried parsley
Recipe tweak: If you don't want to use raw onion and garlic, 1 teaspoon of onion powder and 1 teaspoon of garlic powder work well.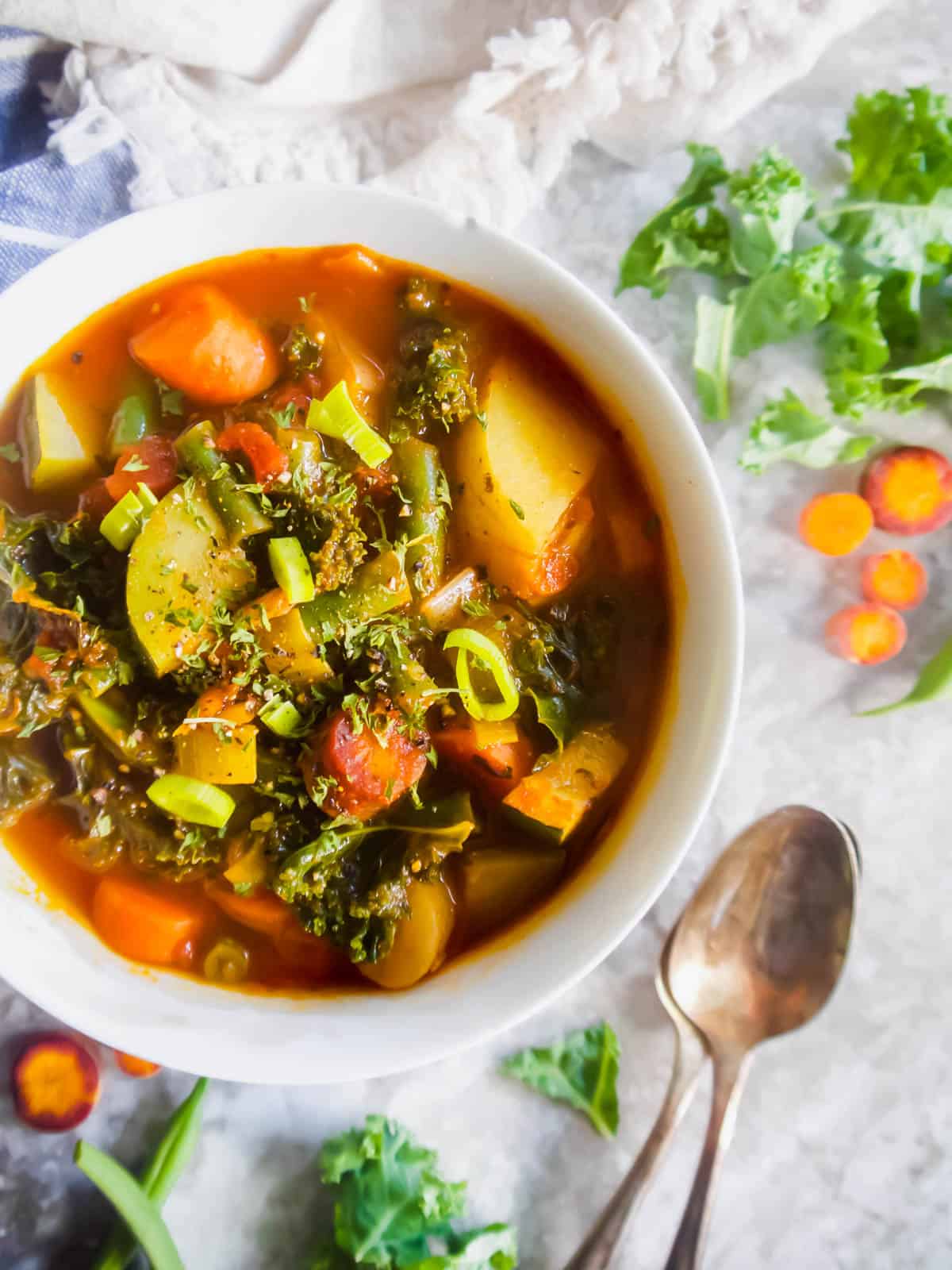 Tips and Tricks:
(1) Use high quality chopped tomatoes.
I always use Pomi chopped tomatoes, and used them in this recipe.
(2) Use lots of herbs and spices!!
This soup is seasoned with onion, garlic, leeks, rosemary and thyme.
These flavors seep into the broth and chopped tomatoes, and then even more spices are added on top!
Bay leaf, oregano, basil, parsley, salt and pepper are used as well. There is such a richness to this soup and I think it is thanks to all the spices.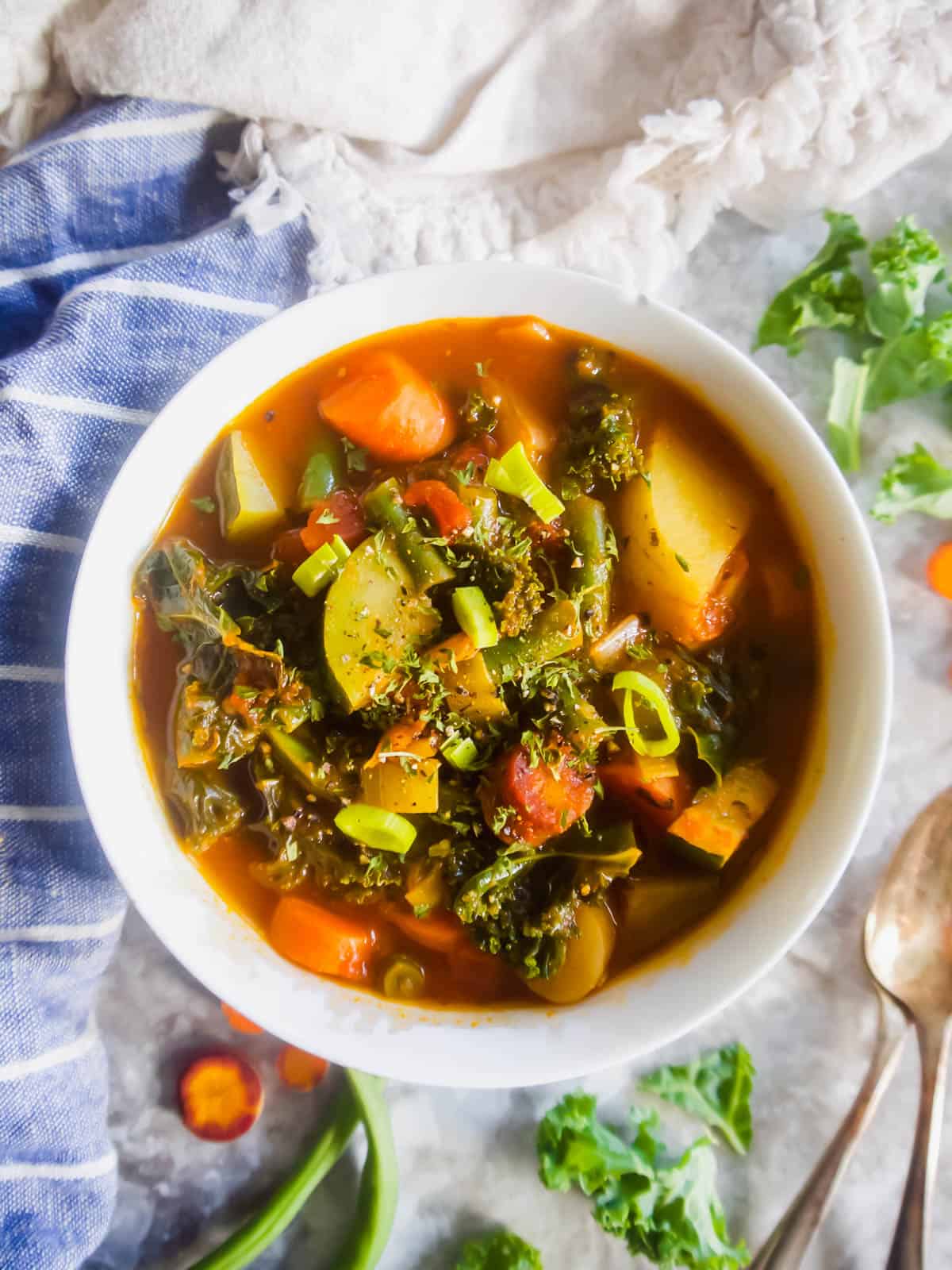 Modifications that can be made:
(1) You can use different vegetables:
celery, cauliflower, bell peppers, and sweet potatoes could all work in this recipe.
you can add more or less of certain veggies already in this recipe based on your preferences.

for example, I love tomato kale soup, so I added a lot of kale here because I think it tastes great with tomatoes.
(2) How to make this recipe Vegan:
If you want this soup to be vegan or vegetarian, use vegetable stock instead of bone broth.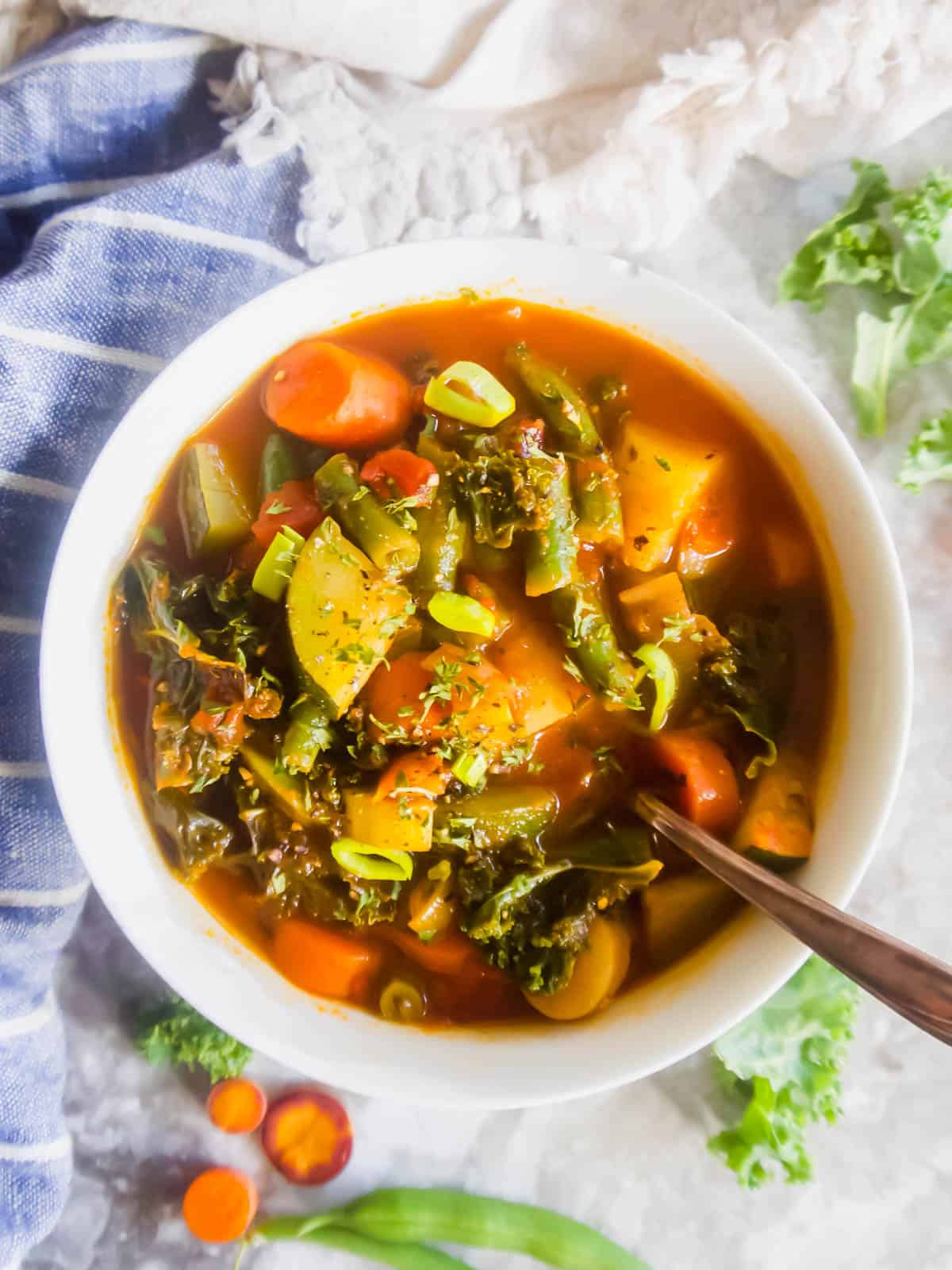 What to serve with this soup:
garlic bread
toast
a small salad
Other healthy soup recipes you may enjoy:
Butternut Squash and Chicken Soup
Did you try this recipe? Please leave me a ⭐ review below!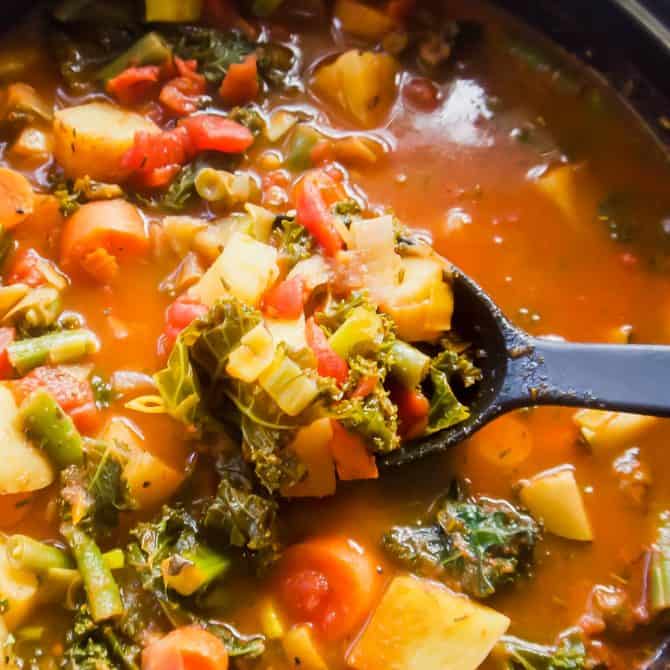 Paleo and Whole30 Tomato Vegetable Soup (GF)
The ultimate healthy tomato vegetable soup.
Ingredients
1.5 Tbs olive oil
½ cup minced onion ( this was ½ of a large onion for me)
1 ½ Tbs minced garlic ( this was 4 cloves garlic for me)
2 cups sliced leeks with the inner rings removed from within each other ( this was 1 leek for me)
1 tsp dried thyme divided
1 tsp dried rosemary divided
2 cups sliced carrots ( this was 4 carrots for me)
6 cups organic bone broth ( or chicken broth or veggie broth)
3 cups chopped tomatoes canned or carton ( crushed tomatoes work as well)
1 tsp salt
¼ tsp pepper
1 bay leaf
½ tsp dried oregano
1 tsp dried basil
4 cups diced potatoes ( cut into 1 inch diced pieces) ( this was 1.5 lbs of potatoes for me)
1 ½ cups zucchini sliced and quartered ( this was 1 zucchini for me)
1 ½ cups green beans cut into 4 pieces
6 cups chopped kale
1 tsp dried parsley
Instructions
Put the olive oil in a large soup pan or dutch oven. Add ½ cup of minced onion, 1 ½ Tbs of minced garlic, 2 cups of sliced leeks, ½ tsp dried rosemary, and ½ tsp dried thyme to the pan and cook for 4-5 minutes over medium heat.

Add the sliced carrots, stir, and cook for 3-4 minutes.

Add 6 cups of broth, 3 cups of chopped or crushed tomatoes, 1 tsp of salt, ¼ tsp of pepper, 1 bay leaf, ½ tsp dried thyme, ½ tsp dried rosemary, ½ tsp dried oregano and 1 tsp dried basil. Add the diced potatoes.

Turn the stovetop heat to high, and bring the mixture to a boil. Reduce the stove top heat to medium-low and simmer for 15 minutes. Then add the green beans, zucchini, kale, and 1 tsp of dried parsley and simmer for 10-15 minutes, until potatoes are cooked through.

Salt and pepper to taste ( I added an extra ½ tsp of salt and ¼ tsp of pepper at this point).

Remove the bay leaf and serve.
Notes
**If you don't want to use raw onion and garlic, 1 tsp of onion powder and 1 tsp of garlic powder work.   ** to keep this recipe vegetarian, use vegetable broth 
Nutrition
Calories: 291kcalCarbohydrates: 39.4gProtein: 26.5gFat: 4gCalcium: 179mgIron: 3mg
Disclosure: This post contains Amazon affiliate links. This means that if you click on a link and make a purchase, I will receive a small commission at no cost to you.