Broccoli Sweet Potato Soup
This broccoli sweet potato soup is a flavorful and nutrient-filled soup that is creamy, sweet, and full of yummy sweet potato and broccoli flavors. It is naturally dairy-free, gluten-free, Paleo and Whole30.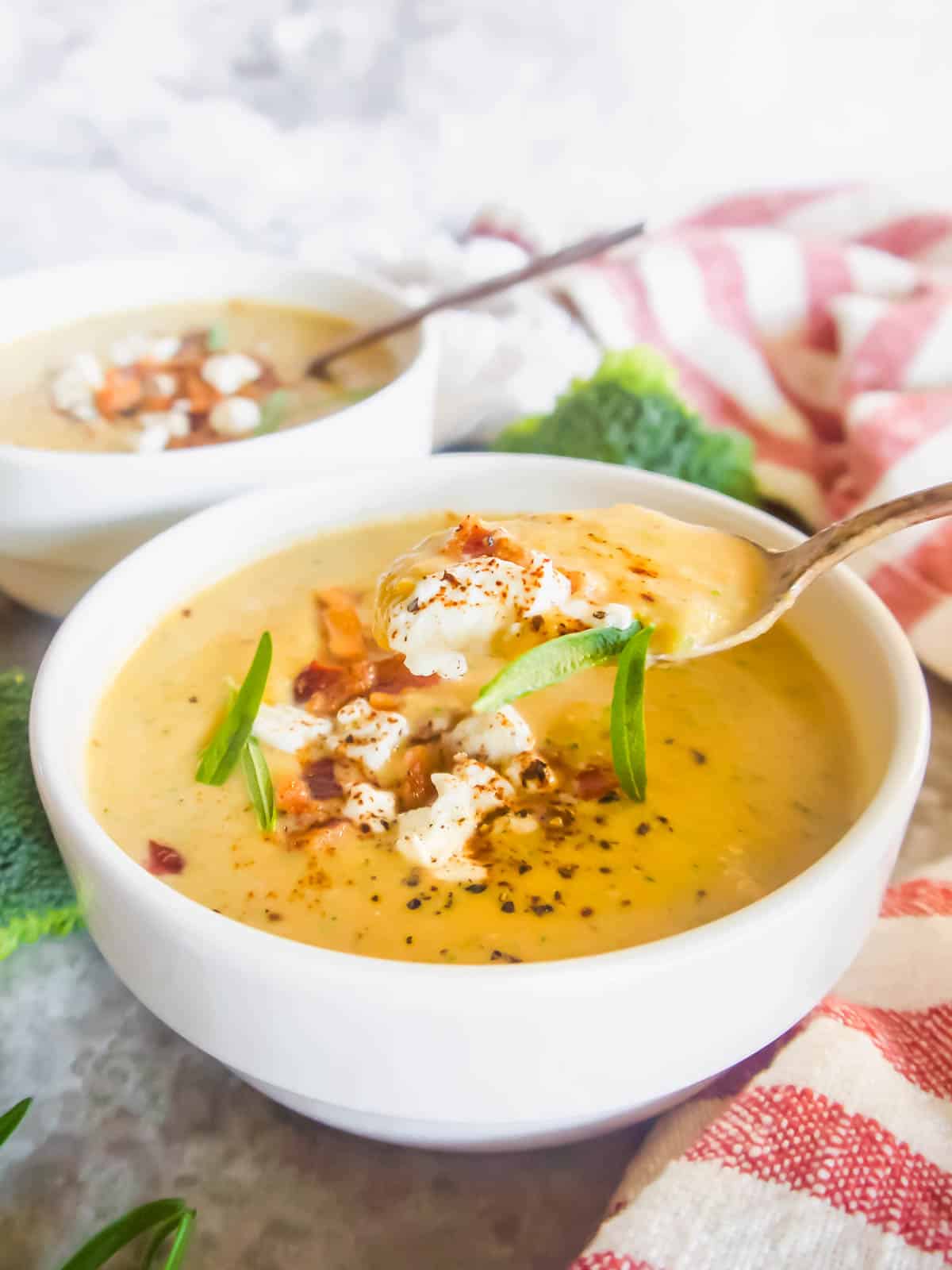 Confession: my favorite way to eat sweet potatoes is in soup form. I find that sweet potatoes add the perfect creaminess and sweetness to soups. And this sweet potato and broccoli soup is no exception. It's got the best sweet and creamy taste, along with the added yumminess of broccoli.
If you love both sweet potatoes and broccoli, then this soup is for you. And if you love sweet potatoes, try my stuffed sweet potatoes with brussels sprouts and bacon or these roasted sweet potatoes.
Table of Contents
Why this recipe works
This soup is cozy and delicous.
It is a great way to use up sweet potatoes.
It is great for those following a dairy-free, gluten-free, grain-free, Paleo, or Whole30 diet.
It has so many veggies inside!
Recipe ingredients
Sweet potatoes– these give the soup thickness and sweet flavor.
Onion powder– this is used to season the soup.
Garlic– this is also used to season the soup.
Broccoli– the broccoli adds lots of flavor and needs to be minced.
Chicken broth or stock– this is used to make the base of the soup.
Coconut flour– this is used to thicken the soup.
Coconut cream– make sure to use a good quality coconut cream or coconut milk. I like Savoy coconut cream because of its neutral flavor and thick texture.
Nutmeg, Chili powder, Rubbed sage– these spices flavor the soup perfectly!
See recipe card below for a full list of ingredients and measurements.
Additions/ Substitutions
To make this soup Vegan, use veggie stock instead of chicken stock here.
Instead of coconut flour, you can use tapioca flour or arrowroot flour.
Instead of chicken broth, you can use bone broth to add more protein to the soup.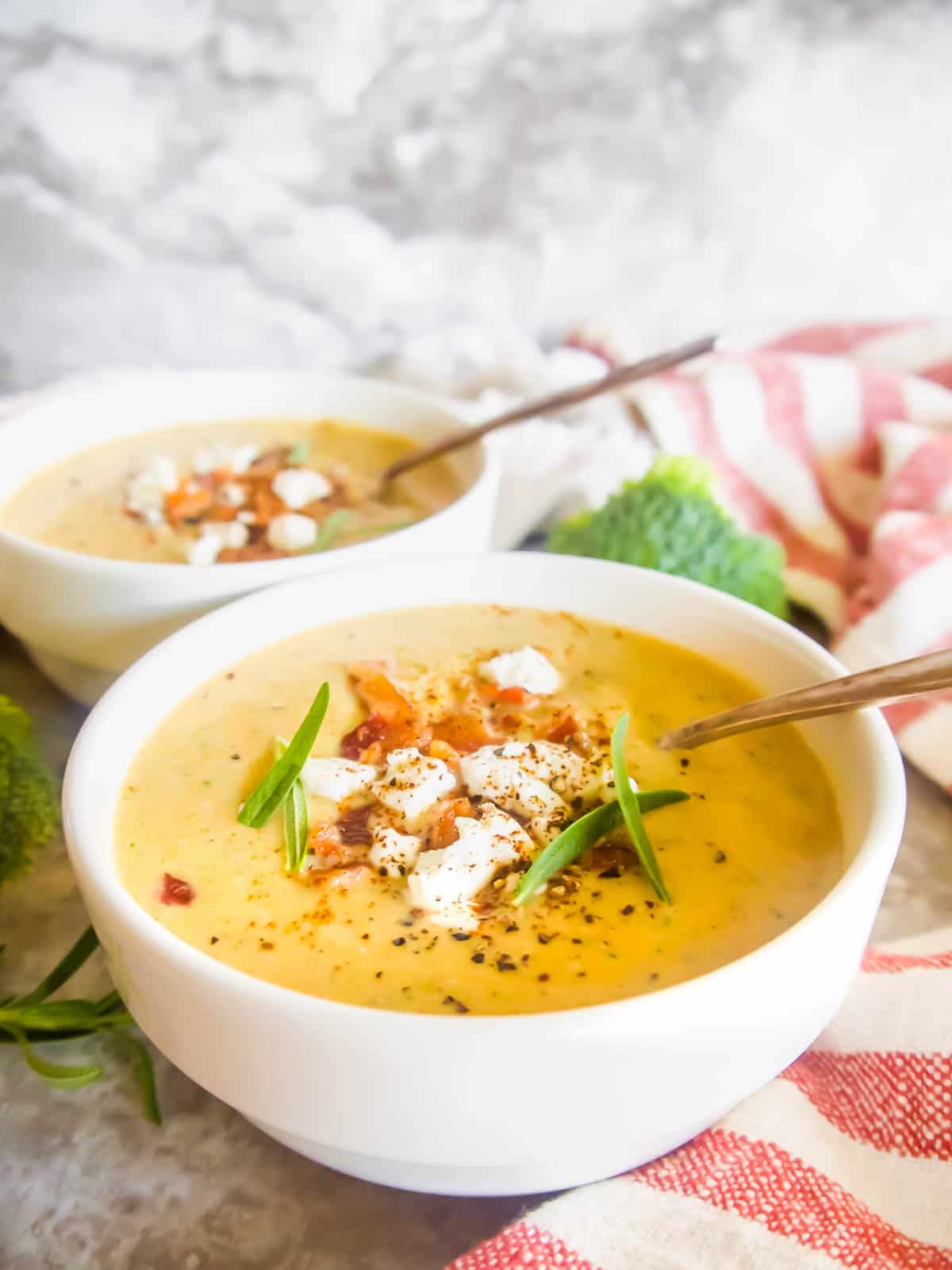 Step by step instructions.
Step 1: Boil the sweet potatoes until they are fork tender.
Step 2: Cook the garlic, minced broccoli, and onion powder together in a large pot.
Step 3: Add the chicken stock and coconut flour to the pan and whisk it all together.
Step 4: Add the coconut cream, salt, pepper, nutmeg, chili powder, and sage to the soup.
Step 5: Blend everything together with an immersion blender or regular blender.
Expert tips
Peel the sweet potatoes. You can peel the sweet potatoes before boiling them or after. I like to wait until after because the skin falls right off once they are cooked.
Mincing the broccoli. You can mince the broccoli by hand or you can just put broccoli florets into your food processor. I like using the food processor because it is faster.
Coconut cream. I find that that the best tasting coconut creams are ones that have no added ingredients or preservatives in them. The absolute best coconut cream that I have found is Savoy coconut cream. I swear by it for dairy-free soups and sauces.
Add ins. I love adding crumbled up bacon to this soup. I also love adding some goat cheese, but avoid this if you are trying to keep the soup Dairy-free, Paleo, and Whole30.
Thickness of the soup. If you want your soup to be thinner, add more chicken stock after everything has been blended.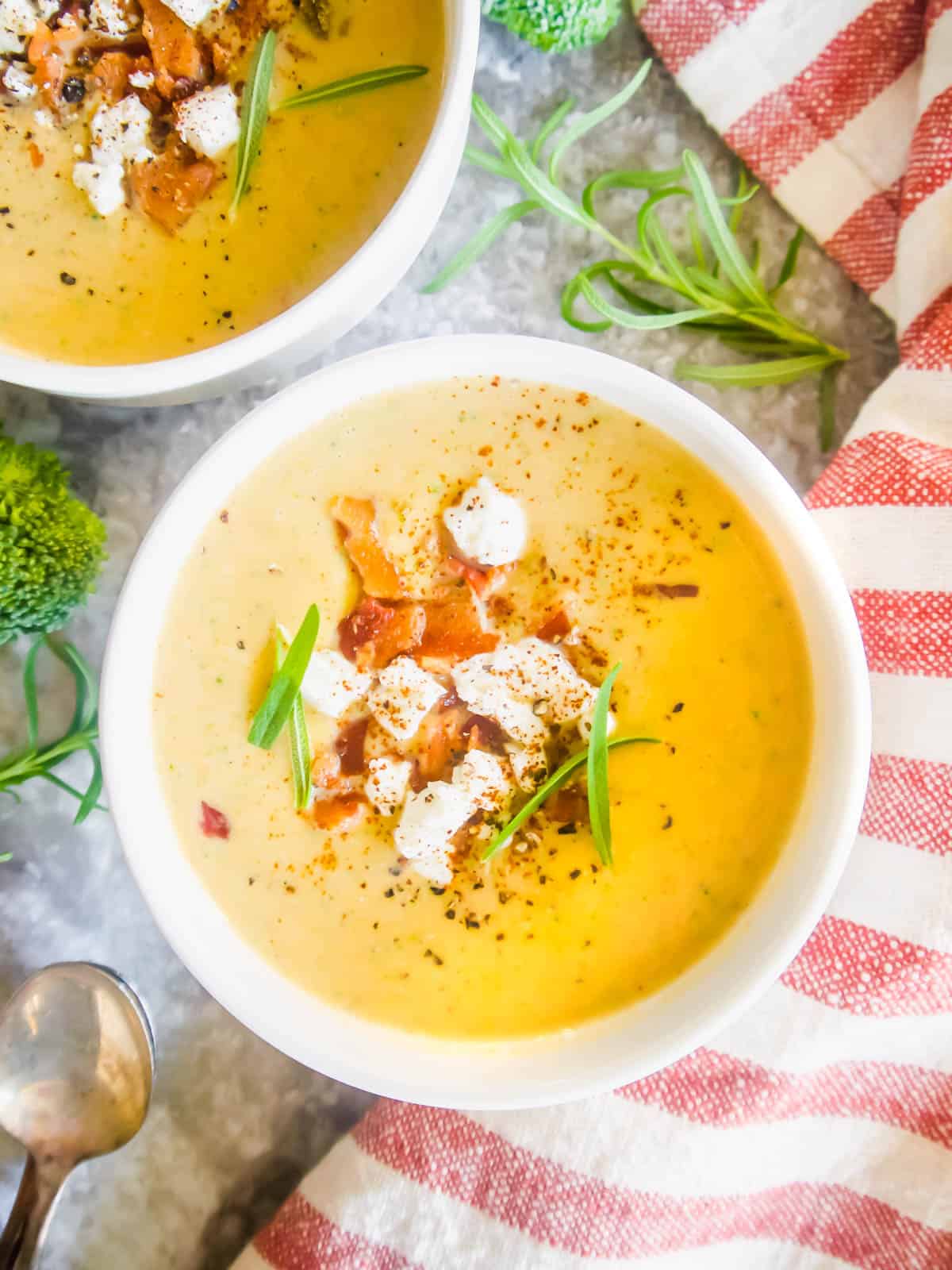 Other healthy soups you may enjoy:
Did you try this recipe? Please leave me a ⭐ review below!
Dairy-free Sweet Potato Broccoli Soup (Paleo, Whole30, GF)
A flavorful and nutrient-filled soup that is creamy and sweet. It is so delicious, you'd never guess that it was naturally Paleo, Whole30, and Gluten-free.
Ingredients
2 lbs sweet potatoes sliced
1.5 tsp onion powder
1 Tbs minced garlic (this was 3 cloves for me)
2 tsp olive oil
1 1/2 cups minced broccoli ( this was 1/2 of a head of broccoli minced in a food processor for me)
3 cups chicken broth or stock
2 Tbs coconut flour
1 1/2 cups canned coconut cream (one 14 ounce can) (I like Savoy)
1 tsp salt
1/2 tsp ground black pepper
a dash of nutmeg
1/4 tsp chili powder
1 tsp rubbed sage
optional cooked bacon crumbled
optional crumbled goat cheese (skip to keep the soup strictly Paleo, Whole30 or Dairy-free)
Instructions
Heat a large pot of water over high heat until the water boils. Add the sliced sweet potatoes. Cook the sweet potatoes for 15-20 minutes, until fork tender.

Drain the sweet potatoes and if you didn't peel them beforehand, remove the skin. ( I find it easier to remove the skin after they are cooked). Set aside.

Then, put 2 tsp of olive oil in a large soup pan and heat over medium heat. Add the garlic to the pan and mix. Cook for 2-3 minutes, stirring every so often.

Add the minced broccoli and onion powder to the pan, mix, then cook for 2-3 minutes, stirring often.

Add the chicken broth to the pan, mix and let the mixture cook ( it should be lightly boiling) for 2 minutes. Then add the coconut flour and whisk until it is evenly distributed.

Then, add the coconut cream, salt, pepper, nutmeg, chili powder, and rubbed sage to the soup and whisk. Cook for another 2-3 minutes.

Put the sliced sweet potatoes into the soup and either use an immersion blender to mix everything together or pour everything into a blender and mix. Pour the soup back into the soup pan and serve, or reheat to desired temperature and then serve.
Notes
To make this soup Vegan, use veggie stock instead of chicken stock here.
Instead of coconut flour, you can use tapioca flour or arrowroot flour.
If you want the soup to be more liquidy, you can add more chicken broth. Season to taste.
This soup tastes great with crumbled up bacon and goat cheese, but don't use it to keep the recipe Paleo, Whole30 or Dairy-free
Nutrition
Calories: 370kcalCarbohydrates: 39gProtein: 6gFat: 23gSaturated Fat: 19gPolyunsaturated Fat: 0.4gMonounsaturated Fat: 2gCholesterol: 2mgSodium: 924mgPotassium: 813mgFiber: 7gSugar: 7gVitamin A: 21621IUVitamin C: 26mgCalcium: 74mgIron: 3mg
Disclosure: This post contains Amazon affiliate links. This means that if you click on a link and make a purchase, I will receive a small commission at no cost to you.