Dairy-free Matcha Hot Chocolate (Paleo)
Is there anything better than creamy hot chocolate on a cold day to keep you warm?! Bonus points if it's homemade. And extra bonus points if it's got lots of antioxidants inside. ?
Speaking of antioxidants, I've been enjoying this cozy Dairy-free Matcha Hot Chocolate over the last few days and I couldn't wait to share this paleo, grain-free, GF recipe!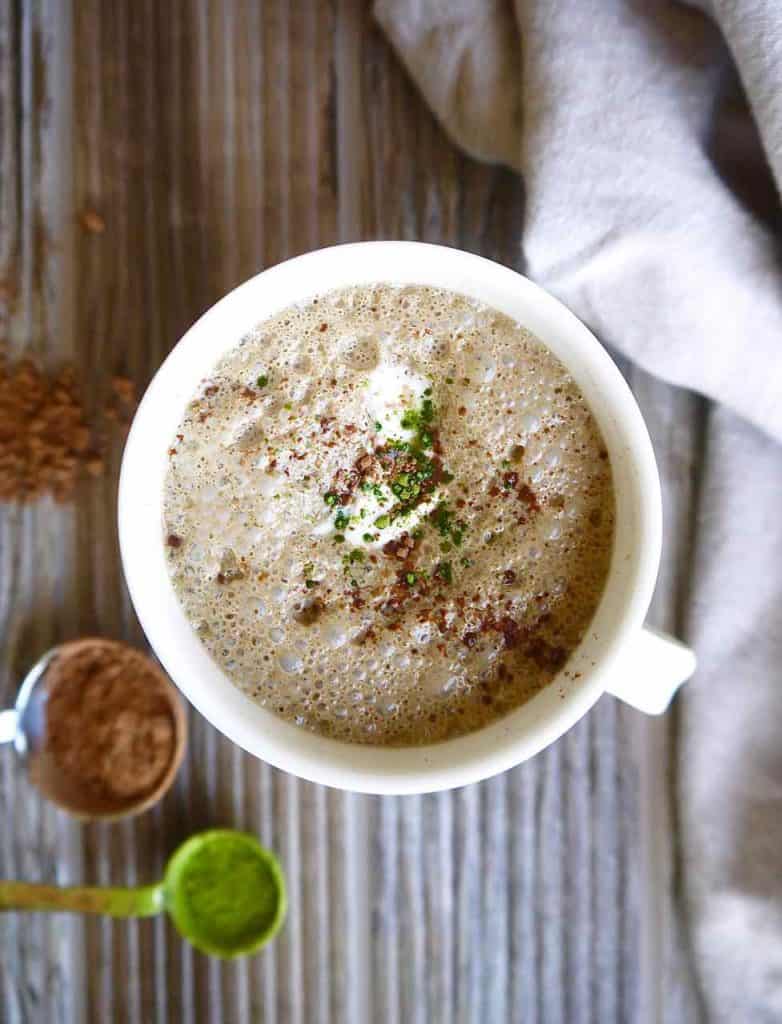 I know there's been some crazy cold weather happening all over the place, and I'm hoping that this Dairy-free Matcha Hot Chocolate can help keep you warm.
It's made with almond milk and coconut cream, which keeps it dairy-free, flavorful and supppper creamy. A little coconut cream really goes a long way. And I'm all about it!
Make sure to use canned coconut cream, without any preservatives inside, for optimal tastes. My favorite is Savoy coconut cream.
I sweetened this recipe with honey. Both matcha green tea and unsweetened cocoa powder can be bitter on their own, but a natural sweetener really brings out their flavors, in the best way.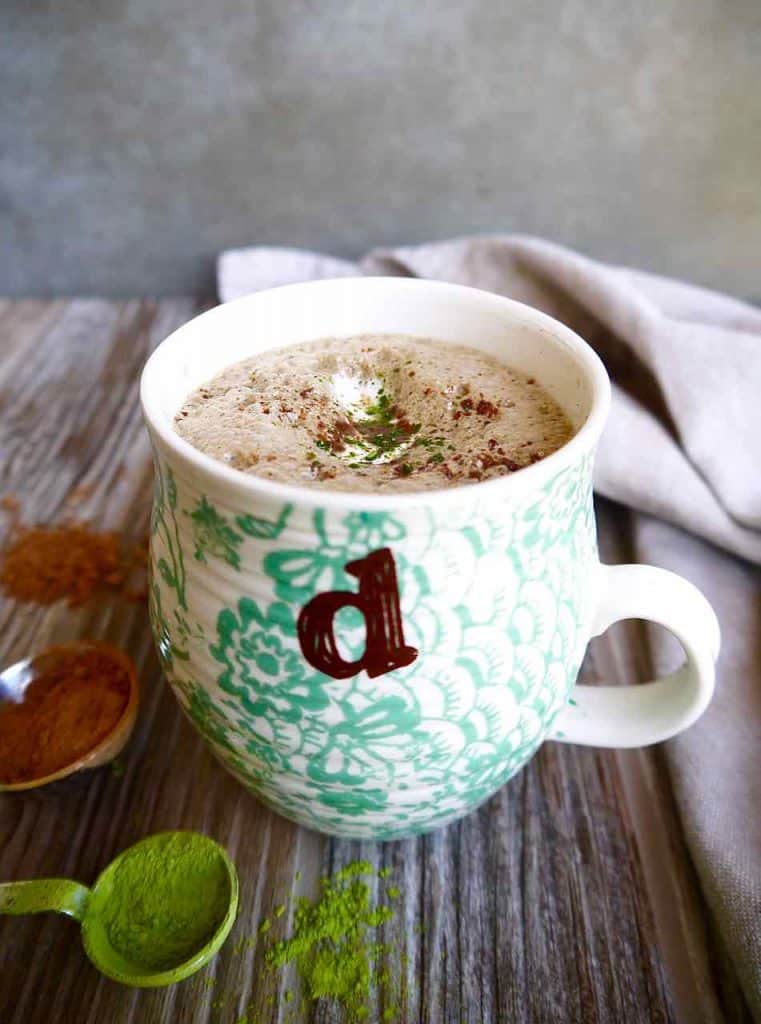 Also, if you aren't sure how matcha green tea and cocoa powder mix together, I'm here to tell you that chocolate and matcha go great together!
Just try my Paleo Matcha Blondies With Chocolate Chips And Raisins, and you'll understand. 🙂
Neither flavor overpowers the other, and, in this case, you are left with a really rich and creamy hot chocolate, that is filled with antioxidants.
Each serving of this hot chocolate has 1 tsp of matcha green tea inside. This contains 6x the antioxidants than in goji berries, 7x the antioxidants than in dark chocolate, 17x the antioxidants than in blueberries, and 60x the antioxidants in spinach.
Plus matcha boosts your metabolism. Hot chocolate that boosts your metabolism?? That is definitely bonus points!
Hope you enjoy!
Dairy-free Matcha Hot Chocolate (Paleo)
A warm delicious hot chocolate recipe made with matcha tea.
Instructions
Put the almond milk and coconut cream into a saucepan, and heat over high heat until the mixture starts to bubble. Whisk to get the coconut cream mixed into the almond milk.

Reduce the heat to medium, and add the honey, matcha tea and cocoa powder. Whisk and cook for about 3 minutes. Remove from heat, and whisk until all the clumps disappear.

Pour the hot chocolate into 2 mugs and serve. Optional- add a spoonful of coconut cream on top. 🙂
Nutrition
Calories: 145kcalCarbohydrates: 15gProtein: 5gFat: 9gSaturated Fat: 5gPolyunsaturated Fat: 2gMonounsaturated Fat: 2gSodium: 328mgPotassium: 167mgFiber: 4gSugar: 9gVitamin A: 200IUVitamin C: 0.5mgCalcium: 312mgIron: 2mg
Disclosure: This post contains Amazon affiliate links. This means that if you click on a link and make a purchase, I will receive a small commission at no cost to you.