Paleo Brookies (Brownie/Cookies Bars)
Paleo Brookies recipe. Delicious bars that are half cookie and half brownie, all while being naturally Paleo, Gluten-free, dairy-free, refined flour-free, and refined sugar-free.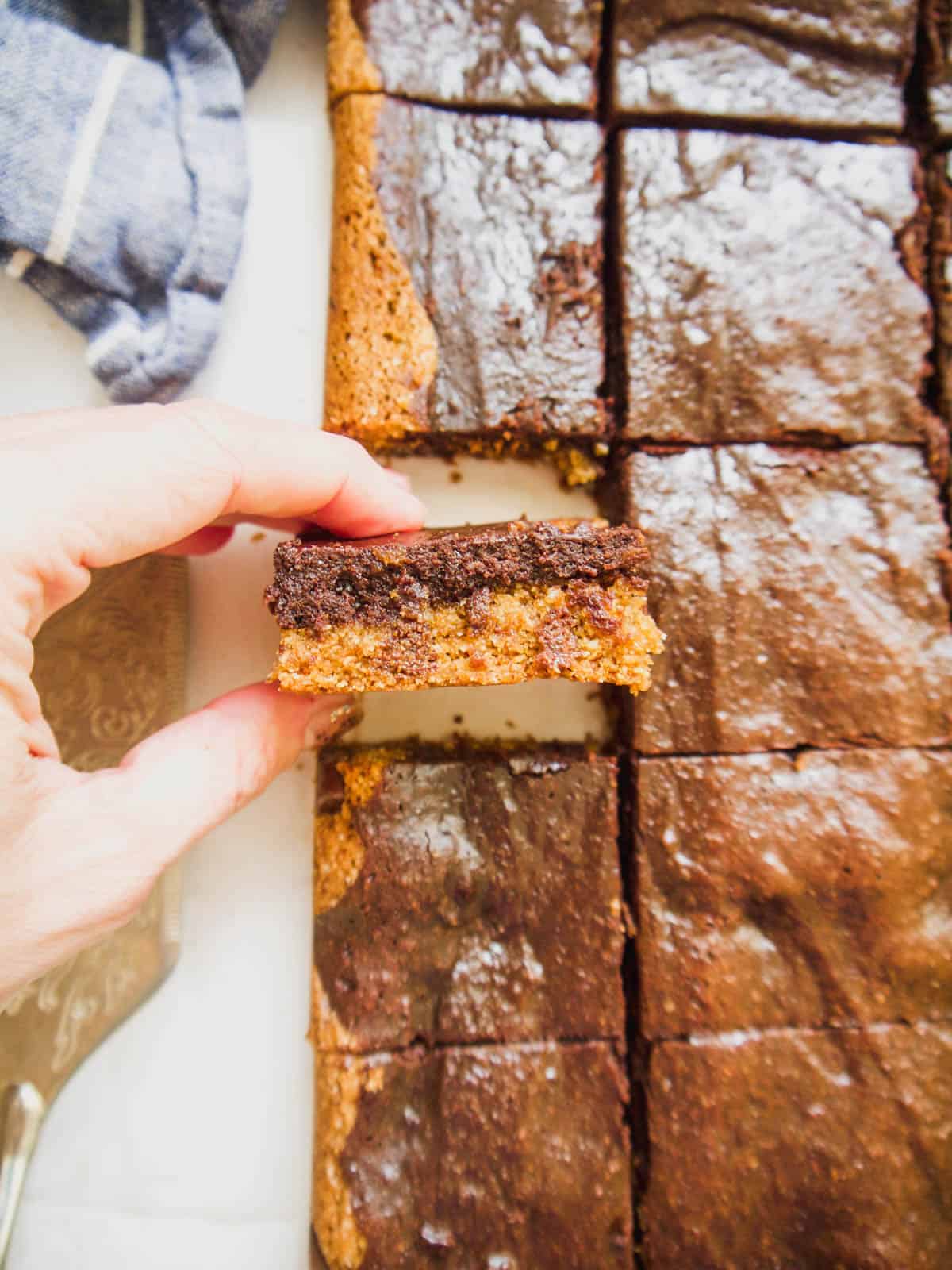 Have you ever had a brookie before? It's the combination of two of the best desserts ever… brownies and cookies!
A layer of cookie dough is topped with a layer of brownie batter and when they bake together, the result is the most delicious bars that are half brownie and half cookie!
And it gets even better! These delicious brookies are naturally Paleo, Gluten-free, dairy-free, refined flour-free, and refined sugar-free.
I mean honestly… if a half brownie, half cookie creation wasn't good enough…
A healthier version made with better-for-you ingredients just sounds too good to be true.
I honestly wouldn't have believed that it was possible before tasting them myself.
But it is and it is freaking delicious!
There is a layer of moist chocolate chip cookie topped in a layer of ooey gooey chocolatey brownie.
And each bite has the perfect ratio of chocolate chip cookie and brownie in it… it truly is a dessert lovers dream!!
It's just too good!
Ingredients needed to make these Paleo Brookies:
For the cookie layer:
almond flour
tapioca flour
coconut flour
baking soda
coconut oil
coconut sugar
eggs
vanilla
dairy-free chocolate chips
For the brownie layer:
olive oil
coconut sugar
eggs
vanilla
almond flour
tapioca flour
cocoa powder
The inspiration to create these Paleo Brookies all started when I came up with a really delicious Paleo Chocolate Chip Cookie Bar recipe several weeks back.
I noticed how sturdy they were while also being really moist. They were the perfect cookie base for a dessert…
…and then I instantly thought OMG I bet these would work great for brookies.
I also thought OMG I've never had a Paleo brookie before.
And so I got to recipe testing and found out that the paleo cookie bar recipe was indeed perfect for Paleo Brookies… and this Paleo Brookie ( Brownie/ Cookie Bars) recipe was born.
It is a game changer!
I really hope you enjoy these Paleo Brookies as much as me! ( and my husband that was sneaking a piece in the photo above haha)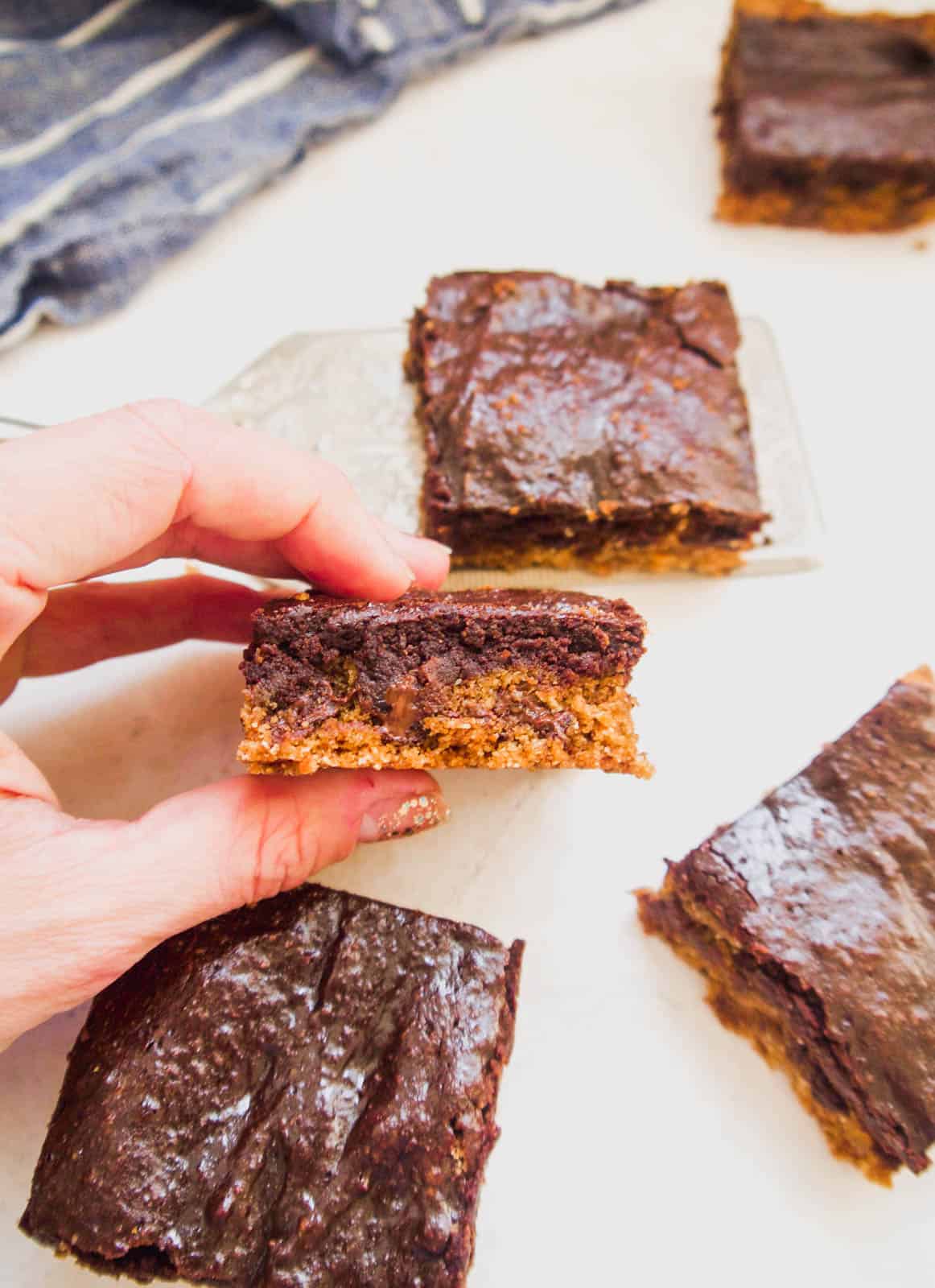 Other healthier dessert recipes you may enjoy:
These Buckeye brownies from My Gluten-free Kitchen. They look UNREAL and are so creative!
These Chocolate Orange Fudgy Brownies (Paleo, GF). If you love the combination of orange and chocolate together, then these are for you!
These strawberry chocolate chip cookies are delish and have a hint of strawberry.
Paleo Brookies (Brownie/Cookies Bars)
Delicious bars that are half cookie and half brownie, all while being naturally Paleo, Gluten-free, dairy-free, refined flour-free, and refined sugar-free.
Ingredients
Cookie Layer Ingredients:
Brownie Layer Ingredients:
Instructions
Cookie layer Instructions:
Preheat oven to 350°F. Line a 9 x 13 inch baking pan with parchment paper. Set aside.

In a large bowl, add 1 ¼ cup almond flour, 2/3 cup tapioca flour, 1/3 cup coconut flour, 1 tsp baking soda, and ½ tsp salt. Whisk until blended. Set aside.

In another large bowl, whisk the ¾ cup melted coconut oil and 1 cup coconut sugar together. Then, add in the egg and egg yolk, and whisk until creamy. Add the 2 teaspoons of vanilla and whisk again.

Pour the dry ingredients into the wet ingredients and mix together with a fork until well mixed. Fold in the ¾ cup of chocolate chips.

Pour the cookie dough batter into the lined baking pan and evenly press/smooth it into an even layer. ( I used a rubber spatula to do so) The layer will be thin, but don't worry, it will rise while baking!
Brownie layer Instructions:
Add ½ cup of olive oil and 1 cup of coconut sugar to a large mixing bowl and whisk. Add 2 eggs and 1 tsp of vanilla and whisk until creamy.

In a separate bowl, mix ¾ cup of almond flour, 3 Tbs tapioca flour, ½ cup cocoa powder and ½ tsp salt with a fork until mixed together. Pour the bowl of dry ingredients into the bowl of wet ingredients and mix until combined.

Then, take large spoonfuls of the batter and glob it on top of the cookie layer in the pan. Then, spread evenly.

Bake for 22-25mins. The top will be hard to the touch, but may still look wet. Don't overcook.

Take the pan out of the oven and let it cool for one hour. Then lift the brookies out of the pan using the parchment paper. Cut into squares.

Should yield approximately 24 brookies.
Nutrition
Calories: 256kcalCarbohydrates: 23gProtein: 4gFat: 19gSaturated Fat: 8gPolyunsaturated Fat: 1gMonounsaturated Fat: 4gTrans Fat: 0.002gCholesterol: 20mgSodium: 180mgPotassium: 36mgFiber: 3gSugar: 12gVitamin A: 30IUCalcium: 33mgIron: 1mg
Disclosure: This post contains Amazon affiliate links. This means that if you click on a link and make a purchase, I will receive a small commission at no cost to you.