One Pot Ground Turkey, Rice and Beans (Gluten-free)
This one pot Ground Turkey, Rice and Beans is a healthy ground turkey skillet recipe made in one pot, with ground turkey, rice, and kidney beans. It is spiced with bell peppers and cumin and is naturally Gluten-free.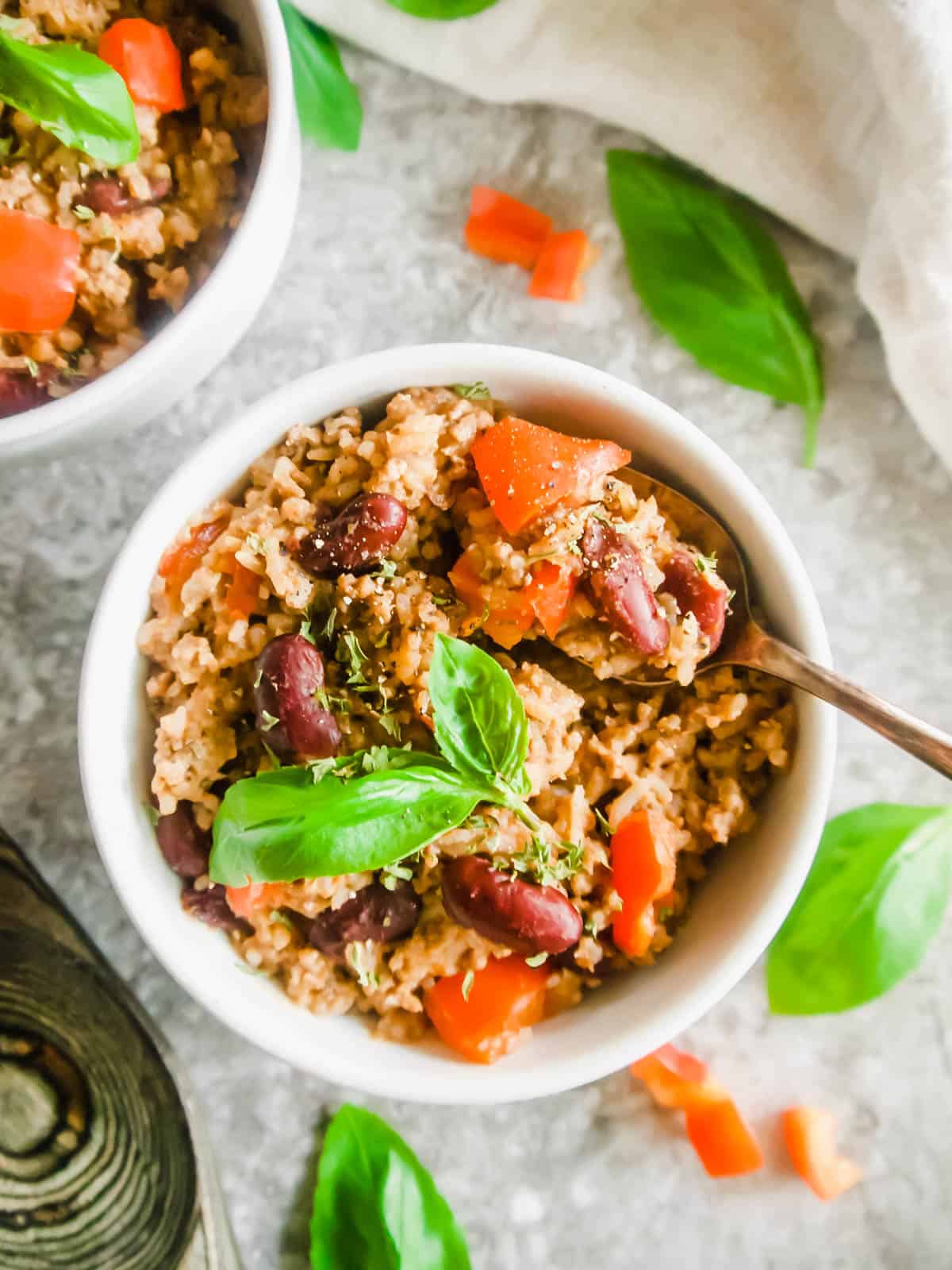 I'm a huge fan of this ground turkey beans and rice recipe. So much so that I've made it three times in the last two weeks!
I love how the rice cooks in chicken broth along with the ground turkey, bell peppers, beans and spices in a pot. It results in the coziest tastiest dish. Perfect for nights where you want comfort food, but still want it to be healthy too. This has become part of my regular meal rotation and I hope it becomes part of yours!
Table of Contents
Why I love this Healthy Ground Turkey Skillet Recipe:
it tastes like the inside of a stuffed pepper.
it's flavorful and comforting.
it is picky toddler approved.
it is easily customizable.
it's cooked in one pot.
it's full of protein and fiber.
it's easy to make!
it's naturally dairy-free and gluten-free.
Recipe Ingredients: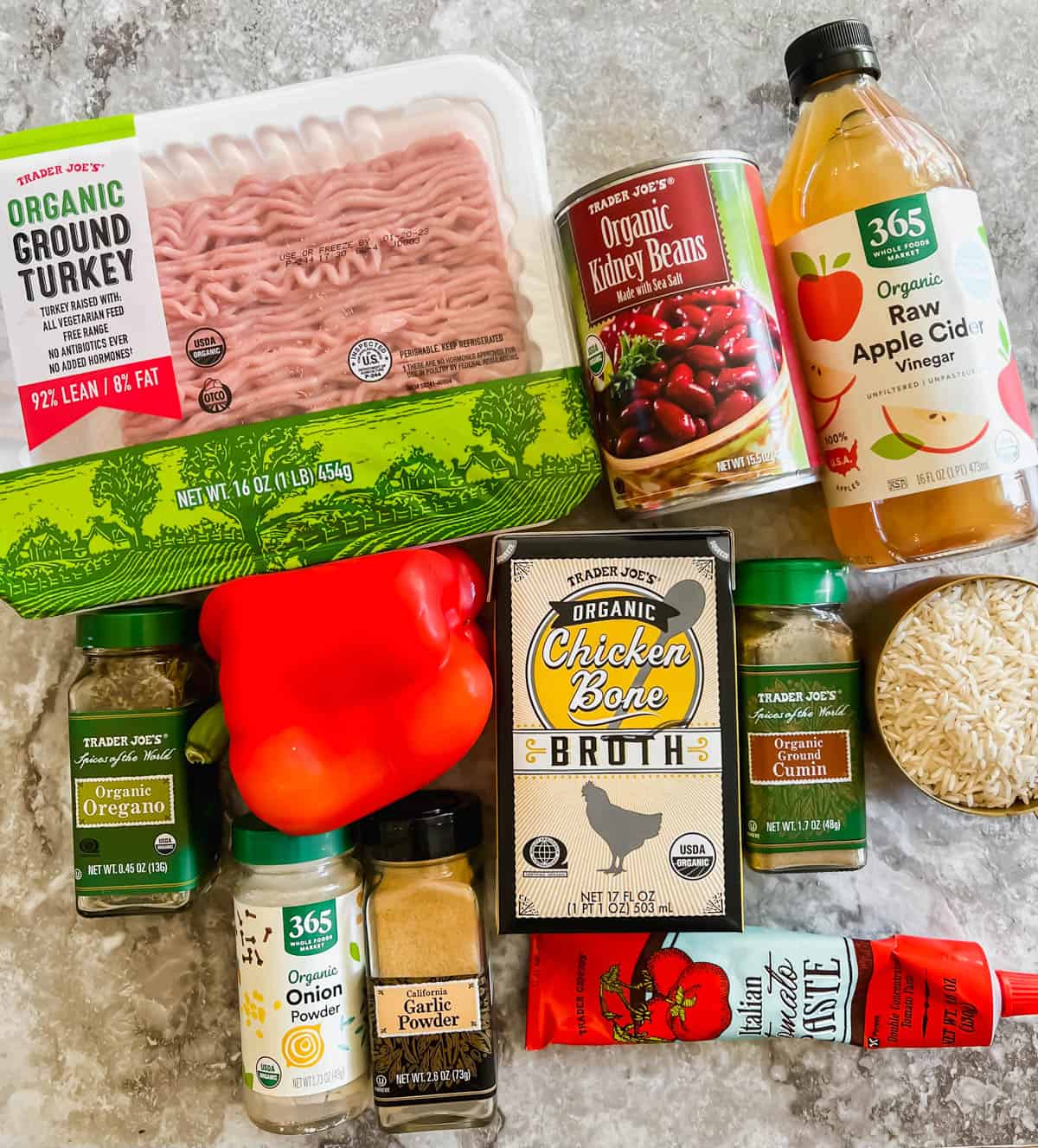 olive oil– extra virgin olive oil works perfectly here.
ground turkey– I like to use regular fat ground turkey but you can also use a lower fat turkey if you prefer that.
onion powder– onion powder adds flavor while keeping this recipe easy and quick to make.
garlic powder– garlic powder also keeps the flavor simple and flavorful.
ground cumin– one of the main flavors of the dish.
dried oregano– complimentary to the cumin flavor.
black pepper– ground or pre-ground pepper.
salt– sea salt or Himalayan salt.
bell peppers– I like to use red peppers because they add a sweetness while also adding pepper flavor.
tomato paste– this adds condensed tomato flavor for a strong punch.
apple cider vinegar– this helps to make the turkey more tender.
red kidney beans– I use canned kidney beans here.
chicken broth– this absorbs into the rice for a rich flavor.
jasmine rice– any white rice should work here, but I like jasmine.
See recipe card below for a full list of ingredients and measurements.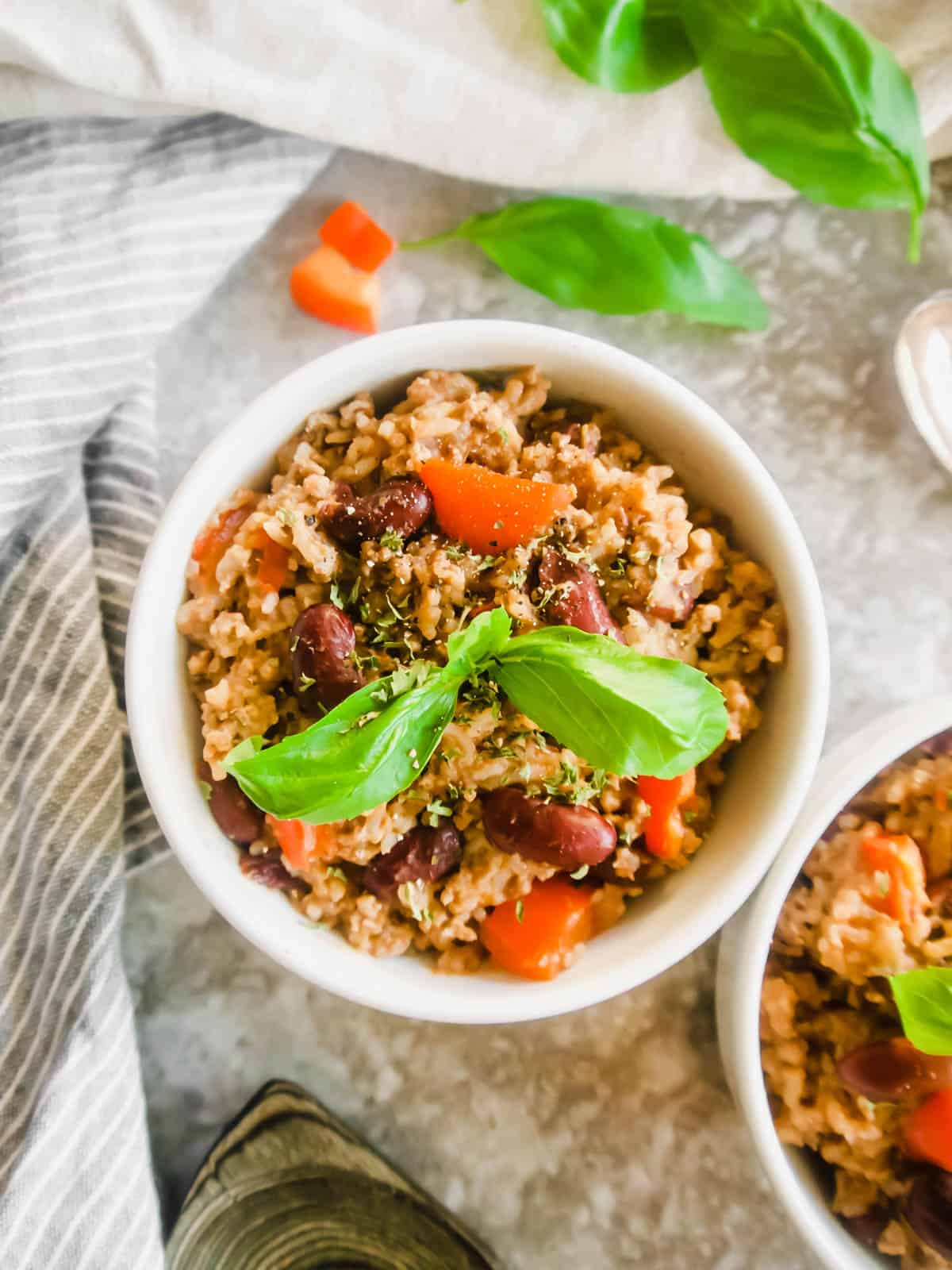 Recipe variations:
If you don't have tomato paste, you can use tomato sauce instead.
You can add black beans to make a ground turkey and black beans dish. I like to add one can of kidney beans and one can of black beans to this dish.
Add less ground turkey. This recipe calls for 2 pounds of ground turkey, but it can be made with only 1 pound of ground turkey if that is all you have or you want less meat.
Use ground chicken instead. You can use ground chicken here instead of ground turkey.
Add some heat. You can use green peppers or jalapeño peppers for a different flavor and kick.
Use bone broth. You can use bone broth for extra protein.
Use beef broth instead of chicken broth.
Add some veggies. You can add peas, broccoli, or carrots to the dish.
Step by Step Instructions:
Step 1– Add the turkey meat with spices to the pan and cook until browned.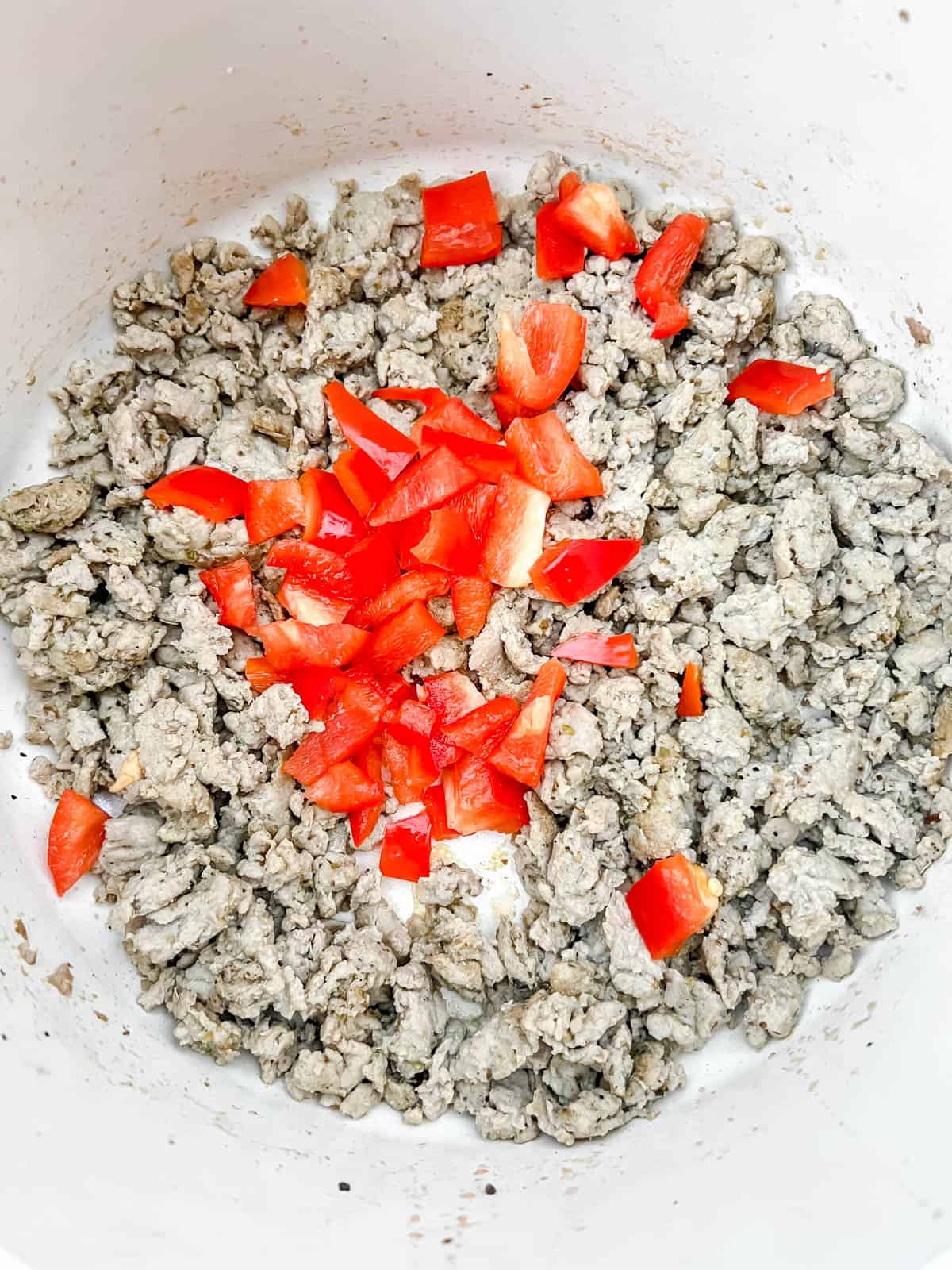 Step 2– Add the bell peppers and cook for a few mniutes.
Step 3– Add tomato paste and apple cider vinegar.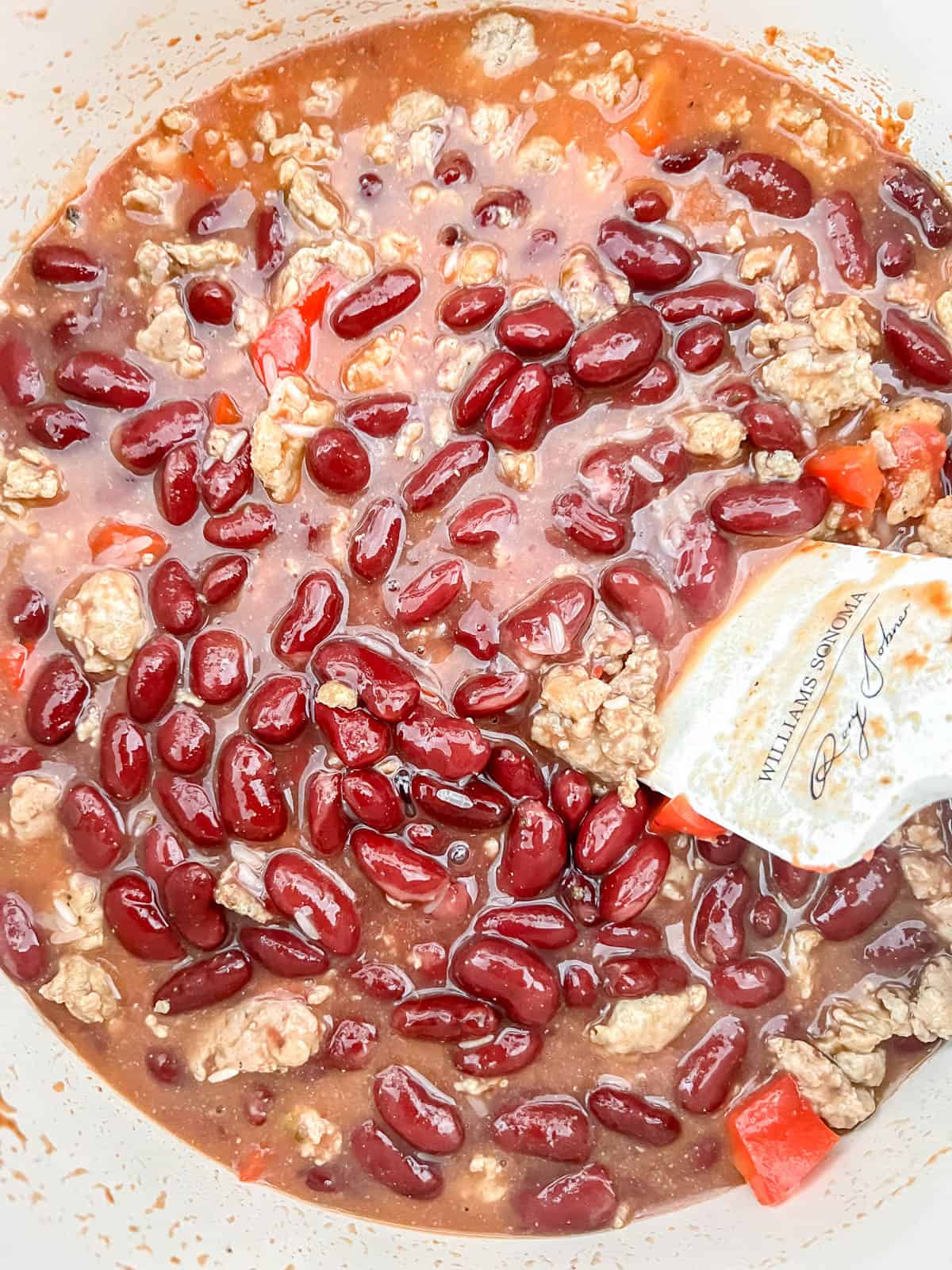 Step 4– Add the chicken stock, rice, and beans. Cover and cook until the rice is cooked through.
Seriously so simple, and yet the result is so incredibly flavorful and comforting.
This recipe was inspired by this Cuban Style Rice Beans and Turkey by Clean Eating Mag.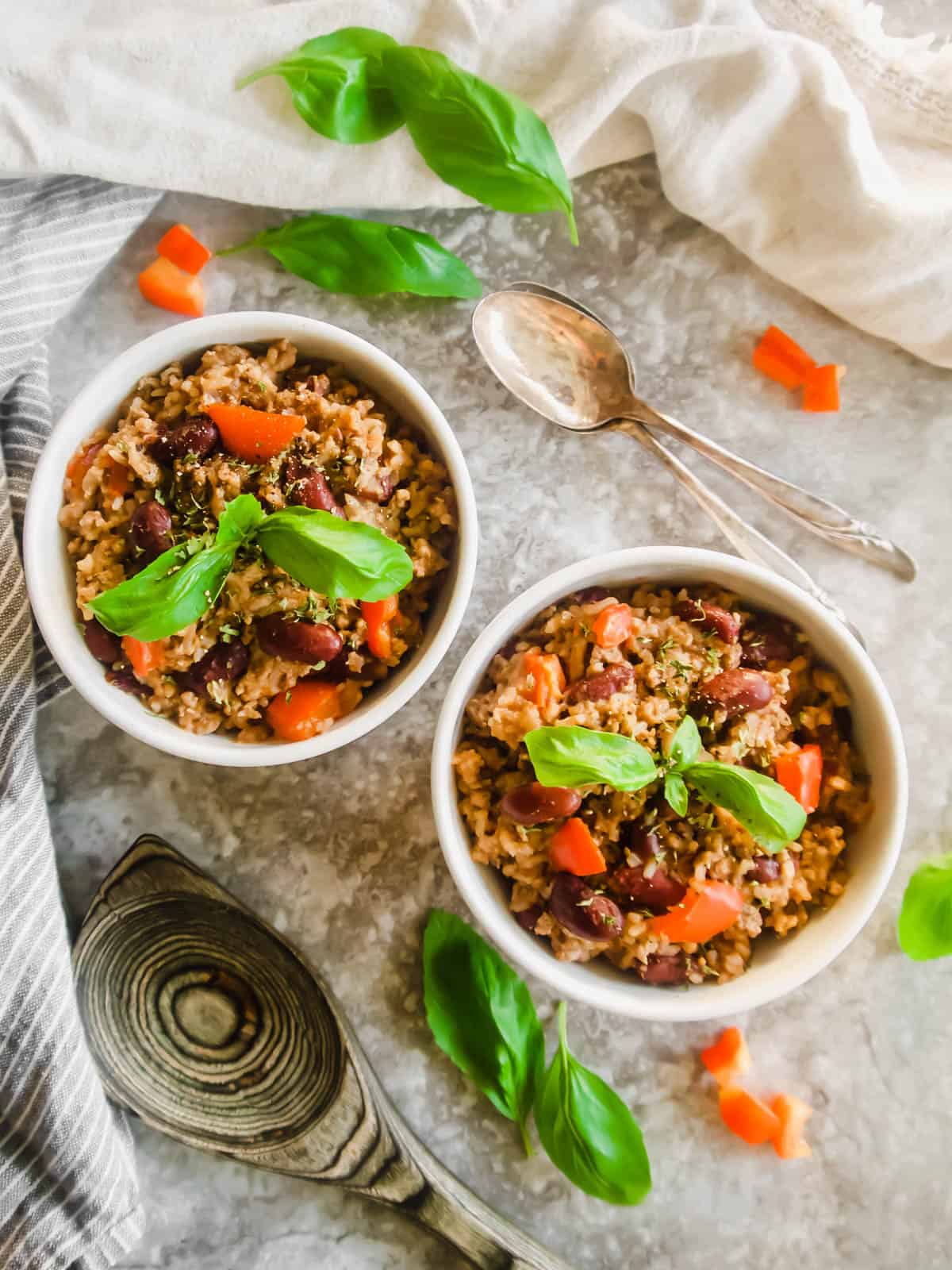 Storing leftovers:
Allow to cool completely, then store leftovers in an airtight container in the fridge for up to 4 days.
Recipe FAQs
How do I cook ground turkey without drying out?
You don't have to worry about that in this recipe because it absorbs all the juices in the pot while it cooks. But in general, using full fat ground turkey and not cooking it over an internal temperature of 165F helps.
What can I eat with this turkey rice and beans dish?
You can add a side of veggies like broccoli. You can top your bowl with Parmesan cheese. I also love eating this dish with a side of Caesar salad.
Does this recipe reheat well?
Yes! Just pop it in the microwave and it is ready to go.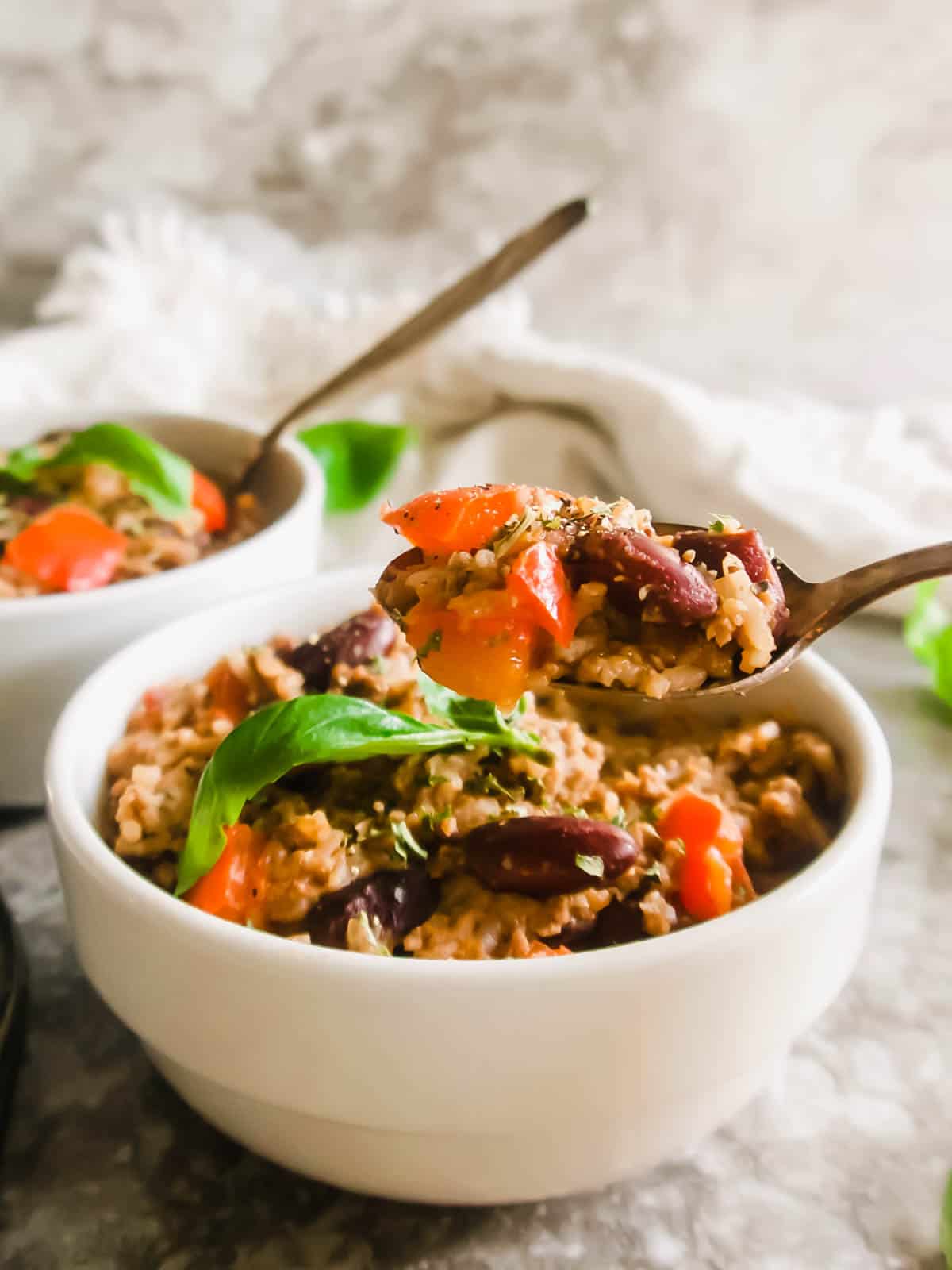 Other rice recipes you may enjoy:
Did you try this recipe? Please leave me a ⭐ review below!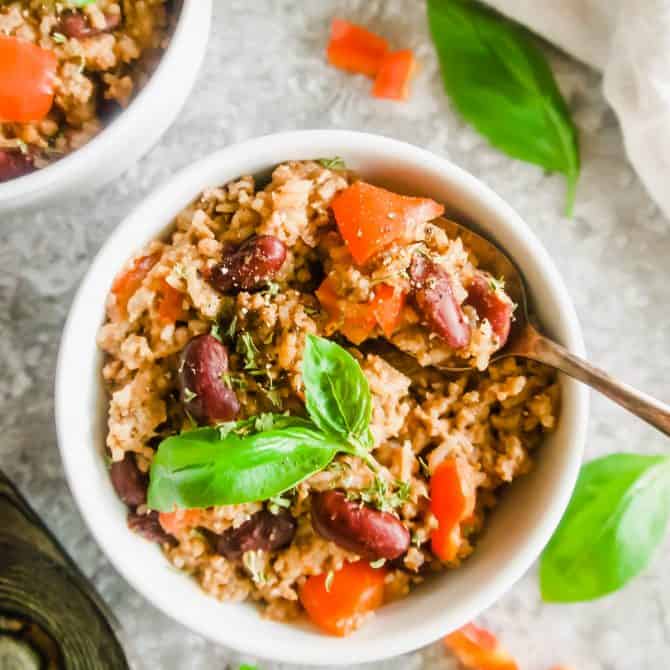 One Pot Ground Turkey, Rice and Beans (GF)
A healthy and naturally Gluten-free dish, made in one pot, with ground turkey, rice and beans and spiced with bell peppers and cumin.
Ingredients
1 Tbs olive oil
2 lbs ground turkey
1.5 tsp onion powder
1.5 tsp garlic powder
1.5 tsp ground cumin
1.5 tsp dried oregano
1/2 tsp fresh ground black pepper
1 tsp salt
2 red bell peppers diced
2 Tbs tomato paste
1 Tbs apple cider vinegar
2 15.5 ounce cans of red kidney beans (31 ounces total)
2 cups chicken broth
1 cup jasmine rice
Instructions
Add olive oil to a large pot/ pan with a tight fitting lid, and heat over medium- high heat. Add the ground turkey, onion powder, garlic powder, ground cumin, dried oregano, black pepper, and salt, and mix. Stir often, until turkey is browned and cooked through, about 5 to 7 minutes.

Then, add the diced bell peppers, mix and cook, about 2 more minutes.

Push the ground turkey mixture to the sides of skillet, leaving a hole in the center of the pan. Add the tomato paste and vinegar to the center and cook, stirring constantly, for about 30 seconds.

Then, add the red kidney beans, chicken broth, and jasmine rice. Mix everything together. Bring the mixture to a boil, and then quickly reduce the heat to low and simmer, covered, until the rice is tender, about 40-45 minutes.

Check the mixture at 40 minutes and mix. Test the rice. If it needs 5 more minutes, let it cook a little longer. 40 minutes was perfect for me.
Nutrition
Calories: 395kcalCarbohydrates: 30gProtein: 37.4gFat: 15gFiber: 4.3gIron: 4mg
Disclosure: This post contains Amazon affiliate links. This means that if you click on a link and make a purchase, I will receive a small commission at no cost to you.