Les Environs de la Rochelle- Saint Savinien, La Roche Courbon, Bordeaux, Fouras
I've been in a state of disbelief today. For starters, am I really moving to Northern Ireland in two days?! Am I really still packing? Has it really been 3 months since my trip to France?? And have I really not posted about it yet!?
If you saw my La Rochelle post, you'll know that I visited my sister in June to meet my new nephew. We spent quite a bit of time exploring "les environs de la Rochelle". AKA the magical, beautiful, and historic towns and sites nearby.
A quick day-trip lead to the photo above, taken in Fouras, which looks like a real life Monet painting. This trip made me realize how day-trips can be a wonderful way to get to know an area well at your own pace.
Saint Savinien
I felt moved by the presence in Saint Savinien (a town less than an hour drive from La Rochelle). It's almost like time had stopped here.
And if we weren't driving a car, I could easily have forgotten what time period we were currently in.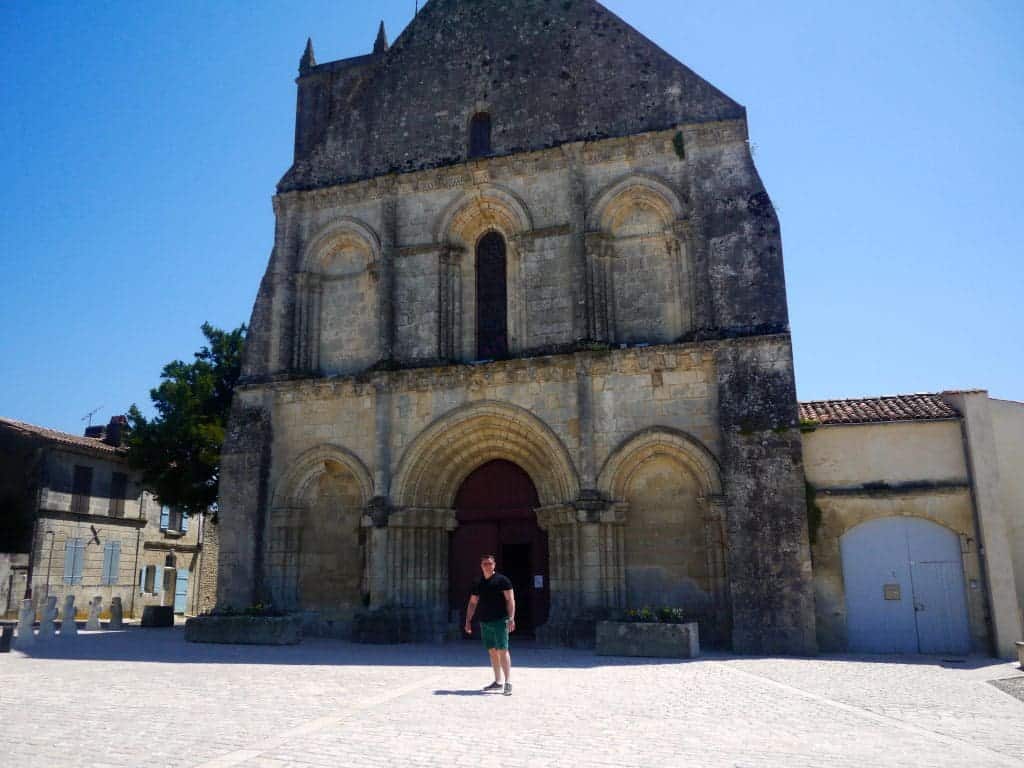 It was a mixture of exhilarating, eerie, and natural to be surrounded by such history and beauty… with no other people around.
I'd say we were in Saint Savinien a good hour before we saw a soul. Which made for a lovely private family picnic full of baguettes, cheese, pastries, and fruit.
Our picnic spot was just perfect… shady and overlooking the whole town.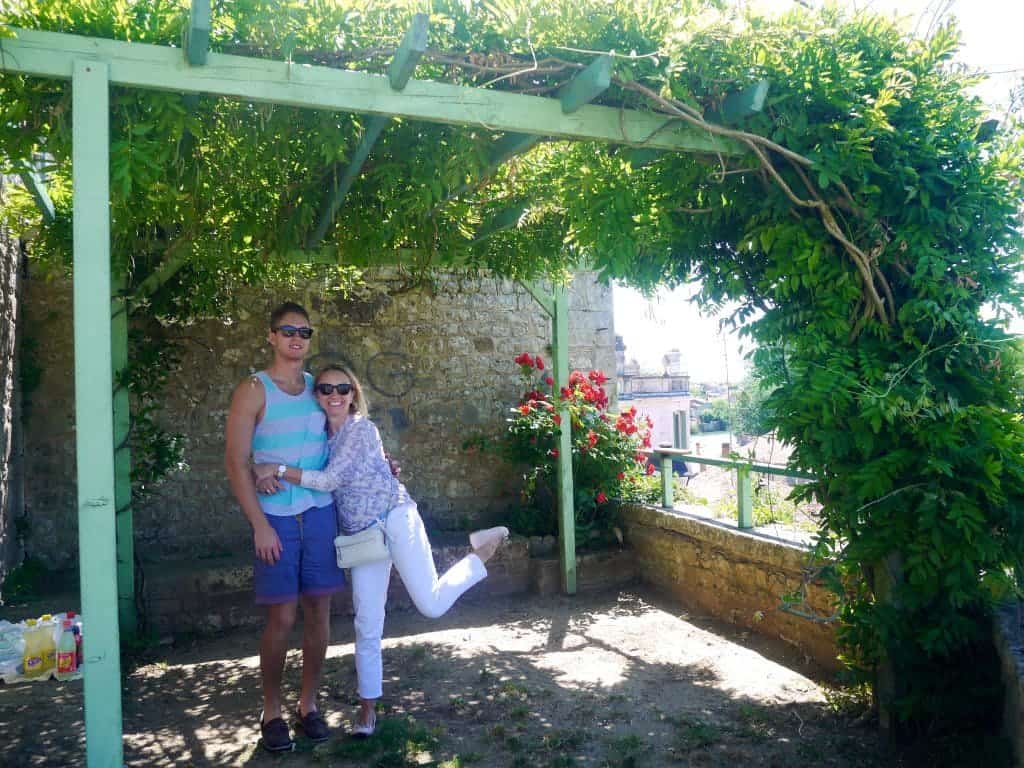 Seeing how this town was built into large rocks, all while peacefully existing along the Charente river left me in awe.
I noticed a few ducks swimming in the river and the scenery was just so beautiful that I blurted out, "If I was a duck, I would want to be a duck here!" To which someone quickly replied, "You don't want to be a duck here, you'd be turned into foie gras."
Point taken.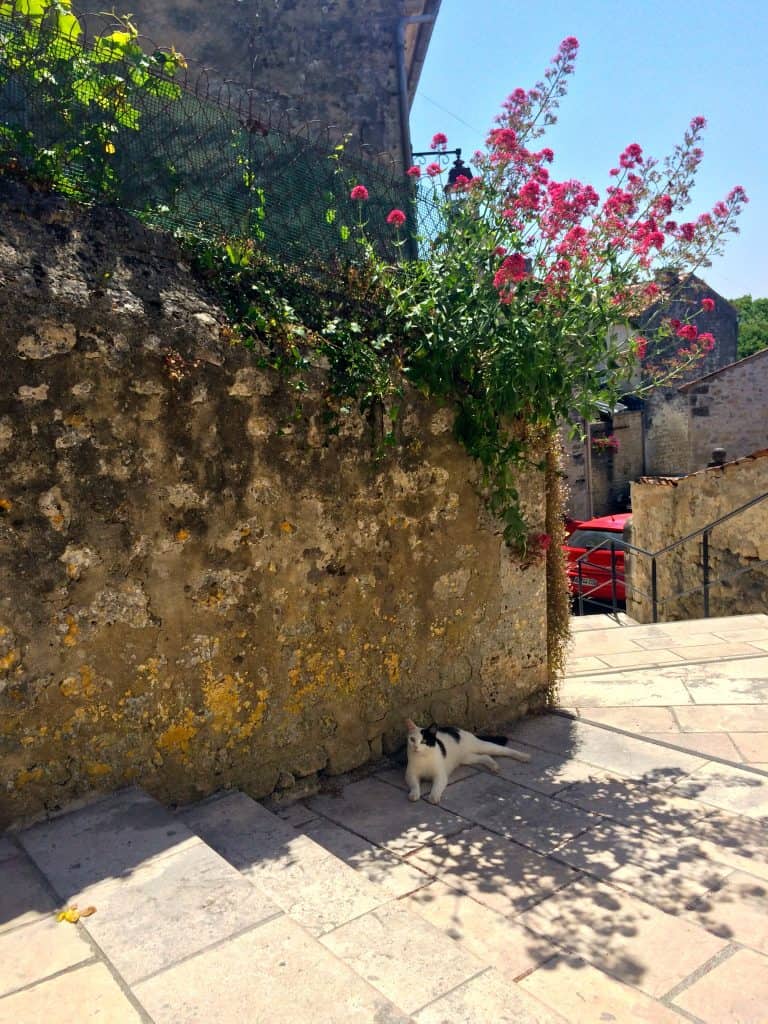 Maybe I'll be a cat there instead.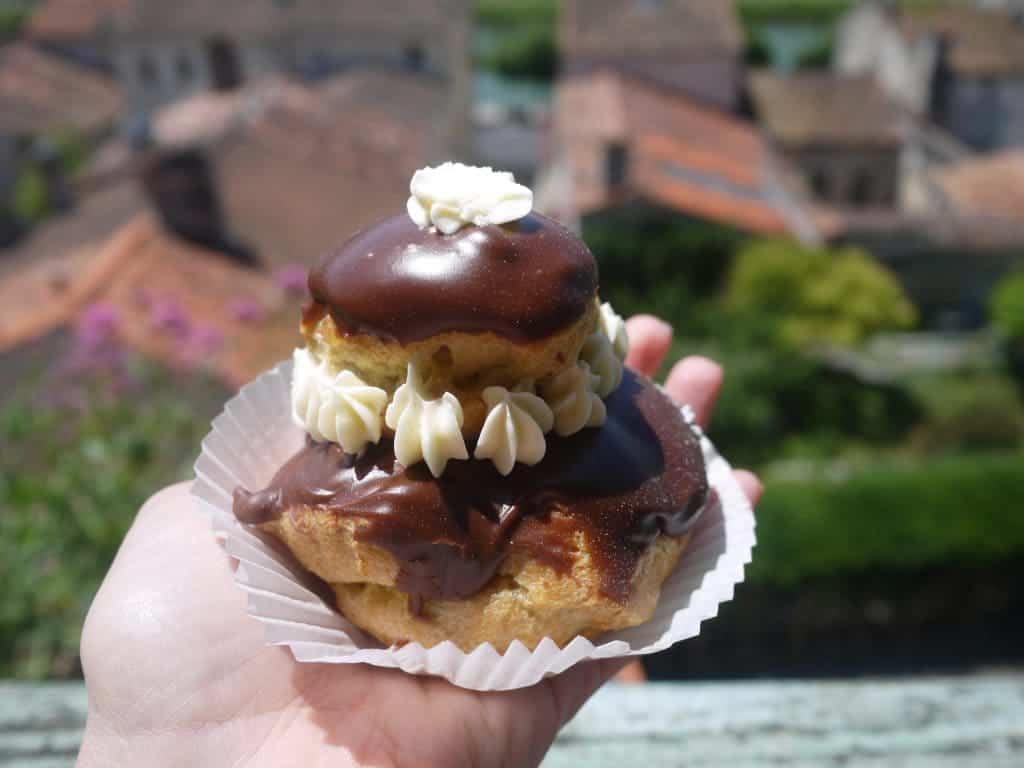 Now a picnic is not complete without a Chocolate Religieuse, which is basically like an eclair but shaped differently, and topped with cream. Usually you can order either a coffee or chocolate one. But if I could choose, I'd make ones with chocolate bottoms and coffee tops.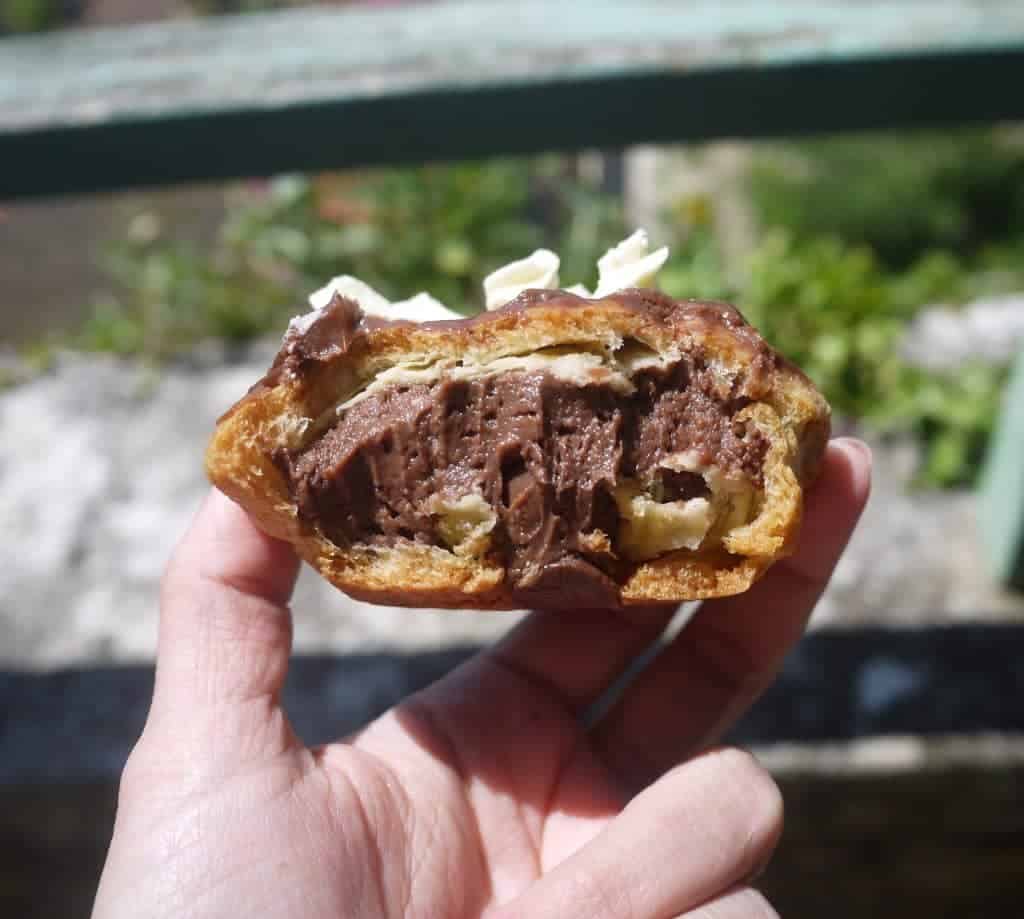 Good thing we were alone… I was able to take all the food photos that I wanted, while eating. 🙂
I had to add a photo of my nephew…. I mean reallllly??
Château de la Roche Courbon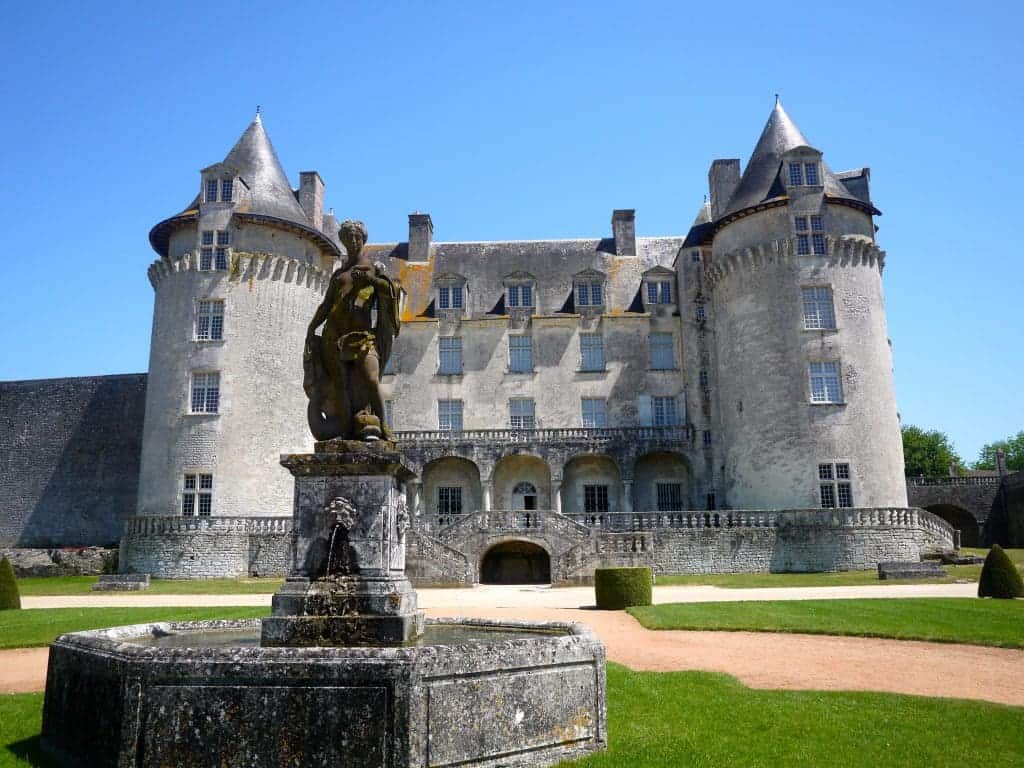 An easy 45 minute drive took us to the Château de la Roche Courbon, a gorgeous castle built in 1475 with the nickname of "Sleeping Beauty's Castle".
It was one of those days without a cloud in the sky, which enhanced all the beauty that there was all around.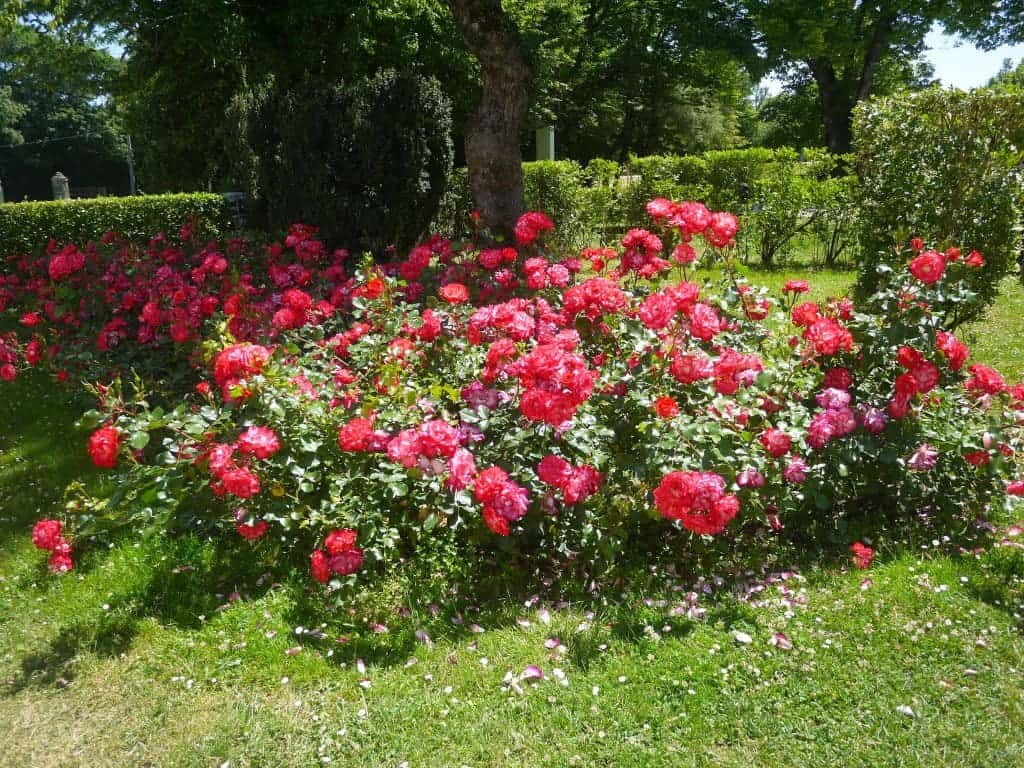 Like these flowers, for example.
Do you ever see flowers and just find the color and the shape of them so captivating that you can't help yourself from taking a photo? Even though you already have 1000000 flower photos already. Guilty as charged.
We went on a tour of the castle, which was actually really interesting because you could see the art and furniture from various time periods.
The whole area is full of history. Under the château, there are caves where they found objects from the paleolithic era.
And we were told that the style of French gardens here actually pre-dates that of Versailles.. which suggests that Versailles may have been inspired by the gardens here. Drama!
Fun fact: you can get married at the Château de la Roche Courbon. This was my sister's #2 venue choice. How fun would it be to plan a wedding at sleeping beauty's castle? 🙂
Luckily the castle had a small cafe on site, so we could dream, discuss, and caffeinate.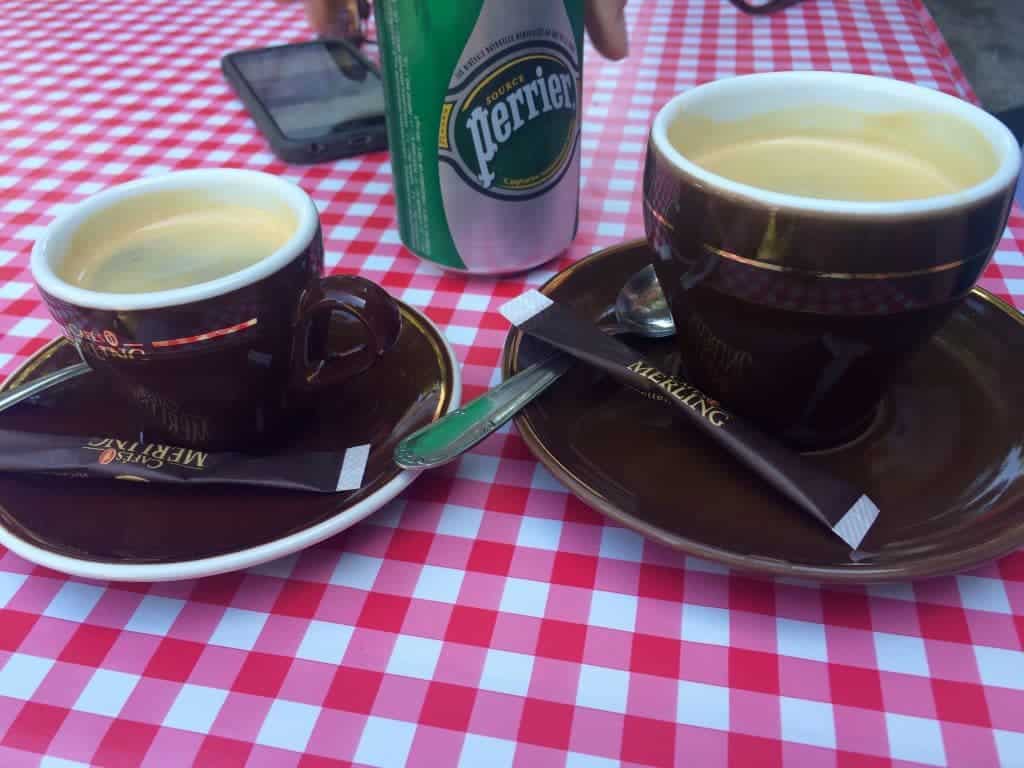 Bordeaux
Ah Bordeaux my love, how I have missed you! A two hour drive was all it took from La Rochelle and I am so happy we went.
After I graduated college, I lived in Bordeaux for a year… which must have been 6 or 7 years ago (makes me feel old!).
I taught English at a high school during this time and I have to say that it was one of the best things that I have ever done. Moving to another country alone, in my early 20s helped transform me to who I am today.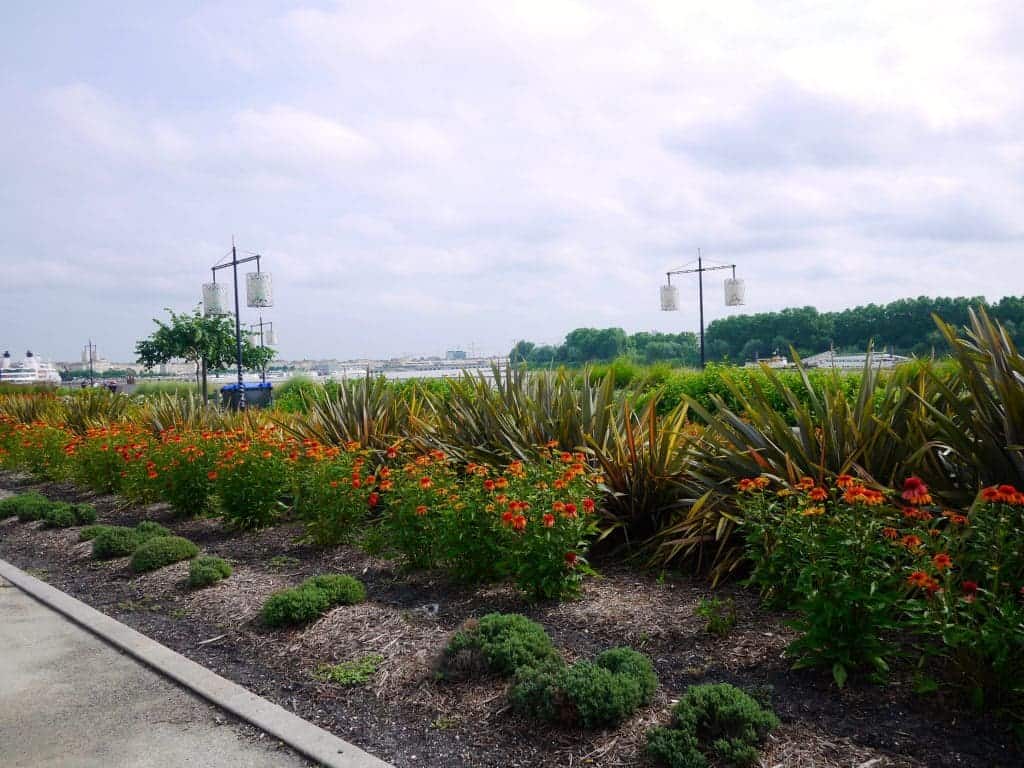 I immediately fell in love with the beauty of Bordeaux. It's an immaculate cobbled stone city that has so much history that you can actually imagine what it may have looked like hundreds of years ago.
There's an ancient touch to this city, from Roman ruins to elegant statues. I even had a large stone sink in my apartment there from the middle ages. It would always give me the chills just thinking of how many people used to use the sink that was in my apartment ( it is currently just there for decoration).
The architecture and the history are not the only things that I love about the city… the wine and the food are AMAZING.
Karl was one of my go-to breakfast spots when I lived in Bordeaux and I was happy to see that it was just as good as ever.
The breakfast basket is my obvious choice. It comes with a croissant or pain au chocolat, bread, butter, jam, fresh juice, and coffee. Too bad all my breakfasts can't be full of these goodies.
I highly recommend their carrot cake muffins and berry crumble as well.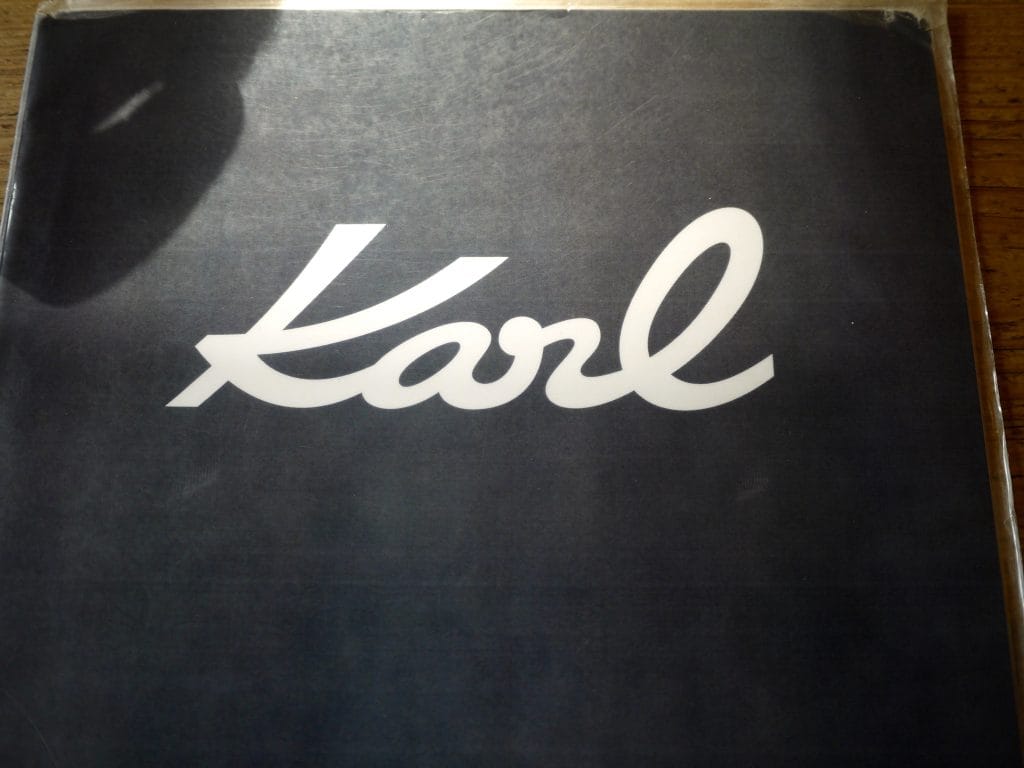 Karl is in the Vieux Bordeaux area, which is probably my favorite part of the city. The buildings here are beautiful and as the name implies, you can really see how old they really are.
Plus there are tons of cafes and bars, making it a wonderful area for pedestrians.
One of my favorite chocolate shops is in the area: Maison Larnicol. Remember those DIY Fruit and Chocolate Lollipops that I made last year? They were inspired by the chocolate lollipops that I loved from Maison Larnicol.
Dried fruit + chocolate = love.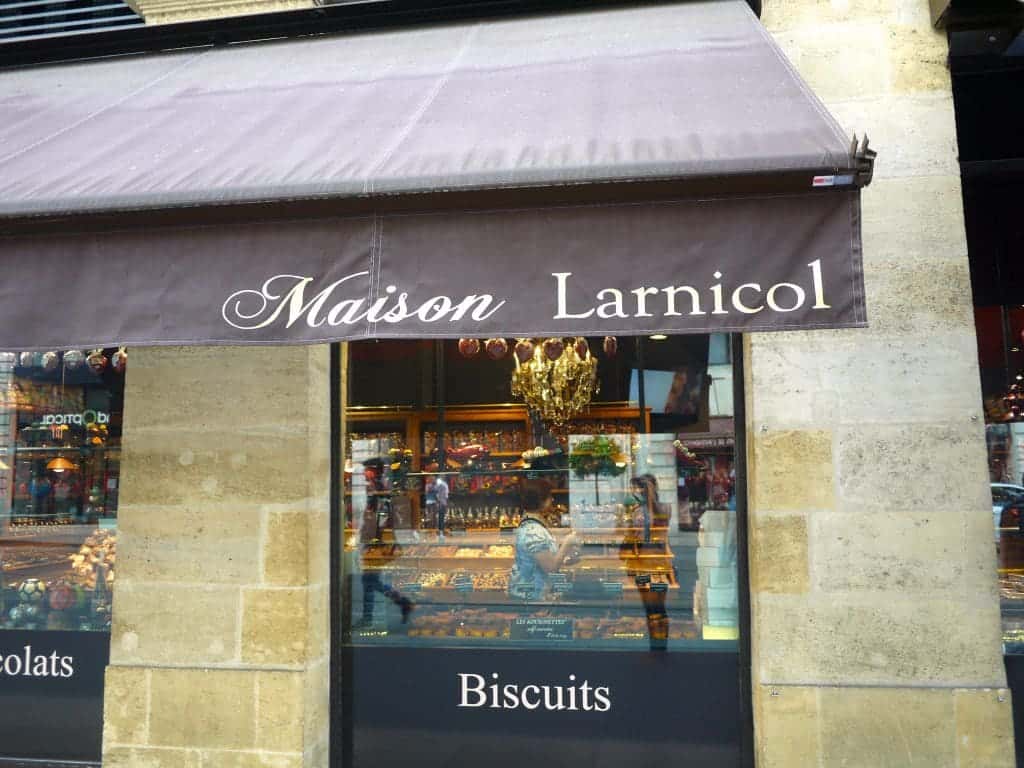 I couldn't resist buying a few things while I was in there.
It just smelled too divine to resist.
The photo above is not the lollipops that inspired me to make my own, but they looked sooo good and colorful, that I had to take a photo. 🙂
After some chocolate, we needed wine. I saw a review for a good wine bar near one of the famous bell towers in Bordeaux, so it was the perfect opportunity to check it out.
There are two beautiful bell towers in Bordeaux, which are impressive to see by day and even more amazing by night.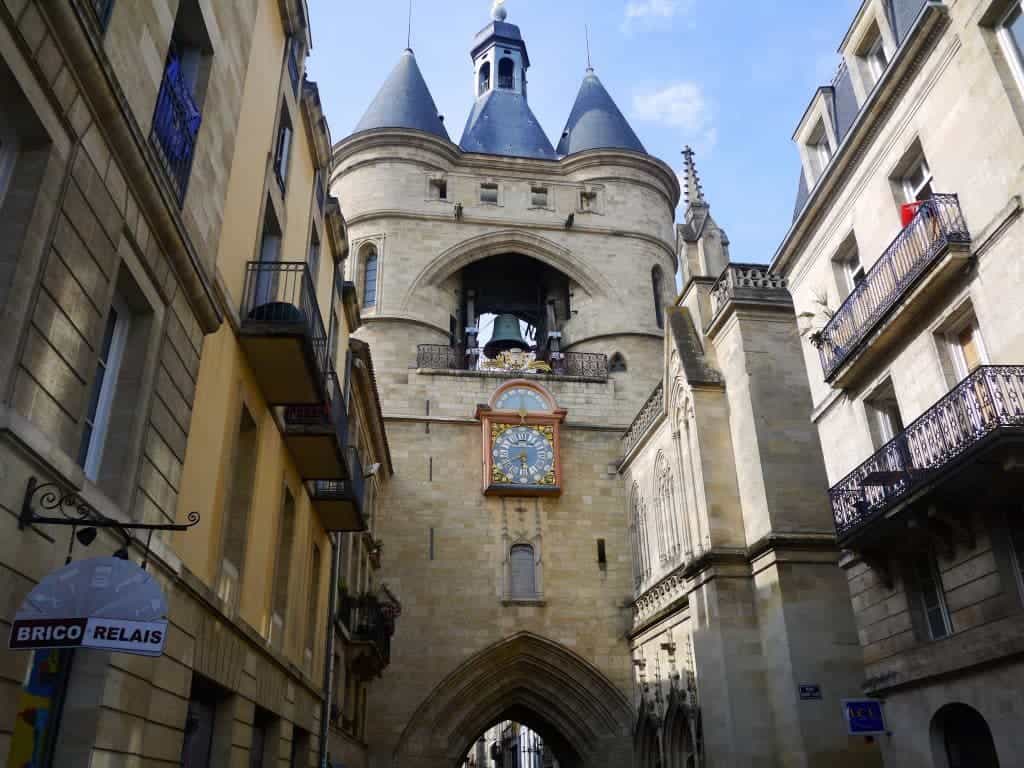 The wine bar we went to was called "Wine More Time" and it had one of the best Bordeaux wines that I have ever had there.
It also had a great goat cheddar plate with black cherry preserves and raisins. YUM!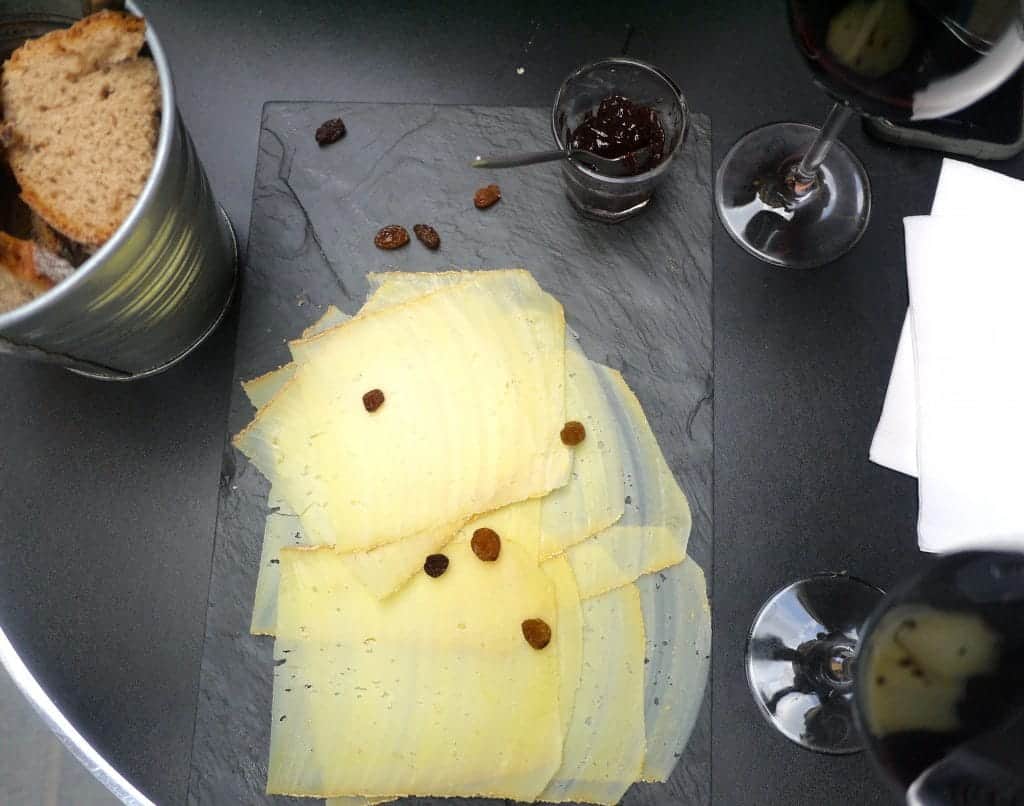 We couldn't go to just one wine bar. And I couldn't only have red wine. A rosé was a must, especially in the summer.
We then walked around Place de Gambetta, a place I have a soft spot for because one of my best friends lived there. 🙂
This friend is from Northern Ireland, and we were both English language assistants at the same high school together.
It's kind of funny when I think about it because the high school wanted their students to learn proper British English. But instead they got one Irish teacher and one American teacher. I can still remember the look of fear on one of the professor's faces when she realized that neither of us were from England. She immediately started telling us a list of British vocabulary to use in the classroom and insisted we not teach them to speak with our respective accents.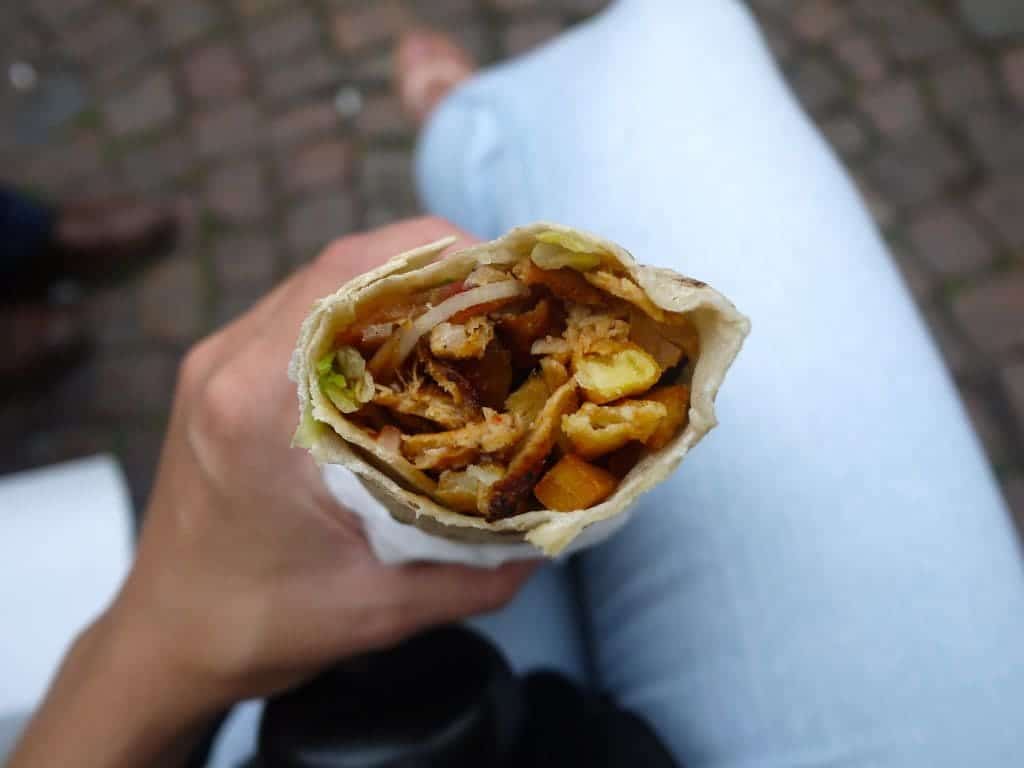 After all that walking, we needed an afternoon snack. A kebab with french fries inside seemed to do the trick.
And pretty soon thereafter we had to go to Entrecôte. A steak-frites restaurant in the Cours de l'Intendance. The idea for this place is pretty genius. There is only one thing you can order here for dinner: steak and fries. And it is fantastically made and quite reasonably priced.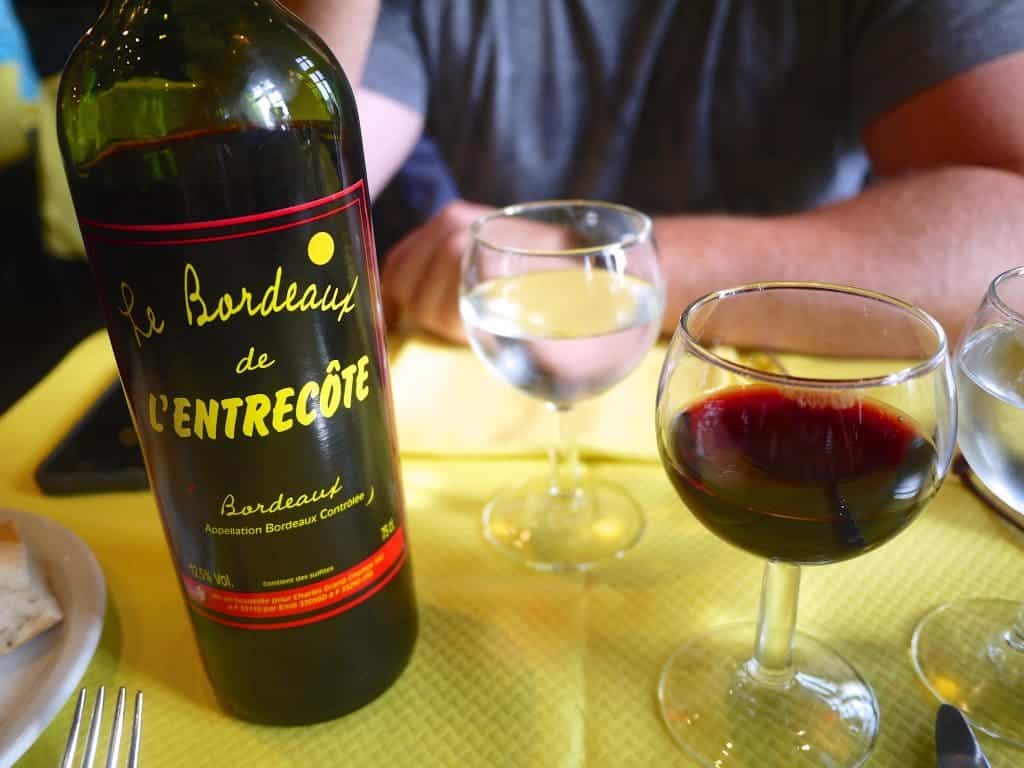 Entrecôte opens at 7:15 pm, but we got there at 6:45 to wait in line. There is always a line for this restaurant. It normally wraps around the restaurant and goes down the street. But don't let that stop you from going.
The line is necessary because they don't let anyone make reservations and they don't let anyone inside until 7:15. Then, the doors open and everyone stampedes is lead to a table.
We were immediately brought a salad and water. And then we ordered wine and told them how we like our steak cooked.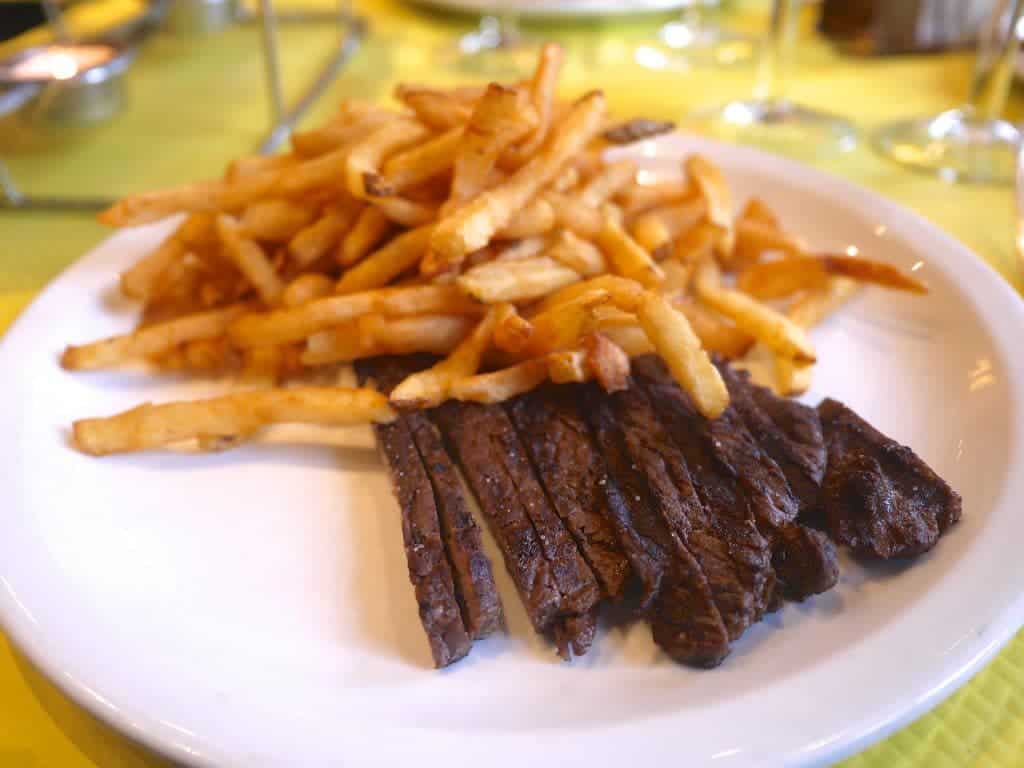 I'm a well-done gal and this steak was cooked perfectly. If you are thinking, that looks kind of plain! You are right. Normally the steak is cooked in a peanut sauce, a sauce that everyone seems to love.
But since I am allergic to peanuts, they nicely made mine without any sauce. 🙂
And of course the meal ended with profiteroles. These are killer.
Fouras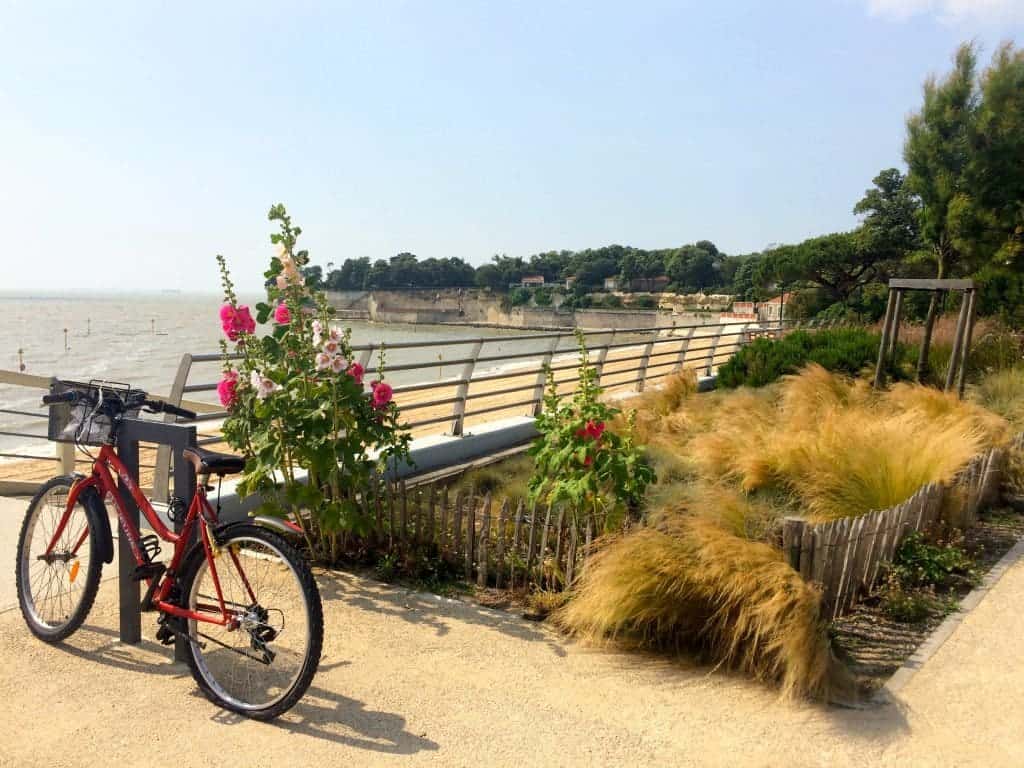 I think I'd like to retire in Fouras, or summer in Fouras, or just come back as often as I can to Fouras. It is an utterly peaceful and picturesque town on the water with so much natural beauty. It's only 30 minutes from La Rochelle yet feels like it could be worlds away.
My sister had previously told me of a town that she would reallly want to live in. A town that she says is the only town outside of La Rochelle that she would want to live in. And when I got to Fouras, I could totally see why.
This is where the "monet painting" picture was taken. And where we took my nephew for a walk.
All that walking made me hungry so I walked into an enticing boulangerie.
I ordered the white chocolate patisserie without really knowing what to expect… I asked them for a surprise. ( I did make sure there were no peanuts though, 🙂 )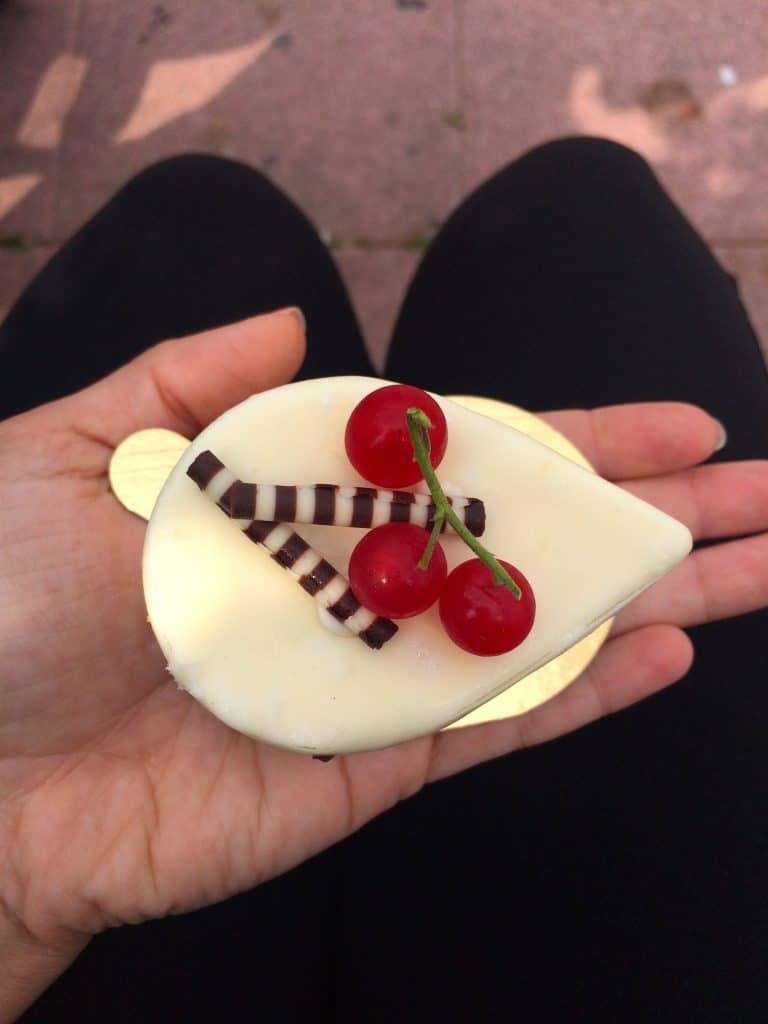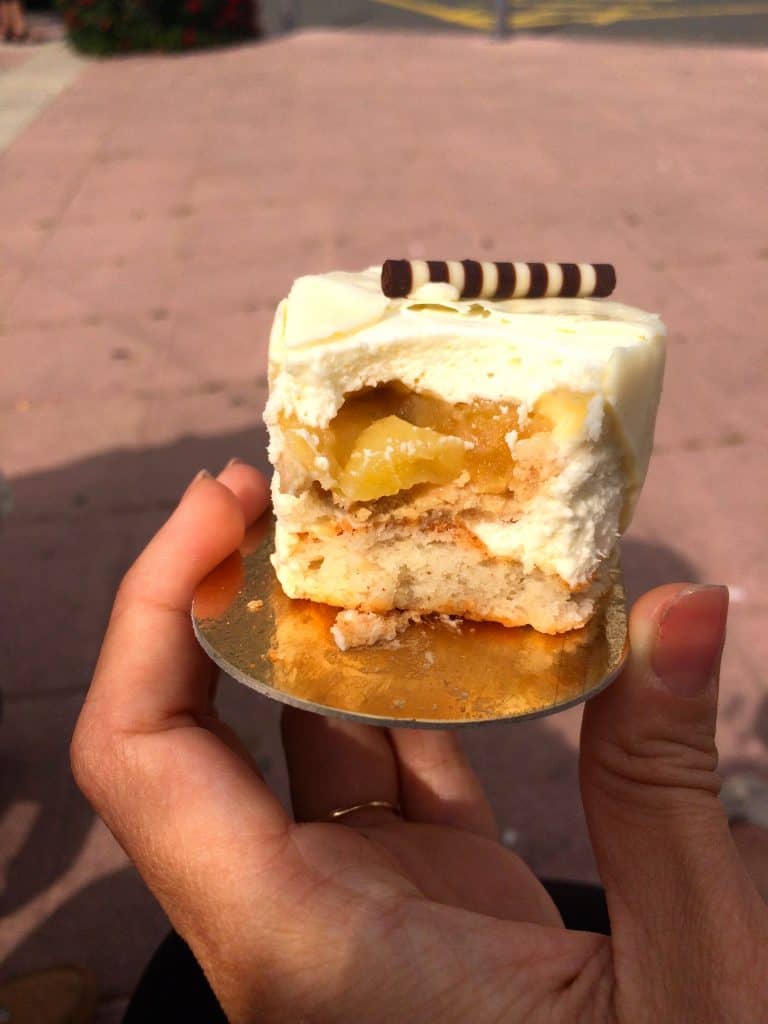 And I did get quite the surprise. Caramel apple with a hard cookie layer and cake layers, covered in white chocolate.
What a combination! Though I'm not sure I'd get it every time.
Oh and I think I found my future house in Fouras. The shape and the colors couldn't be more me.
Well, that was a looong post. I'd love to hear about other sites or towns in the area that you recommend.
I hope to be posting Northern Ireland posts as soon as I move!
Disclosure: This post contains Amazon affiliate links. This means that if you click on a link and make a purchase, I will receive a small commission at no cost to you.