Coastal La Rochelle- Mussels and Pastries Galore!
My family and I recently went to La Rochelle. The gorgeous white stained town in the southwest of France, that smells of the ocean breeze and that buzzes in the summer. It's full of glorious cafes, bustling markets, and beautiful architecture.
Can you tell that I love it?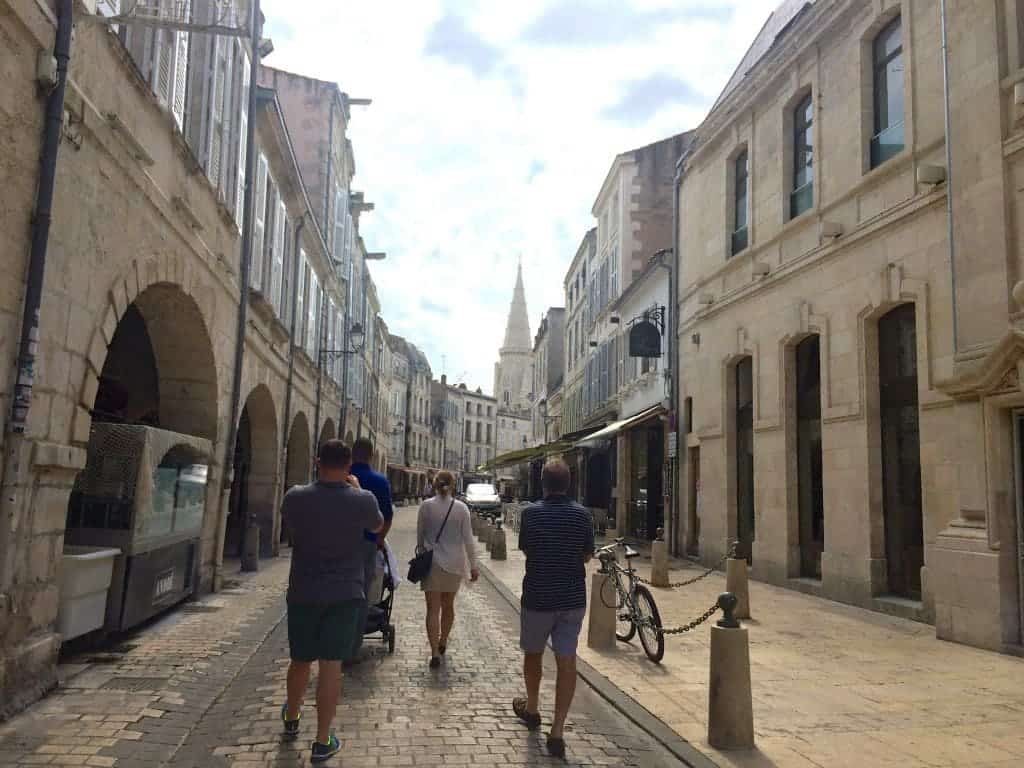 Well, I do love this beautiful city! And not just because I love this region of France and French food, but because there are people that I love that live there. My sister moved to La Rochelle several years ago, met a wonderful man, and just had a baby.
It's kind of funny, for me, because I grew up visiting my grandparents in France every summer. When my grandparents passed away, I thought that that was the end of an era. And a part of me was sad to lose that connection to France. Well, now that my sister lives there, the connection is back and our yearly visits have resumed. And I ( and my gypsy traveler soul) love it. 🙂
I mean, how can I spend time apart from this cutie pie?
I have a feeling I'll definitely be coming back many times. 🙂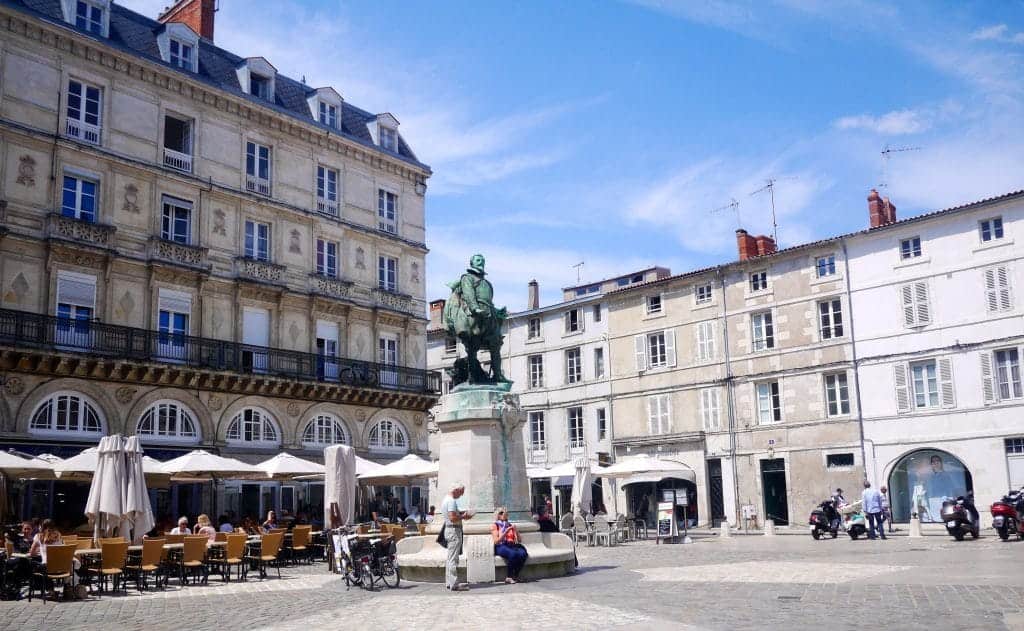 It's been nice getting to know La Rochelle. About 6 years ago (eeek, I feel old lol), I lived in Bordeaux for a year. I fell head over heels in love with Bordeaux and really got to know it well. I also got to know some of the surrounding areas of Bordeaux during that time, but I never visited La Rochelle, despite how close it is.
I feel lucky that I've been able to now get the chance to explore La Rochelle little by little… mostly by what my sister and her husband show us :).
La Rochelle is one of those cities were you could walk for hours. It's the perfect place for a French summer walk… with ice-cream. Specifically from D'Jolly. They make their icecream in-house, and you can really taste it. Their raspberry and mango flavors are on point!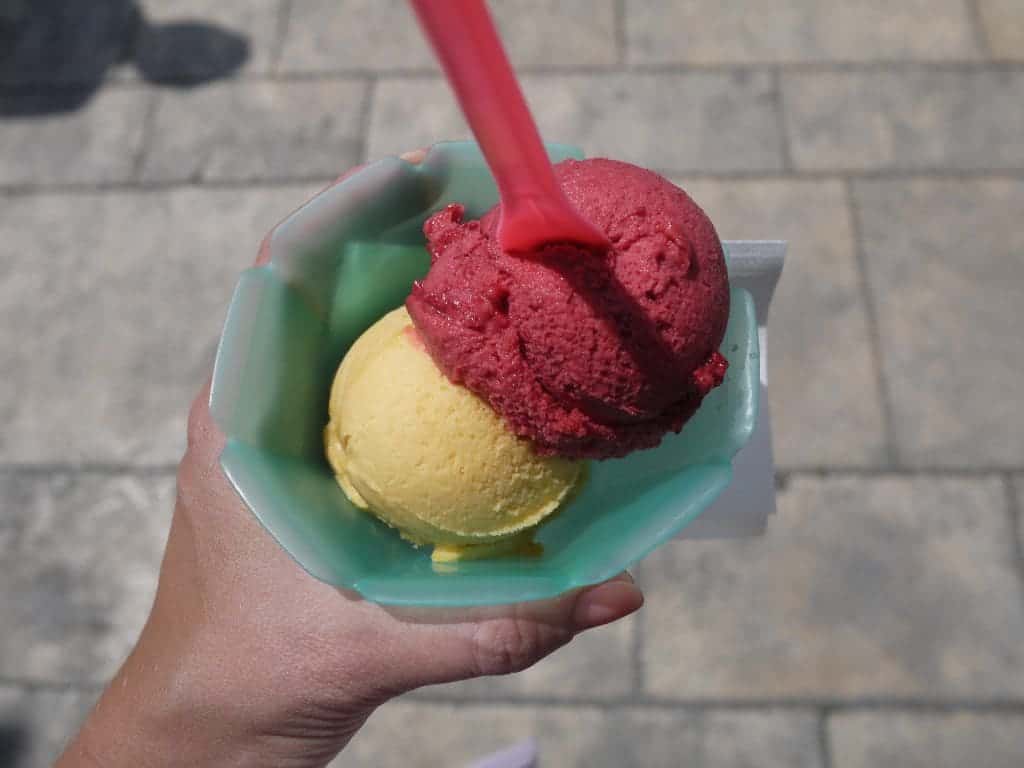 Hey, that shadow photobombed my icecream! lol
On one of the first days of our trip, we decided it was time for some french steak. Better known as steak frites. So we went to Restaurant Feu de Bois, a favorite of my sister and her husband.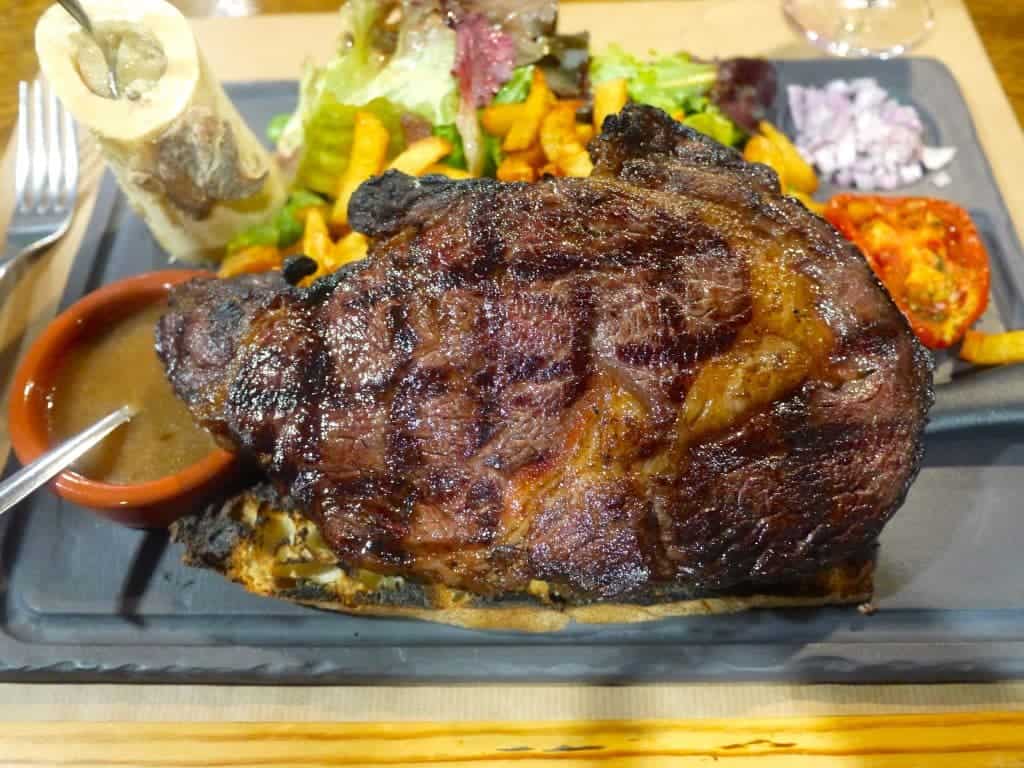 Now, I'm normally SUCH a picky eater when it comes to meat. I don't want it to have too much fat on it, and if possible, I prefer for the meat to be pretty to look at. HA
So, I was a bit nervous when I saw this glorious plate of meat in front of me. For starters… fat. How would I get around that?! Plus–there was bone marrow in the corner of my plate, in a BONE.
But I decided to do as the French do, and enjoy my food. I'm not sure if you can see it from the photo, but underneath the steak was some grilled bread, a fresh salad, and french fries. There was also a roasted tomato, onions, and a gravy of sorts— to season everything with.
To my surprise (and I'm sure to the surprise of my whole family), I loved every second of it. I even ate the bone marrow– which turned out to be rather delicious. I'm still a bit horrified at the thought that I ate it, but I do have to say that I'd eat it again.
Eating steak, especially steak frites is obviously a must in France. (Bone marrow, not included).
But, another must, is going to the market, or "le marché", and getting picnic supplies. IE: bread, cheese, fruit, and wine. 🙂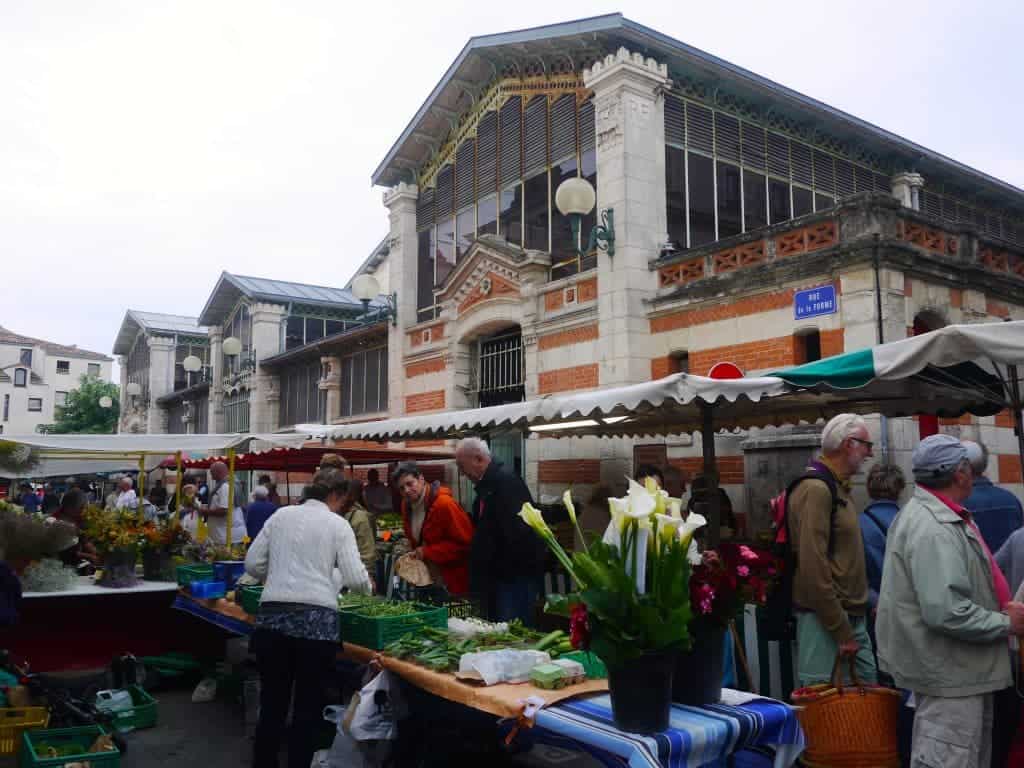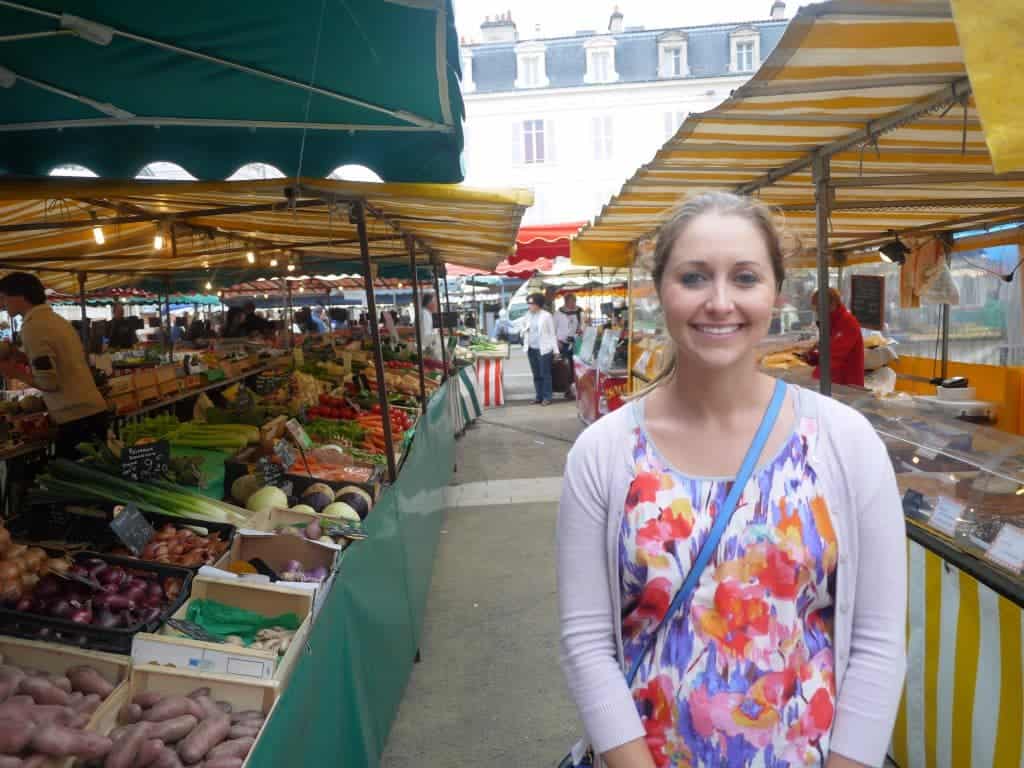 I love La Rochelle's market. I tend to love all markets in France but this one really is one of my favorites because of how beautiful and consistent it is.
The market is in the heart of the city, in the main square surrounded by beautiful French and German inspired architecture. The square is FULL of stands of fresh produce, cheese, bread, and flowers. There is also an indoor market in the middle of it all.
Random side note: I kind of want that cheese curler (pictured above), it just looks so fun! haha
In the indoor part of the market, you'll find lots of cheese, seafood, spices… and my favorite, wine. 🙂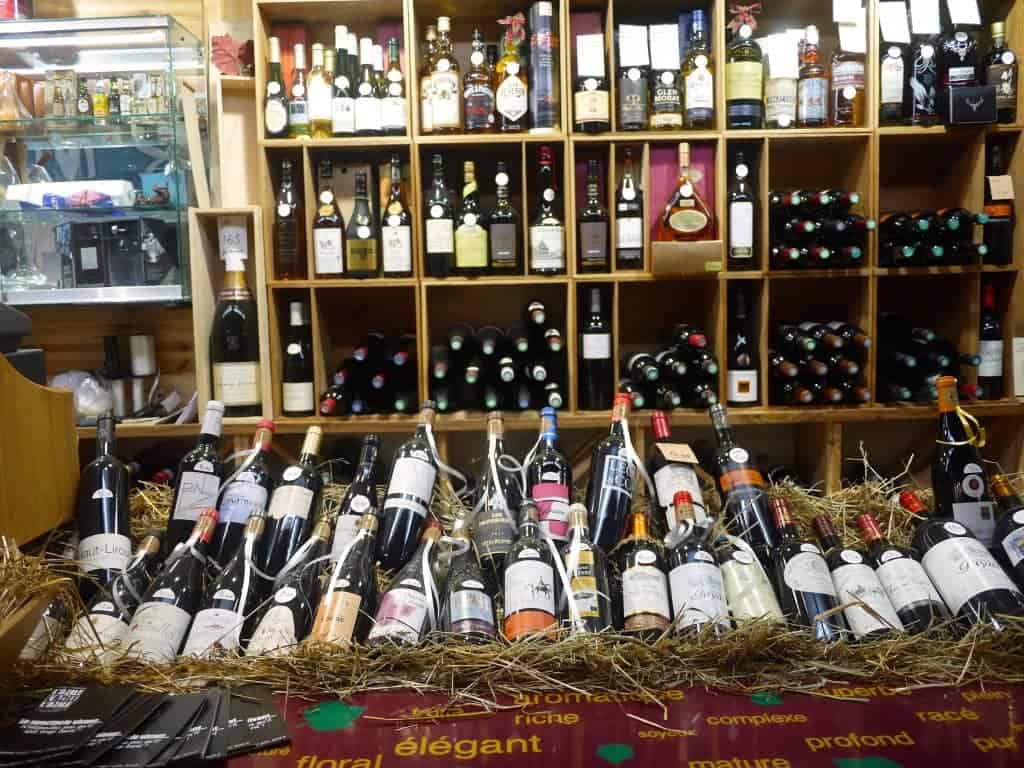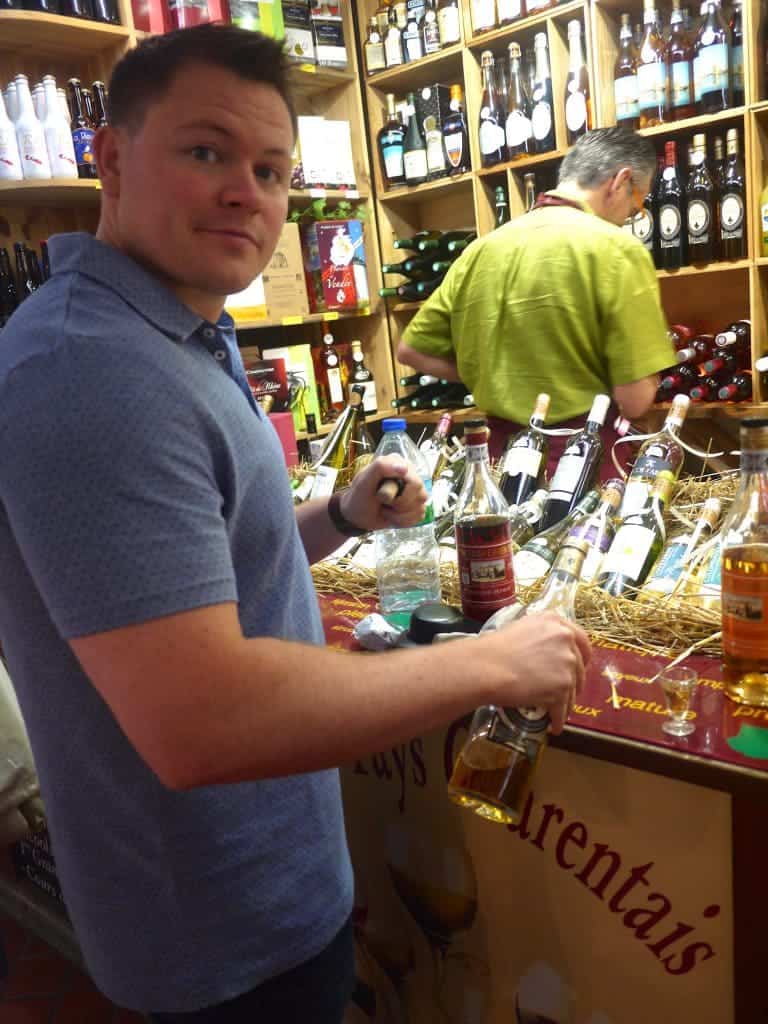 My sister introduced us to a friendly wine merchant at the market that offers a pineau tasting. What is pineau? It's an aperitif wine, of sorts, made out of a mixture of cognac and wine (or grape musk). It is traditionally from the Charentes region, and it tastes gloriousss! It's sweet, fresh, and satisfying. Seriously, if you ever see a bottle, buy it.
Nothing like wine tasting at 10 am 🙂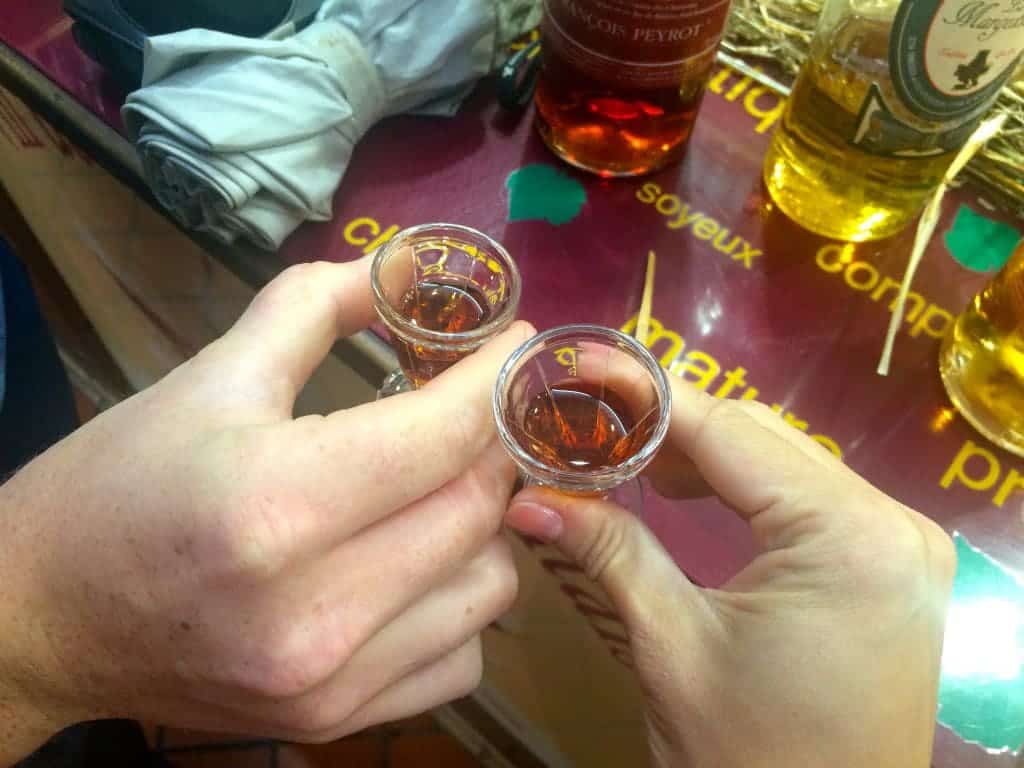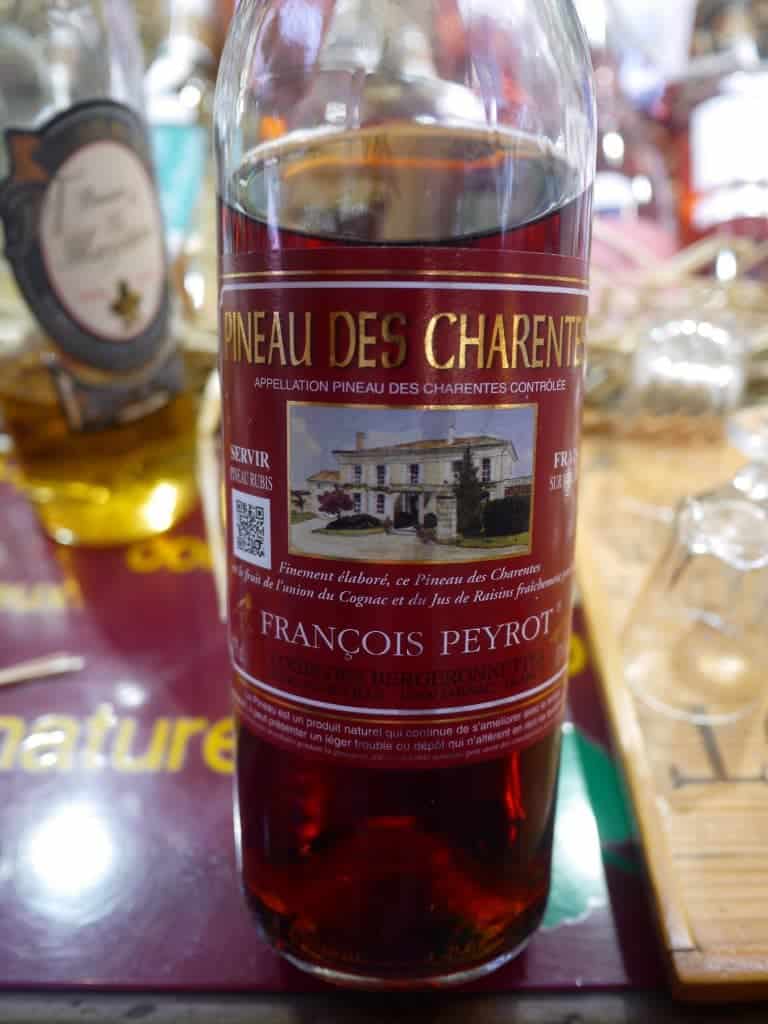 Pineau is the sort of thing that you want to drink while eating foie gras. Well actually that all depends on if you are drinking the red or rosé pineau or the white pineau. I like them all, all the time. haha
My sister actually had a foie gras bar AND a barrel of pineau at her wedding. Now that is perfection. I could ramble on and on about her wedding food. Duck in foie-gras sauce, anyone? I digress.
Since La Rochelle is a port town, we couldn't resist hunting down mussels.
I always look up restaurants prior to traveling and I found that Brasserie Saint Nicolas had lots of great reviews on tripadvisor. I was a bit hesitant to try it due to the fact that it's on the water, at the pier, in the center of town. I anticipated it being a tourist trap, as I'd read many restaurants in the area were just that. But the reviews said that this restaurant had new owners and that the food was delicious.
So I strongly and loudly encouraged that we try it out. And… look at that, we ended up going! 😉
We had the soupe marinière and shrimp as appetizers. I have to say, the shrimp were the freshest shrimp that I have ever had. I don't even normally notice shrimp, but these were the best.
Shrimp + lemon + a fresh mayonnaise= heaven.
My sister's husband suggested the soupe mariniere, a seafood soup (which I had never heard of before), that you eat with bread, cheese and this special seafood sauce. It was so unique, fresh, and tasty, something I definitely want to have again.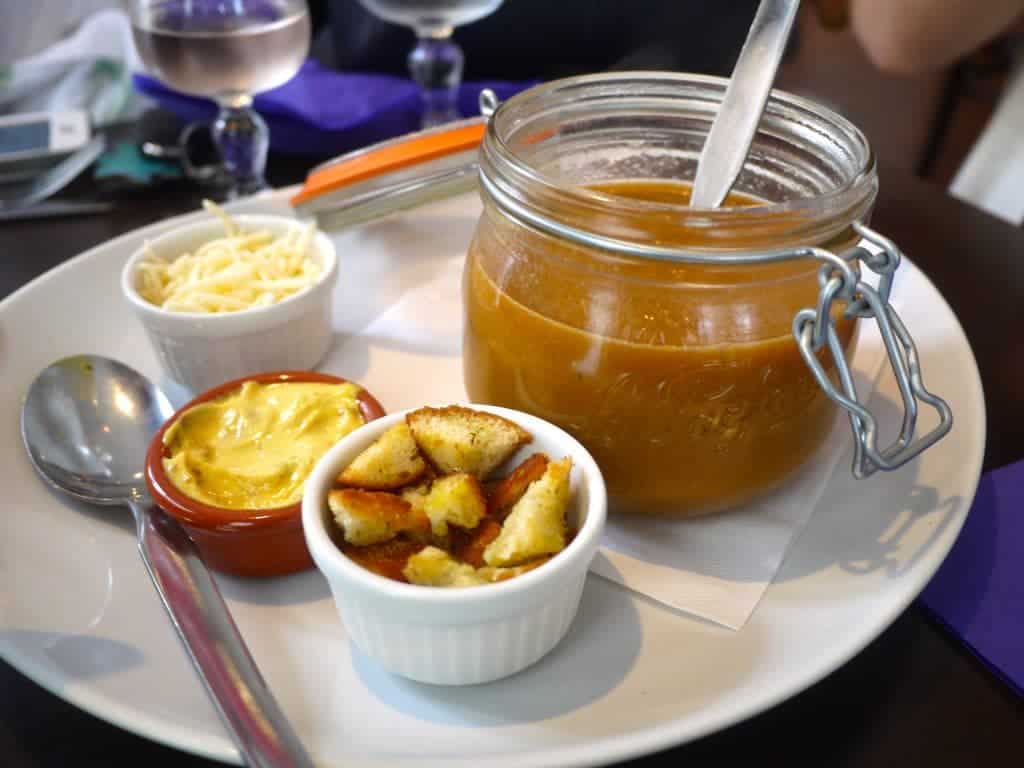 We then ordered mussels! The owners told us that the mussels from La Rochelle were too small that year, so these mussels came from Normandy.
I ordered curry and cream mussels (my personal favorite), while the men ordered chorizo Spanish style mussels, and my mom and sister ordered traditional onion and white wine mussels.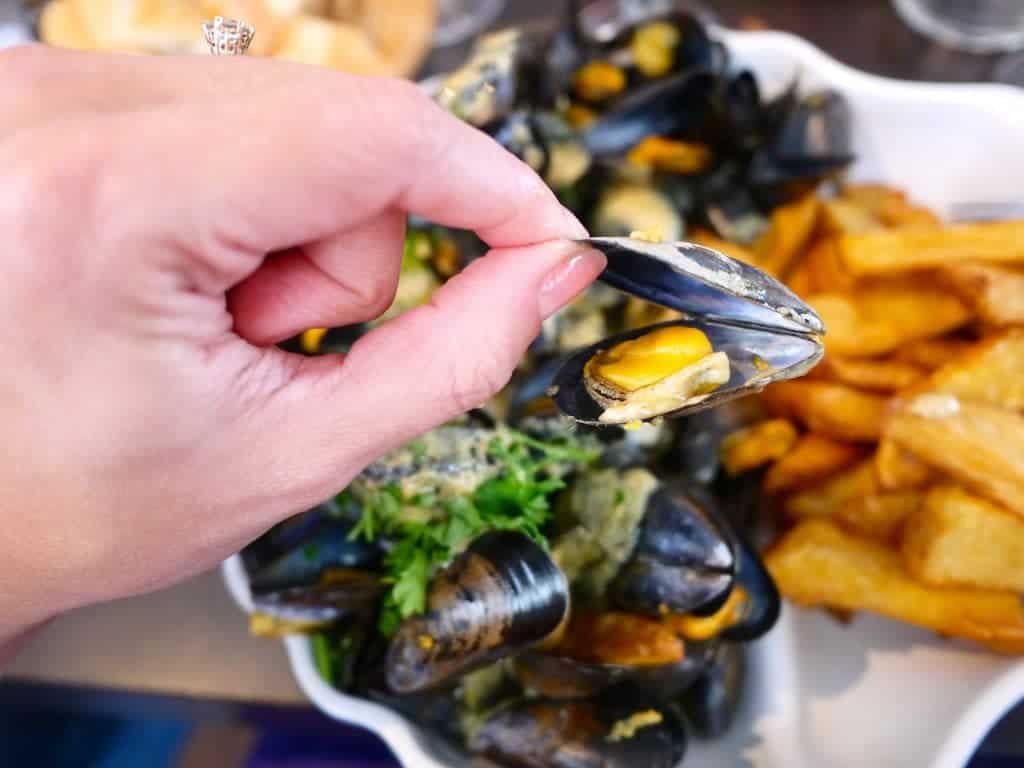 The food really couldn't have been any better. The owners, however, made an otherwise fantastic meal, even better! They explained how they make everything by hand, including the bread on our table. They said making everything to-order saved them from wasting food.
I appreciated the food that much more by knowing how much work and thought went into it.
So of course we ordered dessert… chocolate fondant and creme brûlée, was there any other choice?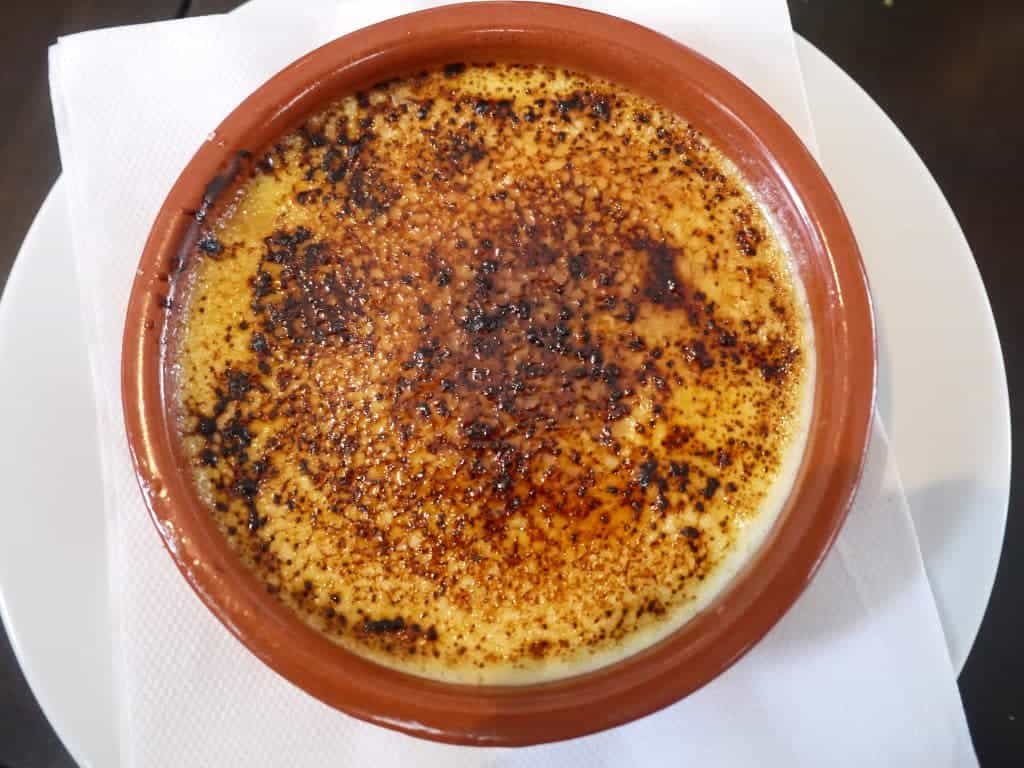 Needless to say we were stuffed! But it was totally worth it. If you go to La Rochelle, I highly recommend that you check out Brasserie Saint Nicolas.
And maybe go to a café or two… or three.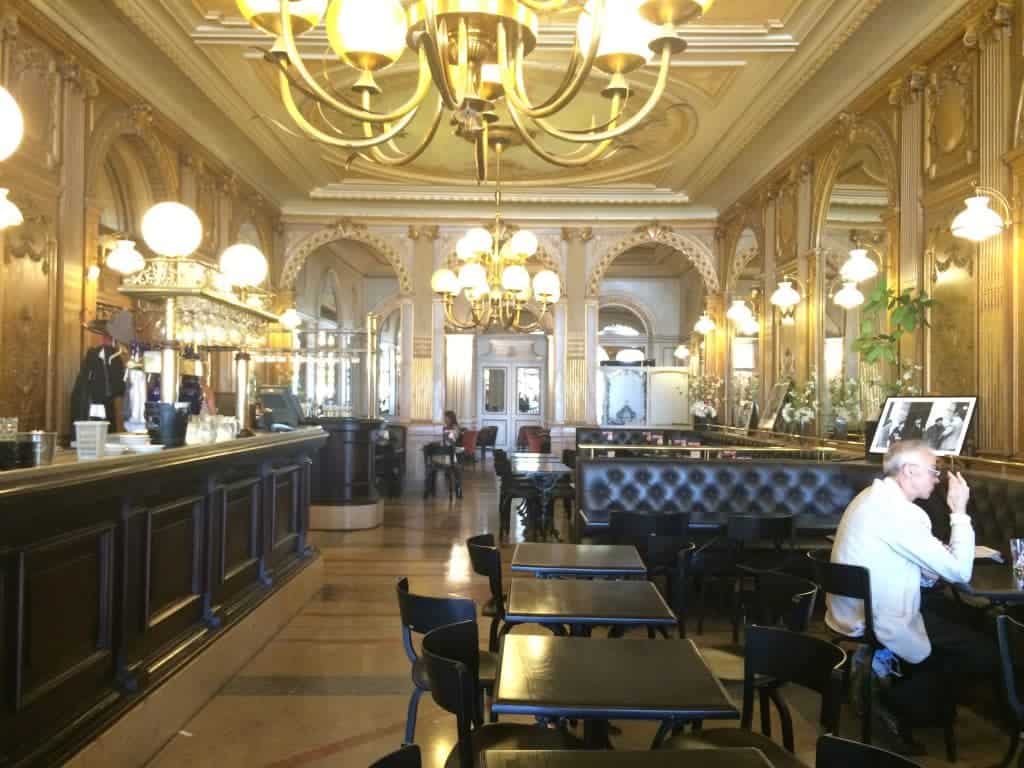 I ended up staying in La Rochelle a bit longer after the rest of my family left. I wanted to help my sister with her new baby and to spend more time with them.
On one of our first days alone, we went to Cafe de la Paix for a quick croque-monsieur lunch, a cafe that used to be an old hospital, how gorgeous?!
The detail and elegance on the walls and on the ceiling, are just beautiful. Why can't my local coffee shop look like this?
The croque-monsieurs were delightful, even though some of us thought it was hard work!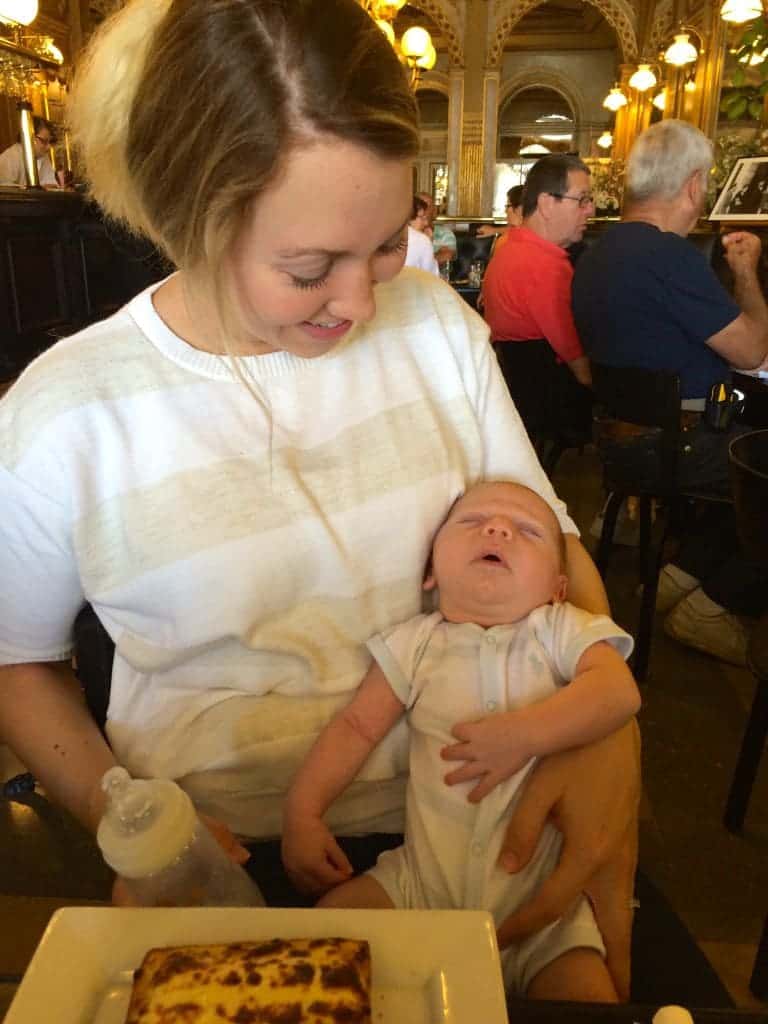 After our croque-monsieur, my sister and I haaad to get patisseries at D'Jolly. They were practically next door anyways. 🙂
When my sister first moved to La Rochelle, she kept raving about this patisserie that made their own ice-cream, called D'Jolly. Naturally, I tried it as soon as I could, and I have to say that it's one of the better pattiseries that I have been to in France, and I've been to A LOT. haha
D'Jolly is actually where my sister got her rehearsal dinner desserts, THE BEST.
The only negative thing I can say, is that it is so hard to choose what patisserie to order. How does one choose just one?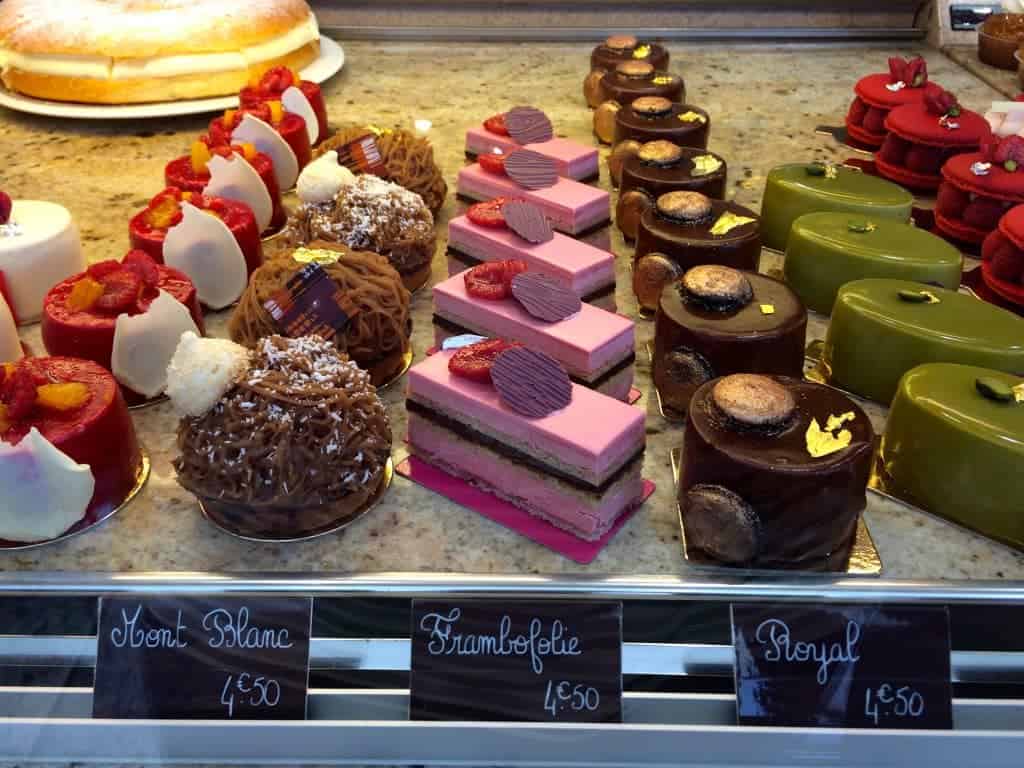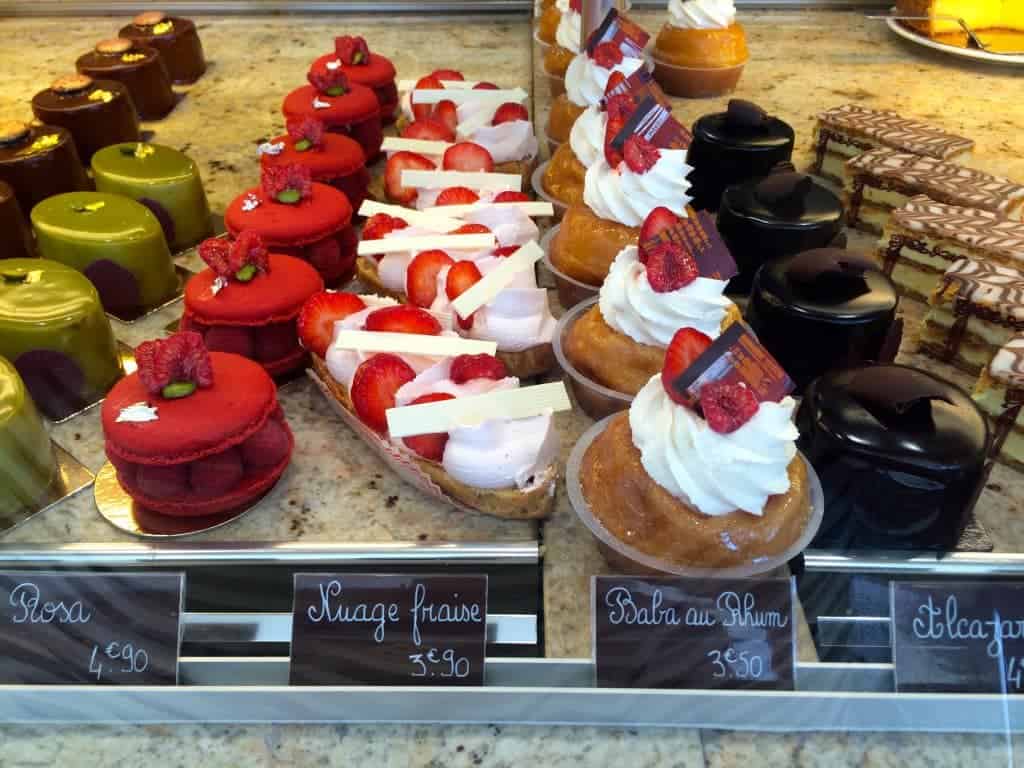 Ahhh, maybe it's a good thing that I don't live closer, otherwise I'd be eating all the patisseries all the time. 🙂
It is hard being far from family, but our family trips to visit are always so wonderful. We are cellphone and tv free… we spend time exploring our surroundings… and we spend quality time together.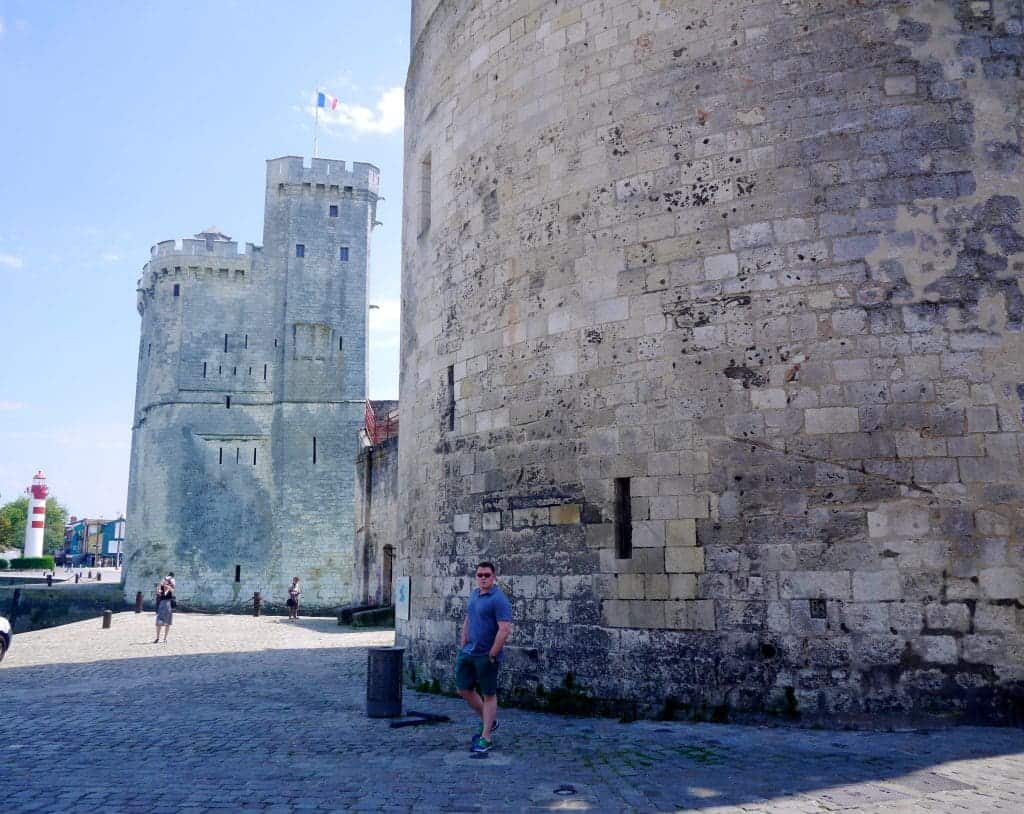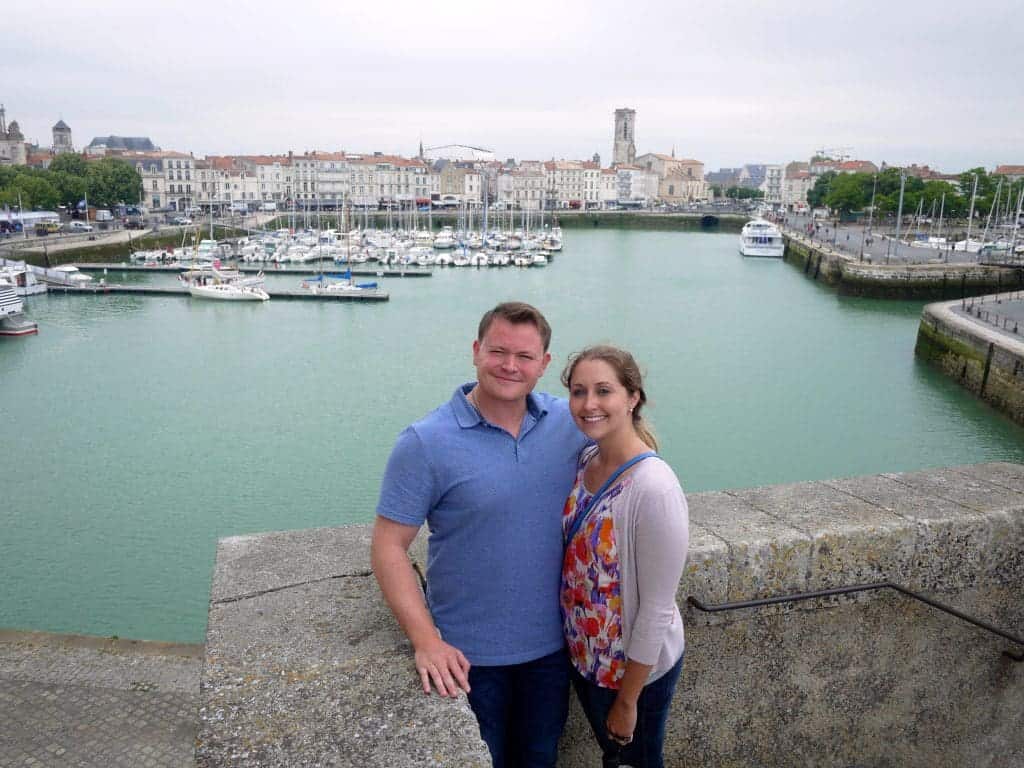 I still have SO many more photos from this trip, but I figured I'd divide my posts to maintain order. Stay tuned for Les Environs de La Rochelle, aka the surrounding areas of La Rochelle. We visited magical forgotten towns, and historic castles. And of course, ate wonderful food. Oh, and I took a quick trip to Bordeaux, my heart was happy to be back. 🙂
Disclosure: This post contains Amazon affiliate links. This means that if you click on a link and make a purchase, I will receive a small commission at no cost to you.