Gougères- French Cheese Puffs
Gougères are the perfect companions to any party or celebration. They taste fantastic with champagne and YES, they taste as good as they look. They basically are the same "puffs" used in profiteroles except they have cheese in them. I prefer using gruyere or swiss cheese, but cheddar cheese is good too (I used cheddar here). At first glance, this recipe looks simple enough- 5 ingredients, bakes for 20 minutes… not too shabby, BUT it is a bit tricky and gooey. So, I provided lots of photos detailing the different steps in this recipe.
But first– one more mouth watering photo: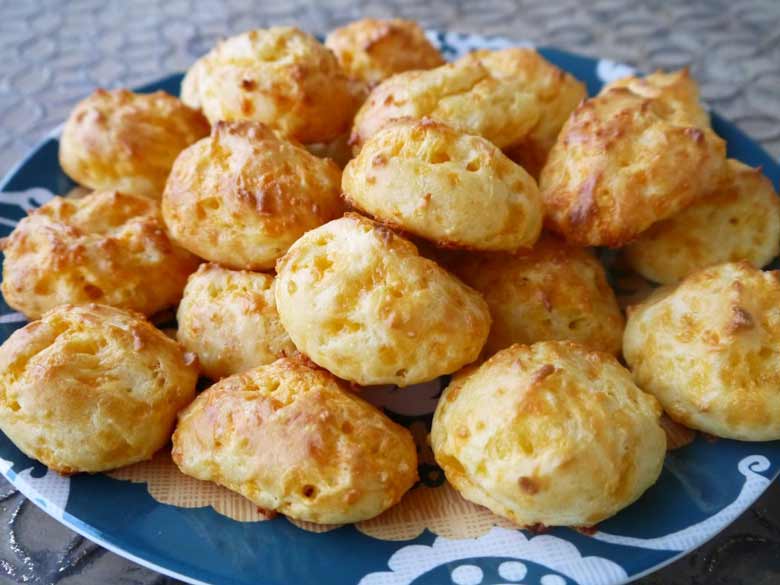 Since timing is really important when making these, make sure to have all the ingredients prepared and set out in separate bowls in advance. Start by putting the butter in one bowl and melt it in the microwave. Then, sift the flour in another bowl— make sure to sift it twice!! Next, beat 3 eggs in a small bowl and put it aside. Lastly, put 1 1/2 cup of shredded cheese in a bowl. Note: you have to use an electric hand-held mixer for this to work, so make sure it can be be plugged in near the stove and can also reach the stove (I've had problems with this in the past haha).
To start, you heat the butter and water over medium heat in a pan. Once the butter and water starts boiling, you have to remove the pan from the heat and put the flour in it and mix the mixture together quickly with the mixer. This happens really quickly- I would say less than 30 seconds. Then you put the pan back on the heat and mix the mixture again until it clumps together and stops sticking to the side of the pan– again this happens in seconds and then you have to remove the pan from heat. Transfer the dough to another bowl and mix it with the mixer to remove the heat from it- it should look like little pieces clumped together like the photo below.
Next, you add the lightly beaten eggs a little bit at a time to the mixture. The key to this next part of the recipe is to not put too much egg into the mixture at a time. Only 3 tsp at a time can be added and it has to be thoroughly mixed in before adding more egg. Once all the egg is mixed into the mixture it will be very gooey and wet-looking, yet thick. A wooden spoon should be able to stand up straight if you put it in the mixture.
Place 1 tablespoon sized spoonfuls of the mixture onto a cookie sheet that is lined with a professional baking mat. The mixture is very sticky, so if it gets on your fingers… you will need to literally scrape it off! Once the pan is full, you have to sprinkle it with water. I normally just cover my hands with water from the running faucet and roll my hands into fists and almost throw droplets of water onto the pan in one quick motion. Sometimes I forget and so I open the oven and sprinkle water onto the pan that way, but its better to remember.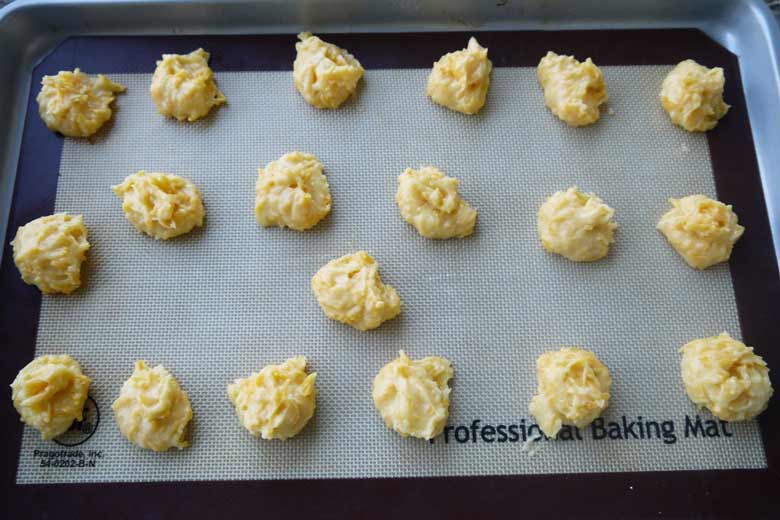 Bake at 415 degrees for 20-30 minutes. It depends on the oven, but 20 minutes is usually enough for me. You will know if they are done when they are slightly golden and feel light and airy. If they feel "heavy", then the dough still needs to cook. Once you remove them with a spatula you will understand what I mean by them being "airy".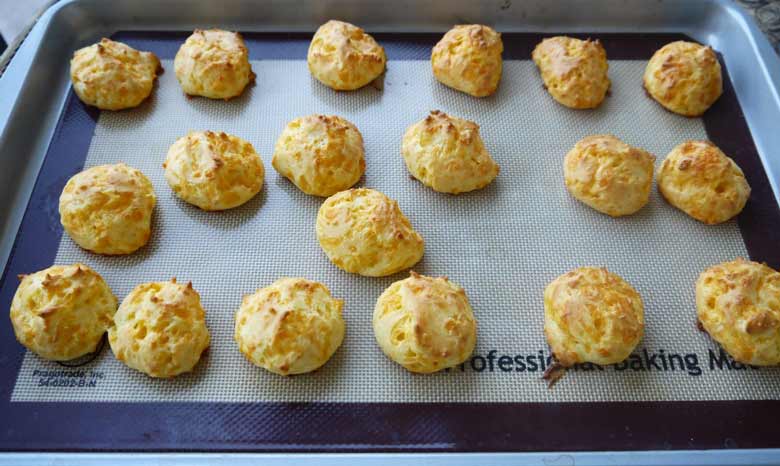 Gougères- French Cheese Puffs
Ingredients
50 g unsalted butter
3/4 cup water
3/4 cup plain flour, (sifted 2x)
3 eggs, , lightly beaten
6 ounces ( 1 1/2 cup) shredded cheddar cheese (gruyère and swiss work well too)
Instructions
Preheat oven at 415 degrees.

Place professional baking mats on two cookie sheets.

Melt the butter in a small bowl and put aside.

Sift the flower two times in another small bowl and put aside.

Beat 3 eggs in another small bowl and put aside.

Put 1 1/2 cup of shredded cheddar cheese in another bowl and put aside.

Put butter in a pan and mix with 3/4 cup water and stir over medium heat until it boils.

As soon as it boils, remove the pan from heat and quickly beat in flour with an electric mixer.

For a few seconds,return the pan to heat and continue beating until the mixture comes together and it leaves the sides of the pan.

Transfer the mixture to another bowl and beat it with an electric hand-held mixer to release heat. You will see the heat coming out of it.

Gradually add the beaten egg about 3 Tsp at a time to the butter and flour mixture and beat it until the egg completely added. Continue until all of the egg is added and the mixture is thick and glossy (a wooden spoon should stand upright- if it is too runny then beat it for a few more minutes).

Add the cheese.

In tiny 1 tbs size spoonfuls, place on a cookie sheet and sprinkle the tray with water before baking.

Bake until the cheese puffs are slightly golden and feel light and airy (if they are still "heavy" the dough still needs to cook). 20-30 minutes. 20 minutes is usually enough for me.
Disclosure: This post contains Amazon affiliate links. This means that if you click on a link and make a purchase, I will receive a small commission at no cost to you.