Ginger Carrot Beet Juice Zinger (Paleo)
I'm officially a ginger root convert when it comes to juicing. Not only does juicing fresh ginger add a nice invigorating boost to your juice, but it is also anti-inflammatory and boosts your immune system.
This Ginger Carrot Beet Juice Zinger recipe is refreshing and energizing all at the same time. It's made by juicing beets, carrots, apples, oranges, and ginger root. And thus there is a nice balance between sweet and zesty flavors.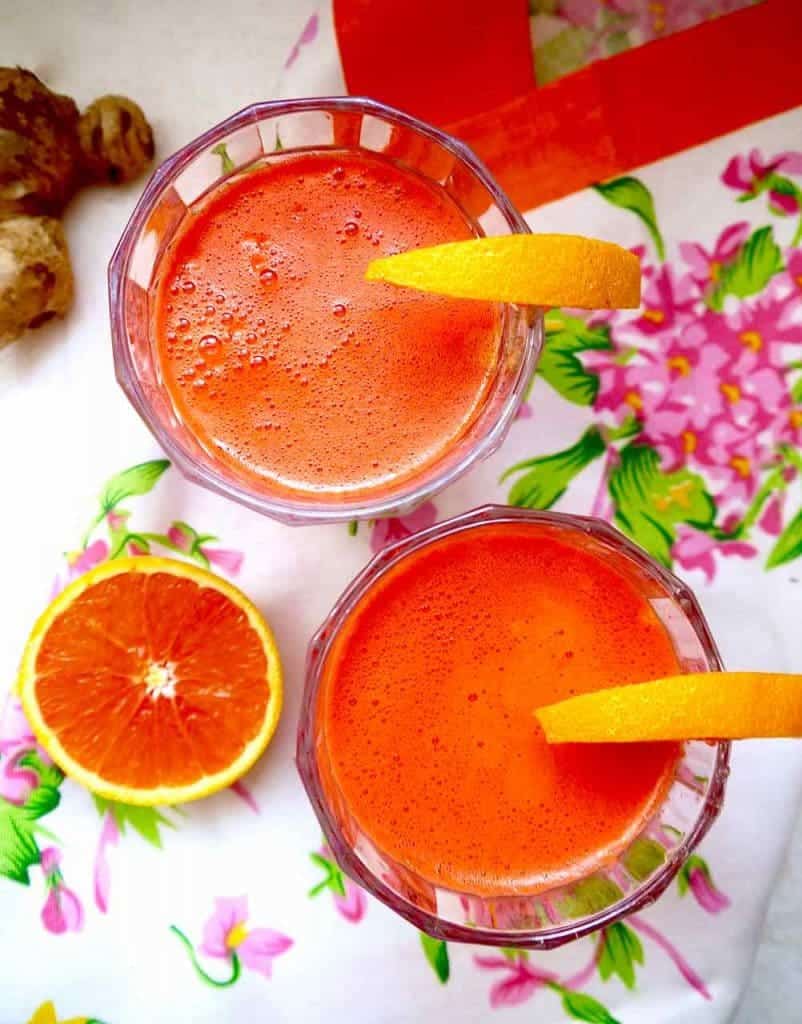 Before I get into this delicious Ginger Carrot Beet Juice Zinger recipe. I want to apologize to my email subscribers for the double pancake email sent over the weekend!
I recently changing hosting companies, to make my website faster, and I think that when my website migrated over, it reset my feed. My email updates are sent when a new post is found in my feed and so my last post was considered to be new twice (before and after migration to the new host).
Sorry about that, but I hope that my site will now be faster! I'm also working on making it more user friendly, so expect some recipe index changes to come. 🙂
I'd love to hear any suggestions for what you'd like to see changed or added to make my website easier to use as well. Comment below or email me at [email protected]
Now back to this recipe!
I recently went to breakfast at a new restaurant in town called Berry Fresh, which I am obsessed with. It's follows the concept of farm to table, and it has so many fresh and unique items on their menu!
Seriously, if you are in South Florida and you have one near you, you have got to try it! I'm so happy that restaurants like this are coming to the area. It's locally owned and so freaking delicious!
I swear I don't eat at Berry Fresh once a week, cough. haha
I recently tried one of their beet juices options, which had carrots, apples, oranges, and ginger inside. I was blown away by how amazing it tasted and how good I felt after drinking it!
Say what?!
Why had I never juiced ginger before?! So, I wrote down a note in my phone to try to recreate this at home and came up with this yummy recipe.
It's really simple to do, all you've got to is wash and cut one large beet, 6 large carrots, 2 small apples, and an inch piece of ginger root. Then, peel two small oranges and cut them into pieces that fit your juicer.
I have used this Waring Pro juicer for at least 8 years ( I've had 3 different ones because of moves), but it is so easy to use and clean, that I insist on using it.
Easy to use and clean = my being able to juice 4-5 times a week.
I've tried having other juicers and then I stop juicing because I don't want to deal with the clean up.
Anyways, once all the fruits and veggies are cut up, you juice them and voila!
This juice tastes great on ice as well.
One more side note: I promised a "hearty" recipe for today but came up with a last minute problem with the recipe so now I will be retesting it and posting it on Thursday. 🙂
Have a happy Monday! 🙂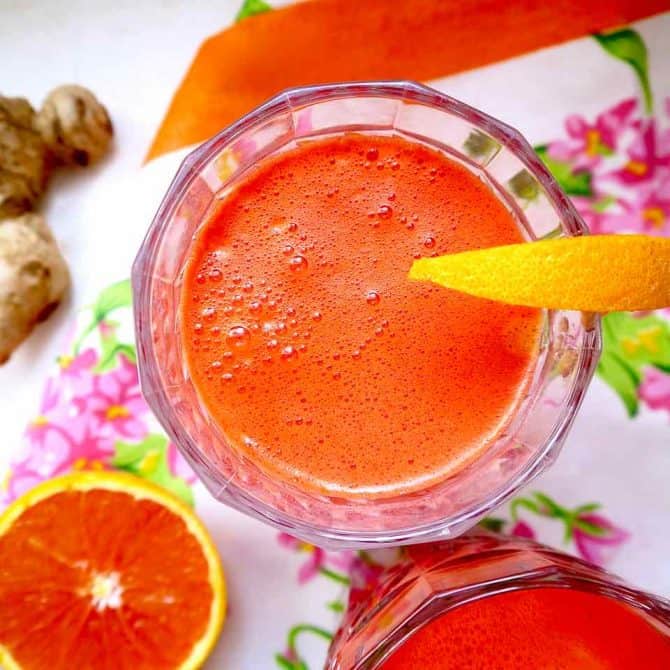 Ginger Carrot Beet Juice Zinger (Paleo)
A bright fresh juice made with carrots and beets that packs a punch of flavor.
Ingredients
1 large beet (just the bulb, without the greens)
6 large carrots
2 small apples (or 1 large one)
2 small oranges
1 inch piece of fresh ginger root
Instructions
Wash all of the fruits and vegetables. Peel the oranges, and cut the other fruits and veggies into pieces that will fit into your juicer.

Juice the beets, carrots, apples, oranges and ginger root. Mix, and serve. ( I use a

WaringPro juicer

)

Yields 32 ounces of juice- this can serve 2-3 people.
Nutrition
Calories: 17kcalCarbohydrates: 4gProtein: 0.3gFat: 0.1gSaturated Fat: 0.01gPolyunsaturated Fat: 0.03gMonounsaturated Fat: 0.01gSodium: 16mgPotassium: 93mgFiber: 1gSugar: 3gVitamin A: 2277IUVitamin C: 5mgCalcium: 9mgIron: 0.1mg
Disclosure: This post contains Amazon affiliate links. This means that if you click on a link and make a purchase, I will receive a small commission at no cost to you.