Dairy-free White Russian
Dairy-free White Russian recipe. A creamy and delicious cocktail made with coffee liqueur, vodka, coconut cream and almond milk.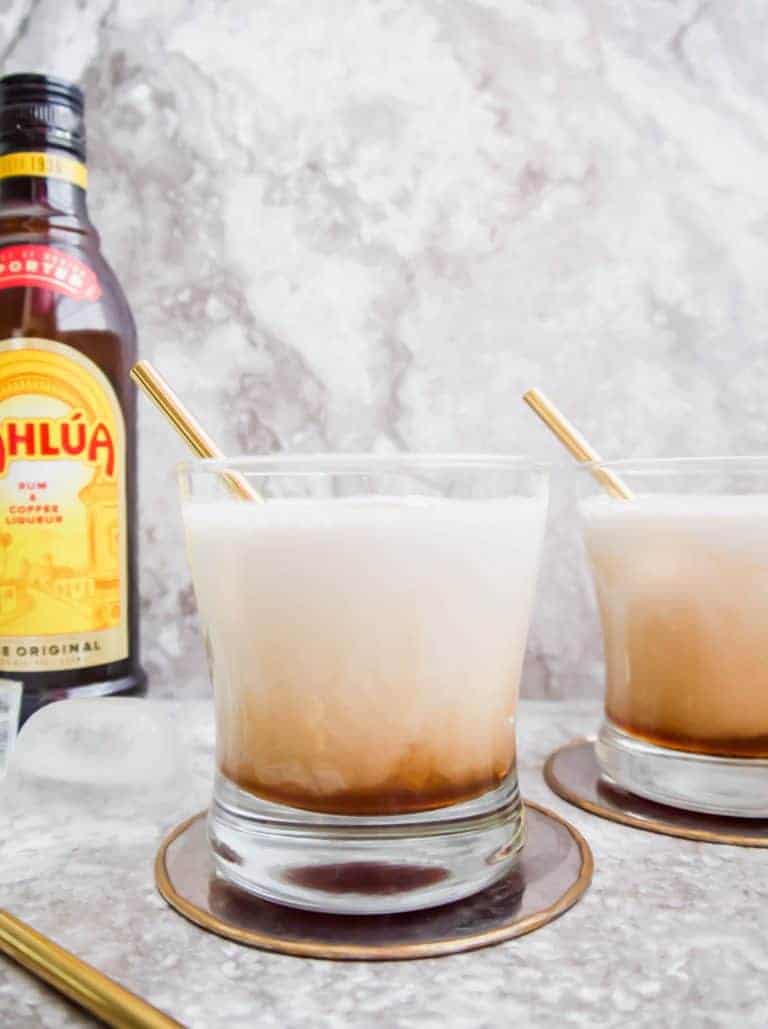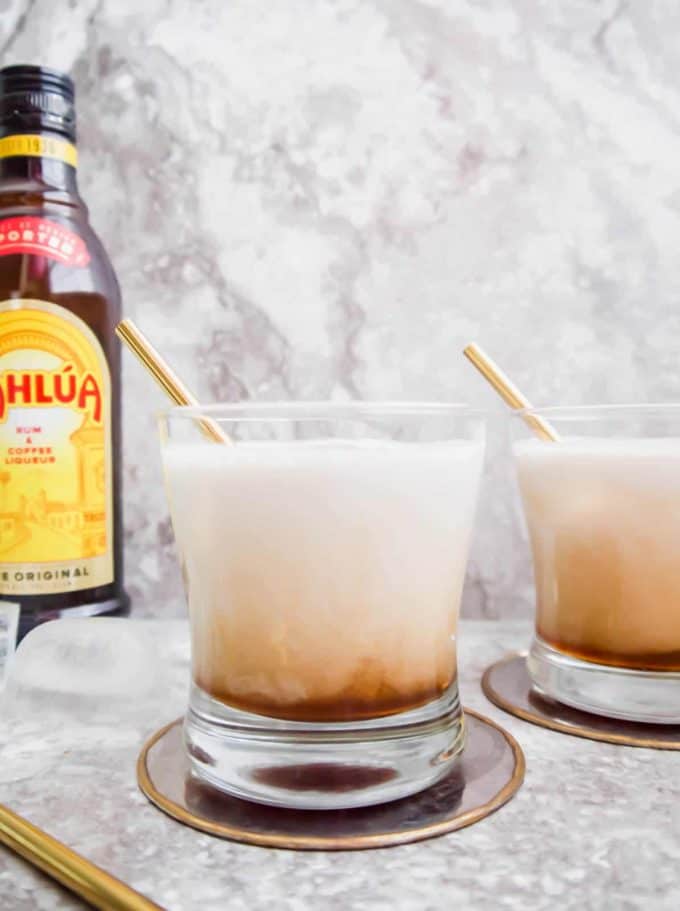 Why have I waited so long to make these Dairy-free White Russians!?
They are so good! They taste like adult milkshakes. 🙂 And I have to say that I prefer this dairy-free version to the original.
I'm all about the healthy homemade clean cocktails these days and this one does not disappoint!
What is a White Russian?
A White Russian is a cocktail made with vodka, coffee liqueur and heavy cream.
Like I said, they taste like a milkshake. They are very creamy thanks to the heavy cream. Creamy with a velvety sweet coffee kick from the alcohol.
I tried my first White Russian with my husband in New Orleans several years ago.
We went to the Columns hotel in Uptown New Orleans. It's a historic hotel with these beautiful large columns on the outside of it ( hence the name haha).
It's actually really cool inside of the hotel because there are many antiques, and it takes you back to when it was built, in the late 1800s.
Anyways, my husband and I used to go there for their White Russians. ( We lived in New Orleans for 3 years so we got to go there many times).
It was like having a dessert in alcohol form. And we just loved them.
Since I have been completely dairy-free for the past year, White Russians have been off my radar.
UNTIL my husband mentioned them recently and I thought, " why don't I just make a dairy-free version ?"
So I got to recipe testing.
Ingredient's needed for this Dairy-free White Russian recipe
All you need to make these Dairy-free White Russians are:
coffee liqueur
vodka
almond milk
coconut cream
I personally used the original Kahlua Coffee Liqueur ( which is a mixture of rum and other secret ingredients ).
I also used Grey Goose vodka, Elmhurst Almond milk, and Savoy Coconut cream.
I find that the combination of coconut cream and almond milk is a better heavy cream replacement than just using one or the other.
Note: make sure you like the taste of your coconut cream because it is going to influence the taste of your cocktail. I love the taste of Savoy coconut cream, it isn't too coconutty and it is very creamy.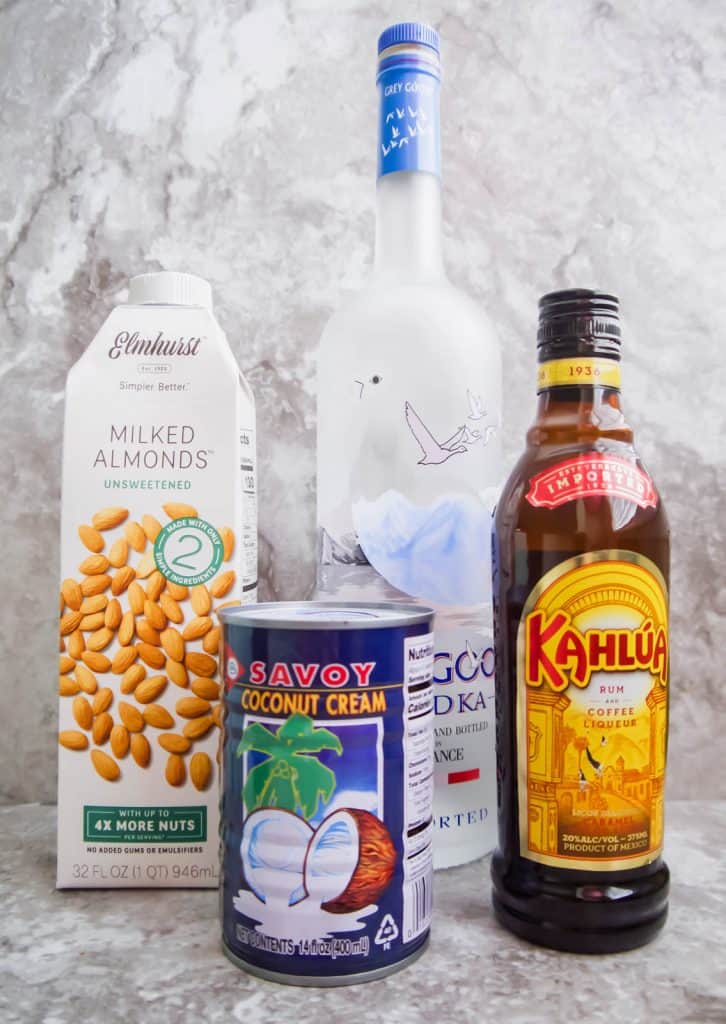 How do we know this drink is dairy-free? How do we know if this is a Vegan white russian?
Update: Kahlua is not considered to be vegan. The official Kahlua website was recently updated in June of 2020 with information saying that their original Kahlua is not vegan. You can read more about it in this Barnivore article.
My go-to website to check and see if a specific alcohol has dairy in it is the Barnivore website.
It tells you whether various alcohols are vegan. So it helps you figure out ingredients you'd need to make a vegan white russian.
It has been very helpful for me this past year because lots of random drinks have dairy in them when you wouldn't expect them to.
If you are looking to use a vegan coffee liqueur here, you can make your own!
For my dietary needs, I only need to avoid heavy cream, so I used Kahlua.
All in all, I like the lighter feel of Dairy-free White Russian recipe. It is still creamy, but not as heavy as when it is made with heavy cream.
I LOVE making lightened up versions of cocktails… if you couldn't tell. 🙂 It is fun to play around to create a kahlua and almond milk recipe.
Recipe variations:
You can make this dairy-free White Russian with a dairy-free creamer instead of almond milk and coconut milk. Just replace the amounts of both with just the creamer.
You can make this White Russian with almond milk only.
You can also make this White Russian with coconut cream only.
It really all depends on your personal preferences and what you have on hand.
More dairy-free drink inspiration:
If you are looking for more dairy-free alcoholic drinks, or healthier versions of your favorite drink, check out the recipes below!
This Thanksgiving Punch by Thyme and Joy. I've personally made this apple cider based cocktail and it is fantastic!
This Fall Sangria by Everyday Maven looks so festive and yummy!
These Healthy Homemade Strawberry Daiquiris are so yummy! They have a sour punch thanks to the lemon and lime juices.
I LOVE these All Natural Piña Coladas because the coconut cream makes them just delightful.
Dairy-free White Russian
A creamy and delicious drink made with coffee liqueur, vodka, coconut cream and almond milk.
Ingredients
4.5 ounces almond milk, ( 3 shots)
3 ounces coconut cream, ( 2 shots )
3 ounces vodka, ( 2 shots )
3 ounces coffee liqueur , ( 2 shots )
Instructions
Add the almond milk and coconut cream to a bowl and whisk until smooth.

Add the vodka and coffee liqueur to the bowl and mix.

Pour into two glasses, add ice, and mix.

Note: Add more almond milk or coconut cream to taste.
Disclosure: This post contains Amazon affiliate links. This means that if you click on a link and make a purchase, I will receive a small commission at no cost to you.