Creamy Buffalo Chicken Spaghetti Squash Casserole (paleo, GF)
Creamy Buffalo Chicken Spaghetti Squash Casserole…yeah, you heard that right! Buffalo + Paleo + Casserole all in the same sentence…
And it's good. It's realllll good. This casserole is FULL of shredded chicken, cauliflower florets, baked spaghetti squash, and shredded carrots topped in a creamy Paleo buffalo sauce and goat cheese crumbles. Drool.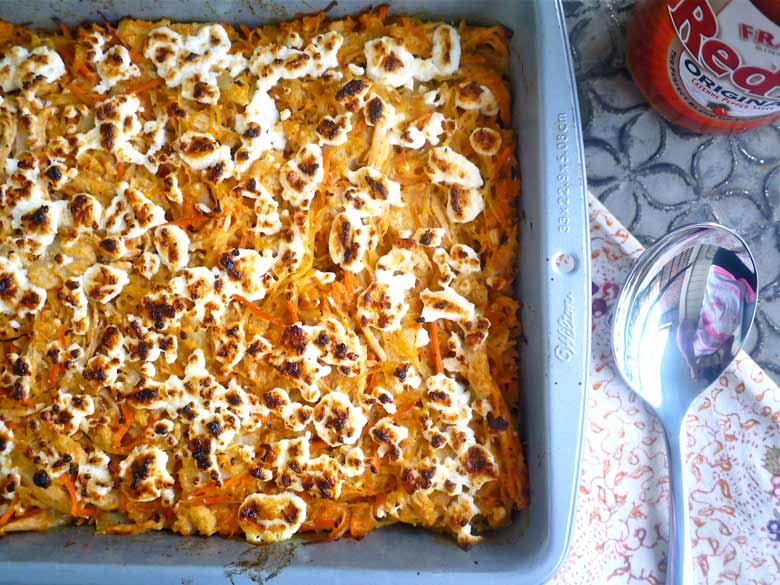 For those of you who might be thinking, "this recipe kind of looks familiar", you're right!
I used my Creamy Spaghetti Squash Chicken Casserole recipe as inspiration.
I love that recipe so much, that I wanted to make another version of it, a hot sauce version of it.
It wasn't even a question as to how I would make another version of my Creamy Spaghetti Squash Chicken Casserole…because hot sauce and chicken are meant for each other.
Incorporating hot sauce flavor into a chicken and spaghetti squash casserole was really only a matter of time.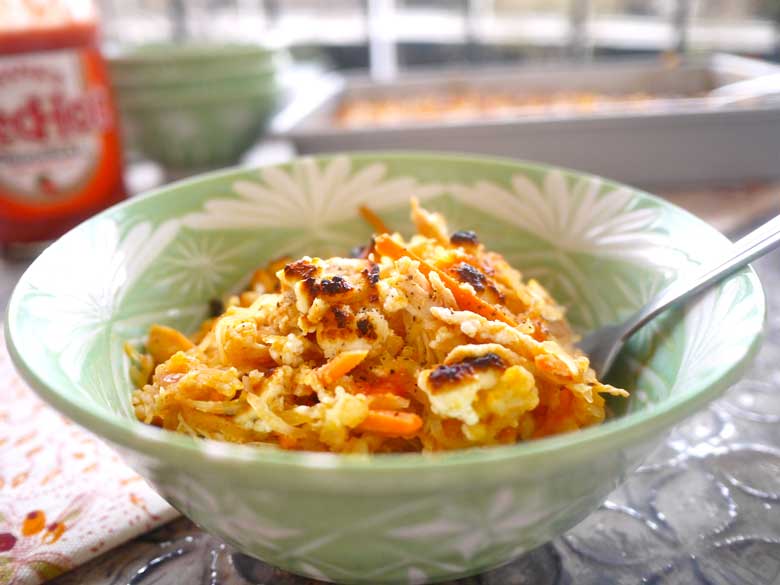 And even though it may look complicated, it really isn't!
I put the shredded chicken, baked spaghetti squash, shredded carrots and cooked cauliflower florets into a large large bowl.
Then I poured the creamy Paleo buffalo sauce on top and mixed it all together.
I put the whollllle mixture into a 13 x 9 inch pan and topped it with lots of goat cheese (which you can leave out to keep to dish strictly paleo).
I baked it for 15 minutes, then broiled it for a few and then it was done and ready to be eaten! 🙂
Easy and delicious. For those of you who loved my Creamy Spaghetti Squash Chicken Casserole, or who love hot sauce, or both! This needs to be on your Paleo and GF casserole to-do list. 🙂
Creamy Buffalo Chicken Spaghetti Squash Casserole (paleo, GF)
Tender spaghetti squash and chicken in a spicy, creamy sauce for a tasty weeknight dinner the whole family will enjoy.
Ingredients
1 small-medium spaghetti squash (2 lbs)
1.5 pounds of chicken breast
1 head of cauliflower (cut into smaller florets)
1 1/2 cups of shredded carrots
2 Tbs minced garlic (this was about 5 cloves of garlic for me, but it will depend on the size of your cloves)
½ of a red onion minced , this was a scant 1/2 cup for me
1 Tbs olive oil
1 tsp salt
1/2 tsp pepper
1 tsp paprika
1 cup canned coconut cream ( I really like Savoy)
1/2 cup chicken stock
1 Tbs coconut flour ( I like Nutiva because of price and quality)
1 cup crumbled goat cheese ( 8 ounces) (* omit to keep strictly paleo)
1/2 cup Frank's hot sauce
Instructions
Preheat the oven to 400 degrees.

Cover a cookie sheet in aluminum foil.

Cut the spaghetti squash in half and remove the mushy core with a spoon. Then cover the surface with some olive oil and evenly "paint it on" with a silicone basting brush.

Lay the squash face down on the aluminum paper. Cook the spaghetti squash for 30 minutes and then remove it from the oven and let cool.

While the spaghetti squash is cooking, boil some water and place the chicken inside the boiling water for about 30 minutes. Remove the chicken from the water. Shred it with two forks. Set the shredded chicken aside.

While the chicken and spaghetti squash are cooking, fill another pan with water and cook the cauliflower (cut into smaller cauliflower floret pieces) for 9 minutes. Remove from heat and strain. Set the cauliflower aside.

Put 1 tbs of olive oil in a pan. Set the stove top to medium heat.

Place the minced garlic and onions into the pan and mix them into the olive oil. Let them cook for 4 minutes.

Add 1 cup coconut cream to the garlic and onions and mix well. Add the salt, pepper and paprika to the coconut cream mixture and allow the mixture to boil for 5 minutes. Then add 1/2 cup of Frank's hot sauce and 1/2 cup of chicken stock to the mixture. Cook for another 10 minutes, so that it can reduce. Add 1 Tbs of coconut flower and whisk it into the mixture to thicken it. Remove the mixture from heat.

Grab a really large bowl. Put the shredded chicken and the shredded carrots inside. Top with the cauliflower florets.

Take the spaghetti squash and use a fork to rake against the inside of it, removing the "spaghetti" from the inside. Place the spaghetti squash into the large bowl with the chicken, carrots and cauliflower inside.

Pour the hot sauce mixture on top of everything in the large bowl and mix well.

Place everything in a large 13×9 inch pan and cover it in 1 cup of crumbled goat cheese.

Bake in the oven at 400 degrees for 15 minutes. Set the oven to broil and bake for 3 more minutes.

Enjoy!
Nutrition
Calories: 440kcalCarbohydrates: 14gProtein: 36gFat: 28gSaturated Fat: 19gPolyunsaturated Fat: 1gMonounsaturated Fat: 5gTrans Fat: 0.01gCholesterol: 91mgSodium: 1356mgPotassium: 1004mgFiber: 4gSugar: 5gVitamin A: 5937IUVitamin C: 52mgCalcium: 104mgIron: 3mg
Disclosure: This post contains Amazon affiliate links. This means that if you click on a link and make a purchase, I will receive a small commission at no cost to you.